Poslední den v červnu byl ten nejkrásnější v mém životě. Po boku našich rodin a nejbližších přátel jsme si slíbili lásku, dokud nás smrt nerozdělí. I když jsem v den naší svatby byla nejšťastnější na světě, nevyměnila bych to za to, jak se cítím teď. Být manželkou tohohle úžasnýho chlapa je to nejlepší, co mě kdy potkalo. <3 
---
The last day in June was the most beautiful day of my life. Surrounded by our families and closest friends, we promised each other love until death do us part. And even though it was the happiest day of my life, I feel like I'm even happier now. Being a wife to this amazing man is the best thing that has ever happened to me. <3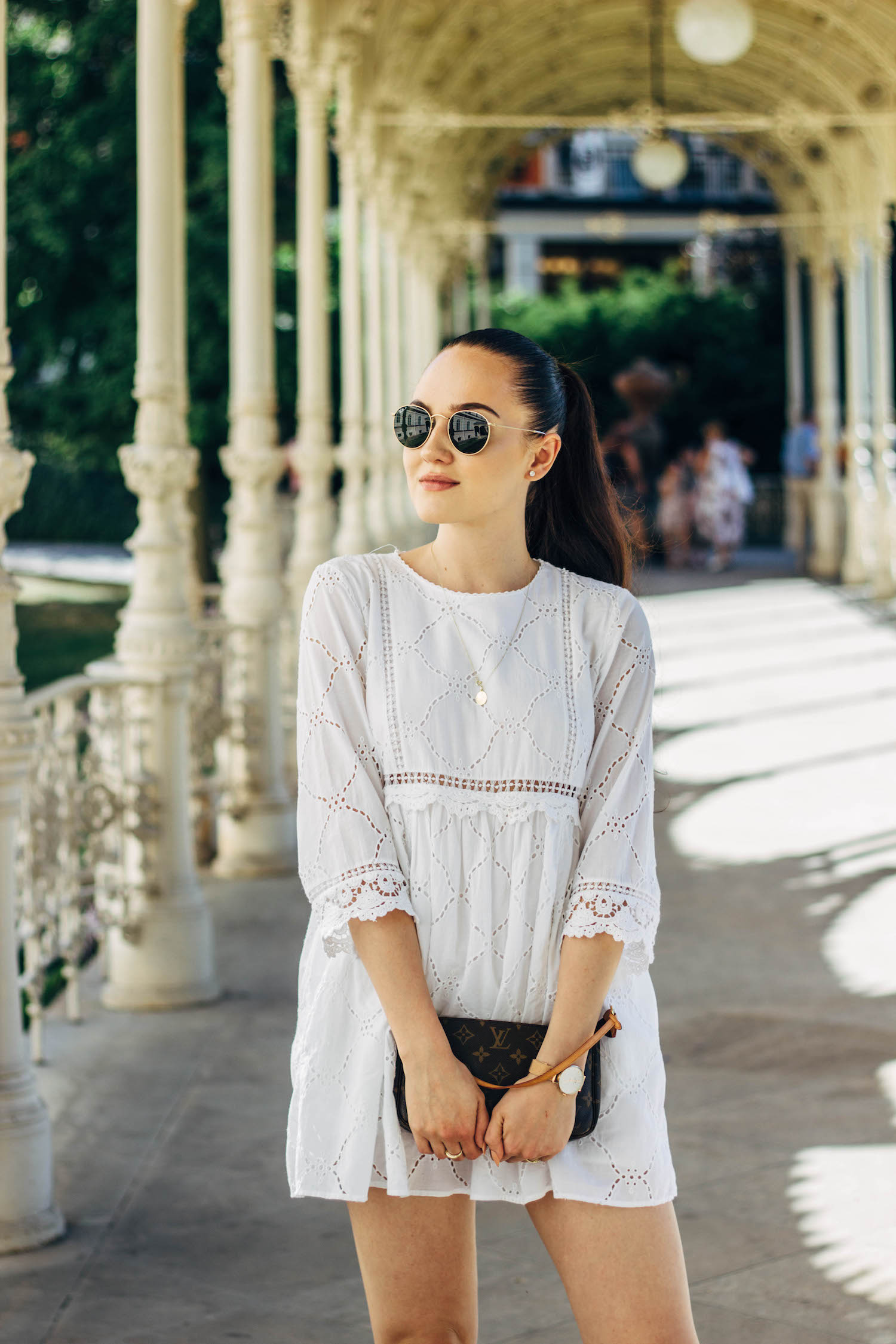 A přesouváme se k červenci! Rozhodli jsme se o týden odložit naše líbánky (původně jsme měli jet hned druhý den) a vyrazili jsme do Karlových Varů. Byl to takový pracovně/odpočinkový týden, oba jsme byli v posvatbové euforii, počasí vyšlo dokonale a festival milujeme, takže to byl skvělý začátek našich líbánek.  
---
And let's move to July! We decided to postpone our honeymoon (at first we wanted to go the day after the wedding) and we went to Karlovy Vary instead. We were working, but we were drowning in this post-wedding euphoria, the weather was amazing and we love the festival atmosphere so it was the best start of our honeymoon.
Ale vyrazili jsme i na opravdové líbánky! Dlouho jsme přemýšleli, kam poletíme a náš původní plán bylo dobrodrůžo na Srí Lance a pak válení na Maledivách. Při projíždění různých diskuzí jsme se ale rozhodli neriskovat počasí (v létě se Maledivy moc nedoporučují, ale samozřejmě asi záleží na tom, jaké máte štěstí) a řekli jsme si, že je vlastně stejně škoda během léta létat do Asie, když je v Evropě tak hezky. A protože na naší první opravdové dovolené jsme byli v Řecku a zrovna na nás vyběhly výhodné letenky na oblíbenou líbánkovou destinace Santorini, nebylo o čem přemýšlet!
---
But we had our real honeymoon as well! We were thinking about the destination a lot and our original plan was to go to Sri Lanka and Maldives. We were searching through the internet though and we decided it's too risky with the weather (people usually don't recommend going to Maldives during summer, but of course, it depends on how lucky you are with the sun) and we agreed it's pointless to go to Asia when we have the most beautiful summer in Europe. And because our first real vacation together was in Greece and we found some great plane tickets to Santorini, that's what we went for! 
Nejdřív jsme si ale udělali jednodenní zastávku v Athénách. Prošli jsme si město, skvěle se najedli a zakončili jsme náš den tímhle překrásným západem slunce.
---
But first, we enjoyed a lovely one-day trip to Athens. We walked around the city, had the most delicious food and we ended our day with this beautiful sunset.
Druhý den ráno jsme nasedli na další letadlo a ocitli se v ráji! Bydleli jsme kousek od města Oia (nejkrásnější místo na Santorini!), kde se ale nedá koupat, takže jsme si užívali zaslouženou pohodu u bazénu a první dva dny jsme skoro jenom spali, protože jsme po státnicích a svatbě měli docela velký spánkový deficit. 
---
The next day we jumped on a plane and came to this paradise! Our hotel was close to Oia (the most beautiful city in Santorini!), but there's no beach so we were enjoying a few chill days by the pool. We were sleeping A LOT because we needed it after our final exams and the wedding.
Můj oblíbený outfit ze Santorini, ale vlastně asi i z celého roku!
---
This was my favorite outfit from Santorini and one of my favorite outfits of the year!
Když jsme dospali to, co jsme potřebovali, půjčili jsme si auto a vyrazili poznávat ostrov. Projeli jsme skoro všechno, třeba tohle překrásné městěčko Pyrgos. Santorini bylo prostě dokonalé a snad se tam někdy vrátíme!
---
When we were rested enough, we rented a car and started exploring the island. We saw pretty much everything, for example this cute little village called Pyrgos. Santorini was amazing and I can't wait to go back one day!
V srpnu jsme vyrazili na takové malé líbánky #2! Naší první zastávkou byla Vídeň na koncert Eda Sheerana. Byli jsme na něm už podruhé a byl zase úplně neskutečný. Druhý den jsme si prošli Vídeň a večer jsme vyrazili do Brna. Byla to taková naše mezizastávka, ale protože jsme tam pořádně nikdy nebyli, užili jsme si krásný den i tam. Pořád myslím na ty palačinky z MyKitchen! <3
---
In August, we had our little honeymoon #2! Our first stop was Vienna for Ed Sheeran's concert. It was our second time we saw him performing and it was awesome. We were exploring Vienna the next day and in the evening we went to Brno. We've actually never been there before so we enjoyed a lovely day there. I'm still dreaming about these pancakes from MyKitchen! <3
Naší třetí zastávkou byl Berlín, kde vystupoval Justin Timberlake. Jeho koncert byl o dost jiný, ale bavil nás taky úplně neskutečně. Měli jsme dost času i na prozkoumávání Berlína, což je jedno z mých oblíbených evropských měst a jsem ráda, že jsem si ho mohla užít i takhle s Vildou.
---
And our third stop was Berlin for Justin Timberlake's concert. It was very different, but awesome as well.  We had a lot of time for exploring Berlin, which is one of my favorite cities and I'm so glad I could enjoy it with my hubby this time.
Konec srpna byl zase trochu stresující, končila nám nájemní smlouva a rozhodli jsme se přestěhovat z Plzně do Prahy. Já jsem v Plzni žila jenom rok, zatímco pro Vildu to byla změna po 6 letech, oba jsme ale měli v Praze v podstatě všechno a to dojíždění už začalo být neúnosné. Našli jsme si v Praze byt, ale pár dní před stěhováním se všechno začalo komplikovat. Rekonstrukce bytu se protáhla a najednou jsme neměli kam jít. Známý našeho známého nám ale vytrhnul trn z paty a nabídnul nám na pár týdnů (ze kterých se nakonec vyklubaly 3 měsíce!) malou garsonku v centru Prahy. Jsem vděčná, že jsme měli střechu nad hlavou, ale každý den jsem se těšila na to, až začneme žít zase normálně (v bytě, kde je alespoň trouba a všechen náš nábytek).
---
The end of August was a bit stressful. Our lease agreement was ending and we decided to move to Prague. I was living in Pilsen for only a year, but it was home for my husband for more than 6 years. We had everything in Prague tho and it started to be annoying going in between these cities multiple times a week. We found a nice apartment, but a few days before our moving it got complicated. The reconstruction was delayed and we suddenly had nowhere to go. But we were lucky and our friend's friend offered that we could stay in this tiny apartment for a few weeks (we ended up living there for 3 months!). I'm thankful we had somewhere to stay, but every single day I was looking forward to start living like normal people again (with an apartment that has an oven and our furniture).
Život v Praze jsme si ale zamilovali. Je sranda sledovat, jak se člověk mění. Před dvěma lety jsem se těšila, až z Prahy konečně vypadnu, nebyla jsem tam vůbec šťastná. Teď si neumím představit místo, kde by se nám žilo líp. 
---
But we fell in love with our Prague life. It's fun to see how people change. Two years ago, all I wanted was to move away, I was so unhappy there. And now I can't imagine a place where we'd be happier.
Na konci září mě čekalo další cestování, tentokrát poprvé s mojí maminkou. Vyrazily jsme spolu do Milána (letenky jsem jí dávala na jaře k narozeninám) a byla to prostě parádní dámská jízda. Už se těším, kam spolu vyrazíme příště!
---
At the end of September, it was time to travel again. But this time with my mommy and it was our first vacation together. We went to Milano (I gave her the plane tickets for her bday in the spring) and it was an awesome mother-daughter trip. I can't wait to travel with her again!
Říjen jsem trávila v Praze a užívala si dokonalý podzim. 
---
I spent my October in Prague. It was such a beautiful fall.
Po 4 měsících od státnic jsme se s Anetkou dočkaly promoce a tím jsem oficiálně ukončila svoje studentská léta.
---
Four months after our final exams we finally had our graduation ceremony. And that was the end of my school life!
S Vildou jsme o víkendech začali docela pravidelně chodit na farmářské trhy na Náplavce.
---
Me and Vilda loved to go to farmer's markets pretty much every weekend. 
A byla jsem na krásném focení u Lucky! <3
---
And I had a lovely photoshoot with Luci! <3
V listopadu mě Blanka Matragi pozvala do jejího butiku, kde jsem si vyzkoušela tyhle božské šaty.
---
In November, a czech fashion designer Blanka Matragi invited me to her boutique and I tried this stunning dress on.
Nemohly jsme chybět na překrásné vánoční Instax party!
---
We couldn't miss this amazing Christmas party hosted by Instax!
A na konci listopadu Vilda oslavil svoje 26. narozeniny! Listopad byl pro mě zlomový i v tom, že jsem po dvou letech opustila svojí práci a začala jsem se naplno věnovat podnikání na sociálních sítích. I když to bylo ze začátku hodně děsivé, bylo to jedno z nejlepších rozhodnutí, co jsem udělala.
---
And at the end of November, my husband celebrated his 26th birthday! November was a very special month for me because I also quit my job after two years and I started blogging full-time. It was a bit scary at the beginning, but it was one of the best decisions I've made.
Prosinec jsme odstartovali docela stylově. Díky vám jsem na Czech Social Awards vyhrála cenu Blogerka roku a umístila jsem se na 3. místě jako videoblogerka. Doteď mi to připadá jako sen a jsem neuvěřitelně vděčná za vaší každodenní podporu. Jste moje největší motivace <3
---
And I had the best start of December. I won the Blogger of the year award and I was third Videoblogger of the year. It still feels like a dream and I'm so thankful for your amazing support. You guys are my biggest motivation <3
V prosinci jsme se taky konečně dočkali a přestěhovali jsme se do nového bytu. Samozřejmě se to časově sešlo tak, že den na to jsme odletěli do New Yorku. A zamilovali jsme se. Shodli jsme se, že to byla zatím asi nejlepší cestovatelská destinace, kde jsme byli, i když jsme to vůbec nečekali. Něčím nás New York prostě okouzlil a nemůžeme se dočkat, až se tam podíváme znovu.
---
We finally moved to our new apartment – and of course, the timing was terrible because the next day we went to New York. And we fell in love. We agreed it's probably the best destination we've been to, even though we weren't expecting it at all. It was so amazing and I can't wait to go back!
Konec roku jsem si užila v klidu se svojí rodinou a manželem, po natáčení Vlogmas jsem na pár dní odložila vlogovací foťák a vychutnala si čas jenom offline. Už se ale neskutečně těším na nový rok a na všechno, co nás čeká! Rok 2018 byl jednoznačně tím nejlepším a nejzlomovějším rokem v mém životě. Nevím, jestli ho rok 2019 může vůbec překonat, ale věřím, že to bude skvělý rok. Těším se na to, že budu pracovat na dalších svých cílech a jsem hrozně vděčná, že i další rok můžu sdílet s vámi, s mojí internetovou rodinou. Děkuju, že vás mám a děkuju vám za tenhle parádní rok, protože byl parádní i díky vám. Užijte si Silvestra <3 Pusu!
---
I enjoyed a few calm and relaxing days with my husband and family at the end of the year. And I put my vlogging camera away for a few days which felt very nice after Vlogmas. But I'm so excited about the new year and all the good stuff that's coming! 2018 was the best year of my life and I can't imagine if it's even possible to have a better year, but I believe that 2019 is gonna be awesome as well. I can't wait to work on my goals and I'm so thankful to be sharing another year with you guys, my online family. Thank you for being here with me and thank you for 2018, because it was amazing also thanks to you. Enjoy the New Year's Eve babes <3 Hugs!