Uf, poslední dny si fakt užívám.. mám asi nejhorší kašel svého života, v noci kvůli tomu skoro nespím. V neděli jsem nasadila StopKašel a musím zaklepat, že snad zabírá a pomalu to začíná ustupovat. Hlavně se snažím být v klidu, nenamáhat hlasivky a modlím se, abych byla do pár dní zase fit. Vzhledem k tomu, že jsem zalezlá doma a moje momentální radost (a nejzajímavější část dne) je hlavně jídlo, mám pro vás alespoň tip na super snídani – ovesnou kaši s arašídovým máslem a čokoládou! V posledním roce jsem si kaše v podstatě vůbec nedělala, takže se k nim teď zase pomalu vracím, když mám chuť na sladkou snídani.
---
The past few days have been crazy.. I'm having the worst cough of my life, I can barely sleep at night. I started using a cough syrup on Sunday and I feel like it might be working and it slowly starts to go away. I'm trying to stay calm and silent and I hope I'm gonna be fine in a couple of days. I'm always at home and food is the only thing that makes me happy (and it's probably the most interesting thing about my life now haha), I have a little breakfast tip for you – oatmeal with peanut butter and chocolate! I haven't been eating oatmeal for almost a year so I'm slowly getting myself into them again when I crave something sweet in the morning.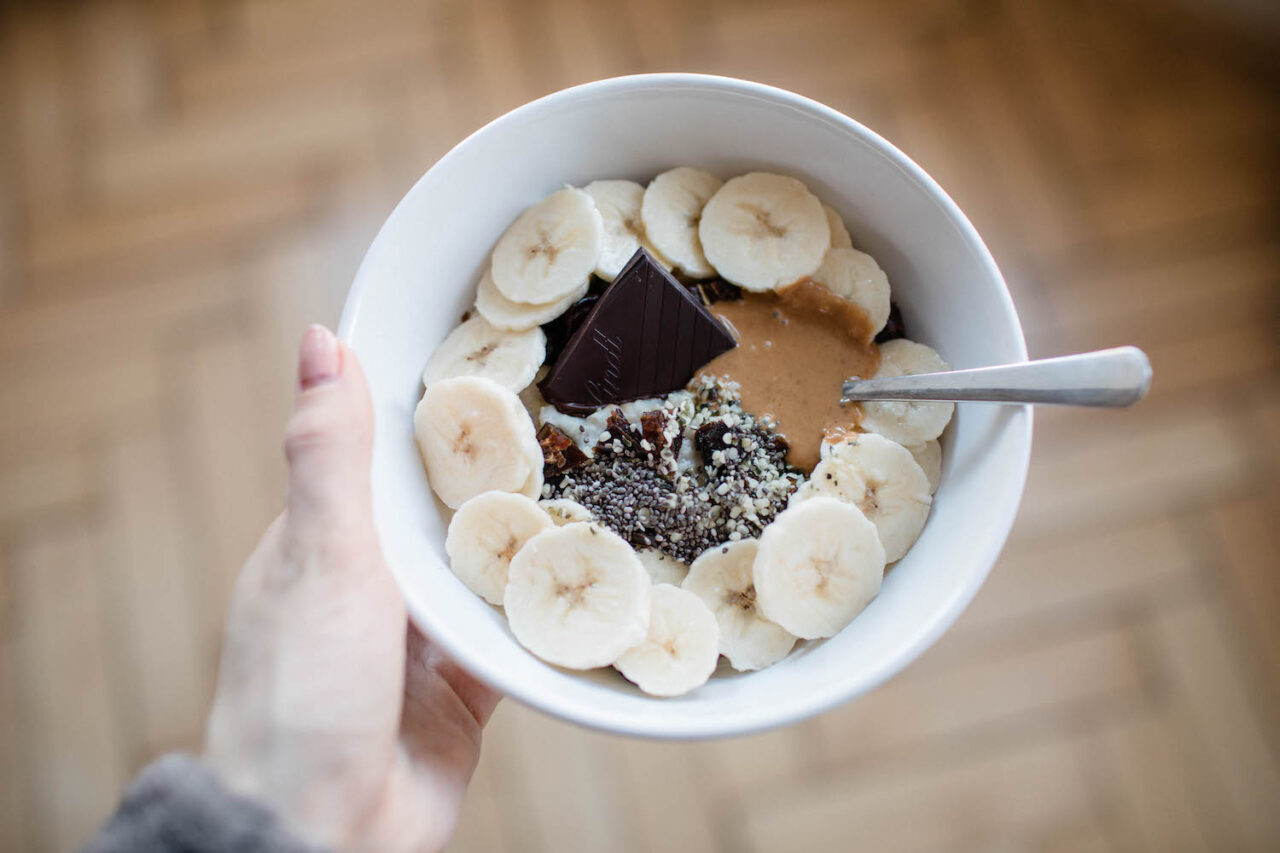 Budete potřebovat: ovesné vločky, vodu, banán, datle, konopná & chia semínka, arašídové máslo a vysokoprocentní čokoládu (já použila 85% Lindt)
---
You're gonna need: oats, water, banana, dates, hemp & chia seeds, peanut butter and some high quality chocolate (I used 85% Lindt)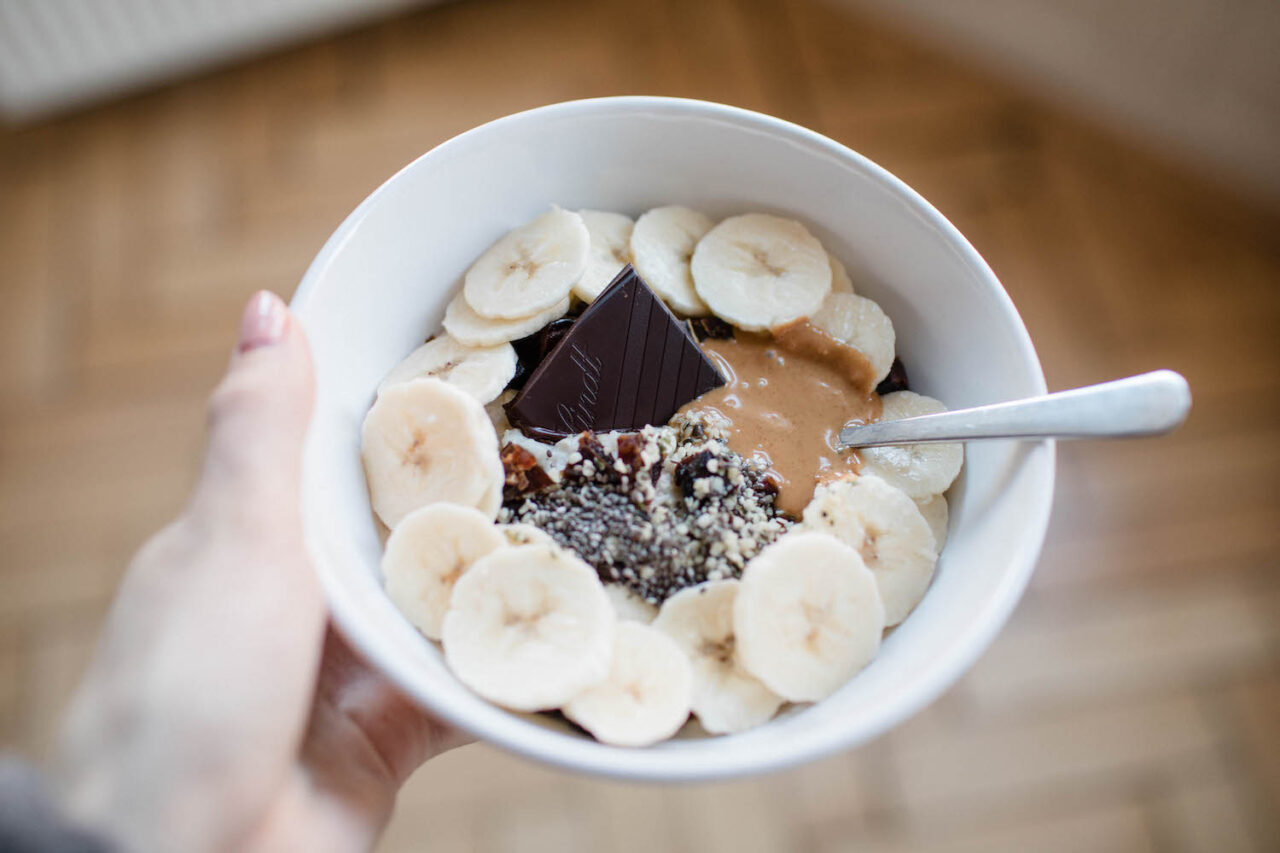 Recept je neskutečně jednoduchý a rychlý (cokoli jiného by vás u mě asi překvapilo, hehe) – do malého hrnce dáte ovesné vločky a vodu (případně rostlinné mléko) v poměru 1:2, na jednu porci obvykle dávám půl hrníčku vloček a 1 hrníček vody. Kaši přivedete k varu, ztlumíte plotnu zhruba na polovinu a mícháte, aby se zespoda nepřipálila. Během pár minut vám vznikne krásná kaše, kterou nalijete do misky, posypete nakrájenými datlemi (já je používám jako hlavní sladidlo, pokud by to na vás bylo málo sladké, můžete už do samotné kaše přidat nějaký sirup nebo med), banánem, semínky, arašídovým máslem a nakonec kostičkou čokolády, která se vám v teplé kaši krásně rozpustí. Tu kombinaci chutí miluju!
---
The recipe is super simple and quick (I think that anything else would surprise you, hehe) – put the oats and some water (or a plant-based milk) into a small pot, I always do 1 part of oats (half a cup for 1 portion) to 2 parts of liquid (1 cup). Bring to a boil, then reduce the heat to medium or low. Stir it to make sure it won't get burned at the bottom. In a few minutes, a beautiful porridge will be ready, pour it into a bowl and sprinkle it with some chopped dates (I use them as the main sweetener, if it's not sweet enough for you, use some syrup or honey), banana, seeds, peanut butter and a piece of chocolate that melts beautifully in that hot oatmeal. I love this combination!