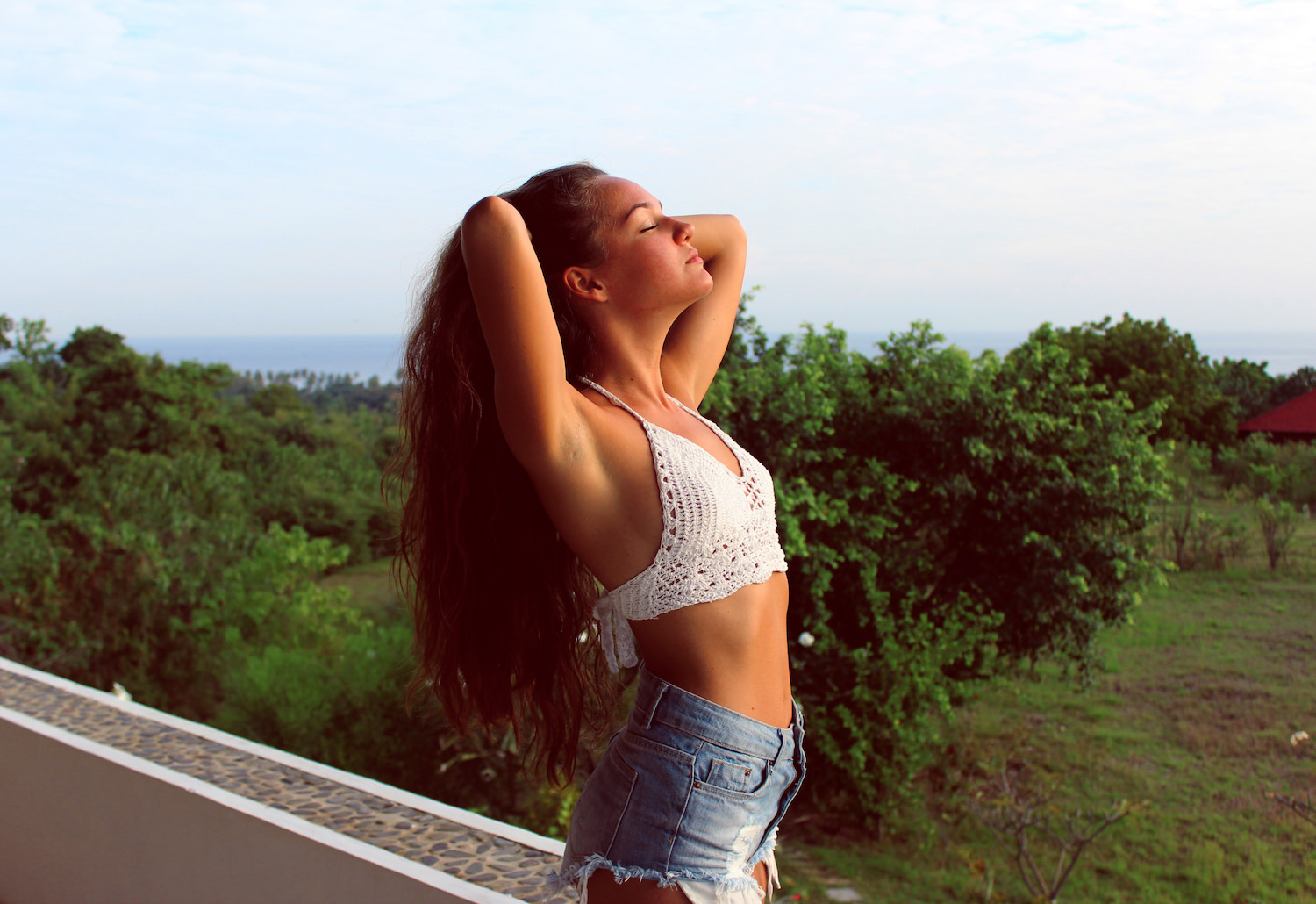 Hey guys! So a lot of you wanted to know about the acupuncture treatment, I had my first one yesterday so I'm gonna tell you my thoughts and a bit of a health update because I actually haven't told you what's going on exactly. In January I wrote a blog post about what happened when I went off the pill two years ago, if you haven't read it, HERE it is. During the time I posted this, I was absolutely sure that everything was finally over, but guess what, it all came back again. I'm so happy for all of you that tried the same things and healed yourselves, your messages made me so happy and I was shocked that so many girls were going through this hell as well. I didn't understand why my body stopped doing it's thing again because I didn't change anything. Honestly I didn't even realize that the same thing could happen again. So now after a few months of trials and erros I decided to finally try acupuncture (my naturopath was suggesting it last year). The doctor told me it's probably gonna take some time (maybe even like 12 weeks, but I really hope it's gonna be shorter) and that I have to go there every single week. He also gave me some herbs which should be really helpful as well.
The acupuncture itself was interesting. I was really nervous before I went there, I just didn't know what to expect. It doesn't hurt, but when he was putting the needles on my belly, it wasn't like super pleasant, but I guess that this area is just a little bit more sensitive. I was lying with eight needles on my body for about fifteen minutes and I felt a soft tension on some points of my body. It was really interesting. I felt really good afterwards, it's really hard to describe it but I just feel like something is going on inside. I'm having my second treatment on Tuesday so I'll just keep you updated on how I feel and how it works! If you have any questions, leave them down below 🙂 Hugs <3
---
Ahoj! Hodně z vás chtělo vědět víc o akupunktuře, včera jsem měla svoje první sezení, takže vám povím, jaké to bylo. Taky chci napsat menší zdravotní update, sice jsem o tom psala několikrát, ale nebyla jsem úplně konkrétní. V lednu jsem napsala článek o tom, co se mi stalo, když jsem před dvěma lety vysadila antikoncepci (pokud jste ho nečetli, TADY je). V době, kdy jsem tenhle článek psala, jsem si byla naprosto jistá, že už mám všechny ty problémy opravdu za sebou, ale asi už tušíte, že se mi znovu všechno vrátilo. Mám radost z toho, kolik z vás zkusilo ty samé věci jako já a pomohlo vám to, všechny vaše zprávy mě vážně potěšily a byla jsem prostě v šoku z toho, kolik holek si tímhle peklem taky prochází. Doteď nevím, proč se moje tělo zase rozhodlo se mnou přestat spolupracovat, protože nic zásadního jsem nezměnila a upřímně mi docela dlouho trvalo, než jsem si uvědomila, že se to vážně děje a že je vůbec možné, aby se to celé opakovalo. Po několik měsících pokusů a omylů jsem se rozhodla zkusit akupunkturu, kterou mi moje léčitelka doporučovala už minulý rok. Pan doktor mi řekl, že to nejspíš bude nějakou dobu trvat (prý až 12 týdnů, ale věřím, že to snad bude kratší), a že tam budu muset chodit každý týden. Dostala jsem i nějaké bylinky, které by měly taky hodně pomoct.
Akupunktura samotná byla zajímavá. Ráno jsem byla hrozně nervózní, protože jsem netušila, do čeho jdu. Nebolí to, ale když mi vpichoval jehličky na břiše, nebyla to úplně ta nejpříjemnější věc na světě, kůže je tam asi prostě trochu citlivější. Asi čtvrt hodiny jsem ležela s osmi jehličkami na sobě a cítila jsem jemný tlak na několika bodech, což bylo vážně zajímavé. Po sezení jsem se cítila skvěle, je těžké ten pocit popsat, prostě jakoby se něco uvnitř začalo dít. V úterý tam jdu znovu, takže vás budu průběžně informovat o tom, jak se cítím a jaké to má výsledky. Pokud máte jakékoli otázky, napište je do komentářů! 🙂 Pusu!