Včera jsem oslavila svoje 24. narozeniny. Asi jako většina lidí, co slaví teď na jaře, jsem měla úplně jiné plány (původně jsme dokonce měli být v Barceloně), ale situace je taková, jaká je, a letošní narozeninový den jsem strávila s Vildou doma. A byl nakonec tak boží, že se zařadil mezi ty nejlepší narozeninové dny ze všech! 🙂
---
I celebrated my 24th birthday yesterday. Like most people born in spring, my plans for this day were very different (we were even supposed to be in Barcelona right now), but the situation is how it is and I spent my B-day at home with my husband. And it was so lovely, definitely one of my best birthdays ever! 🙂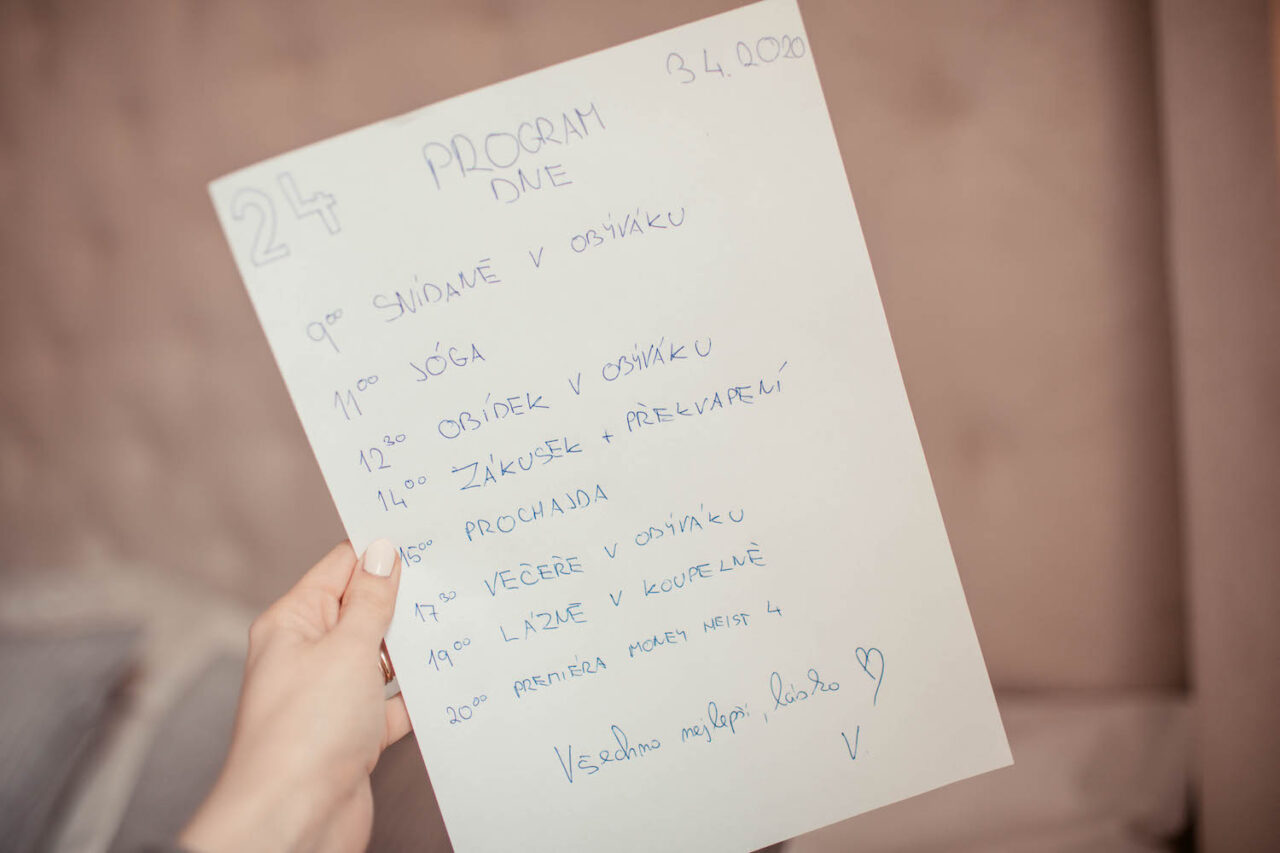 Ráno jsem v posteli dostala program dne. Měla jsem za úkol jen vstát a připravit se, takže jsem se po ani nevím jaké době trochu namalovala a čekala v ložnici, zatímco Vilda něco dělal v kuchyni. Přišlo mi, že slyším, jako by něco smažil, takže mě napadlo, že dělá míchaná vajíčka.
---
In the morning he gave me this itinerary in bed. My task was to get up and get ready so I did a little bit of make-up and waited in the bedroom while Vilda was cooking something in the kitchen. I thought I heard him frying something so I thought he might be making scrambled eggs.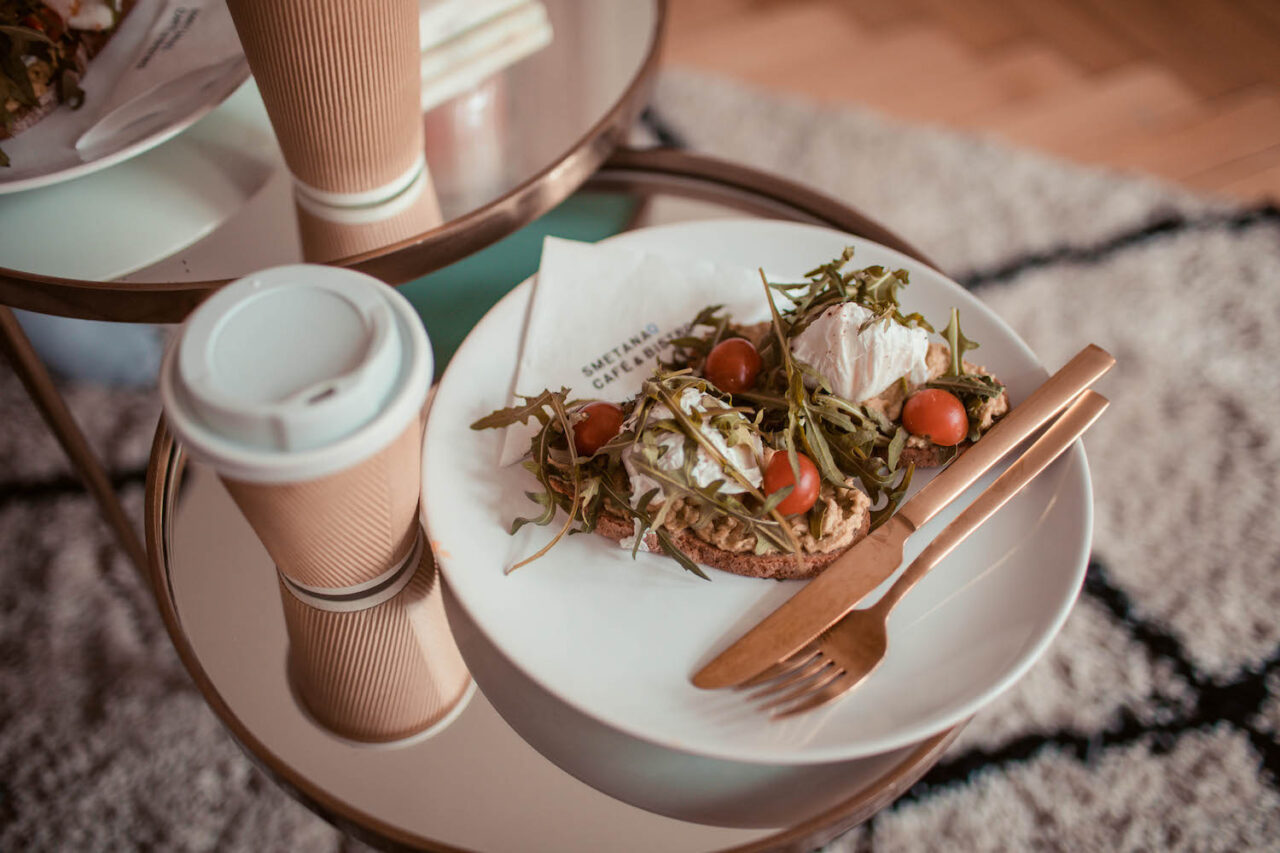 Potom mi ale naservíroval tohle! Avokádový chlebík s vajíčkem a matcha latté ze Smetanaq. Asi víte, že tohle je moje nejoblíbenější snídaně z mojí nejoblíbenější kavárny, která je teď jako většina jiných podniků zavřená (ale brzy by měla být na Woltu!), takže si umíte představit, jaké překvapení to pro mě bylo a jakou jsem měla radost.
---
But then he served me this! Avocado toasts with eggs and matcha latté from Smetanaq. You probably already know it's my favorite breakfast from my favorite café which is closed right now so you can imagine how surprised and happy I was.
Nebylo to ale jediné překvapení, které mě včera čekalo. Podle programu jsem měla být v 11 hodin připravená na jógu. Napadlo mě, že mi možná našel nějaké hezké video na Youtube, nebo že mi zapne skype s Anetkou. Potom ale přišel s notebookem a na obrazovce na mě čekal videohovor s lektorkou, ke které jsem chodila na těhotenskou jógu! Užila jsem si překrásnou hodinovou lekci a zavzpomínala při tom na to, jaká oáza klidu pro mě tyhle lekce jednou týdně byly. Nevím, jestli vůbec do porodu studia otevřou a jestli nějakou lekci ještě stihnu, takže to pro mě byl neskutečný zážitek <3
---
But it was not the only surprised he prepared. According to the timeline, at 11AM I was ready for yoga. I thought he found a nice Youtube video or that he arranged a skype call with my friend Anet. But then he showed me the laptop and I saw a lady at who's pregnancy yoga lessons I regularly went to before all this! I enjoyed a lovely hour of yoga and I remembered how calming these lessons were. I don't know if the studio will be open before my due date or not so I'm not sure if I'll ever go to a pregnancy yoga during this pregnancy, so it was such a beautiful experience for me <3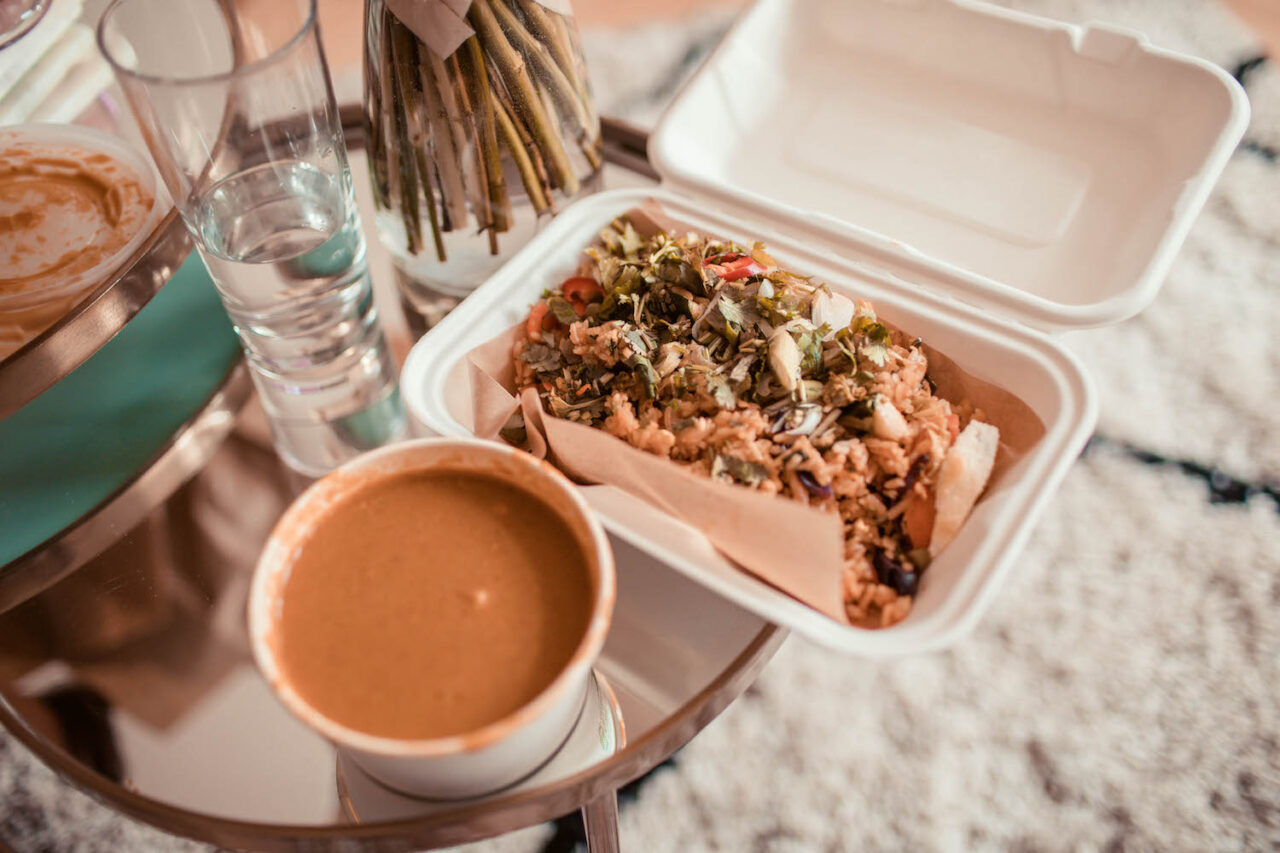 K obědu jsme měli indonéské nasi goreng a výbornou curry polévku z Forrest Bistra.
---
For lunch we had indonesian nasi goreng and a yummy curry soup from Forrest Bistro.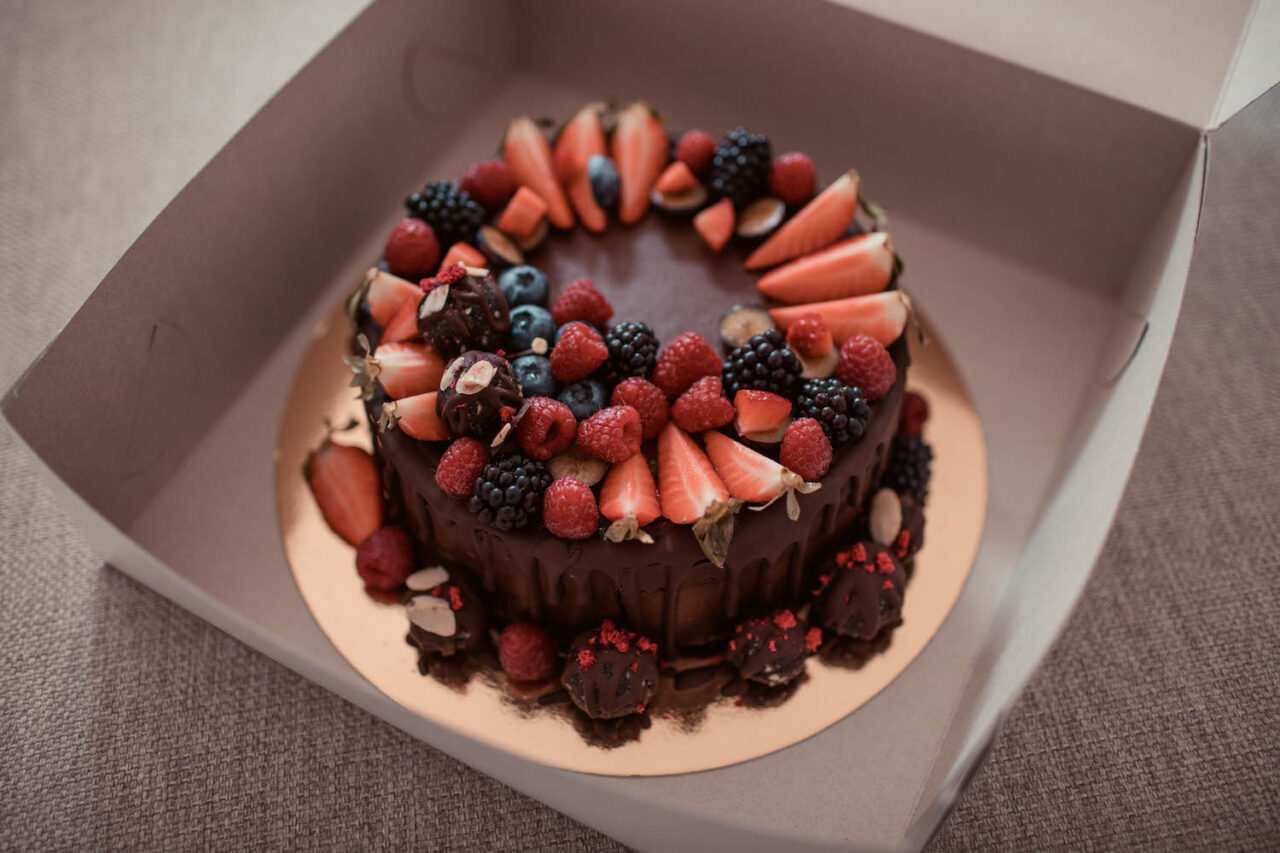 A nechyběl ani dort! Náš oblíbený čokoládový z Momo Café. A aby toho nebylo málo, když jsme ho rozkrojili, uvařili si k němu čaj a sedli si na gauč, Vilda na televizi pustil video s narozeninovými přáníčky od mých kamarádek.
---
And I even had a bday cake! Our favorite chocolate one from Momo Café. And like it wouldn't be enough, while we sat down to eat it with some tea, he played a little video with bday wishes from my friends on the TV.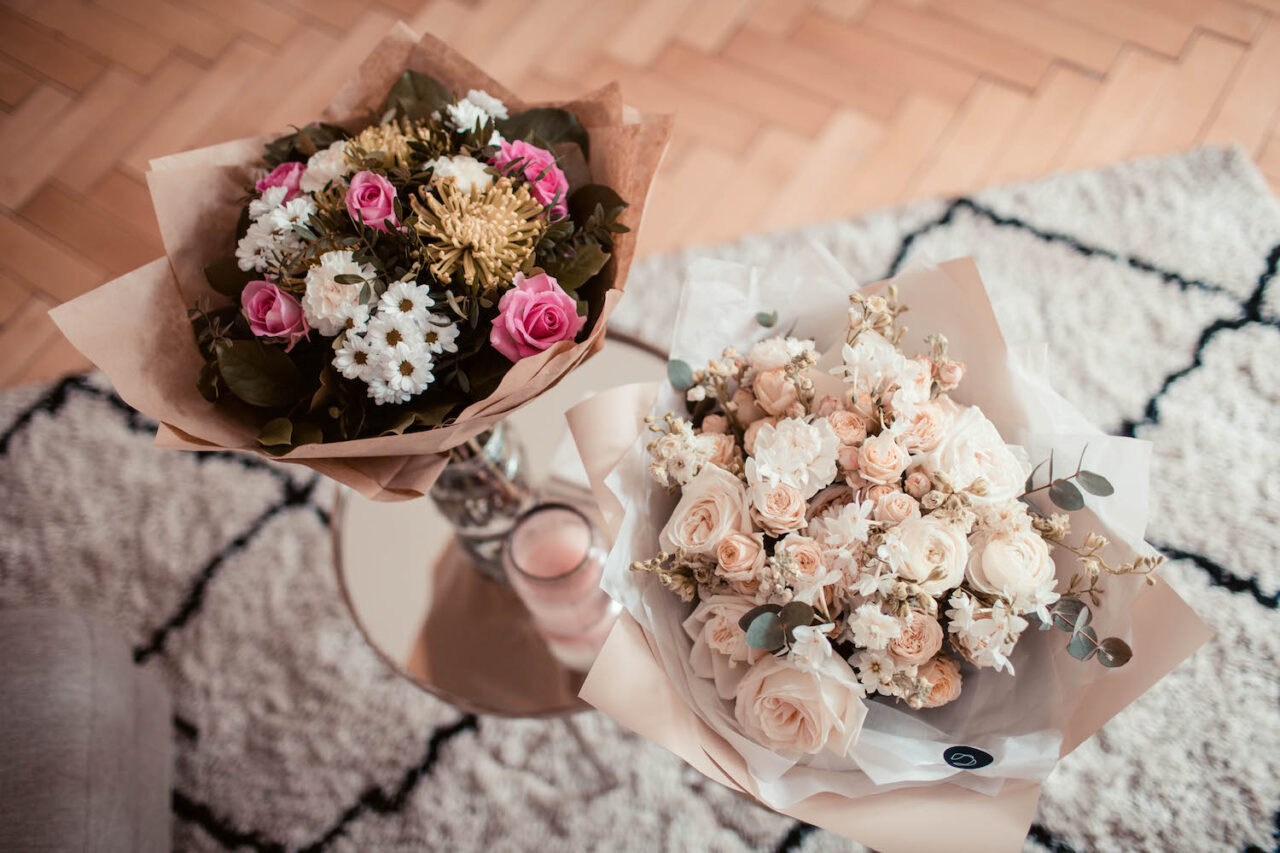 Nejkrásnější narozeninové kytičky. Tu vlevo jsem dostala od Vildy, tu vpravo mi dovezl kurýr jako překvapení od mojí rodinky z Daniel Wellington <3
---
The most beautiful flowers. The one on the left is from Vilda, the one on the right was a surprise from my Daniel Wellington family <3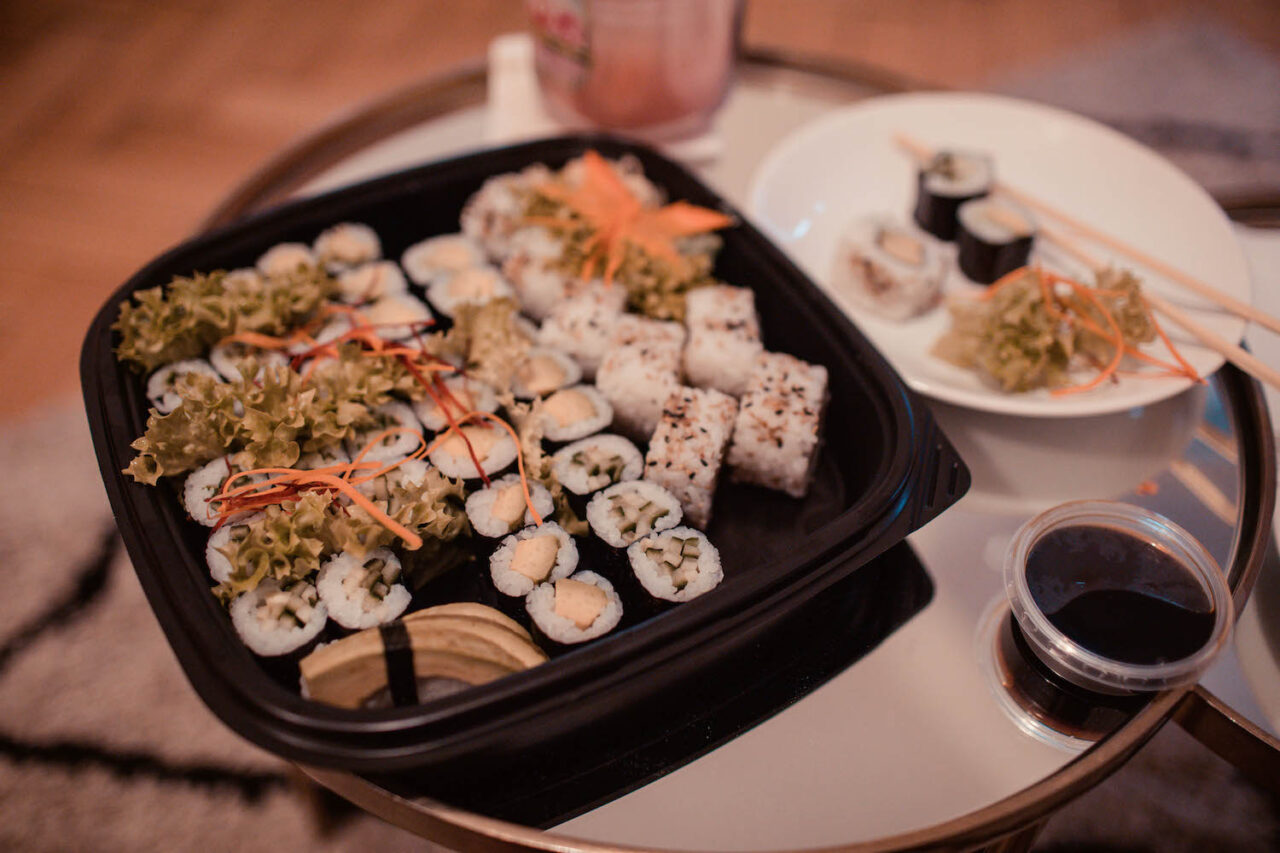 Procházku jsme kvůli počasí vynechali, ale podle programu jsme si užili večerní lázně (=vana :D) a k večeři jsme měli sushi.
---
We skipped the walk because of the weather, but we enjoyed some spa (=our bathtub :D) and had sushi for dinner.
Poslední narozeninový dárek jsem dostala od Netlixu, haha, včera spustili novou sérii našeho oblíbeného seriálu Money Heist, takže jsme se podívali na dva první díly a šli spát. Ten můj muž je prostě neuvěřitelnej. Děkuju za naprosto dokonalej den <3
---
And I got the last birthday gift from Netflix, haha, yesterday they launched a new serie of Money Heist, one of our favorite series ever, so we watched two episodes and went to bed. My husband is just a whole another level. Thank you for the most perfect day <3