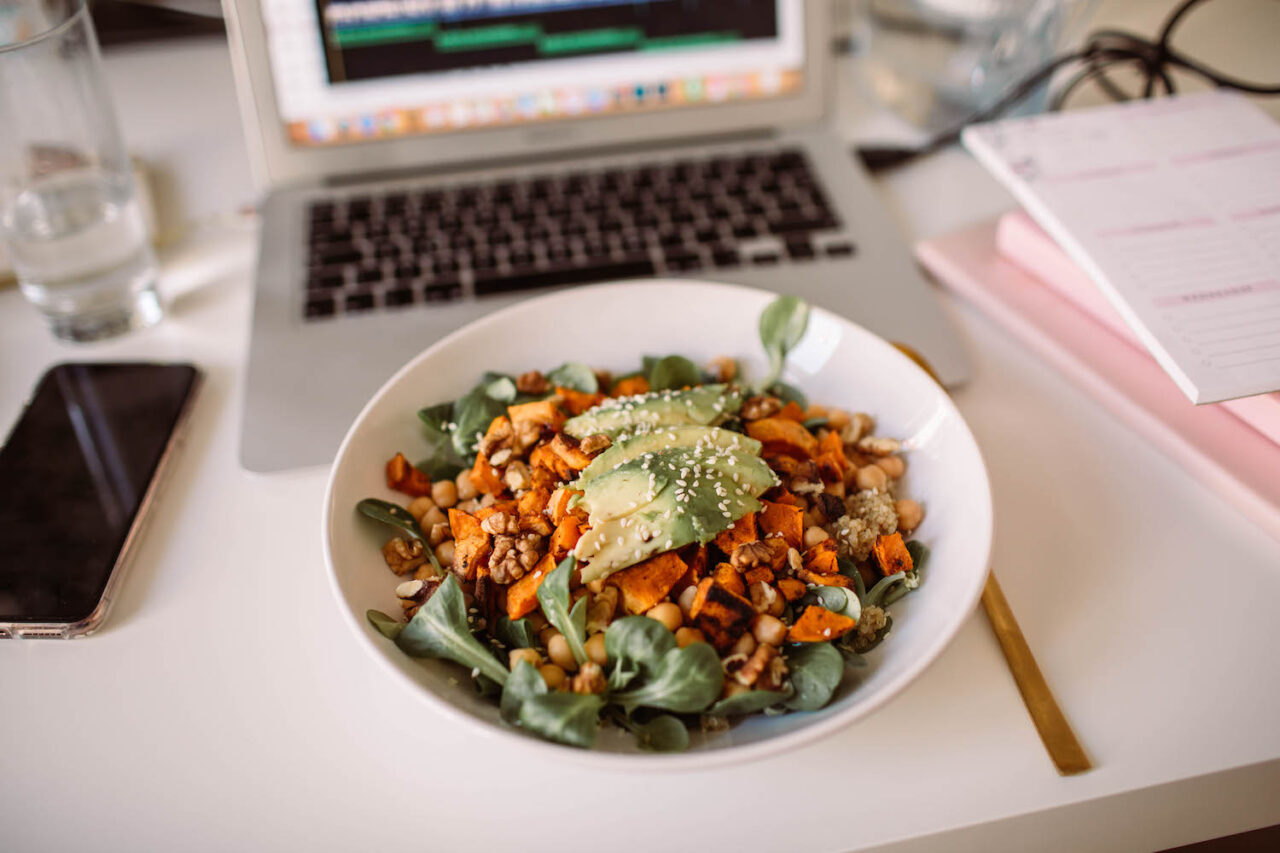 Krásnou sobotu, jak se máte? Já mám pro vás dneska pár fotek, které se mi za poslední dny nahromadily ve foťáku. I když se u nás doma nic extra zajímavého neděje, občas se snažím něco cvaknout (hlavně jídlo, haha), abych pro vás měla alespoň nějaké fotky. Tohle je náš včerejší oběd – polníček, quinoa, batáty (upečené v troubě s troškou olivového oleje a kořením na americké brambory), cizrna, vlašské oříšky, avokádo a sezamová semínka. Neskutečná mňamka!
---
Happy Saturday, how are you babes? I have a some random photos from the past few days that I found in my camera. Even though there's not much going on in our lives at the moment, I try to take photos (mainly of food, haha) to have some content for the blog. This is our yesterday's lunch – some greens, quinoa, sweet potatoes (baked in the oven with some olive oil and American potatoes seasoning), chickpeas, walnuts, avocado and sesame seeds. So yummy!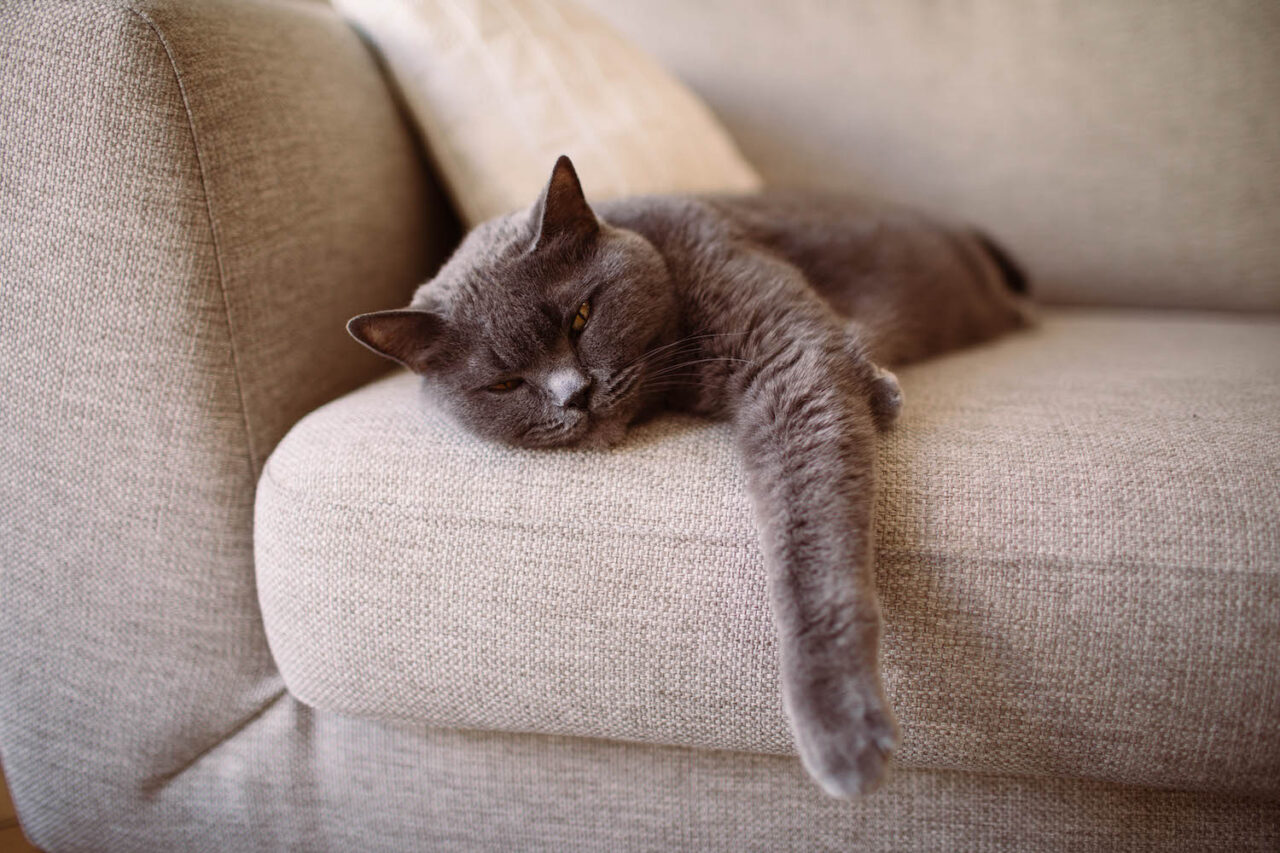 Láska <3 Myslím, že je naprosto spokojená, že nás má teď oba doma a můžeme se mazlit i během dne.
---
My love <3 I think she's so happy to have both of us at home all the time so we can cuddle a lot.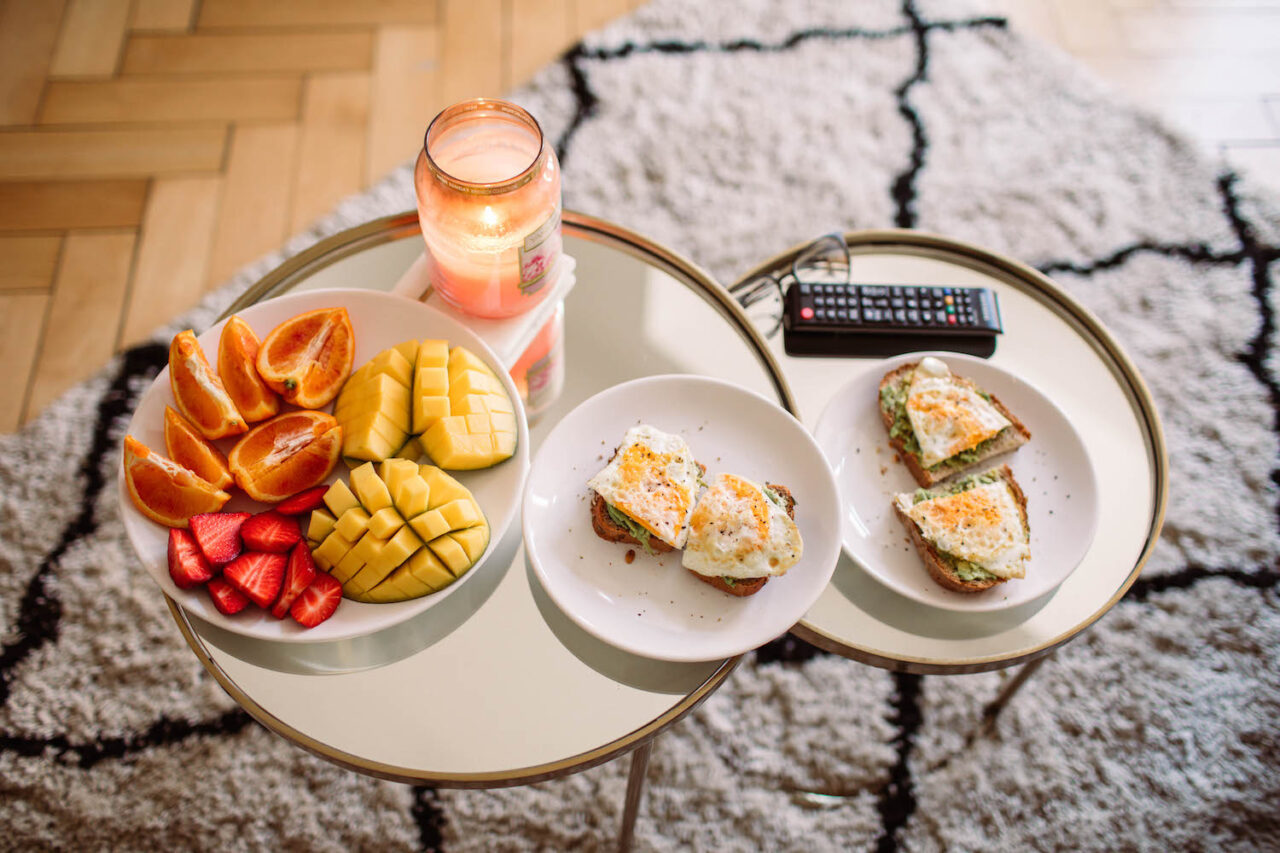 Oblíbená snídaně (chleba s avokádem a smaženým vajíčkem) a spousta vitamínů!
---
My favourite breakfast (bread with avocado and fried egg) and lots of vitamins!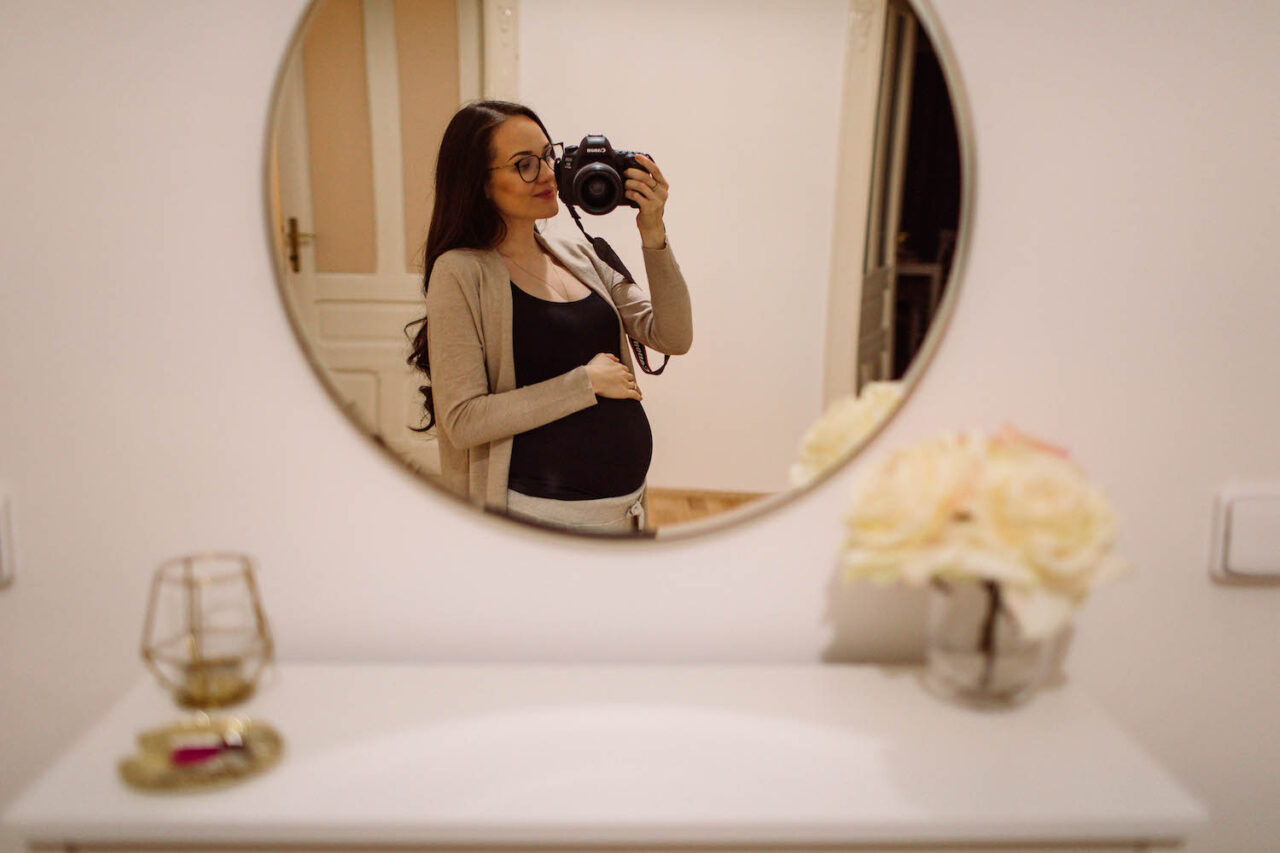 Moje oblíbená část haly! Ještě musím vymyslet, co uděláme se zbytkem prostoru. Jinak často mi chodí dotazy na to, jak zvládám momentální situaci vzhledem k tomu, že čekáme miminko. Nebudu lhát, trochu nervózní z toho jsem, obzvlášť teď, když je zakázána přítomnost tatínka u porodu, což je něco, co si upřímně nedokážu představit a posílám spoustu energie a lásky všem maminkám, které přivádí svoje děti na svět právě teď, jste hrdinky <3 Modlím se, aby situace nebyla za pár měsíců pořád stejná, ale samozřejmě je to něco, co neovlivním. Co se týče strachu z koronaviru obecně, jsem docela v klidu, už docela dlouho nikam nechodím, nakoupit chodí Vilda a dáváme si velký pozor, pořád si myjeme ruce, já pořád všechno dezinfikuju.. Miminku se podle všeho daří dobře a doufám, že to tak bude i nadále. Je mi líto, že si pravděpodobně neužiju svoje nejoblíbenější roční období a že nenafotíme hezké těhotenské fotky u rozkvetlých stromů, ale ve finále na tom vůbec nezáleží a hlavní je, abychom se z téhle situace nakonec dostali. Co si naopak užívám je to, že jsme s Vildou teď pořád spolu.
---
My favorite part of our entrance hall! I have to think about what to do with the rest of the space though. Anyways, a lot of you send me messages asking about how I'm handling the current situation while being pregnant. I won't lie, I'm a bit nervous about it, especially now when the government have forbidden the presence of fathers during labour, which is something I honestly can't imagine and I'm sending lots of energy and love to all the mommies out there who are giving birth right now, you're my heroes <3 I'm praying the situation won't be the same in a couple of months, but of course it's something I won't change. About the virus itself, I'm pretty chilled about it because I'm at home all the time, my husband is doing the groceries and stuff and we're very careful, washing our hands often, I'm sanitising everything all the time.. The baby is doing well and I hope it stays that way. I'm sad I won't be able to enjoy my favorite season and that we won't take cute pregnancy photos with the blooming trees, but at the end these things are irrelevant and what matters is that we get through this eventually. What I really enjoy right now though is being with Vilda all day every day.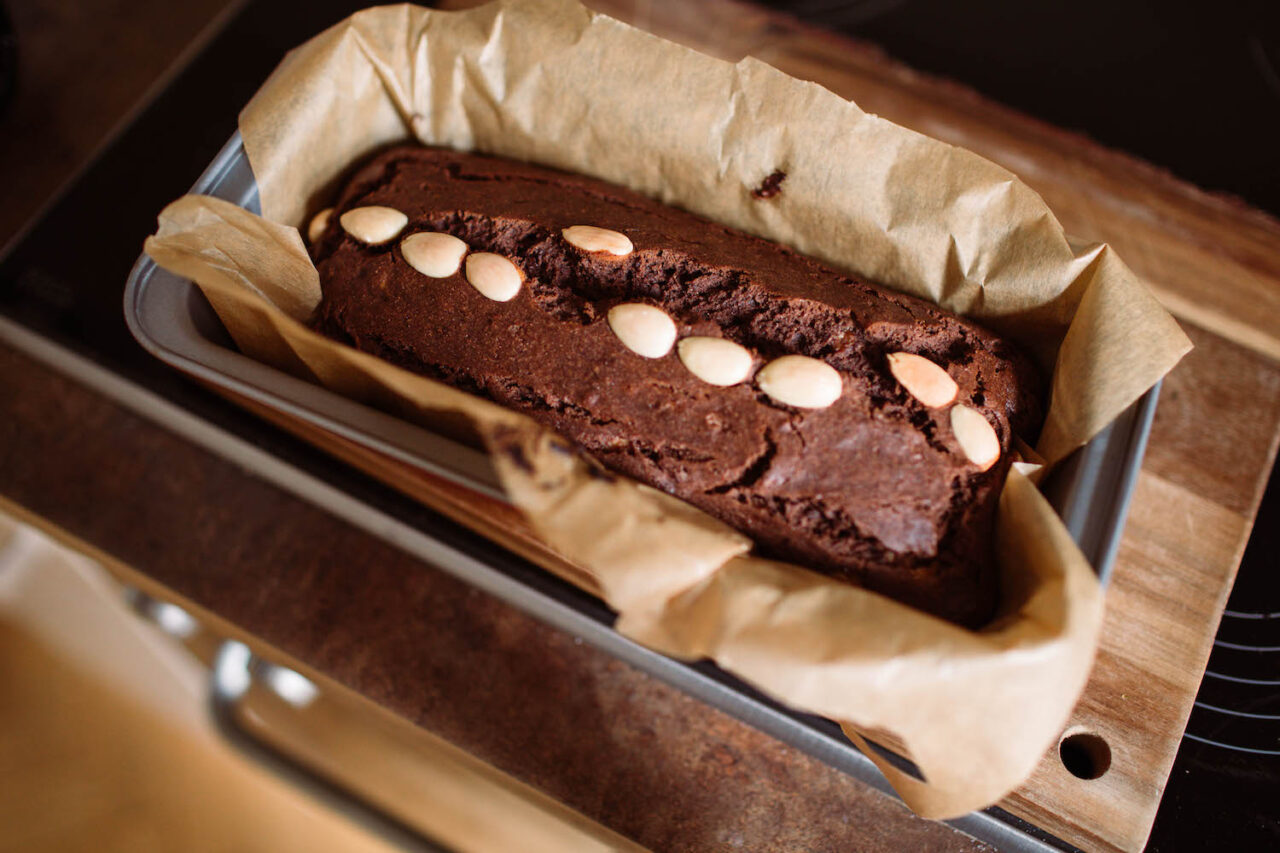 Taky teď trávím mnohem víc času v kuchyni. Před pár dny jsem dělala tenhle výborný banana bread (recept tady – udělala jsem ho ze 4 banánů a cukru jsem dala 80g).
---
I'm also spending a lot more time in the kitchen now. A few days ago I made this yummy banana bread (recipe here – I made it with 4 bananas and 80g of sugar).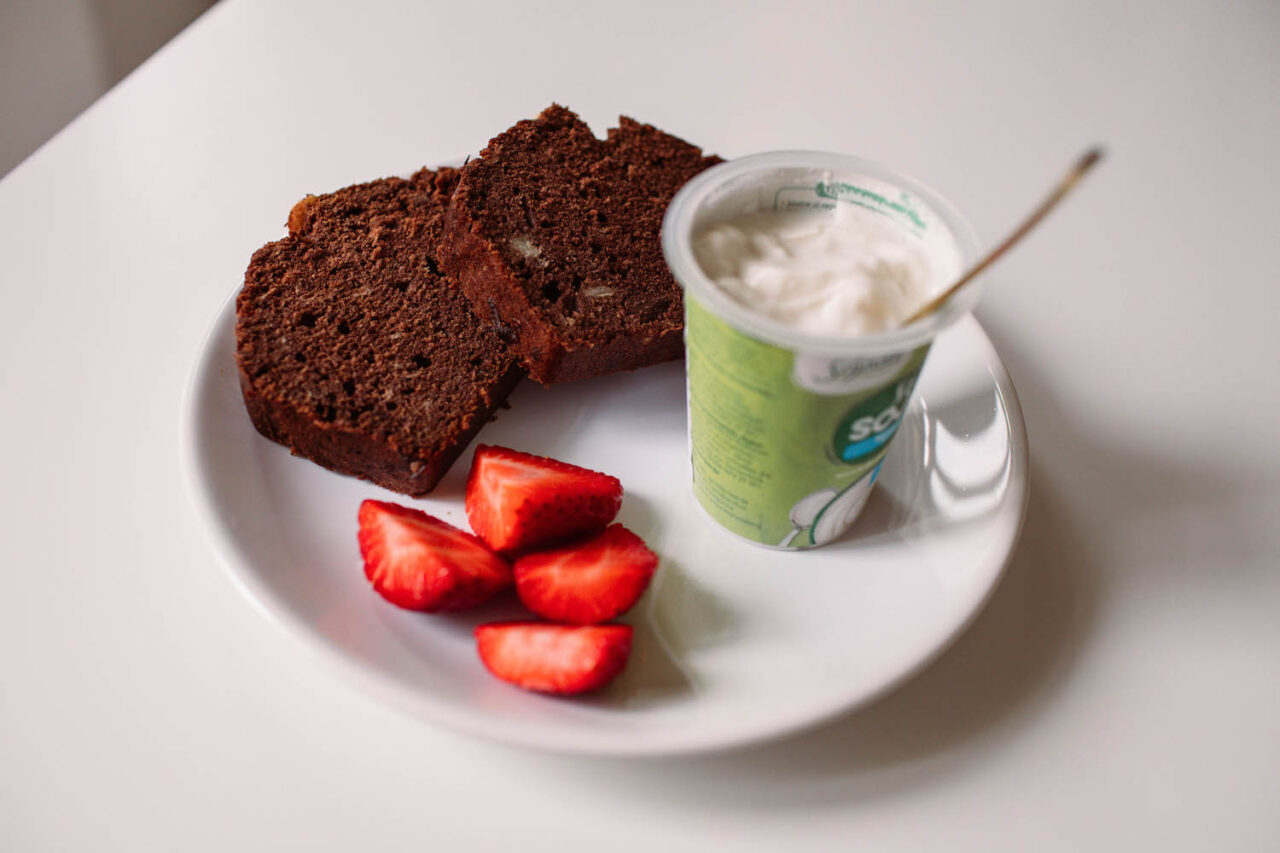 Včera jsme si ho dali k snídani s bílým jogurtem a jahůdkami! Výborně chutná ale i potřený arašídovým máslem.
---
Yesterday we ate it for breakfast with some white yoghurt and strawberries! It tastes amazing with some peanut butter on top as well.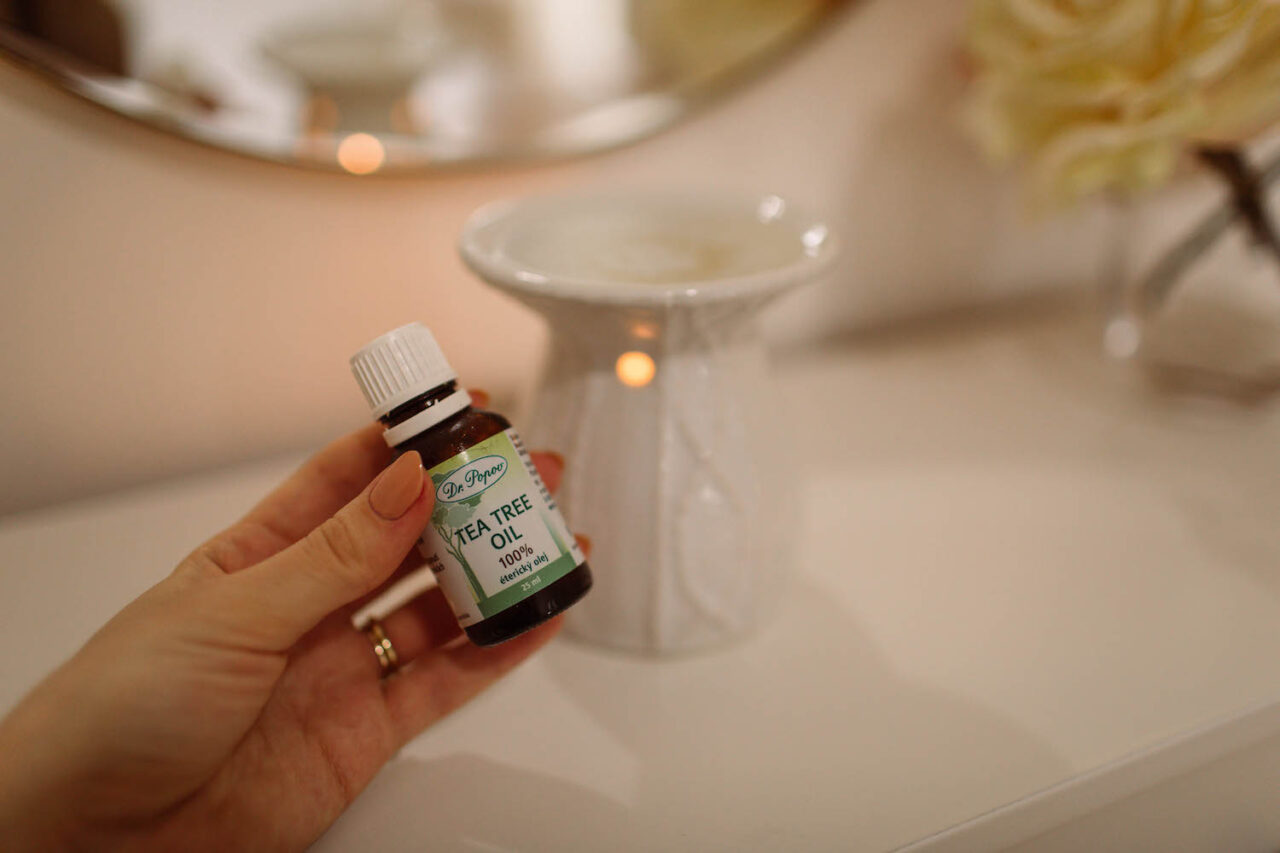 V aromalampě teď pálím tea tree olejíček, miluju tu vůni, navíc má antiseptické účinky.
---
I put some tea tree oil to our aroma lamp, it has antiseptic effects and I love the smell.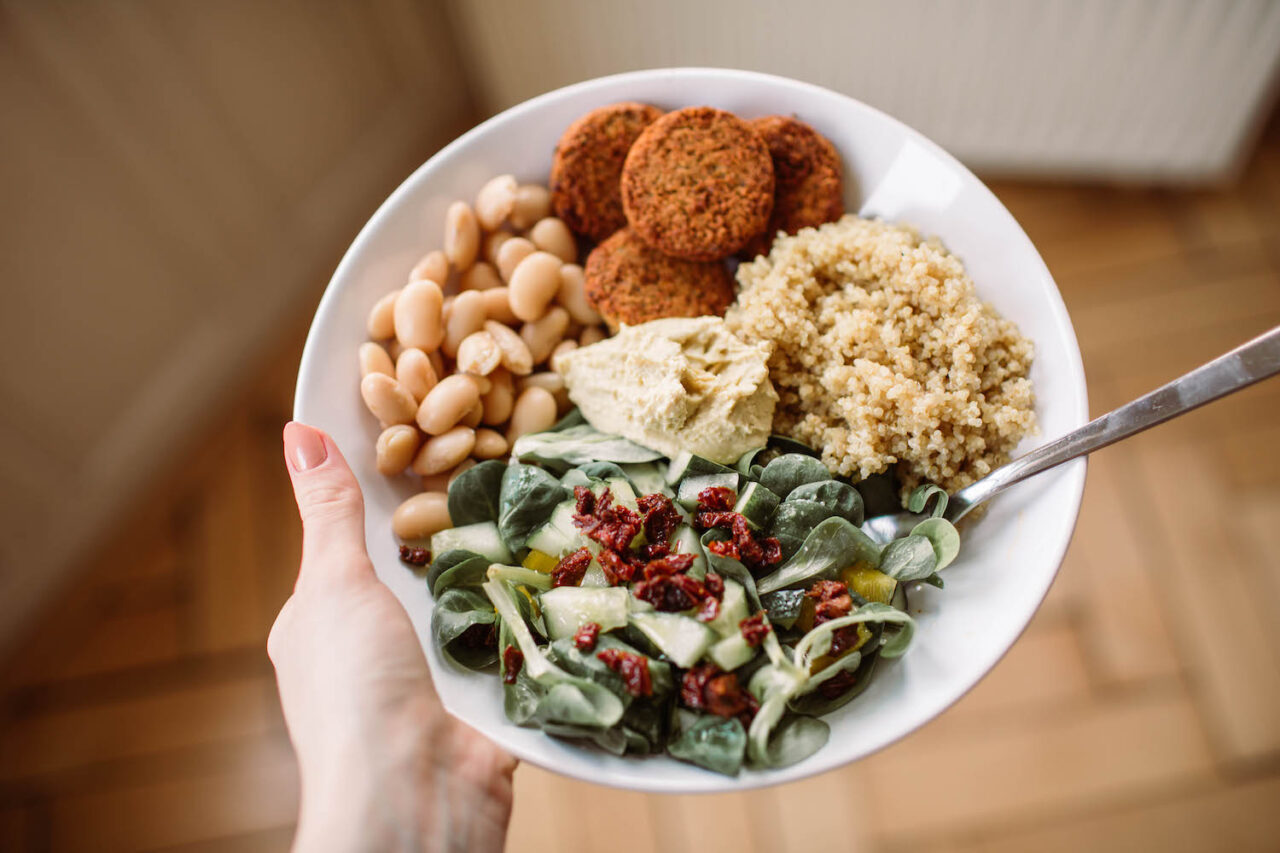 Další zdravá rychlovka – falafel, bílé fazolky, quinoa, hummus a salát z polníčku, okurky, papriky a sušených rajčat.
---
Another quick and healthy food – falafel, white beans, quinoa, hummus and a salad made of some greens, cucumber, bell pepper and sundried tomatoes.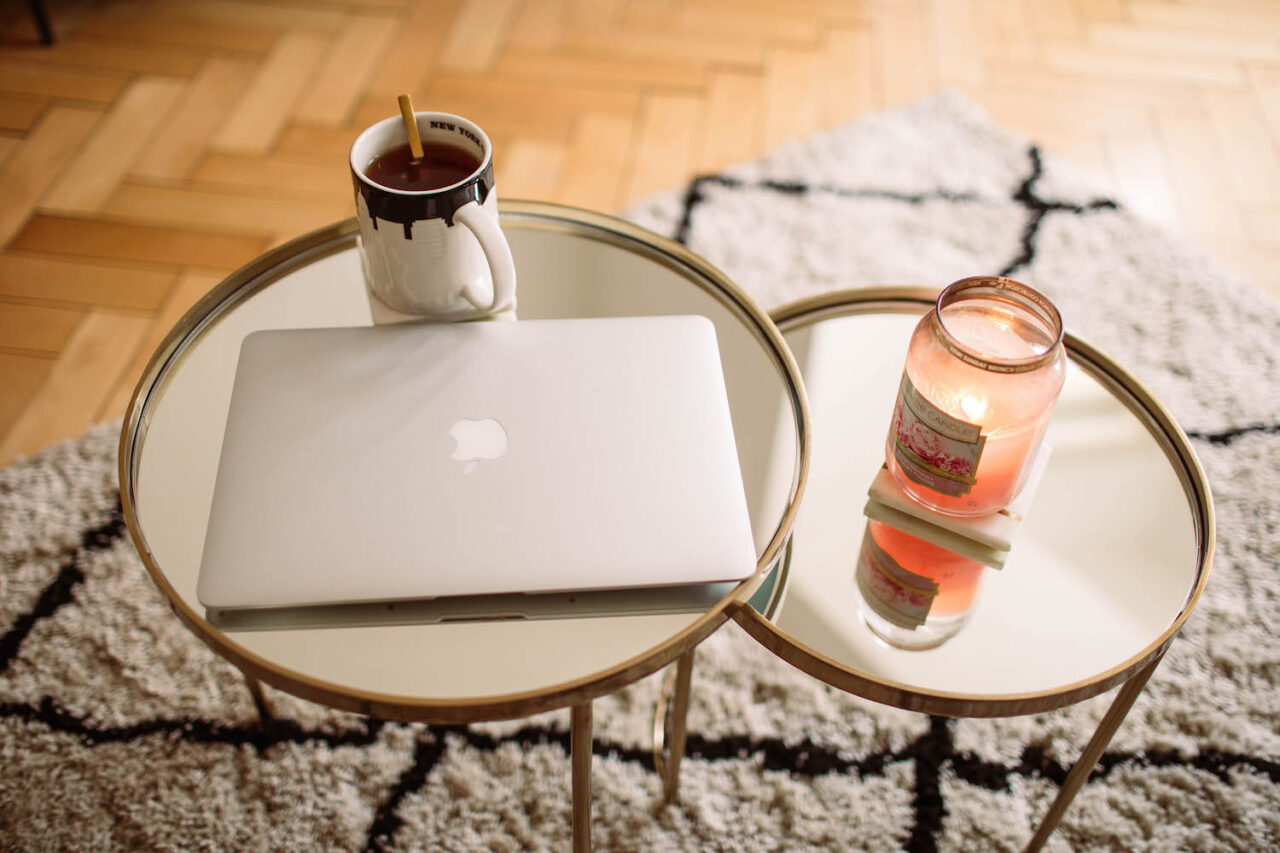 Můj home office teď vypadá trochu jinak, pořád trávím většinu času v pracovně, ale když Vilda telefonuje (což je občas zhruba milionkrát za den), přesunu se do obýváku, abychom se vzájemně nerušili.
---
My home office has changed a little bit, I still do most of my work in the office, but when Vilda is on the phone (which is like a million times a day sometimes), I go to the living room so that we don't disturb each other.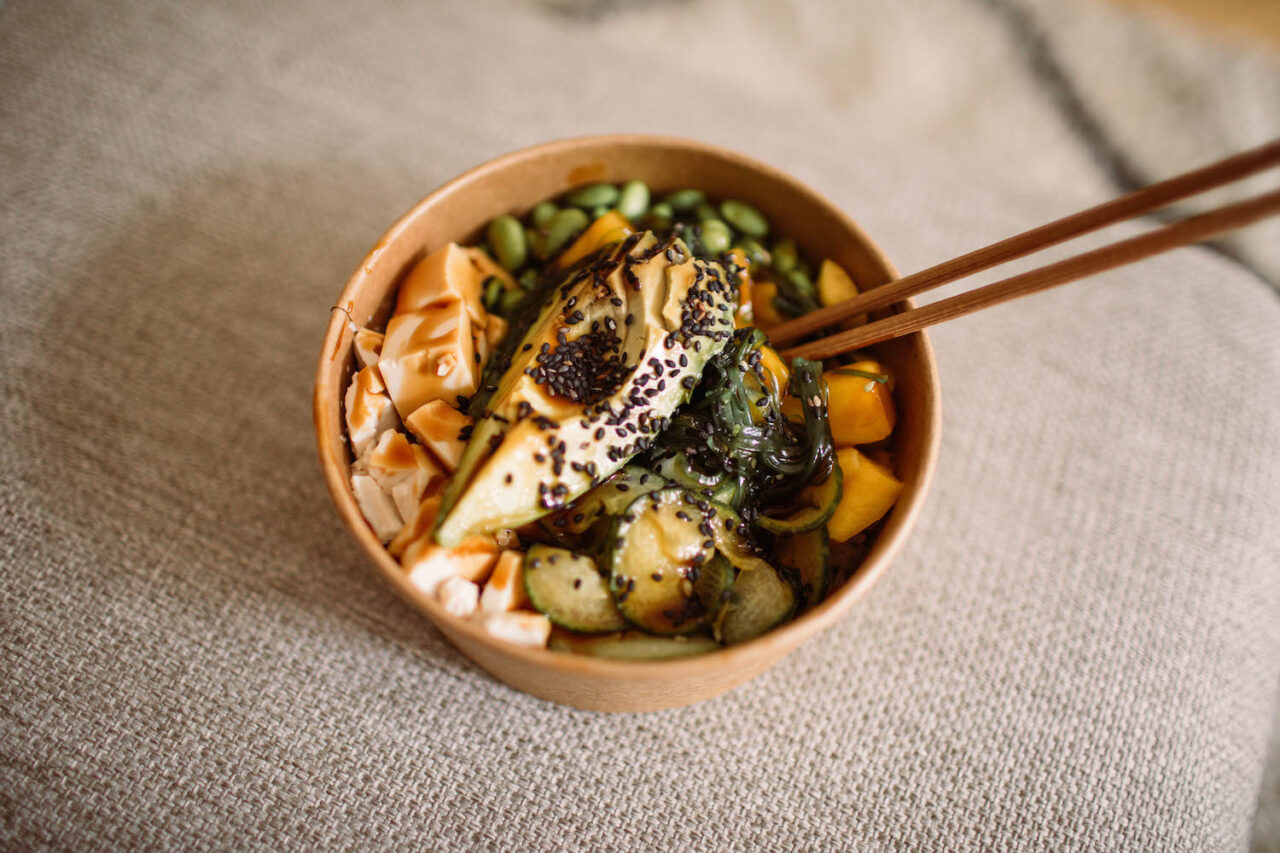 Snažíme se alespoň nějak podporovat podnikatele, pro které je tohle období neskutečně náročné, takže si občas objednáváme jídlo na Woltu z našich oblíbených restaurací. Dneska jsme měli poké bowl z Poké Haus, já si ji vždycky namíchám sama a moje oblíbená kombinace je: sushi rýže, tofu, edamame, mango, okurka, wakame, avokádo, teriyaki a černá sezamová semínka. x
---
We try to support small businesses, they are having a tough time right now so we order food from our favorite restaurants at Wolt. Today we had poké bowls from Poké Haus, I always mix my own and my favorite combo is: sushi rice, tofu, edamame, mango, cucumber, wakame, avocado, teriyaki and black sesame seeds. x