Krásnou neděli 🙂 Doufám, že jste připraveni na pořádnou dávku fotek ze včerejška! Meetup se konal v překrásných prostorech Villy Seven Hills. Upřímně si neumím představit krásnější prostředí na tuhle akci. Velké vzdušné prostory prosvětlené velkými okny s krásným výhledem dodaly celému našemu dopoledni skvělou atmosféru. Milá manažerka nám navíc umožnila uspořádat akci přesně podle našich představ, za což jsem moc vděčná.
---
Happy Sunday 🙂 I hope you're ready for tons of photos from yesterday! My meet up was taking place in the beautiful Villa Seven Hills. I honestly can't imagine a better place for this event, the airy space illuminated by these large windows (with a beautiful view) gave our morning a great atmosphere. The manager was so lovely and made it possible to organize the event just the way we wanted which I'm super grateful for.
Na meetup se nám podařilo sehnat několik partnerů, kteří nám pro vás poskytli krásné dárečky.
---
We managed to partner up with a few sponsors that gave us some beautiful gifts for you guys.
Hlavním partnerem bylo moje nejmilejší Genesys Medical, které nám poskytlo nejen finanční příspěvek na pokrytí organizačních poplatků, ale i dárkové vouchery k nim na kliniku. Jsem moc vděčná, že se na akci podíleli právě oni, protože nejenže jsou jednoznačně nejlepší ve svém oboru a několikrát mi doslova zachránili pleť, ještě ke všemu jsou to prostě skvělí lidé se srdcem na pravém místě <3
---
The main partner was my favorite Genesys Medical that made not only a financial contribution that we used on organizational fees, they also gave us vouchers to the clinic. I'm so thankful they were a part of this event because they're the best in what they do and they literally saved my skin many times, but they're also amazing people with hearts in the right place <3
Dalším partnerem akce bylo CG foods, což je velkoobchod čajů a kávy a na meetup nám poskytnul hodnotný balíček se třemi druhy čajů. Mým cílem bylo spojit celý meetup s věcmi, které já sama mám ráda, a asi víte, že čaje jsou moje láska a vypiju jich za den spoustu. CG foods je česká firma, která má ve svém sortimentu vysoce kvalitní čaje a kávu ze Srí Lanky, Anglie, Itálie, Ruska a Španělska.
---
Another partner of the event was CG foods, which is a wholesale of teas and coffee and they gave us a valuable package with three different kinds of tea. My dream was to connect the meet up with things I personally love, and you probably know that tea is one of them. I drink so much tea every day. CG foods is a Czech-based company that sells high quality tea and coffee from Sri Lanka, England, Italy, Russia and Spain.
No a další věc, kterou miluju – dobré jídlo! A nemohlo být od nikoho jiného, než od nejmilejšího MoMo Café. Na meetup si připravili spoustu nejrůznějších dobrot od dortů až po věnečky. Všechny jejich produkty jsou nejen vynikající a překrásné, ale navíc jsou veganské, bez lepku a bez cukru.
---
And another thing I love – good food! The catering was from my favorite MoMo Café. They prepared lots of different goodies, all kinds of cakes and other sweets. All of their products are not only delicious and beautiful, but also vegan, gluten-free and sugar free.
A protože jsem vždycky byla blázen do éterických olejů a aromaterapie, chtěla jsem i tuhle oblast do meetupu nějakým způsobem zapojit. Česká značka Nobilis Tilia nám pro každého darovala olejíček Sladký pomeranč, který dodává radost a optimismus.
---
And because I've always been into essential oils and aromatherapy, I wanted to include it to the meet up as well. A Czech-based company Nobilis Tilia gave us essential oils called Sweet orange that raises positive energy and optimism.
<3
<3
<3
Full house! <3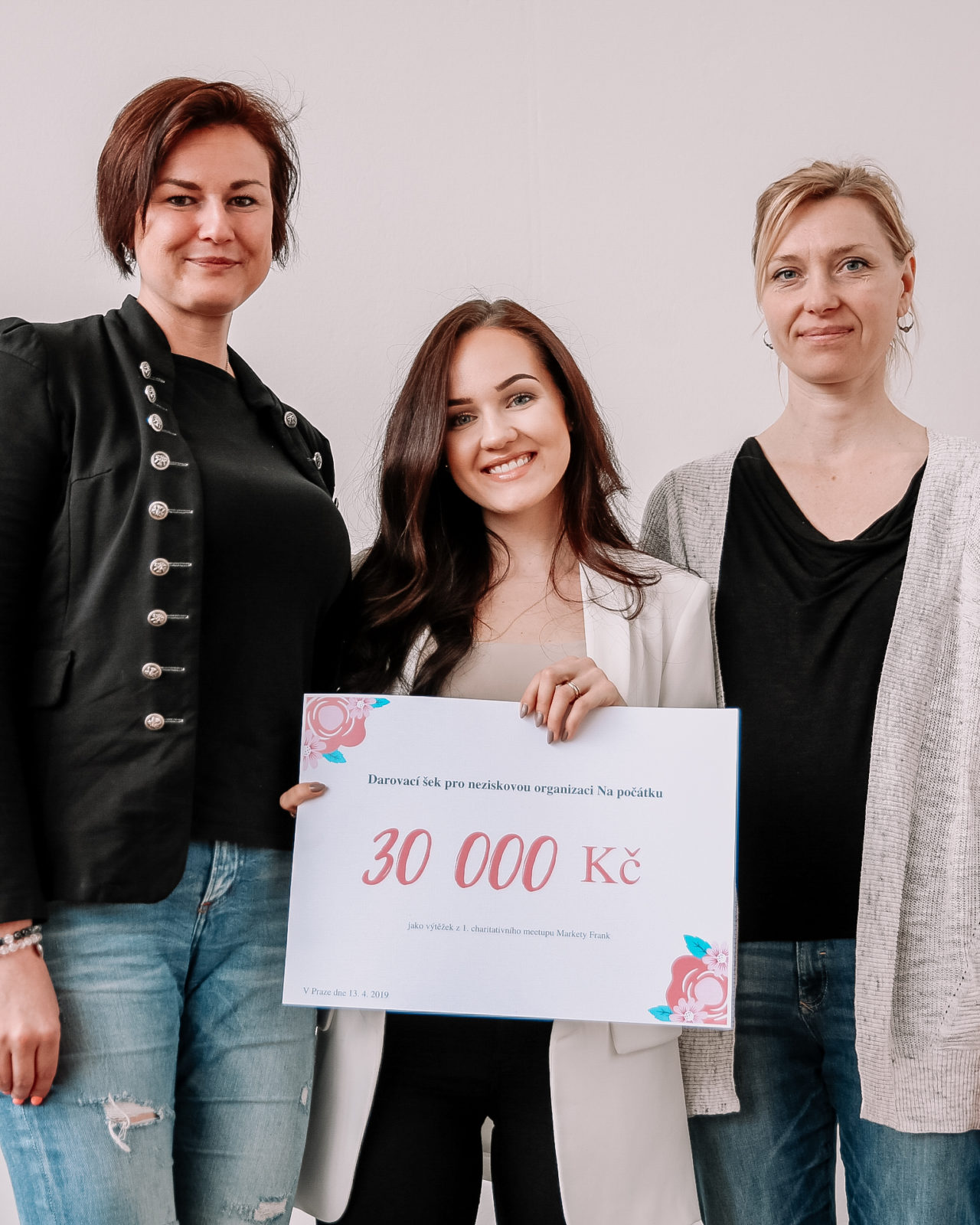 Chtěla jsem, aby celá akce měla i nějaký hlubší význam, a tak jsem se rozhodla podpořit neziskovou organizaci Na počátku, která podporuje ženy (především těhotné a maminky) v těžkých životních situacích. Díky vašim příspěvkům se nám podařilo vybrat úžasných 24 922 korun, ale kulatá částka je vždycky ještě hezčí a já sama jsem chtěla přispět také, takže organizaci pošleme 30 000 korun. Na začátku meetupu nám zástupkyně Na počátku představily, co dělají a na co konkrétně výtežek z akce použijí. Hřeje mě na srdci, že jsme společně mohli podpořit dobrou věc a možná někomu i změnit život.
---
I wanted this event to have a deeper meaning so I decided to support a non-profit organization called Na počátku that helps women (especially pregnant and mothers) in difficult life situations. Thanks to your contribution we managed to collect 24 922 Czech crowns, but a round number is always prettier and I wanted to support the organization as well, so we're sending 30 000 Czech crowns. At the beginning of the meet up they introduced the organization and told us on what exactly they're going to use the money. It warms my heart that we could do something good and maybe even change someone's life together.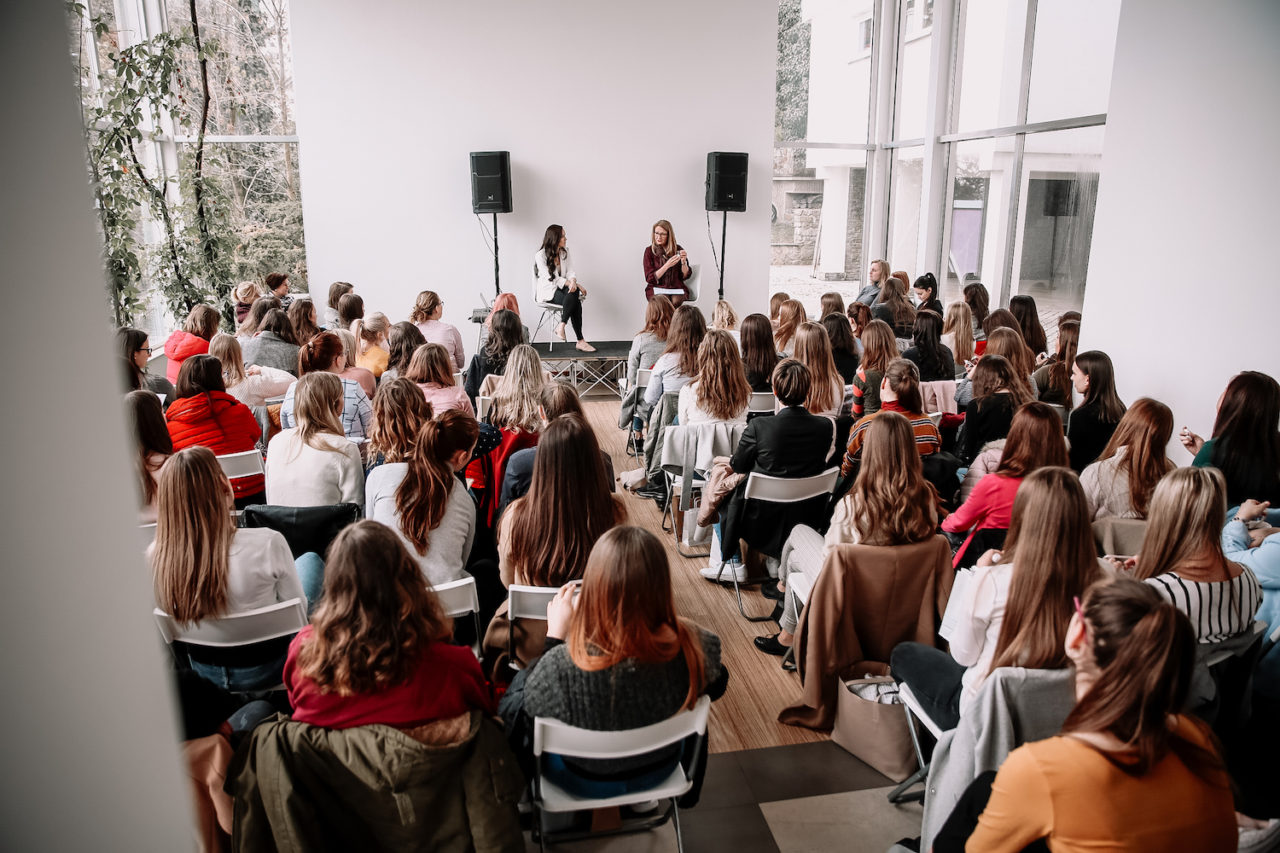 Moc jsem si přála, aby vám ta akce předala i něco navíc, a proto jsem požádala Nobilis Tilia, jestli by nám mohli udělat krátkou přednášku o aromaterapii. Je to něco, co mě samotnou hrozně zajímá a o čem jsem se chtěla dozvědět víc, takže jsem moc ráda, že se to povedlo a přednáška byla skvělá!
---
I also wanted to provide some extra knowledge to you guys, so I asked Nobilis Tilia if they could do a short presentation about aromatherapy. It's something I've been super interested in and wanted to know more about so I'm happy it happened and it was great!
A potom už jsem se slova chopila já a povídala o cílech, vzájemné podpoře mezi ženami nebo třeba sebelásce. Velkou část programu jsme vyhradily i vašim otázkám. I když jsem ze začátku byla hrozně nervózní, postupně jsem se úplně uvolnila a připadala jsem si, jako bych si povídala s kamarádkami na kafi. Se spoustou kamarádek, haha. Byly jste úžasné! (a moc si samozřejmě vážím i několika mužských účastníků! <3)
---
And then I started with my little speech, I talked about goals, women empowerment or self love. A large part of the program was also dedicated to your questions. And even if I was super nervous at the beginning, I slowly started to relax and I felt like I'm sitting in a café with my friends. Lots of friends, haha. You were amazing girls! (and of course I'm very appreciative of the few guys who were there! <3)
<3
Na jednu z otázek se ke mě připojil i Vilda, hehe 🙂
---
My husband joined me on the stage for one of the questions, hehe 🙂
<3
<3
A krásky, bez kterých by to nešlo! <3 Poslední kráska stála za foťákem a neskutečně si vážím toho, že meetup nafotila právě ona. Danča je neuvěřitelně talentovaná fotografka, ale hlavně skvělej a pozitivní člověk. A mimochodem, žhavé info pro budoucí nevěsty – fotí i svatby! Tady je odkaz na všechny naše společné fotky, tak se můžete mrknout a uložit si je <3 Ještě jednou mockrát děkuji všem partnerům akce, kamarádkám, rodině a vám všem, co jste včera dorazili. A slibuju, že udělám všechno pro to, abych mohla něco podobného uspořádat znova a potkat se všemi, co se na tenhle meetup nevešli. Užijte si zbytek večera! x
---
And the beauties this couldn't happen without! <3 The last beauty is behind the lens and I'm so thankful she agreed to be the photographer of the event. Dani is sooo talented, but also such a lovely and positive person. And by the way, hot information for future brides – she does weddings as well! I want to say a huge thank you again to all of the partners, my friends and family, and all of you guys that were there yesterday. And I promise I'll do my best to organize something like this again and meet all of you that didn't fit in at this meet up. Enjoy the rest of the evening! x