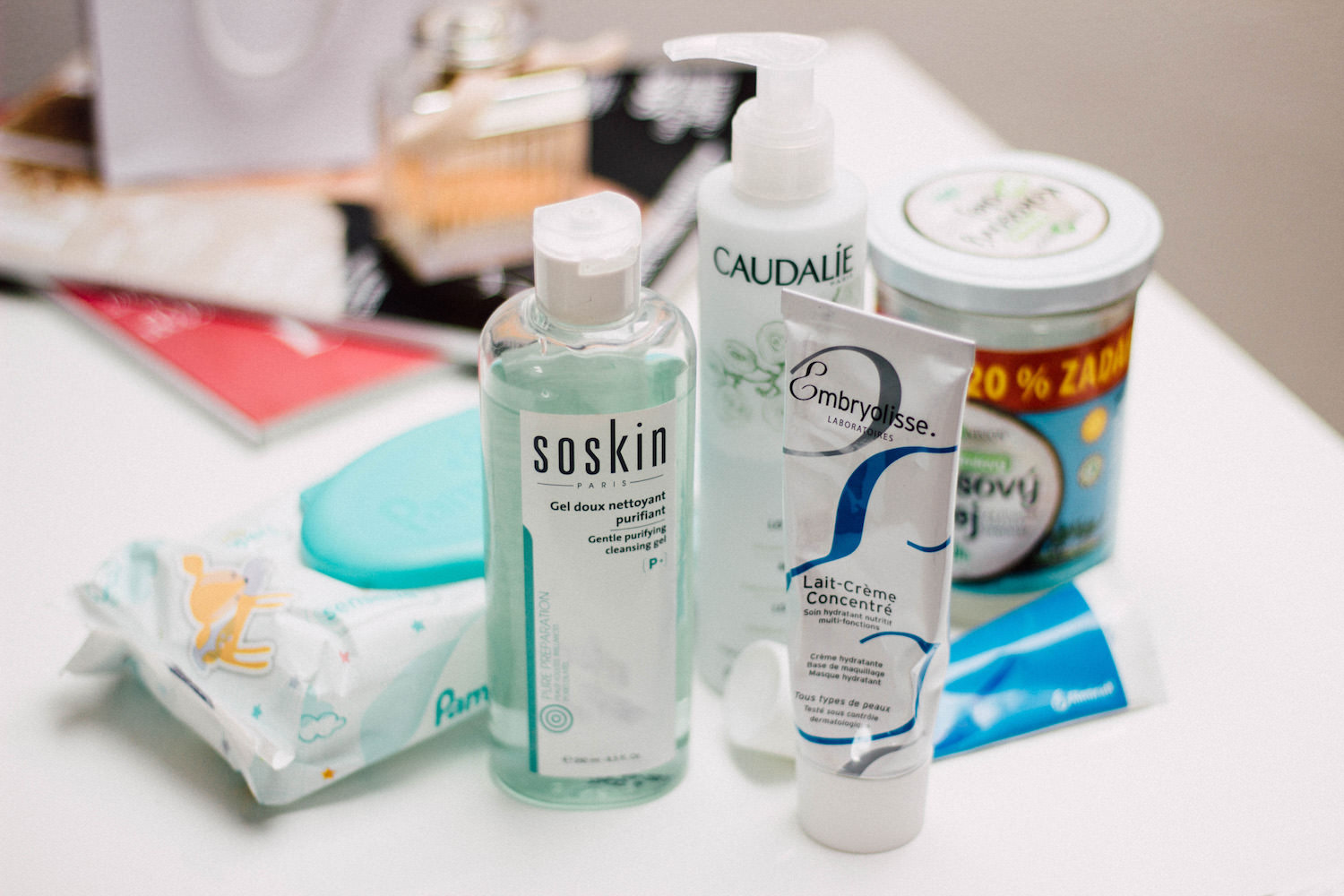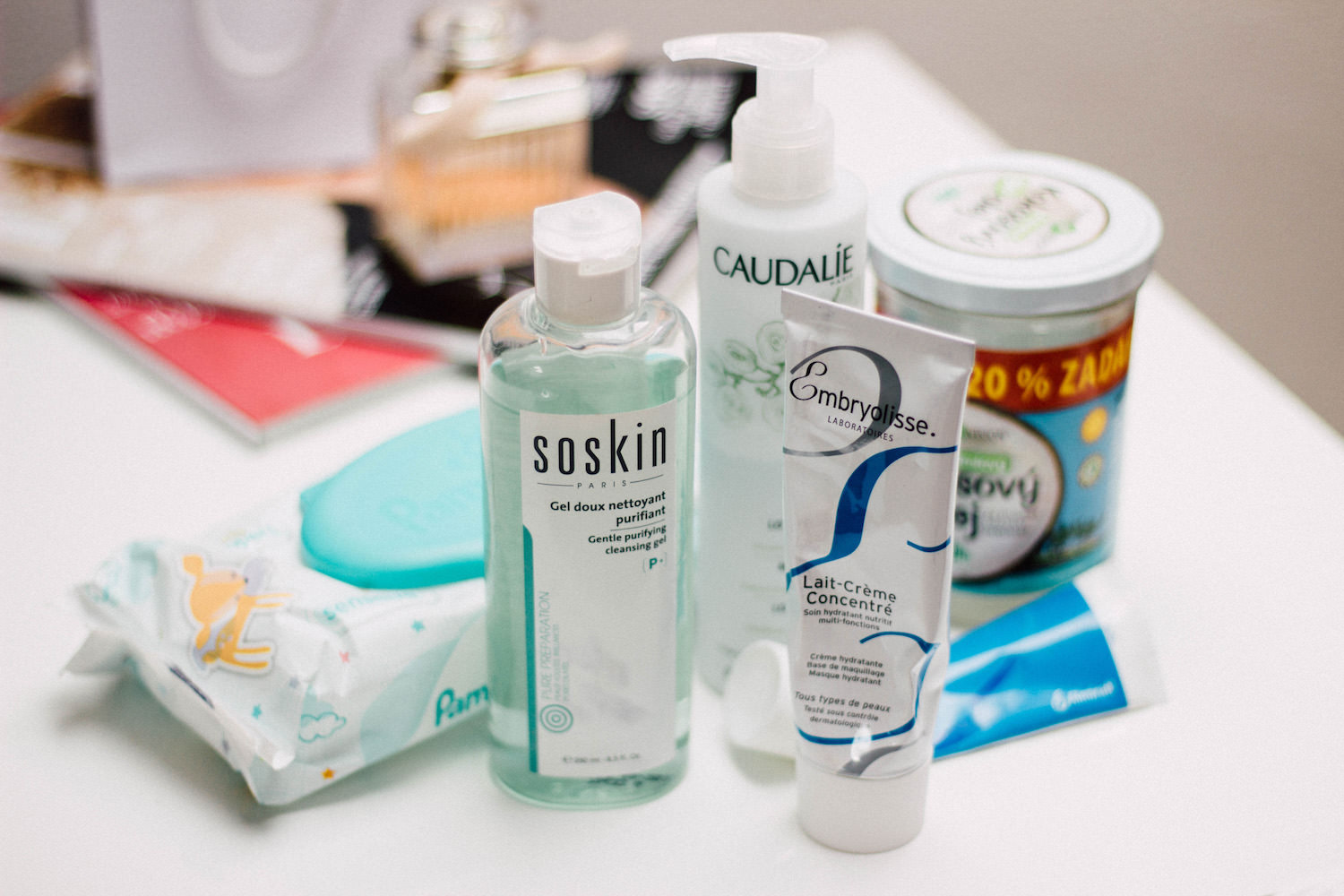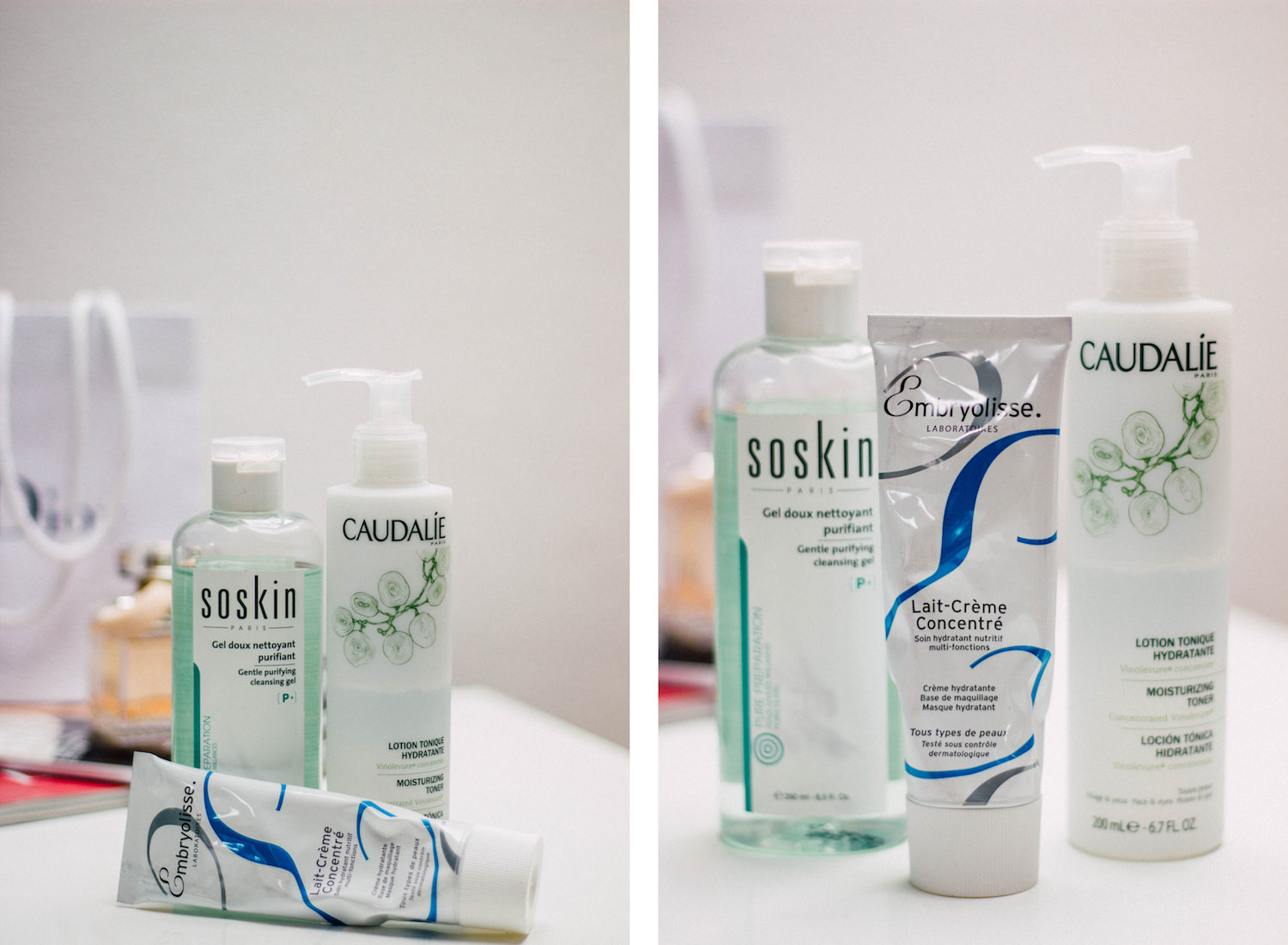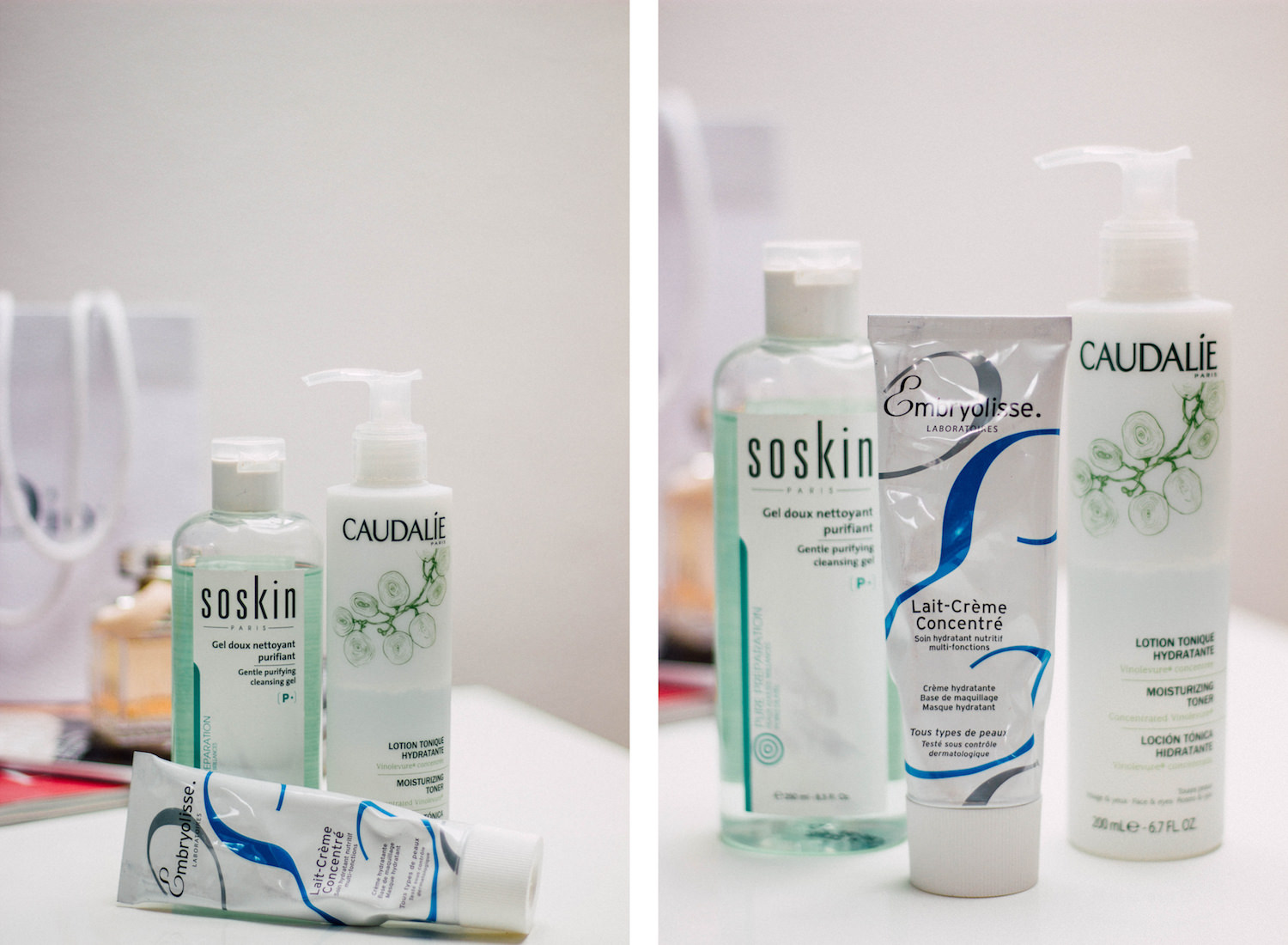 I wanted to write this blog post a few months ago, but now I'm really happy that I waited, because I've completely changed my skincare routine. My skin went through another rollercoaster during the past few months, but that's a whole another story (and I'm planning to do a special project so stay tuned for more information!). While it was at it's worst, I discovered some new products that I fell in love with. I can honestly tell that I've never used anything better and I actually can see a difference on my skin. Even though the most important is the inner work I've been doing, having a good skincare routine can be also super benefitial. So here are my holy grail products.
The first step I do is to remove all of my make up. I don't use any makeup removers, my favorite combo is pure coconut oil and baby wipes. It's the fastest, cheapest and the most efficent way. I just massage some coconut oil into my skin and wipe it off with a baby wipe, it does the exact same job as a makeup wipe, but it's a lot more cheaper. Right now I'm using Pampers and they're great, I especially love the packaging (the wipes don't dry out). I've tried another brands too, I just always make sure they are made for sensitive skin. If you haven't tried coconut oil as a makeup remover, you should deffinitely give it a shot.
Then it's time for cleansing. I've been using Soskin cleansing gel and guys, this thing works like magic. It smells amazing, it deep cleans my skin without making it dry or irritated and I think that the bottle is bottomless. I've been using it every single day (sometimes twice a day) for weeks now and it's still almost full, I don't get it haha.
The next step is using a toner. I bought this Caudalie moisturizing toner and I absolutely love it, the only disadvantage is that I run out of it pretty quickly, especially compared to the cleansing gel. It's a very good toner though, my skin feels very fresh afterwords and it smells like flowers. Love it!
If I have any pimples that I want to get rid of, I use Akneroxid 5 (I always pick them before using it, I know I shouldn't do it and I have a lot of red scars from doing it, but I'd honestly rather have a scar for some time than having a bump on my face). I've been using this for like five years now, it works very well for me.
The last step is moisturizing. I think I've always depreciated this step, especially when my skin was at it's worst and all I wanted was to get rid of pimples (so I used a lot of drying products), but it's SO IMPORTANT to moisturize your skin. I also found out that if I have some dry spots, I always get more pimples under them. I have combination/oily skin so I thought it's not like super neccessary, but it made the biggest difference, especially using this particular moisturizer from Embryolisse. I've heard so many good reviews on it, a lot of make up artists swear by it, so I decided to try it myself. I think I'm gonna use this thing for the rest of my life haha, it's awesome. It deep moisturizes my skin without it feeling heavy or oily, it smells freaking amazing (yes, every product I use smells great :D) and I couldn't recommend it more.
I do all of these steps in the evening, I skip the first if I'm not wearing any make up of course, and in the morning I usually just rinse my face with some water (if I feel like it's needed, I use the cleansing gel as well) and then use the toner and the moisturizer. That's it! What are your holy grail products? x
---
Tenhle článek jsem chtěla napsat už dávno, ale nakonec jsem ráda, že jsem počkala, protože jsem svou péči o pleť během posledních pár měsíců od základu změnila. Moje pleť si nedávno prošla dalším peklem, ale to je úplně jiný příběh (a plánuji na tohle téma jeden projekt, takže se těšte na víc informací!). Během tohohle období jsem objevila několik produktů, do kterých jsem se naprosto zamilovala. Myslím, že jsem nikdy předtím nepoužívala nic kvalitnějšího a vážně můžu asi poprvé v životě říct, že ty produkty fungují. I když je samozřejmě nejdůležitější všechna ta "vnitřní" práce, kterou dělám, dobrá péče o pleť je také velmi důležitá. Takže pokračujte ve čtení a prozradím vám svoje poklady.
První věc, kterou dělám, je samozřejmě odličování. Nepoužívám na to žádný speciální produkt, moje nejoblíbenější kombinace je čistý kokosový olej a dětské ubrousky. Je to ten nejrychlejší, nejlevnější a nejefektivnější způsob, jaký znám. Prostě si vmasíruju trochu kokosového oleje na obličej a setřu ho vlhčeným ubrouskem, který funguje úplně stejně, jako odličovací ubrousky, ale je asi stokrát levnější. Teď jsem si koupila Pampers a jsou skvělé, hlavně se mi líbí to balení, díky kterému ubrousky nevyschnou. Zkusila jsem i jiné značky a zatím všechny byly fajn, jen si vždycky dávám pozor, aby byly určeny na citlivou pleť. Jestli jste ještě nezkusili kokosový olej na odličování, rozhodně to stojí za to.
Potom je na řadě čistění. Používám čistící gel od Soskin, je to úplný zázrak. Úžasně voní, hloubkově čistí pleť, aniž by ji vysušoval nebo dráždil a připadá mi, že ta lavička je bezedná. Používám ho každý den (někdy dvakrát denně) už několik týdnů a lahvička je stále téměř plná, nechápu to haha.
Další krok je použití toneru. Koupila jsem si hydratační tonikum od Caudalie a naprosto ho zbožňuju, jediná nevýhoda je to, že mi docela rychle ubývá, obzvlášť v porovnání s tím gelem. Jinak je vážně skvělý a moje pleť je vždycky krásně svěží a čistá, navíc má nádhernou květinovou vůni.
Pokud mám nějaký pupínek, kterého se chci zbavit, nanesu na něj Akneroxid 5 (vždycky ho předtím vymáčknu a vyčistím, vím, že by se to nemělo a mám kvůli tomu hodně červených jizviček, ale prostě budu mít radši chvíli skvrnku, než chodit s hrbolkem na obličeji). Tenhle přípravek používám už snad pět let a funguje skvěle.
Posledním krokem je hydratace. Vždycky jsem to trochu podceňovala, obzvlášť v době, kdy moje pleť vypadala nejhůř a chtěla jsem se hlavně co nejrychleji zbavit pupínků (takže jsem používala různé vysušovací produkty), ale hydratace je vážně neskutečně důležitá. Dokonce jsem přišla na to, že když mám na obličeji nějaký suchý stroupek, vždycky se mi vytvoří nový pupínek pod ním. Mám smíšenou až mastnou pleť, takže mi používání krému nepřišlo pokaždé úplně nezbytné, ale opak je pravdou. Obzvlášť tenhle konkrétní krém od Embryollisse mi úplně změnil pleť. Četla jsem na něj všude spoustu úžasných recenzí, skoro každý make up artista na něj nedá dopustit, takže jsem ho už dlouhou dobu chtěla taky vyzkoušet. Dopadlo to tak, že nejspíš do konce života nebudu používat nic jiného, je prostě výborný. Hloubkově hydratuje, aniž by pleť vypadala mastně, naprosto úžasně voní (jo, všechno co používám úžasně voní:D) a vážně ho všem doporučuji všema deseti.
Všechny tyhle kroky dělám každý večer (když nejsem nalíčená, tak samozřejmě vynechám ten první) a ráno si většinou jen opláchnu obličej vodou (když cítím, že je to třeba, pleť vyčistím i gelem), vatovým tamponkem přetřu pleť tonikem a nanesu krém. A to je vše! Na jaké produkty nedáte dopustit vy? x