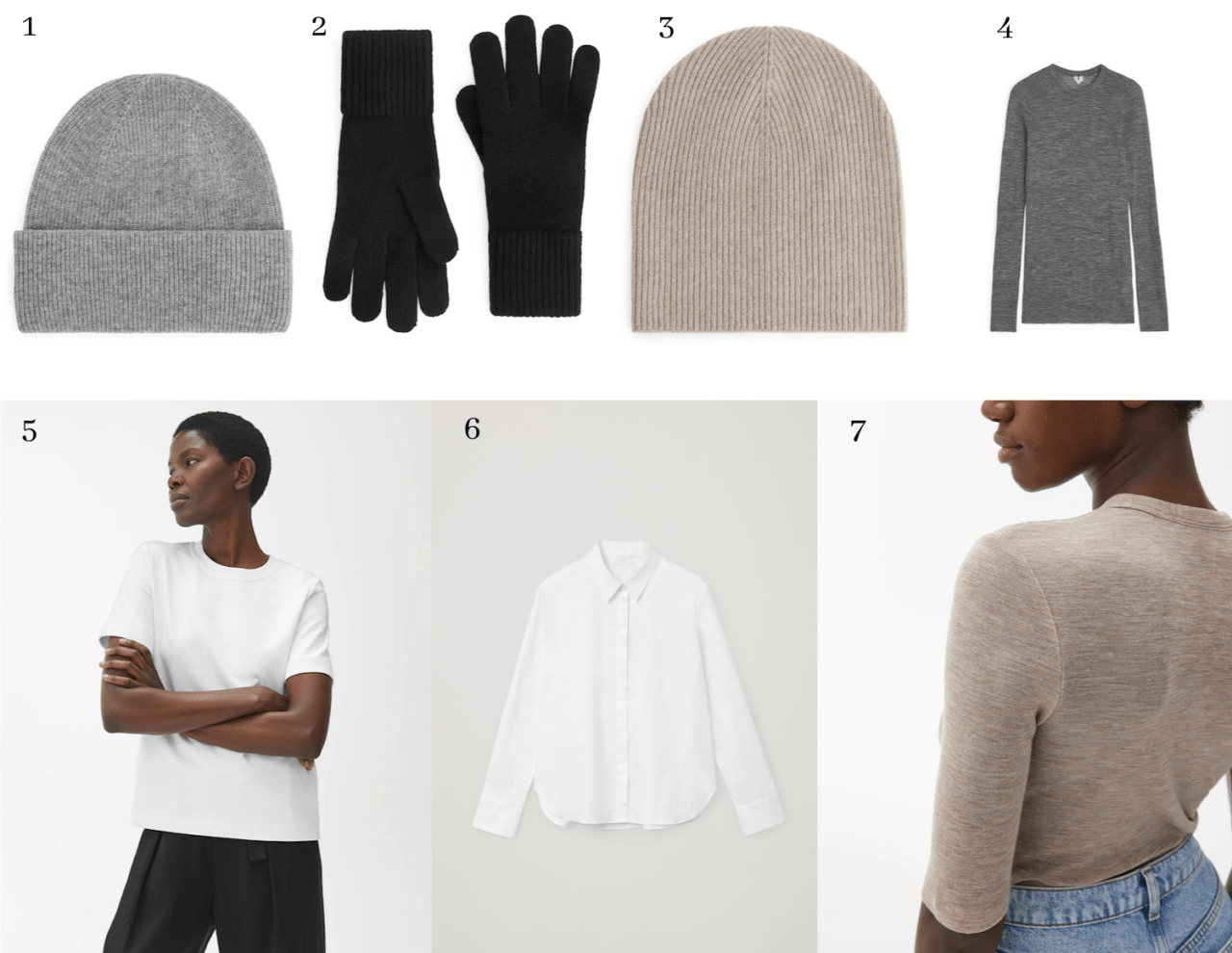 1 šedá vlněná čepice / 2 černé vlněné rukavice / 3 béžová kašmírová čepice / 4 šedé vlněné tričko / 5 bílé bavlněné tričko / 6 bílá košile / 7 béžové vlněné tričko
Včera večer jsem si objednala ještě pár věcí na podzim/zimu. Mám v plánu natáčet haul, ale zatím nevím kdy, takže mi připadá jako fajn varianta vám kousky zase ukázat nejprve takhle na blogu, kdyby se náhodou vyprodaly, než video natočím. Vybrala jsem si pár jednoduchých kousků z přírodních materiálů, co se podle mě hodí do každého šatníku, dají se skvěle kombinovat a do blížícího se chladného počasí budou ideální. Potřebovala jsem nějaké nové čepice, tyhle dvě se mi líbily nejvíc, a rovnou jsem přihodila i rukavice, protože mám jen jedny. Šedé a béžové tričko je s vlnou, takže budou krásně hřát a hodí se pod jakýkoli svetr. Bílé tričko je klasika a nakonec jsem si vzala obyčejnou bílou košili, což je podle mě úplný základ šatníku, ale z nějakého důvodu v tom mém chyběla. Dlouho jsem nějakou košili sháněla, ale žádná se mi střihově nelíbila, tak doufám, že tahle bude fajn!
---
I ordered a few more things for fall/winter. I want to film a haul for you guys, but I don't know when so I think it's a good idea to show you the pieces on the blog first in case they get sold out before the video is out. I chose a few simple pieces from natural fibres, all of these are wardrobe staples and I think they're great for the chilly weather. I needed some new beanies and I liked these two the most, I also added a pair of gloves because I only have one pair at home. The grey and beige t-shirt are wool-blended so they're gonna be super warm and perfect under my sweaters. White tee is a classic and I also got a simple white shirt, it's such a staple piece but for some reason I haven't had one. I've been searching for a nice shirt for quite some time, but I didn't like any, so I hope this one is gonna be nice!