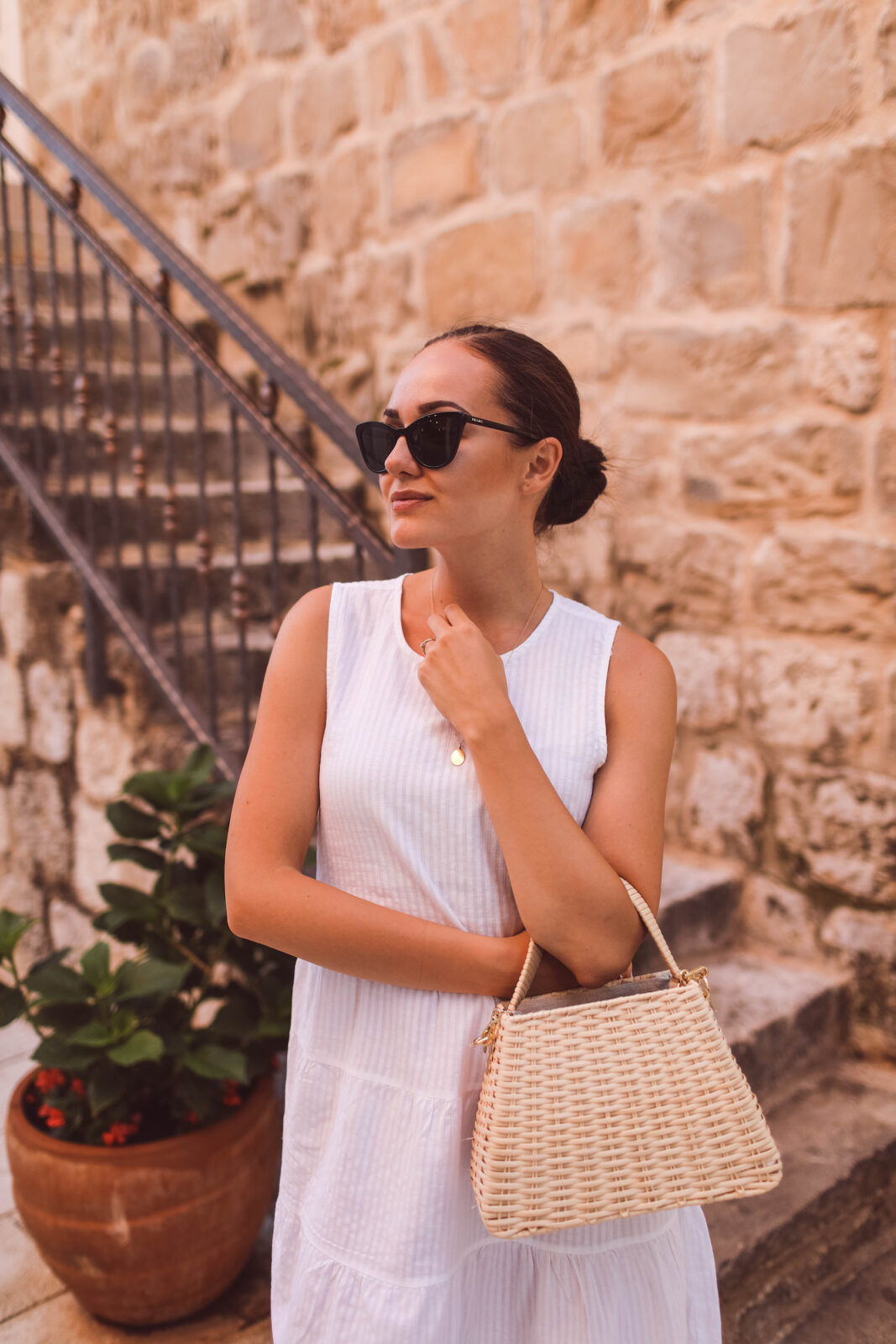 Šaty tady / kabelka Zara (podobná tady) / sandálky Prada tady, levnější podobná varianta tady / brýle Prada (podobné tady)
Outfit z Makarské 🙂 Tyhle šaty jsem vám na blogu už jednou ukazovala, ale v outfitu se ještě neobjevily. Považuju je za jedny z nejlepších letních šatů, co mám, jsou neskutečně lehoučké, prodyšné a pohodlné. Ještě je na Asosu mají v pár velikostech, tak určitě neváhejte, pokud mají tu vaši 🙂 Zkombinovala jsem je stejně jako šaty v minulém outfitovém článku – s jednoduchými sandálkami a proutěnou kabelkou. Je to vlastně jediná kabelka, kterou jsem tady nosila, když nepočítám plážovou tašku. Abych outfitu dodala trochu víc elegance, udělala jsem si nízký drdol a vzala si svoje cat eye brýle.
Jinak přeju krásný úterní večer a zdravím vás z Plitvických jezer. Dneska jsme se cestou sem zastavili znovu ve Splitu, dali si oběd ve skvělém bistru Marta's kitchen, a pak jsme jeli ještě tři hodinky sem. A zítra vyrážíme zpátky domů! Budu se snažit vám během cesty na hotspotu přidat článek. Dobrou noc <3
---
An outfit from Makarska 🙂 I've shown you this dress before, but I haven't made a dedicated outfit post with it. It's definitely one of the best summer dresses I own, it's super lightweight, airy and comfy. They still have them in a few sizes so get your hands on them if you can 🙂 Just like in the latest outfit post, I combined the dress with a nude pair of sandals and my straw bag. It's actually the only handbag I wore during our vacation, if I don't count my beach bag. To make the outfit a bit more elegant, I made a low slick bun and wore my cat eye sunglasses.
Good evening by the way! We're already at Plitvice Lakes. On our way here we made a stop at Split, had lunch at a lovely bistro called Marta's kitchen and then it took about three hours to get here. And tomorrow we're heading back home! I'll try to update you guys from the car tomorrow. Good night <3