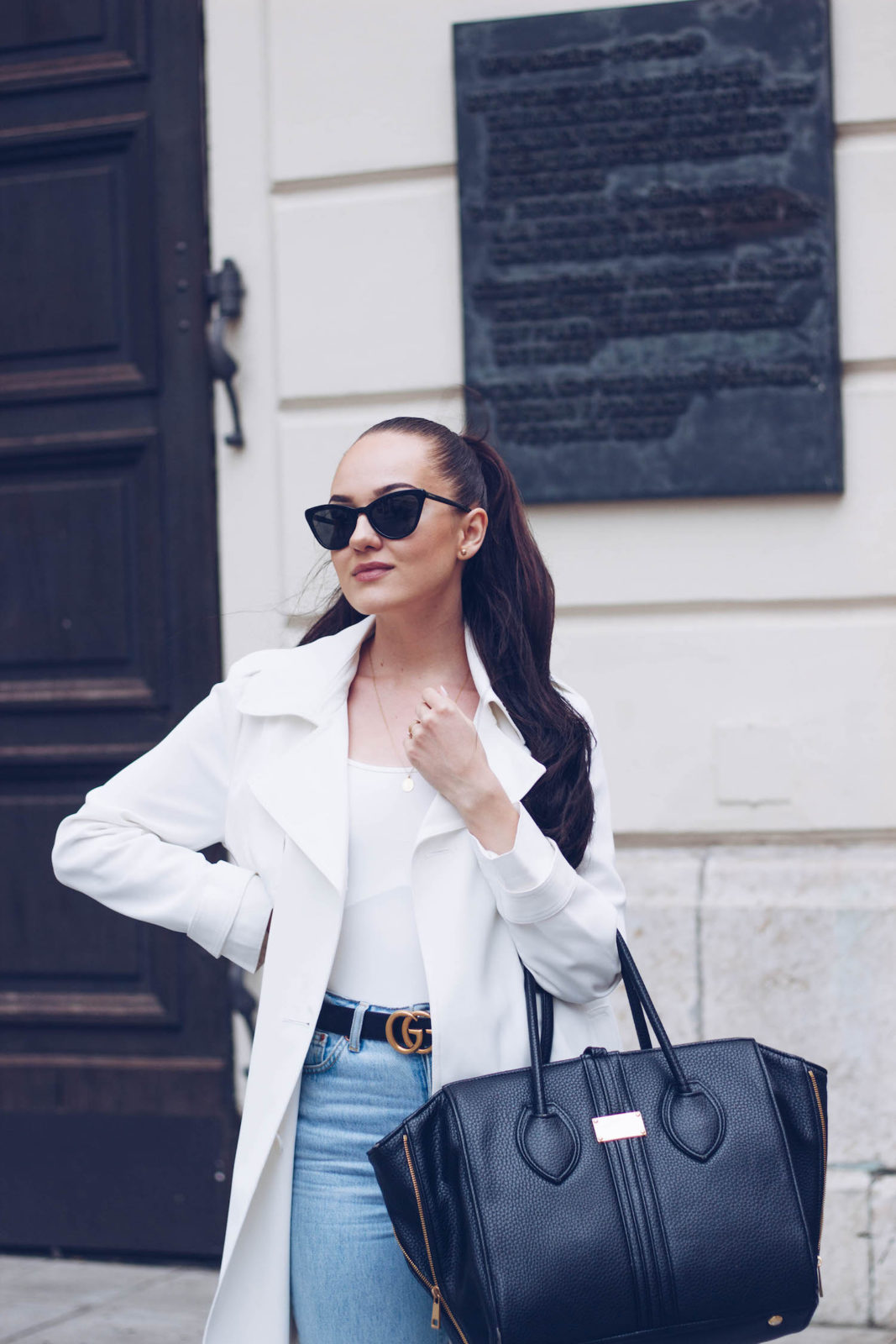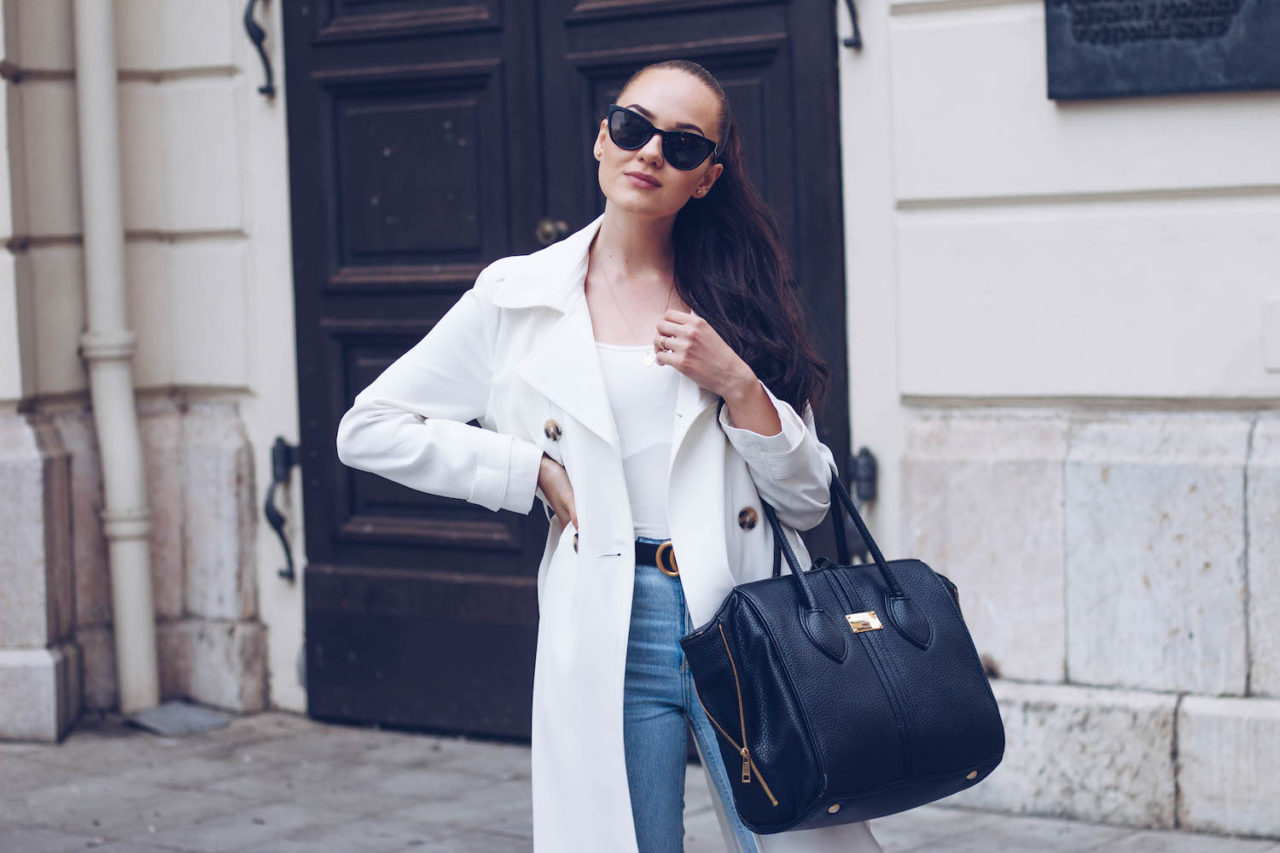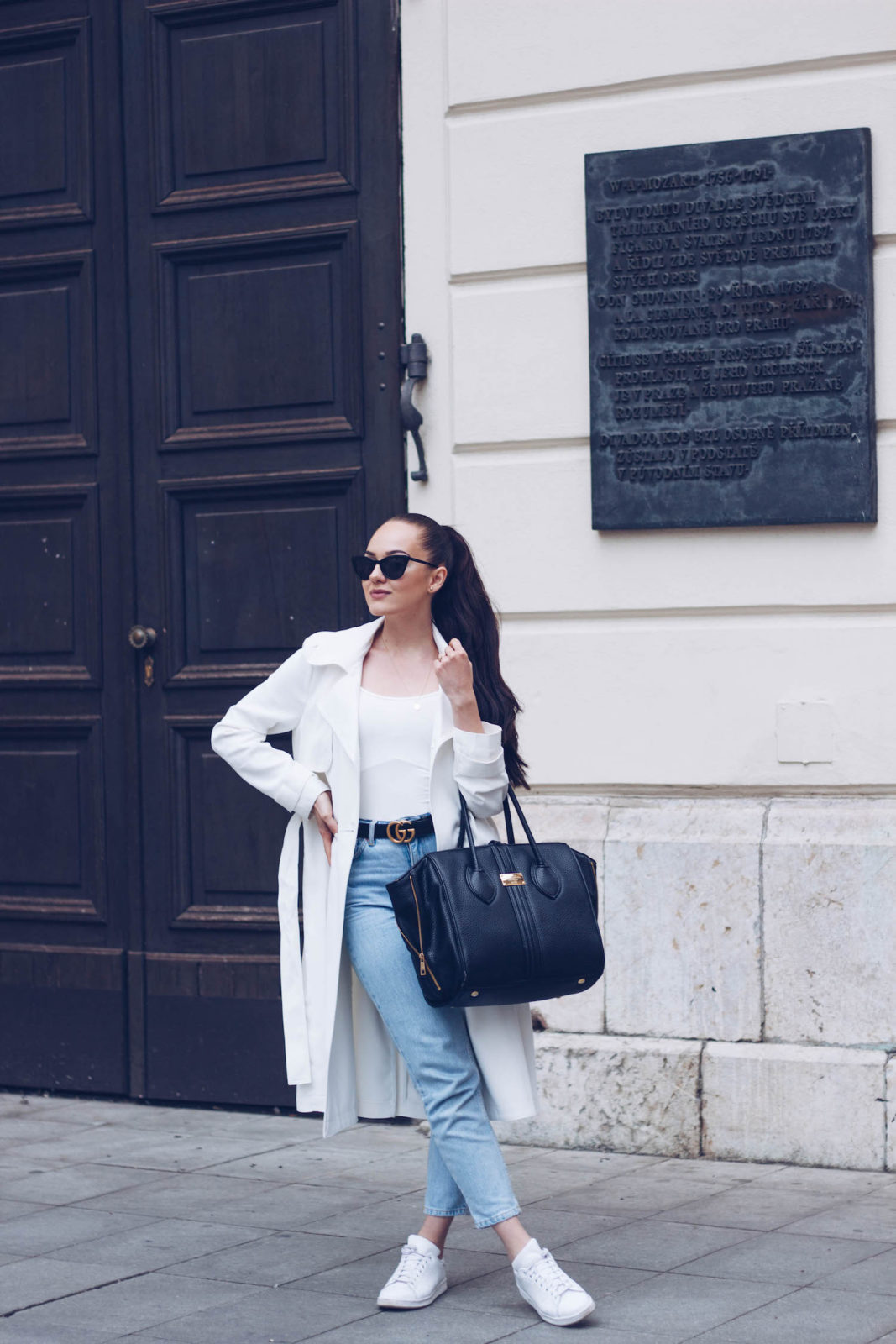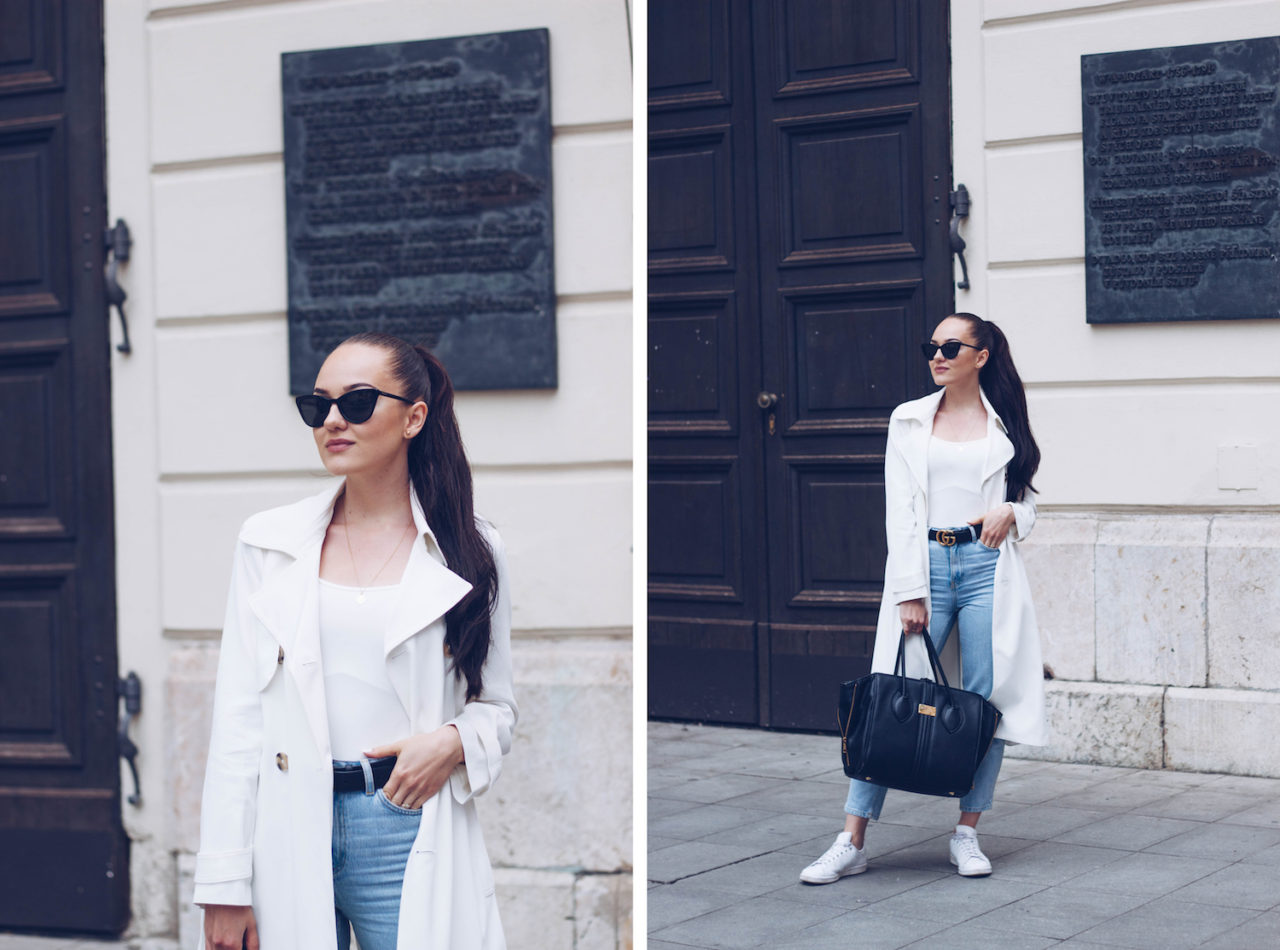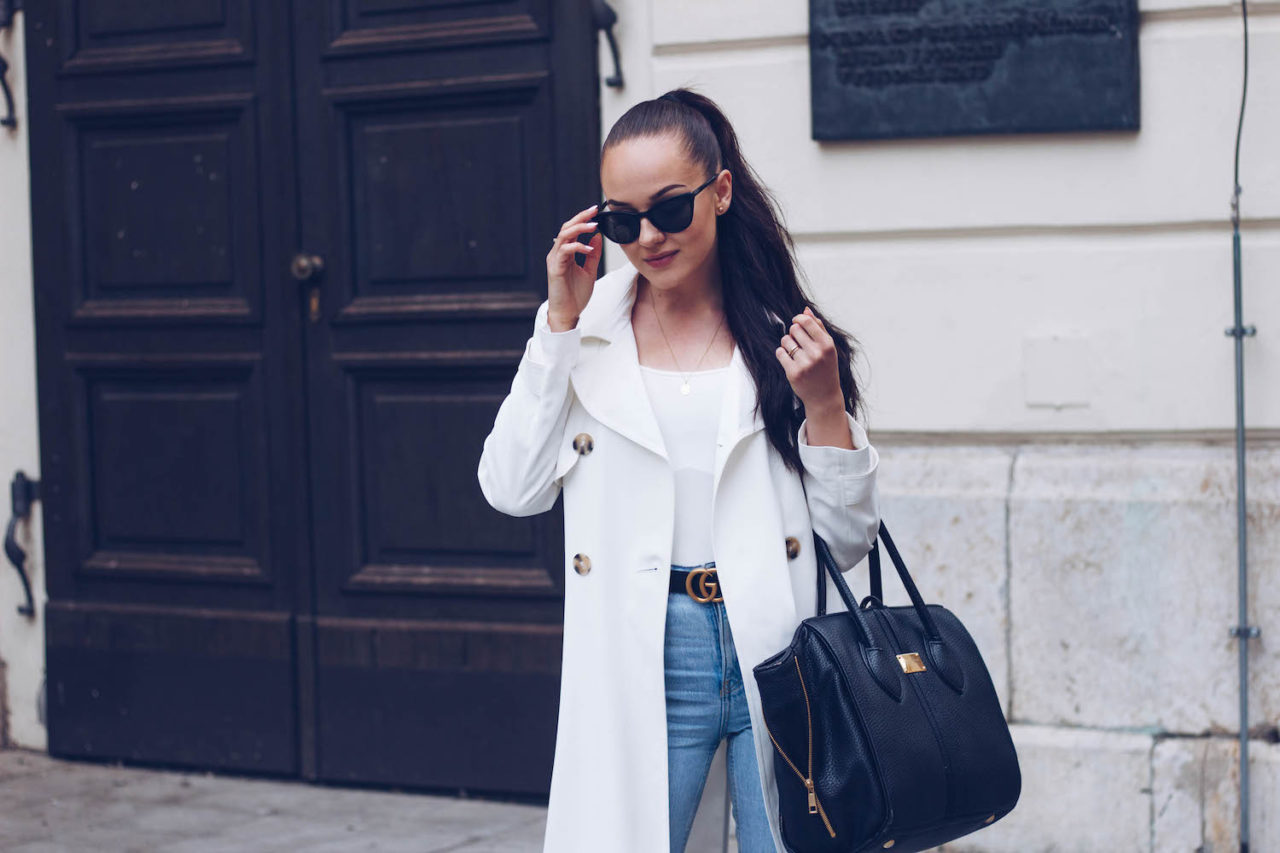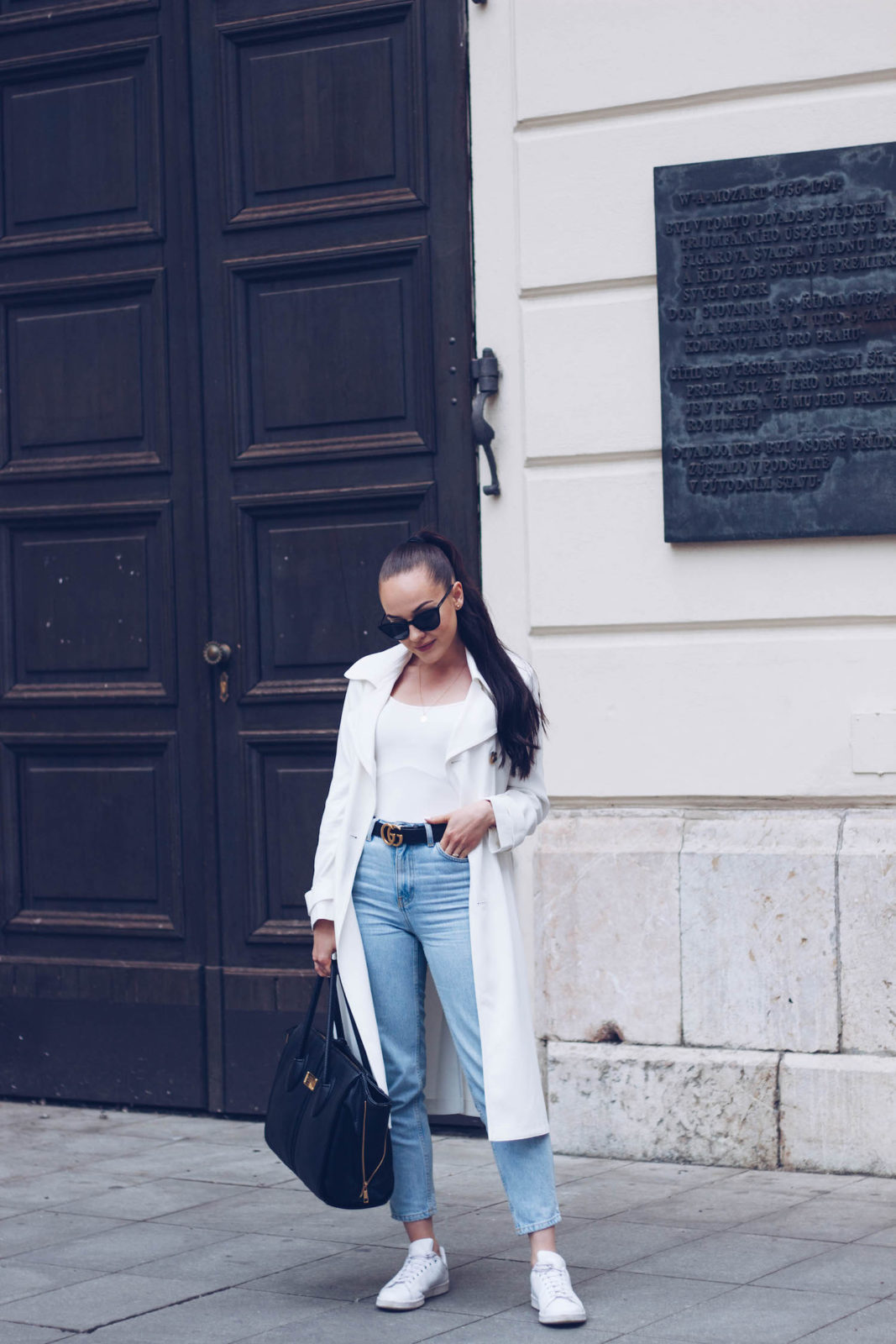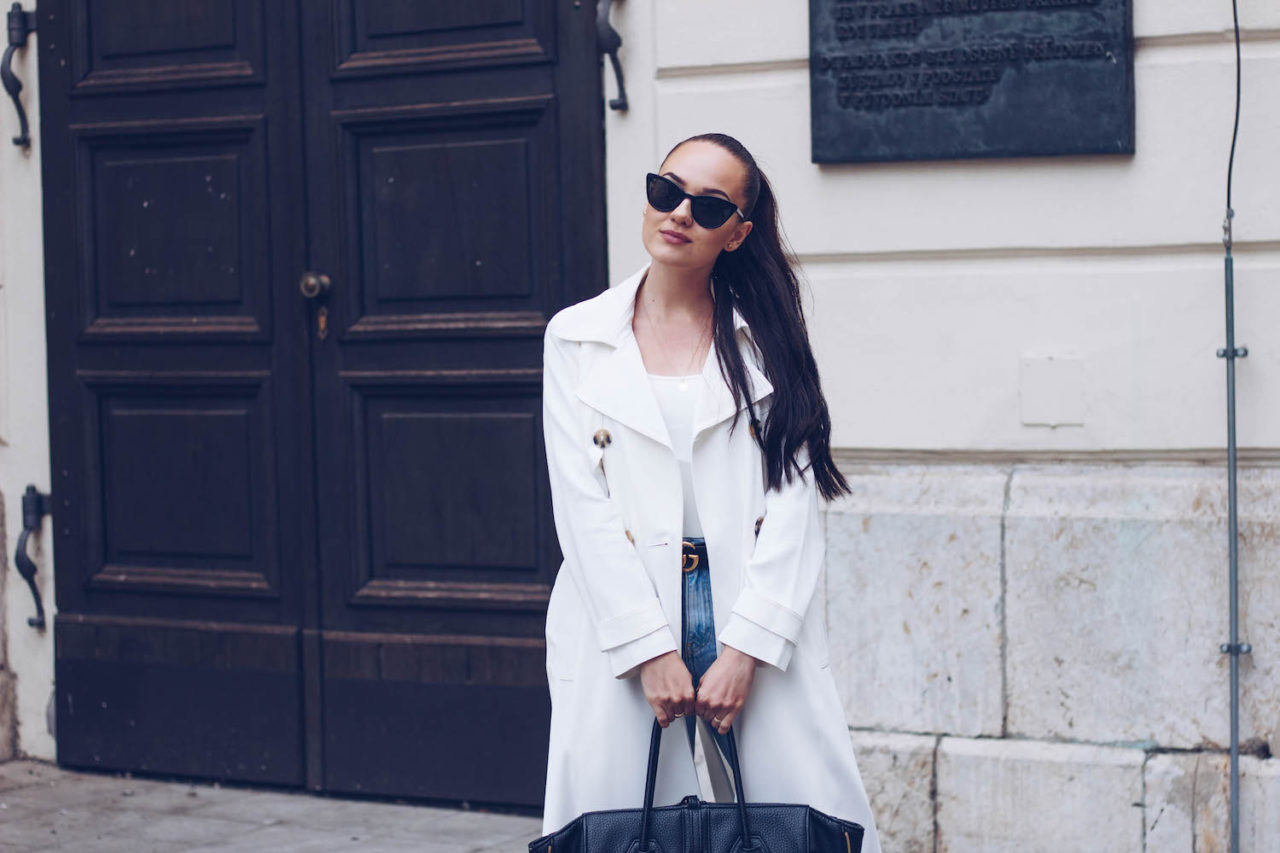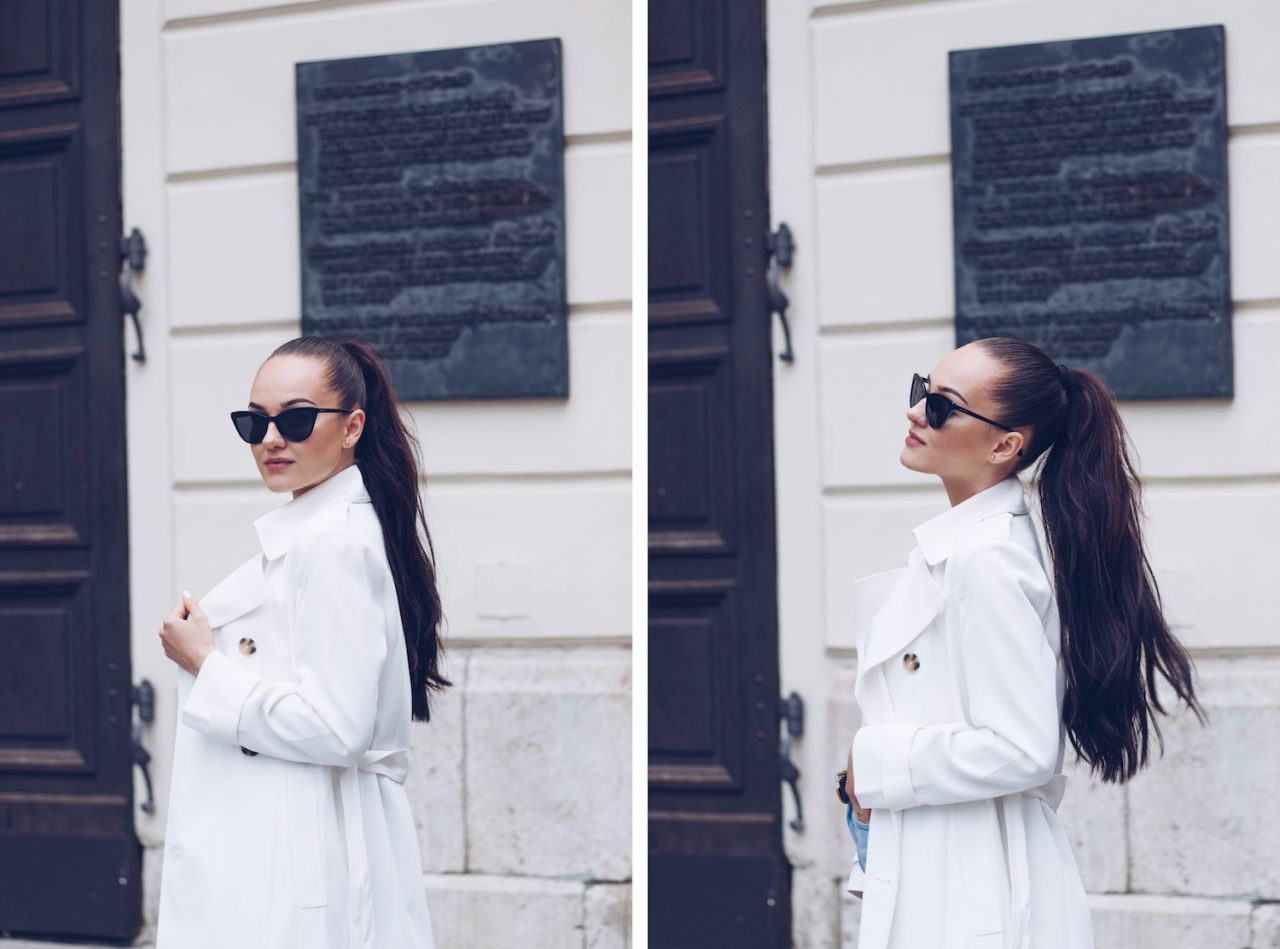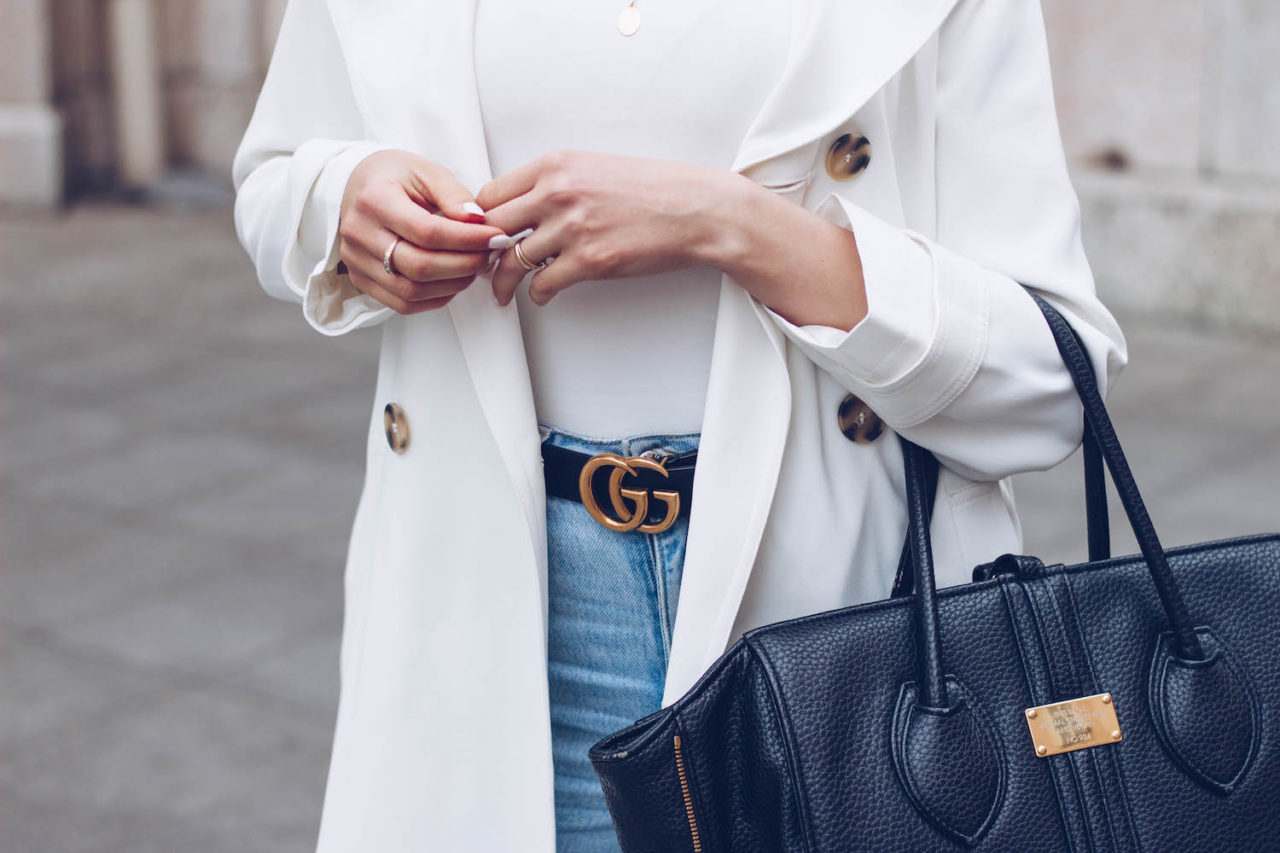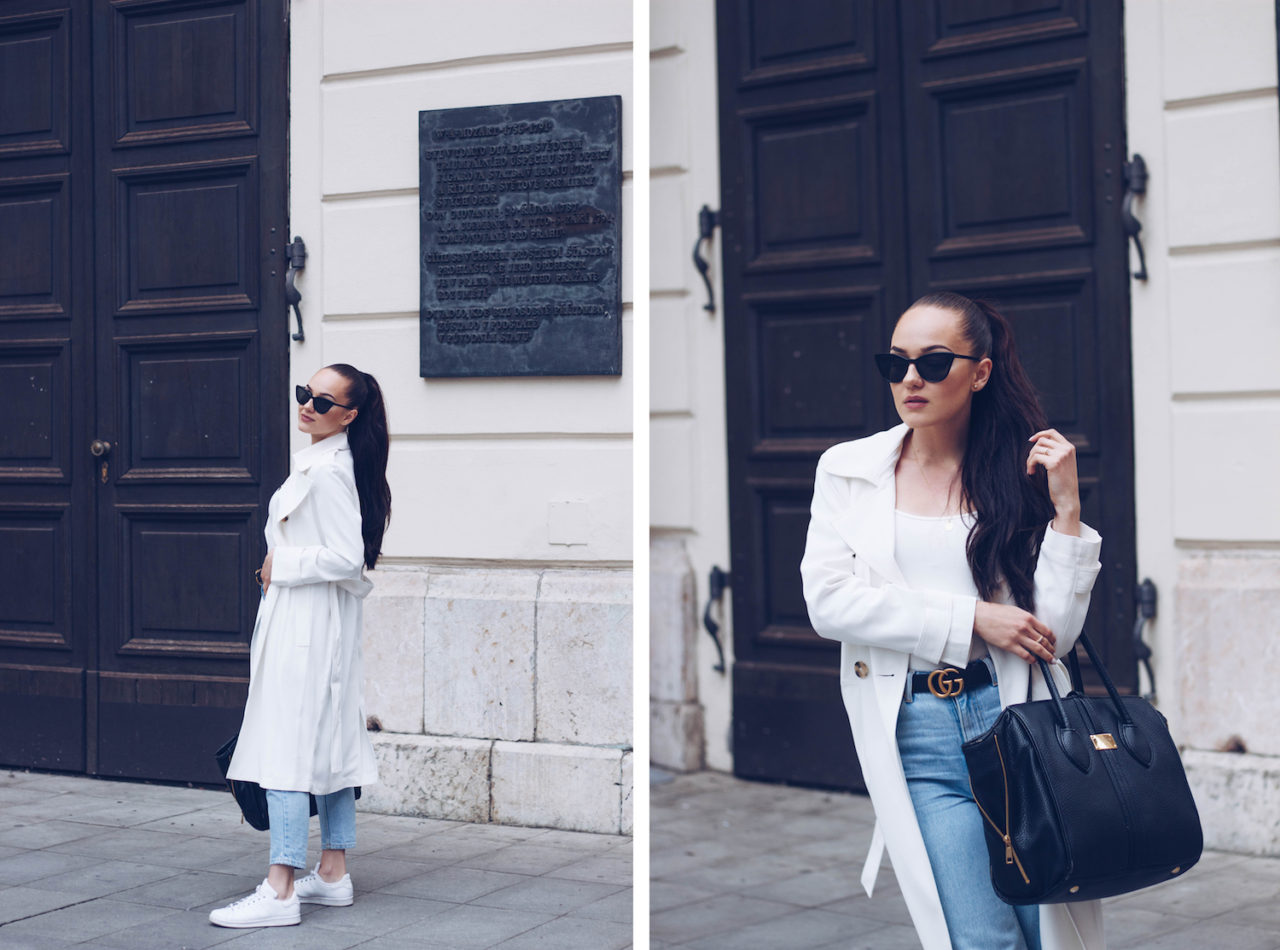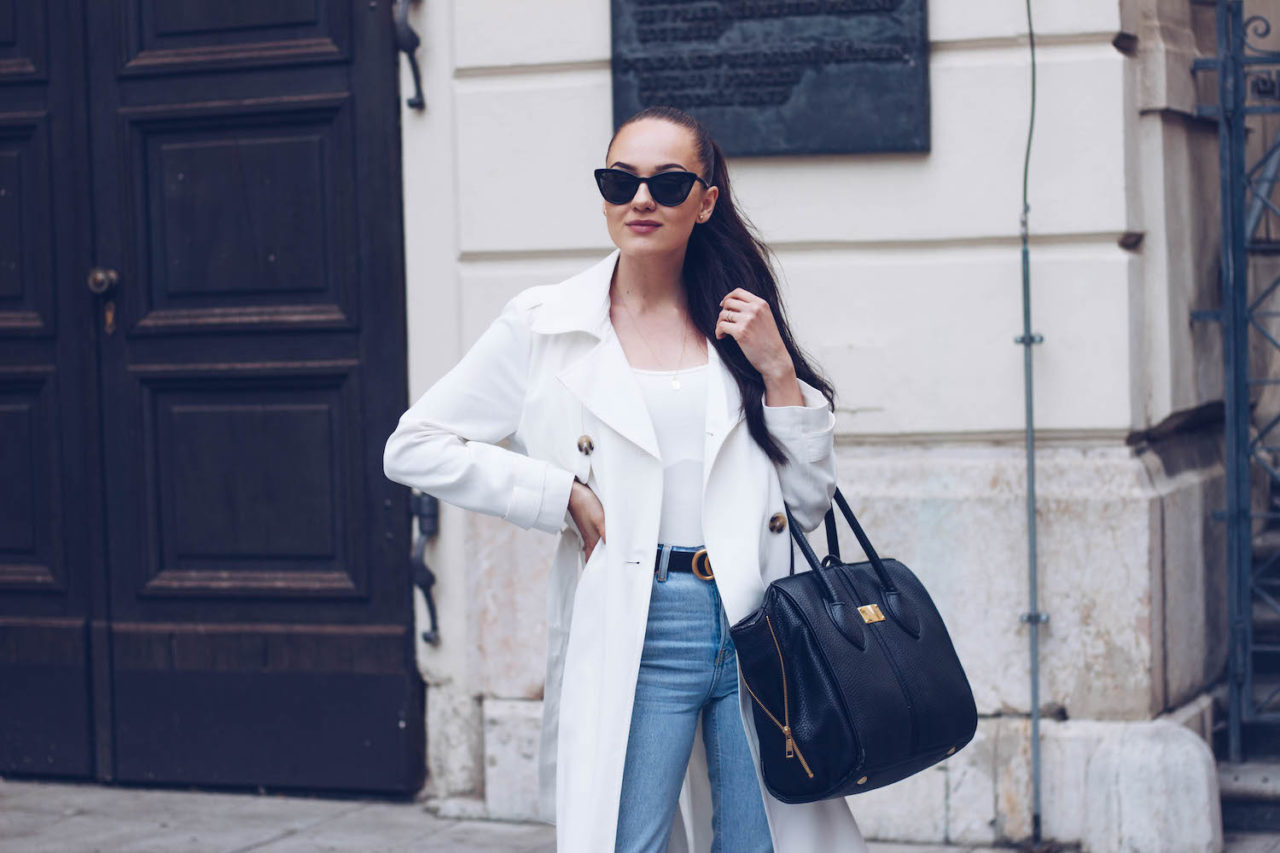 Kabát Mango (podobný tady nebo tady) / tílko Zara / džíny tady / boty tady / kabelka Alexandra K / brýle Prada / pásek tady
Krásný čtvrtek! Mám pro vás slibovaný outfit, v hlavní roli je bílý trench coat, který jsem si kupovala na začátku roku a jsem ráda, že jsem si ho pořídila, protože mě hrozně baví. Je jednoduchý a elegantní, ale zároveň výjimečný tím, že není v klasické béžové barvě a šmrnc mu dodávají výrazné knoflíky se zvířecím vzorem. Asi už znáte můj vkus, takže jsem celý zbytek outfitu poskládala z klasických kousků, obyčejného bílého tílka, světlých džín, bílých bot a černých doplňků. Musím se ale pochválit, že jsem si na léto pořídila i pár hravých kousků, takže se těším, až vám je budu ukazovat.
Jinak doufám, že máte krásný den. Já jsem vstávala brzo, užila jsem si po delší době hezkou ranní rutinu (na které se teď snažím pracovat) a jela jsem na jednu dopolední schůzku, teď sedím klasicky s počítačem, ale později odpoledne mám sraz s holkama z gymplu a uděláme si takový menší piknik venku, tak se na to moc těším! x
---
Happy Thursday! Here's the outfit post I promised, the main piece of this look is the white trench coat I bought at the beginning of the year and I'm so glad I did because I love it. It's simple and elegant, yet special because it's not the classic beige trench coat and the buttons with animal print give it a nice touch. You know my style already so I paired it with simple pieces only, a simple white tank top, light blue denim, white sneakers and black accessories. But I'm proud of myself that I bought some more fun pieces for the summer so I'm excited about the outfit posts.
Anyways, hope you're having a lovely day. I woke up early and enjoyed a long morning routine (that's something I've been working on lately) and I had a meeting, now I'm working on my laptop but later today I'm meeting up with my high school girlfriends and we're gonna have a little picnic outside, I'm so looking forward to that! x