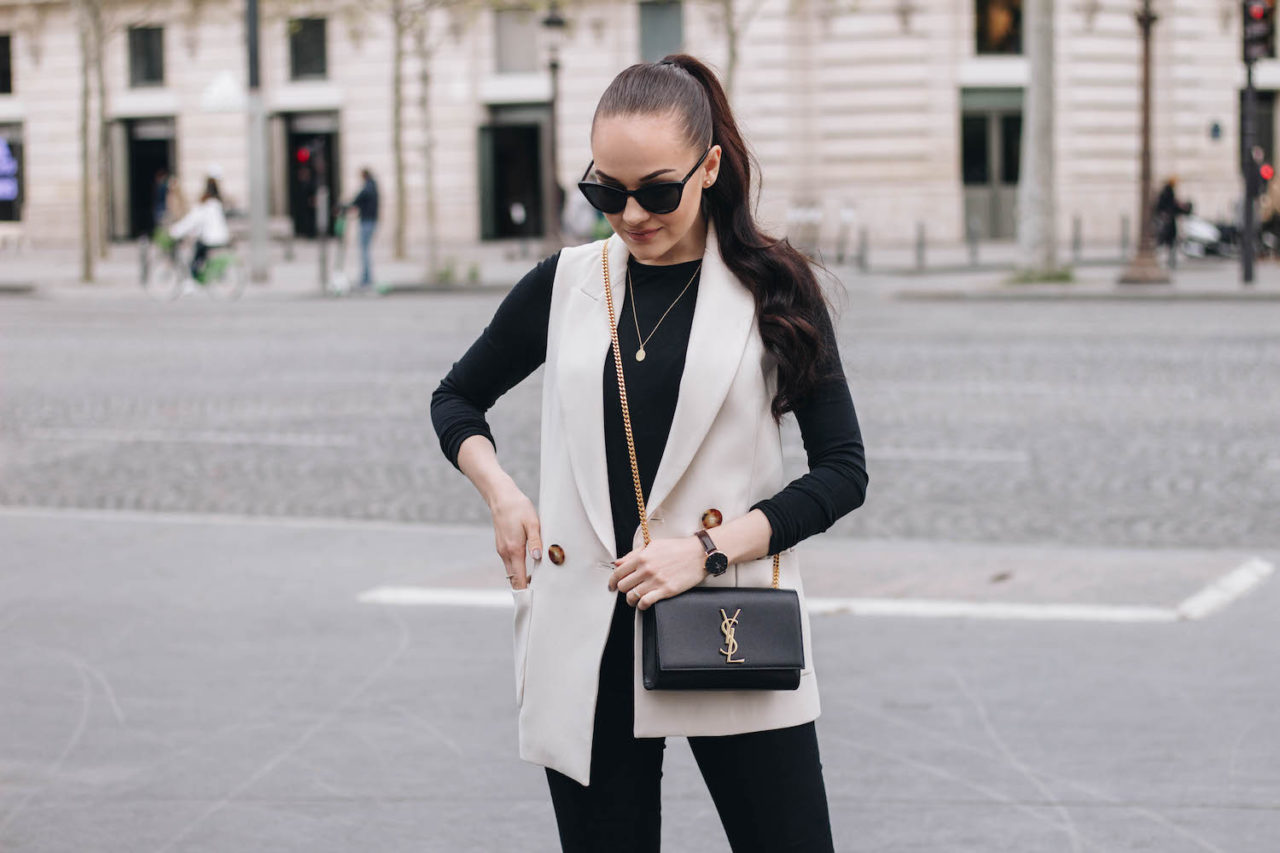 Vesta Zara / tričko tady / kalhoty BikBok / boty Aldo / kabelka Saint Laurent / brýle Prada
Krásný pátek! Většina lidí si teď asi oddechuje a těší se na víkend, ale pro mě je tenhle pátek jeden z nejhektičtějších dní za poslední měsíce. Přípravy meetupu vrcholí a já se jen modlím, aby všechno klaplo tak, jak má. Musím dneska zařídit ještě milion věcí, celý večer budeme organizovat věci na místě a ještě si musím ujasnit to, co vám tam vlastně budu říkat, haha. Z toho mám asi úplně největší strach. Ale řídím se heslem "whatever it is you're scared of doing, do it." Zároveň se ale samozřejmě neskutečně těším na to, že se se spoustou z vás konečně potkám osobně <3 No, to jsem ale trošku odbočila od tématu dnešního článku, haha. Mám pro vás můj nedělní outfit z Paříže. Poprvé jsem vyvětrala tuhle krásnou vestičku ze Zary, zkombinovala jsem ji s celočerným outfitem, aby hezky vynikla. Je to moje první a jediná vesta, ale musím říct, že mě baví, takže ji určitě uvidíte i v nějakém dalším outfitu 🙂 S čím byste ji zkombinovali vy?
---
Happy Friday! Most people are probably relieved that the week's almost over, but for me it's one of the busiest day in the last months. Meetup preparations are at the peak and I'm hoping everything's gonna turn out the way we want. I have to run a million errands today, we're gonna organize everything there in the evening and I have to go through my little talk which is what I'm scared of the most. But I'm going with the quote "whatever it is you're scared of, do it." But of course I'm super excited that I'm gonna finally meet a lot of you in person <3 Well, but that's not what this blog post is about, haha. I'm here to show you my outfit from last Sunday in Paris. I wore this cute vest from Zara for the first time, I went for an all-black outfit with it to make it a staple of the outfit. It's my first and only vest and I have to say I really like it so I'm definitely gonna shoot some more outfits with it 🙂 What would you combine it with?