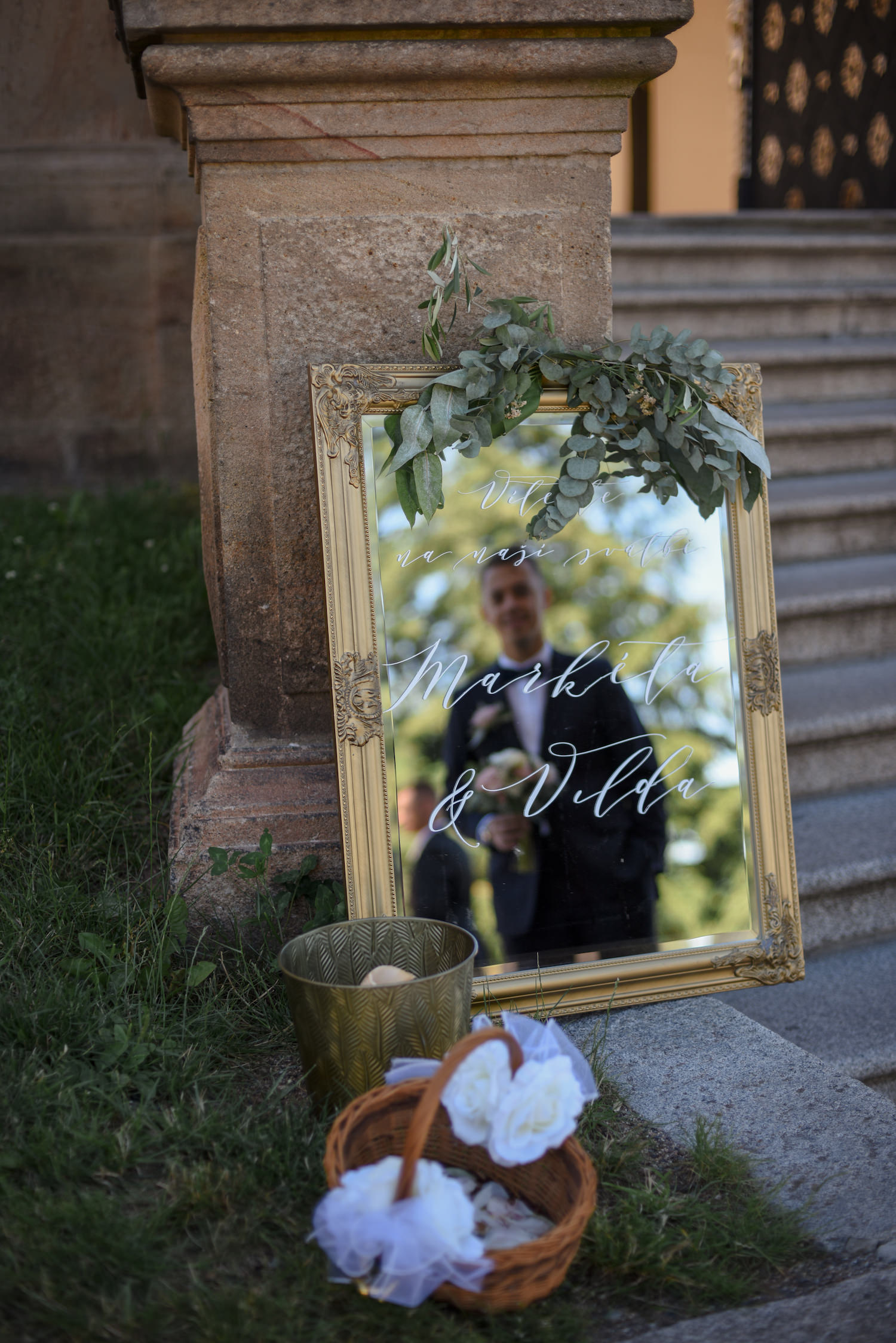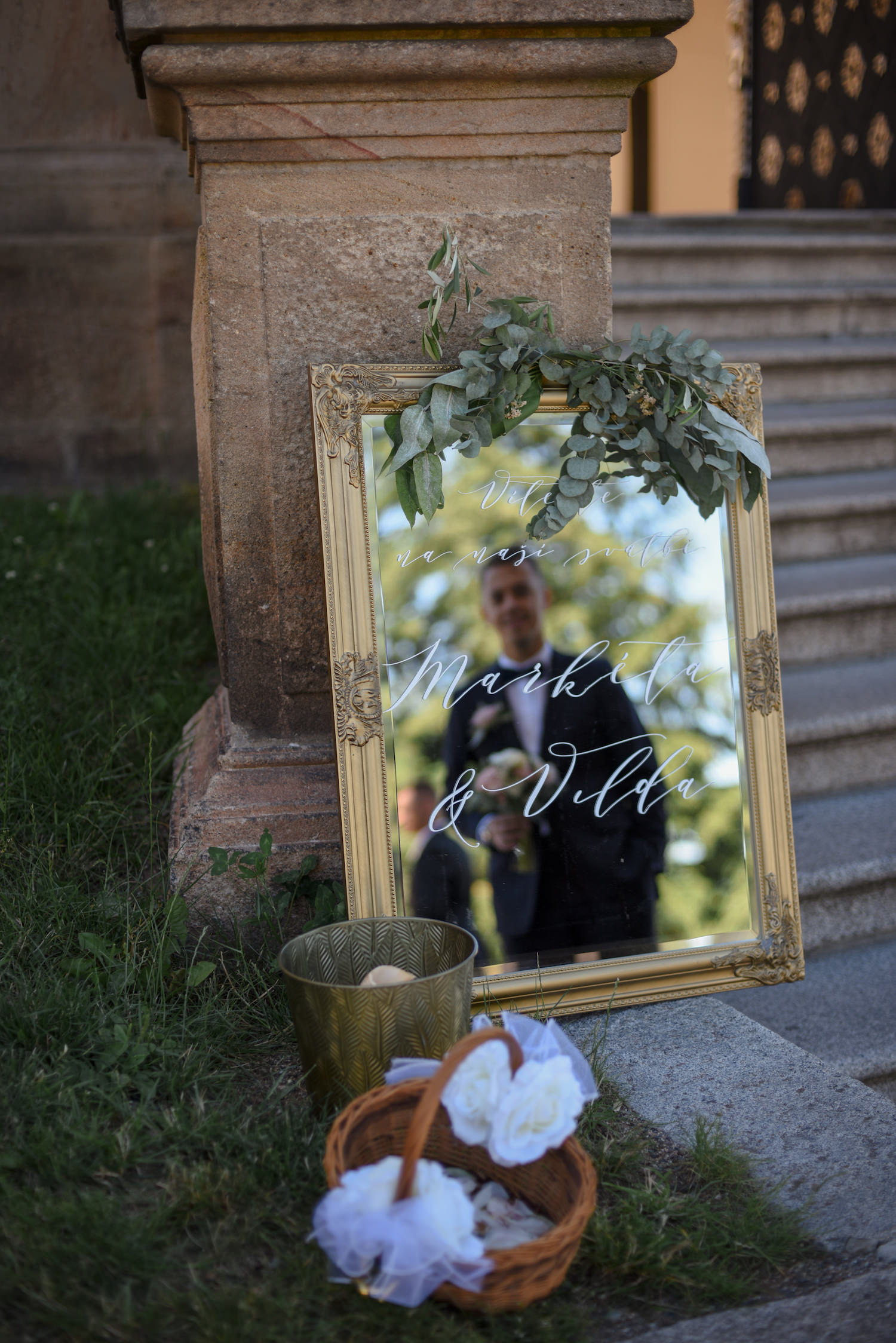 Krásný čtvrtek! Dnes mám pro vás další várku svatebních fotek, tentokrát z obřadu. Po first looku a focení jsem se schovala do auta, aby mě nikdo neviděl, zatímco se naši hosté začali pomalu sjíždět ke kostelu. Když všichni dorazili na místo, průvodem došli s farářem až ke kostelu, všichni hosté se usadili a ve 4 hodiny začal oficiální svatební obřad.
---
Happy Thursday! Today I'm gonna show you a lot of wedding photos, these are from the ceremony. After our first look I was hiding in the car to make sure no one would see me while our guests started arriving to the church. When everybody got there, they went inside together with our priest. They sat down in the chapel and the ceremony started at 4PM.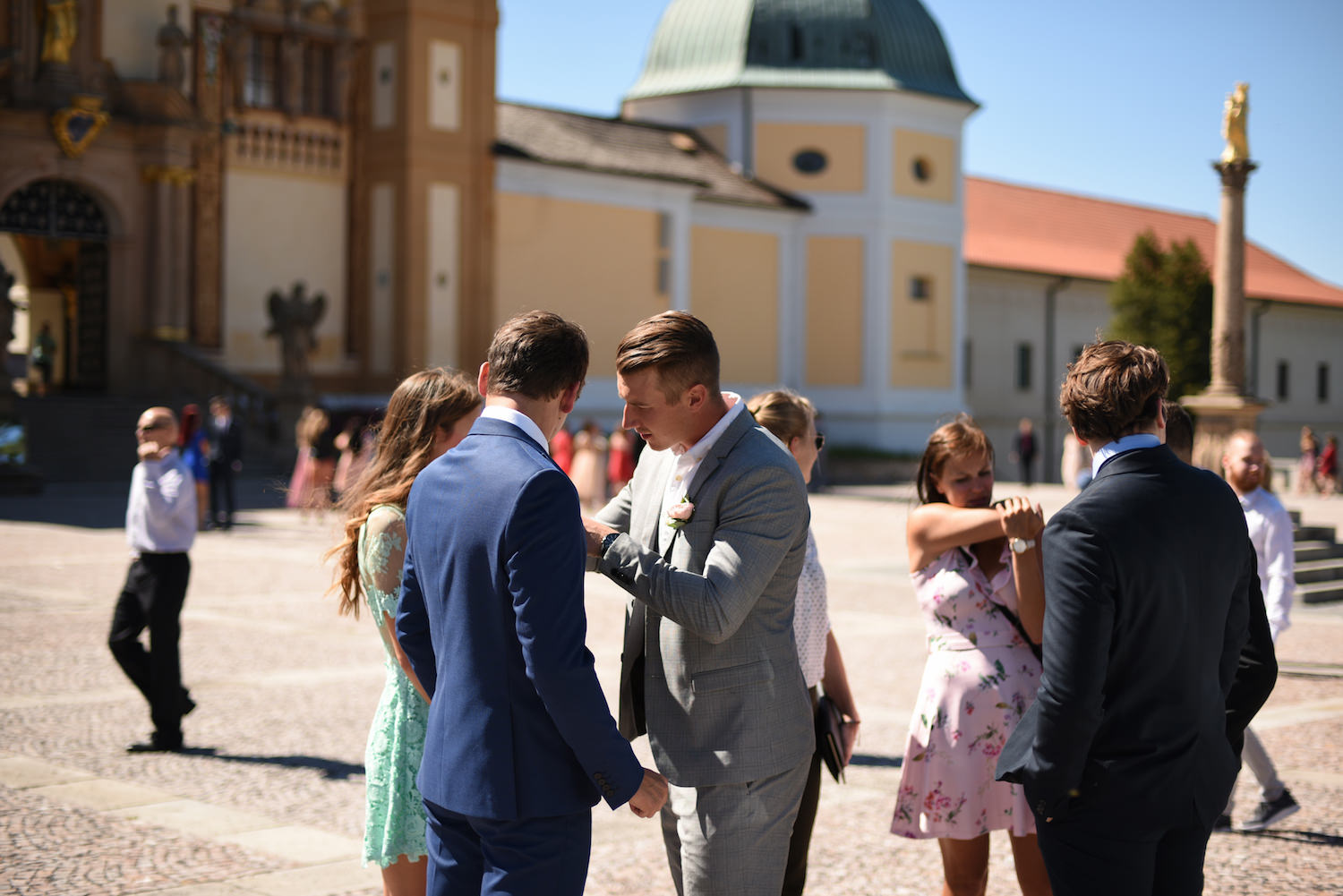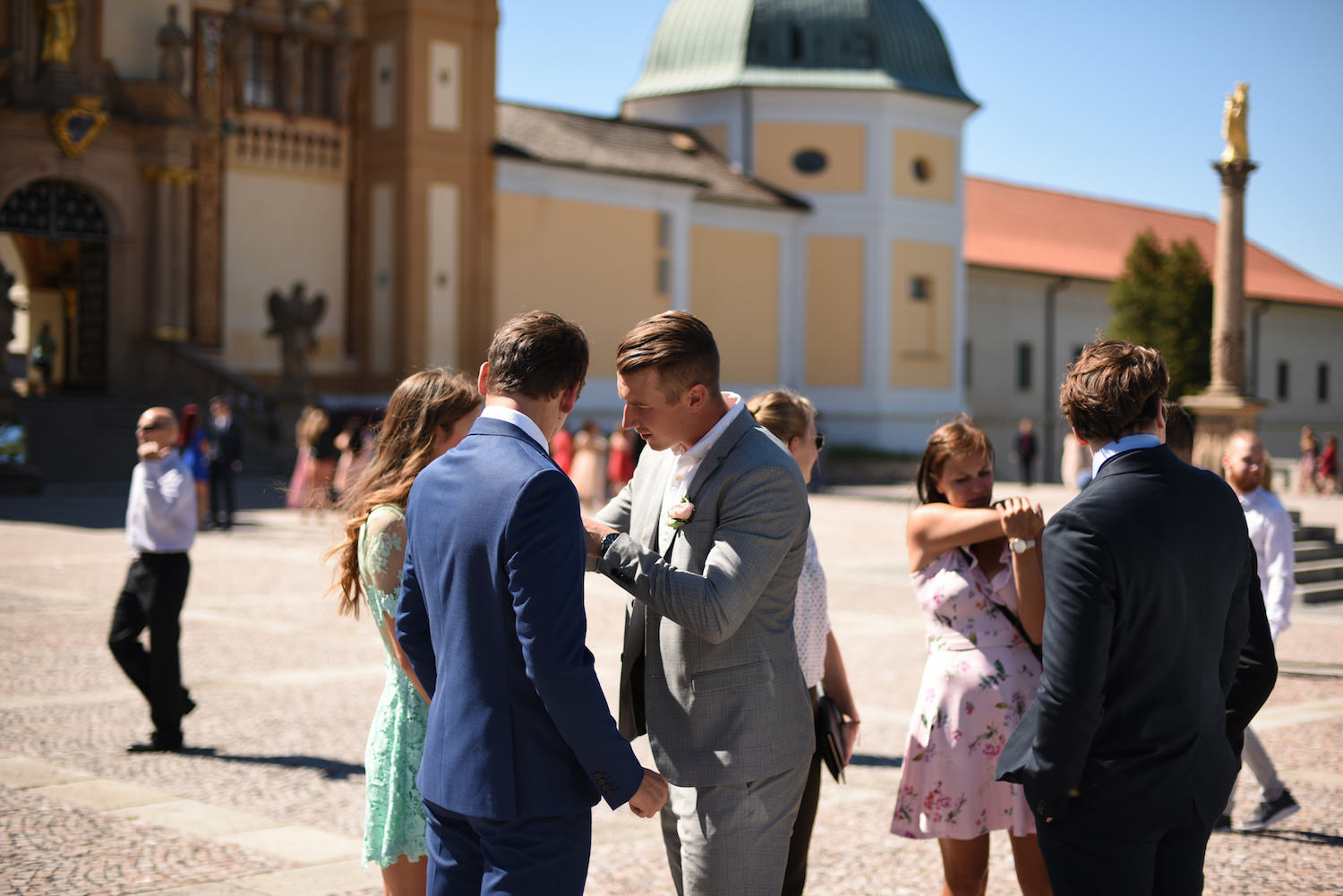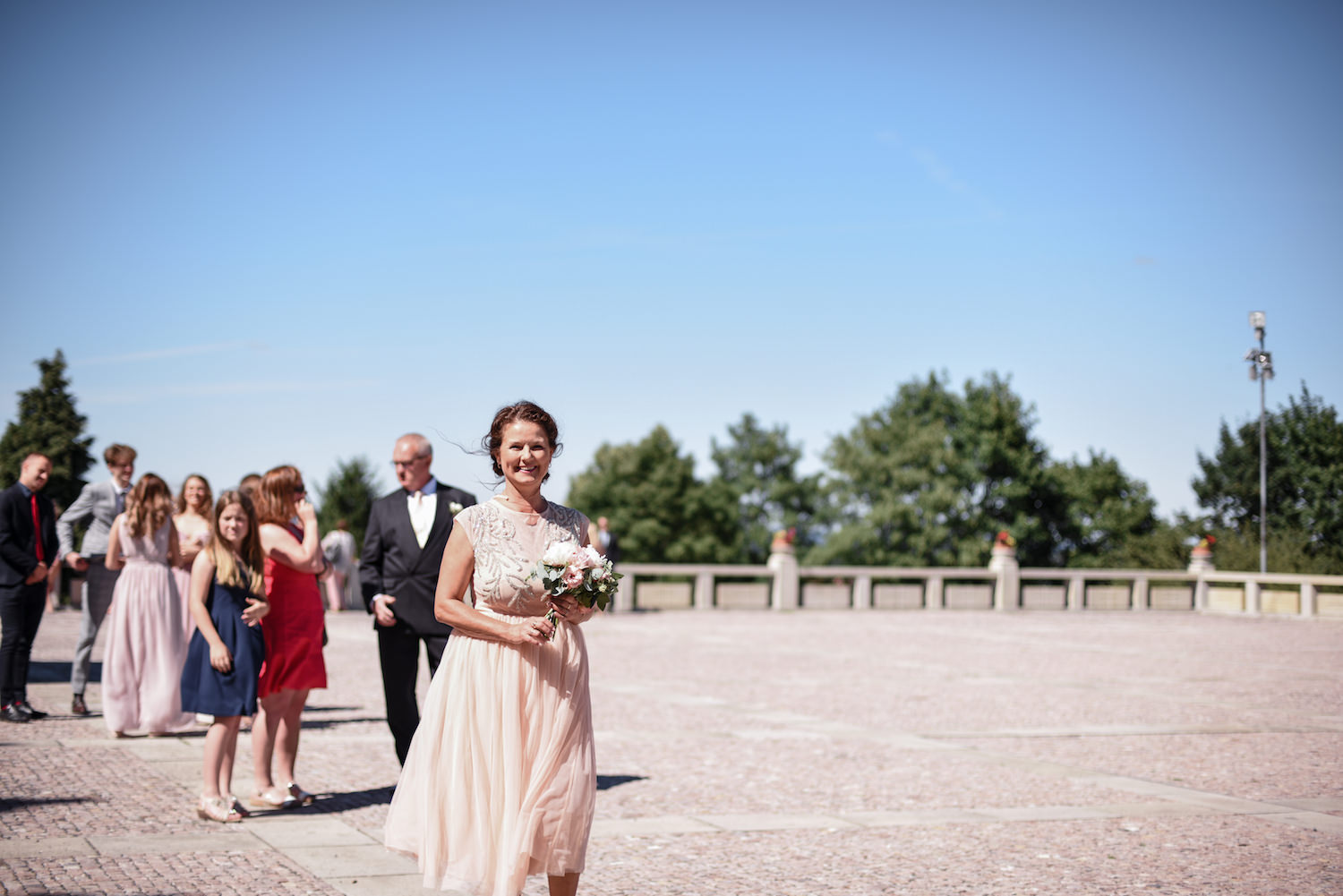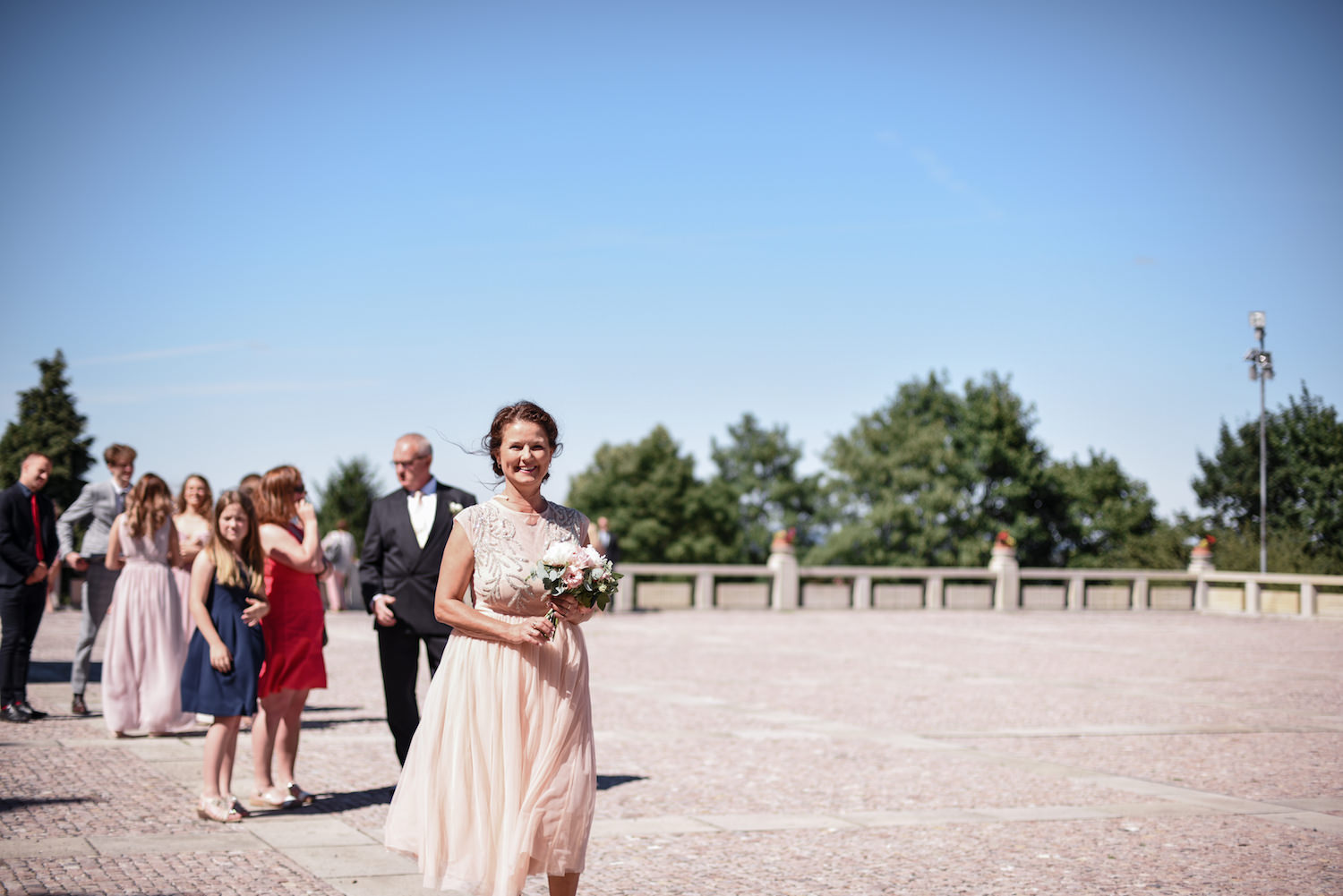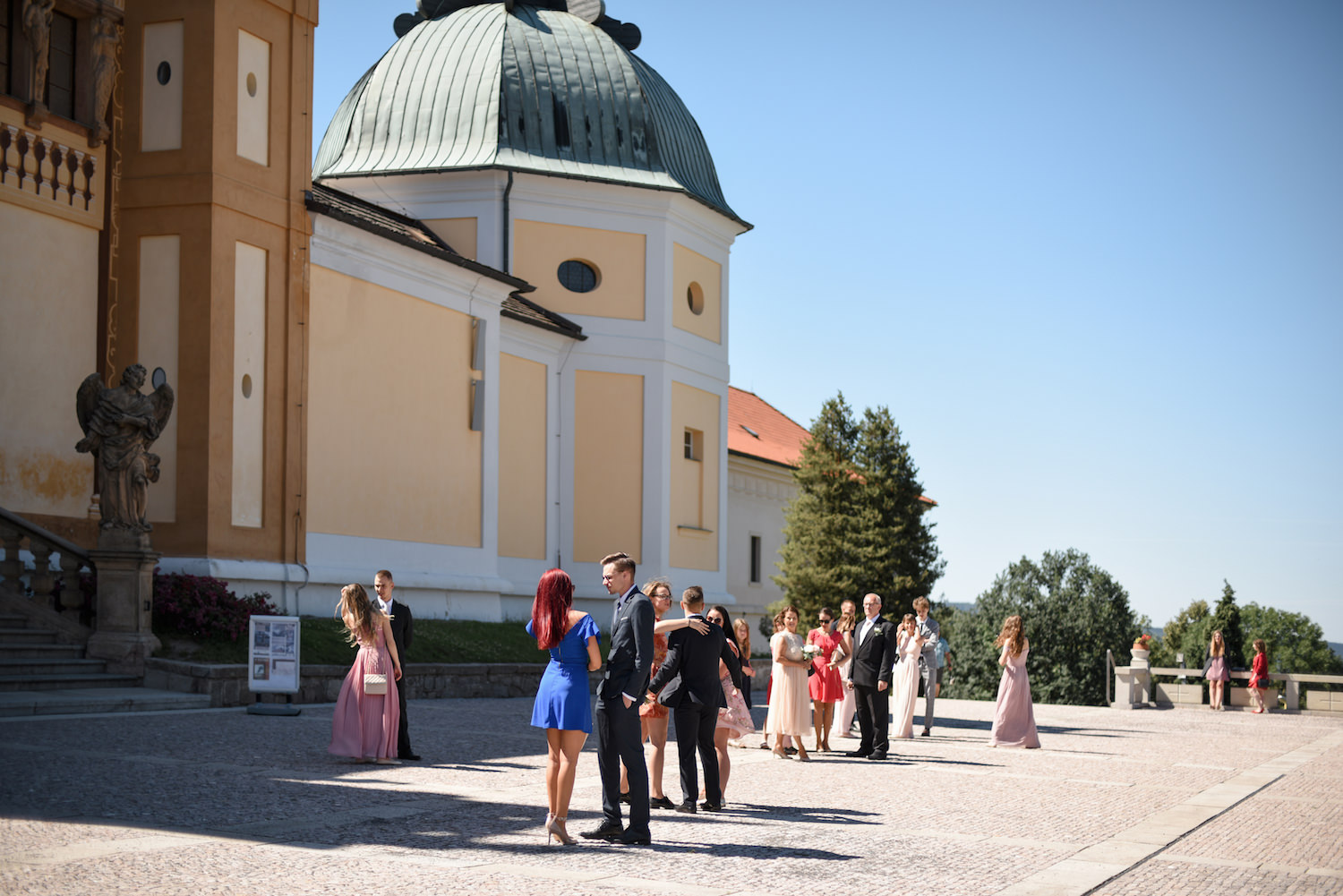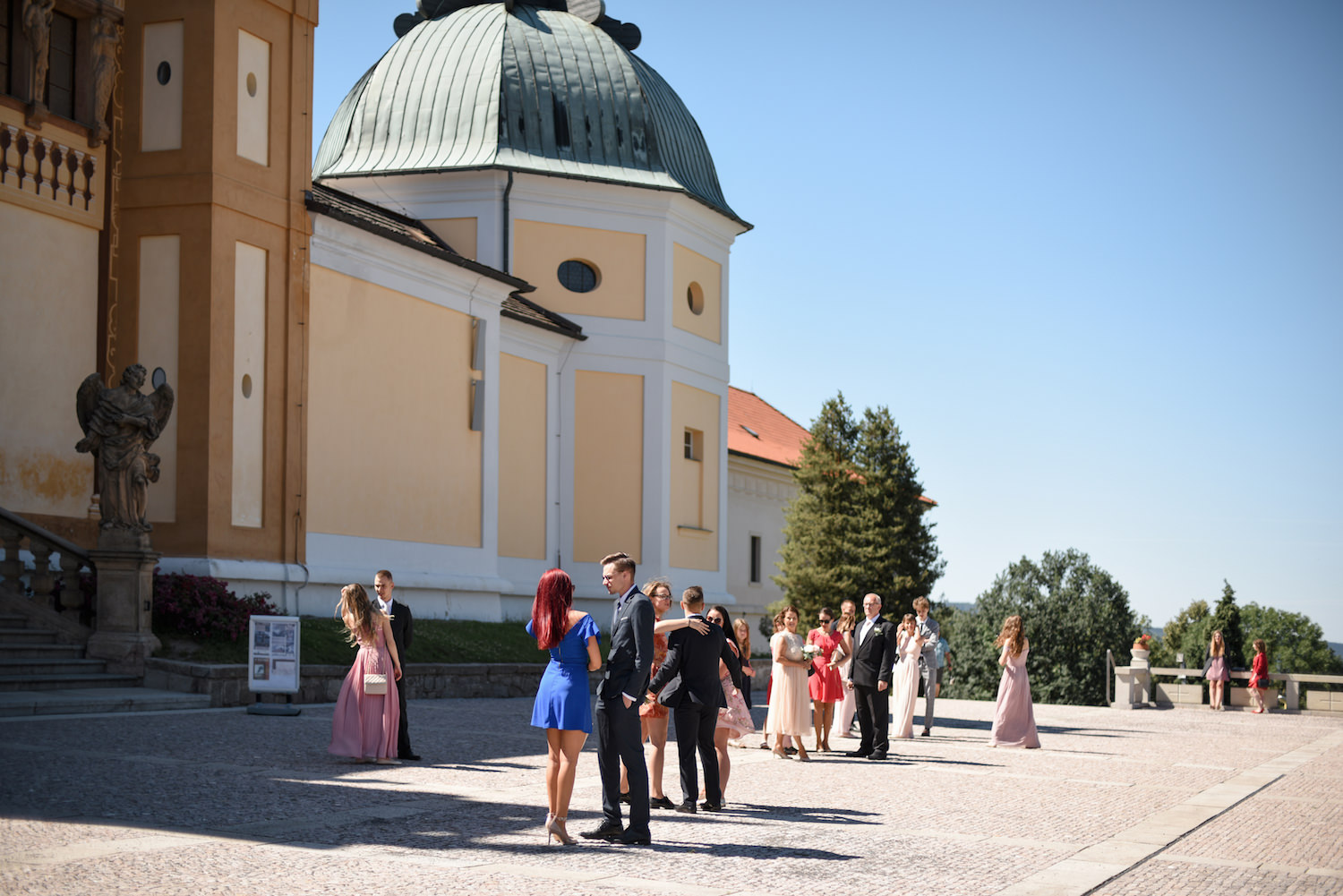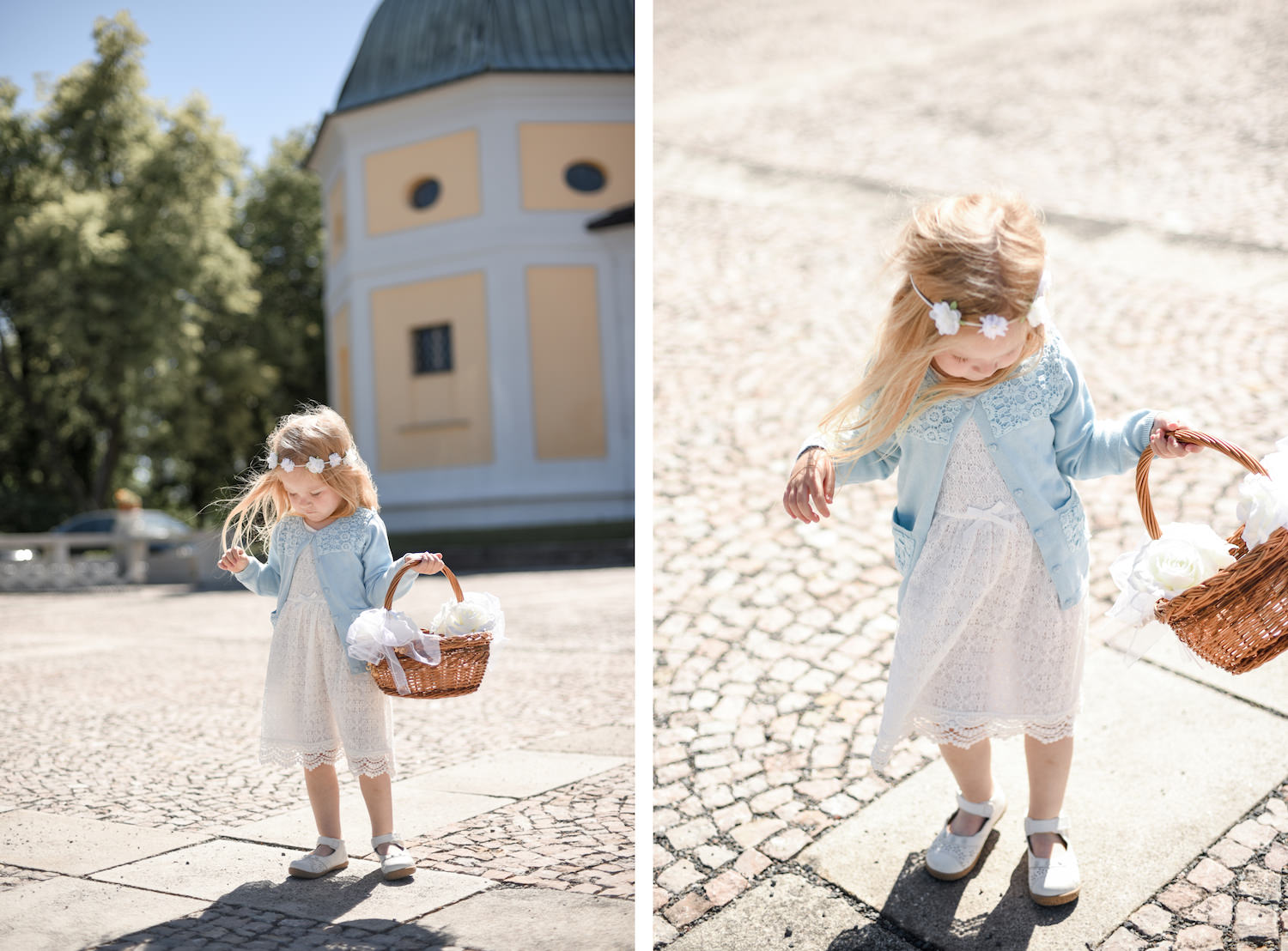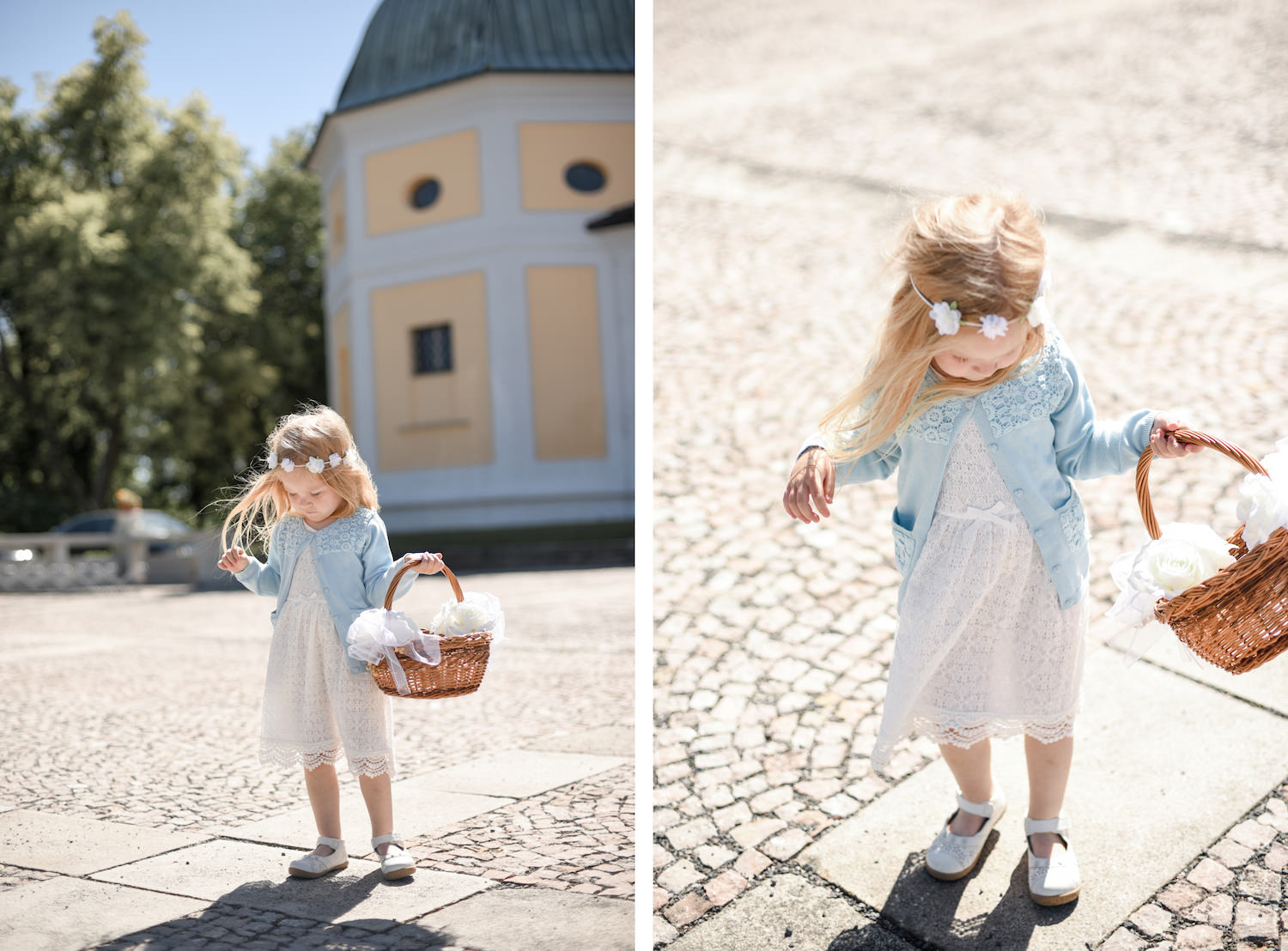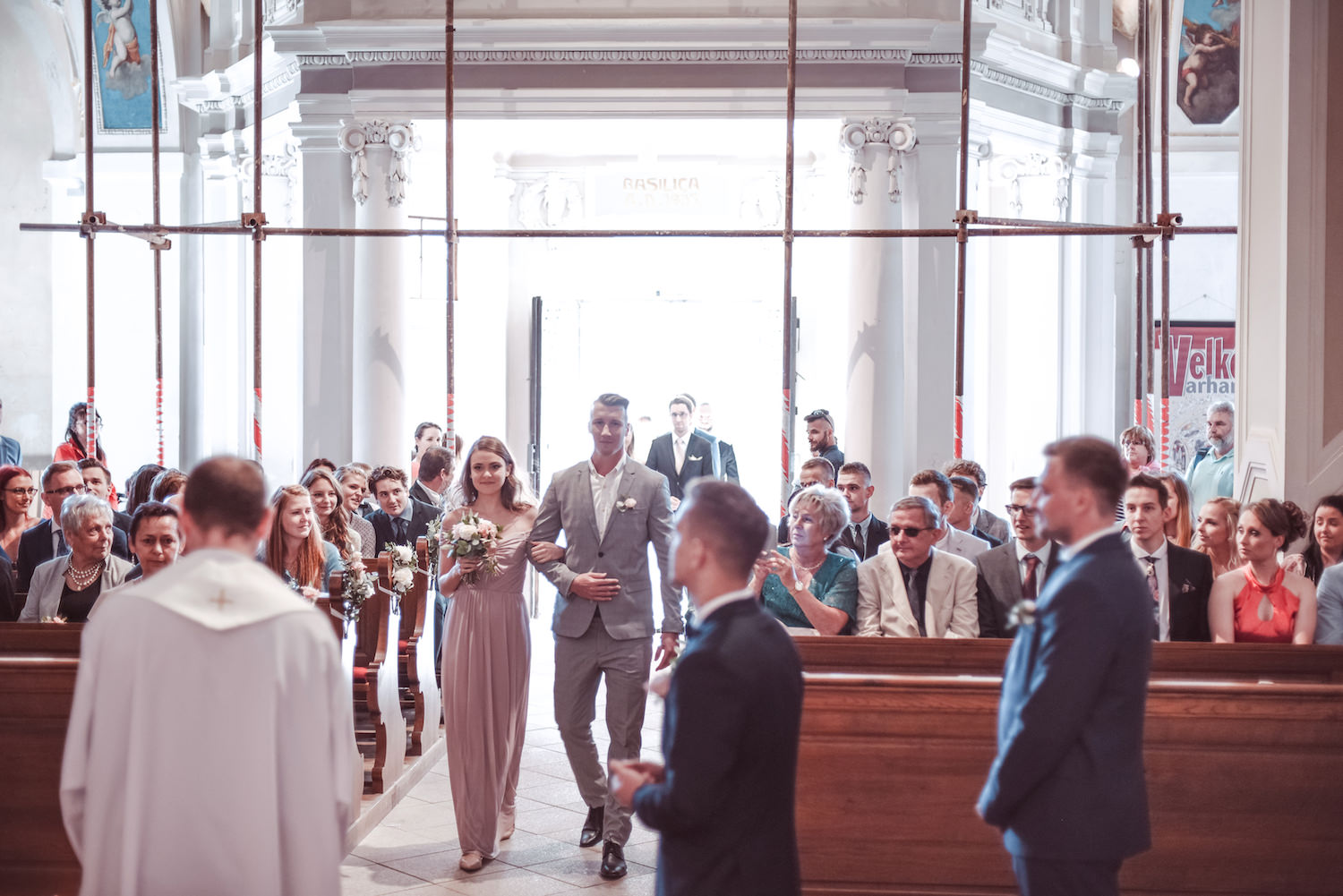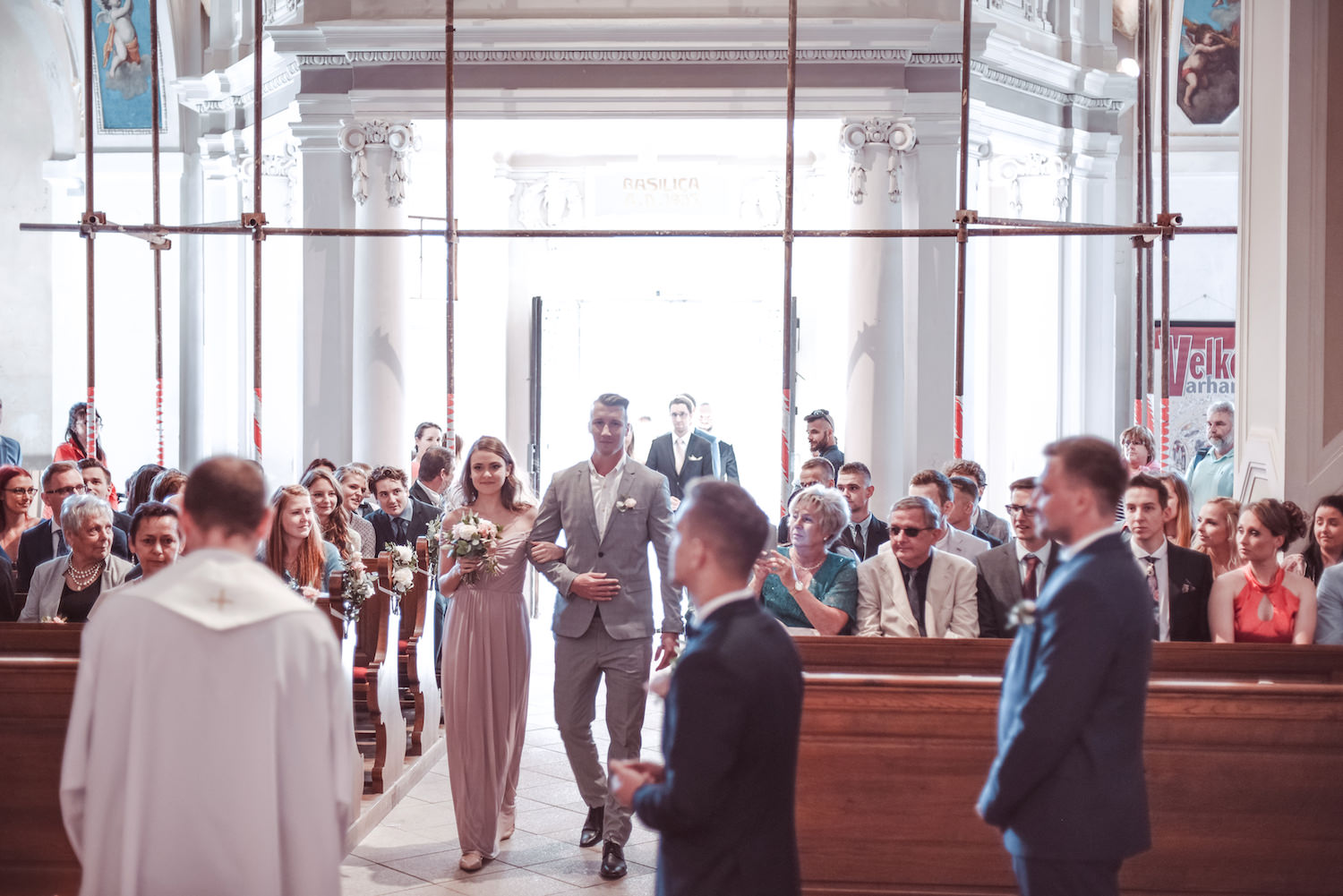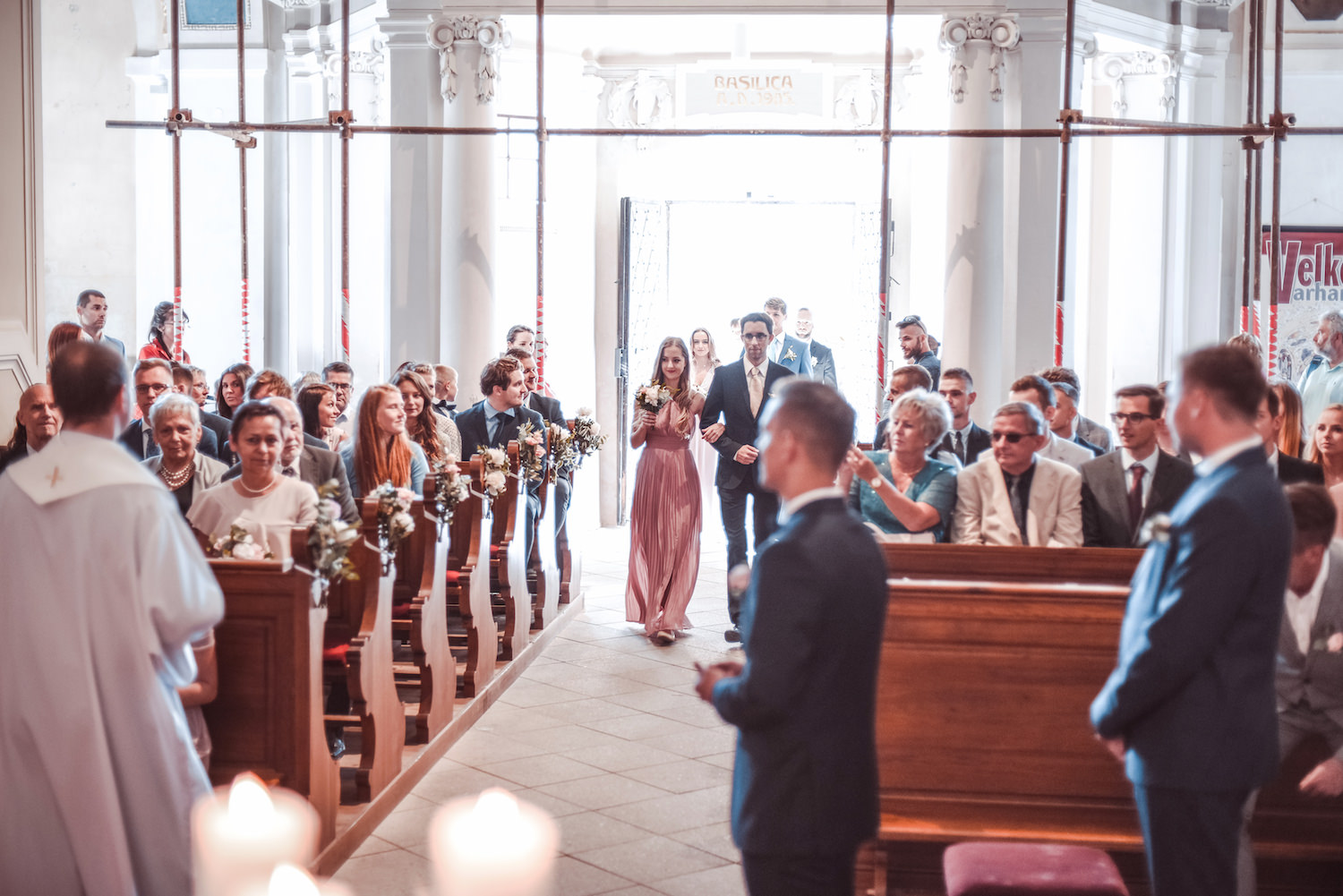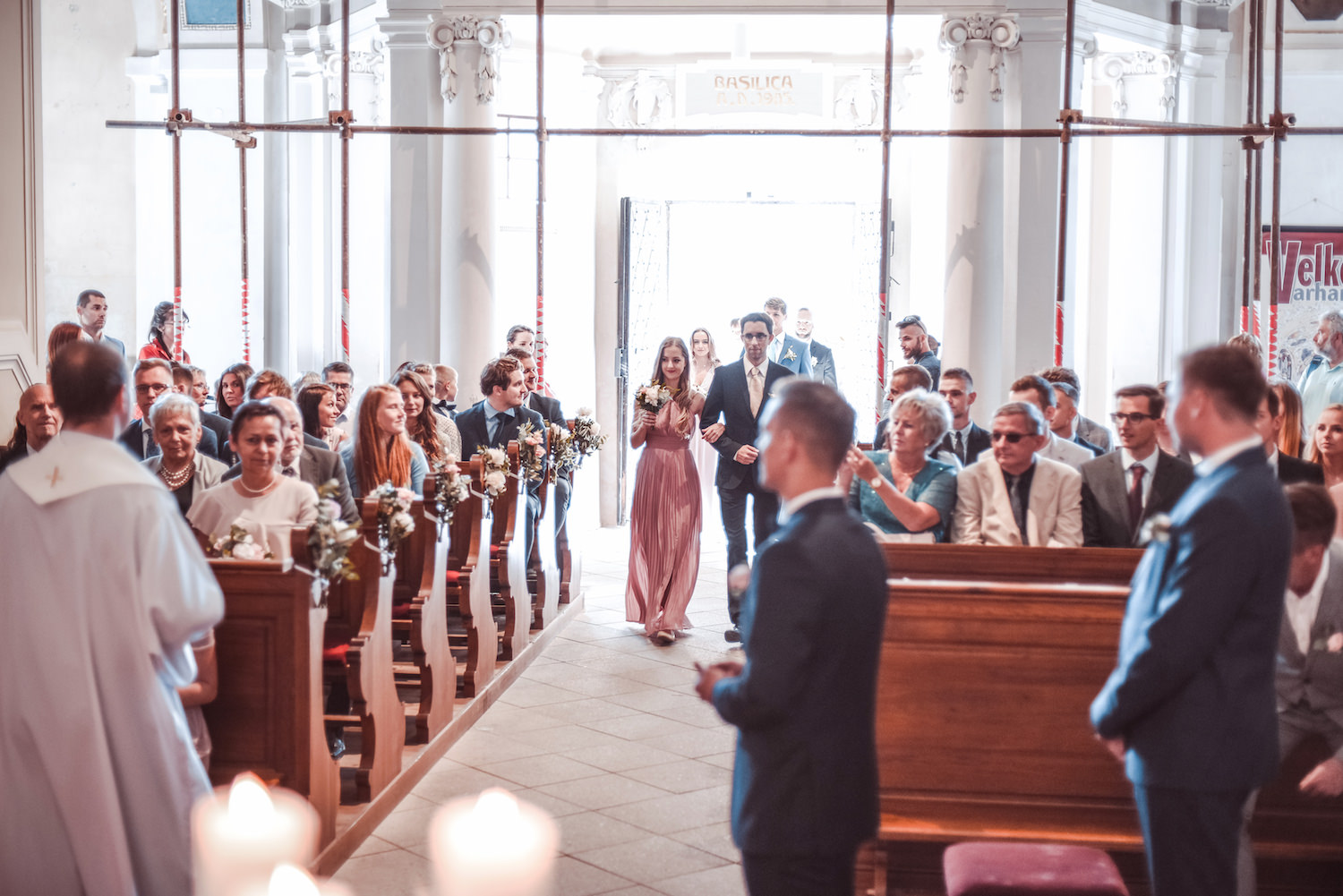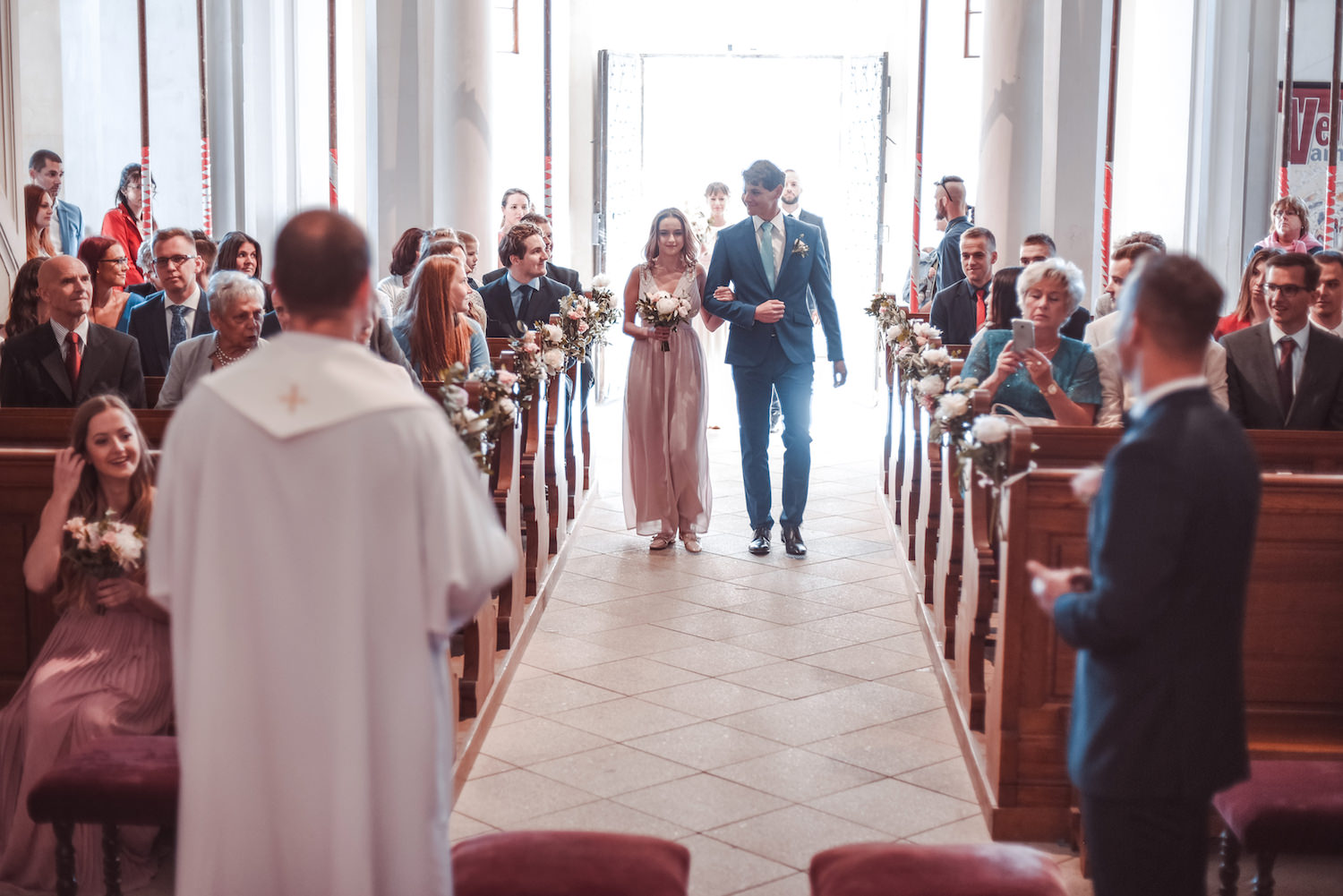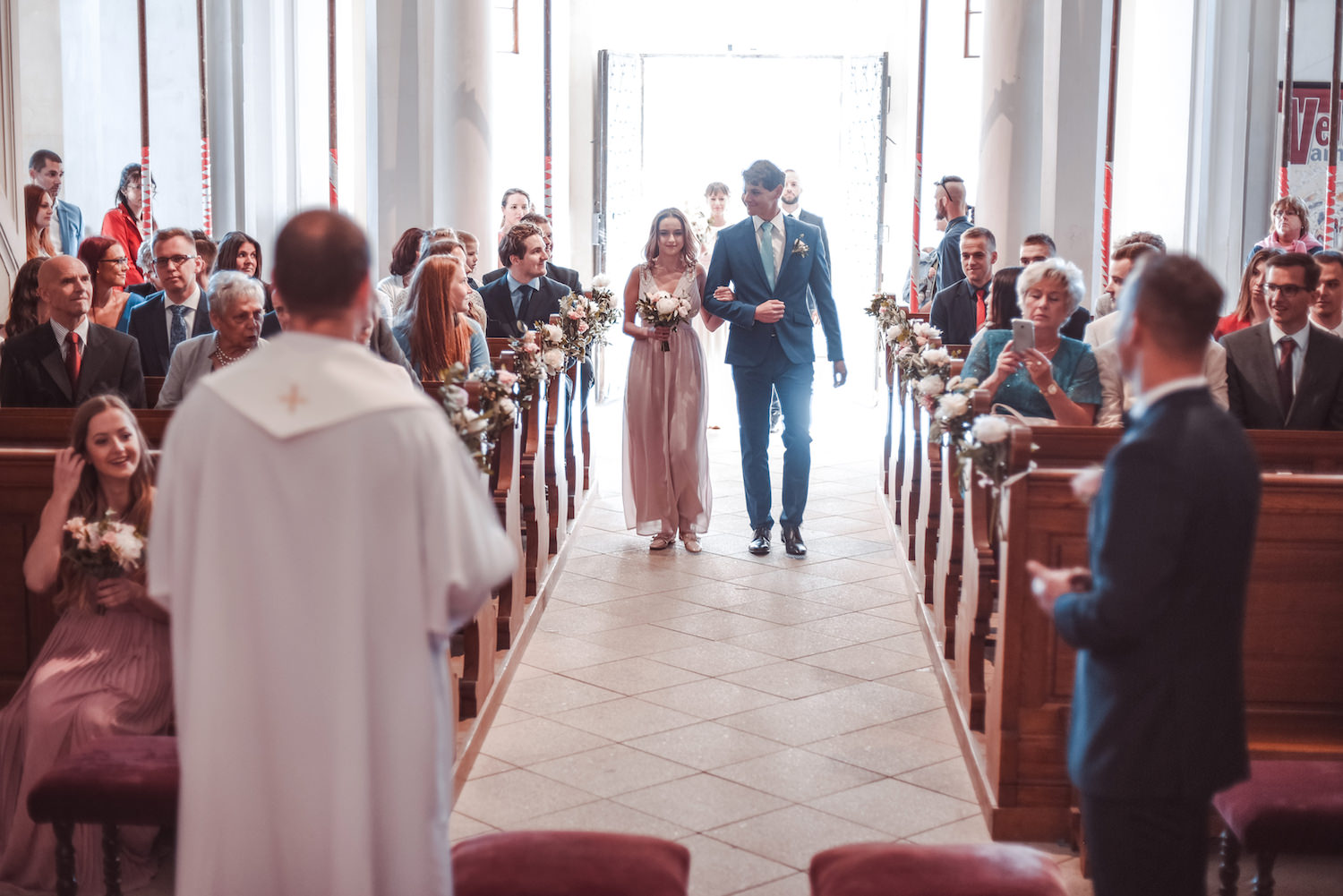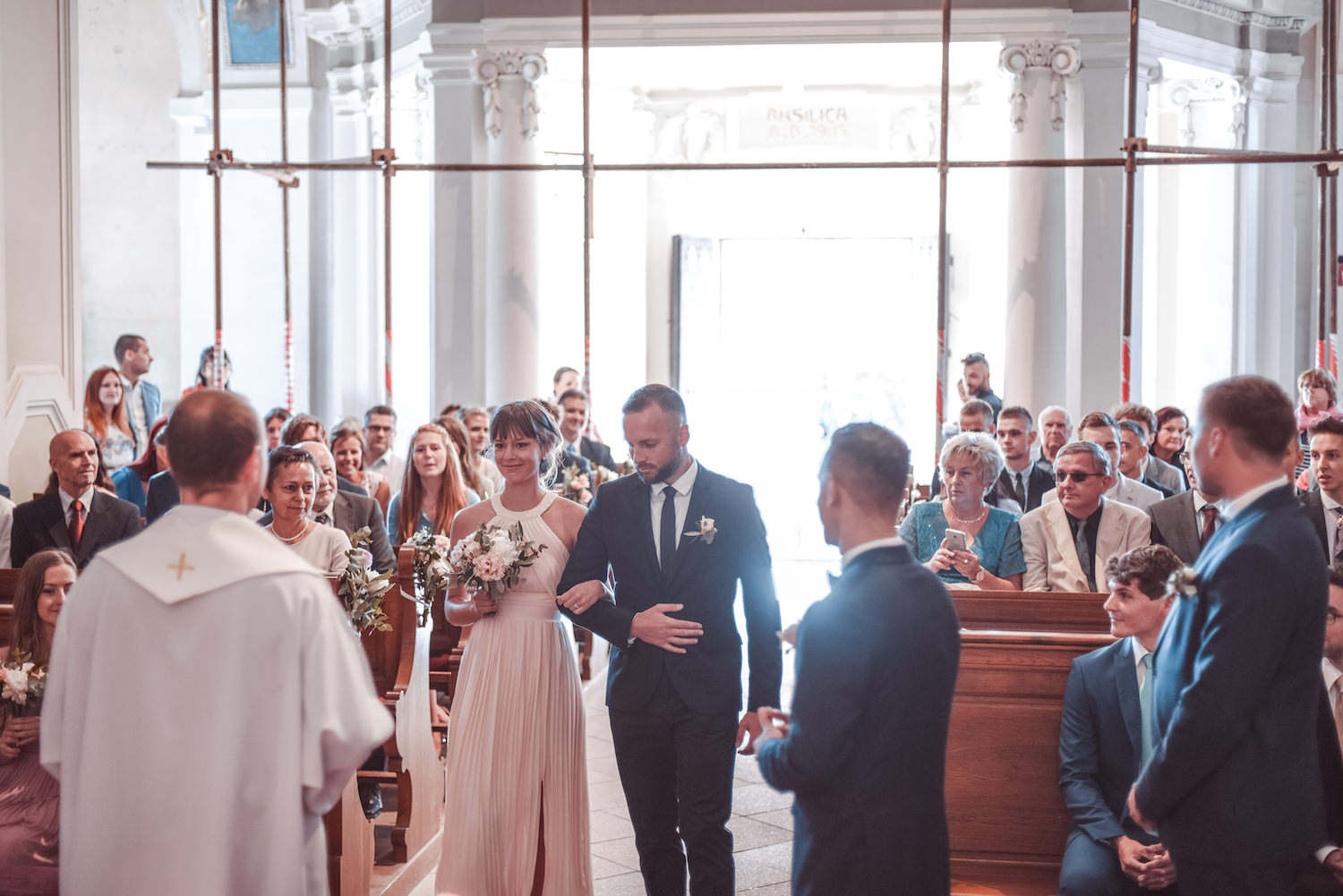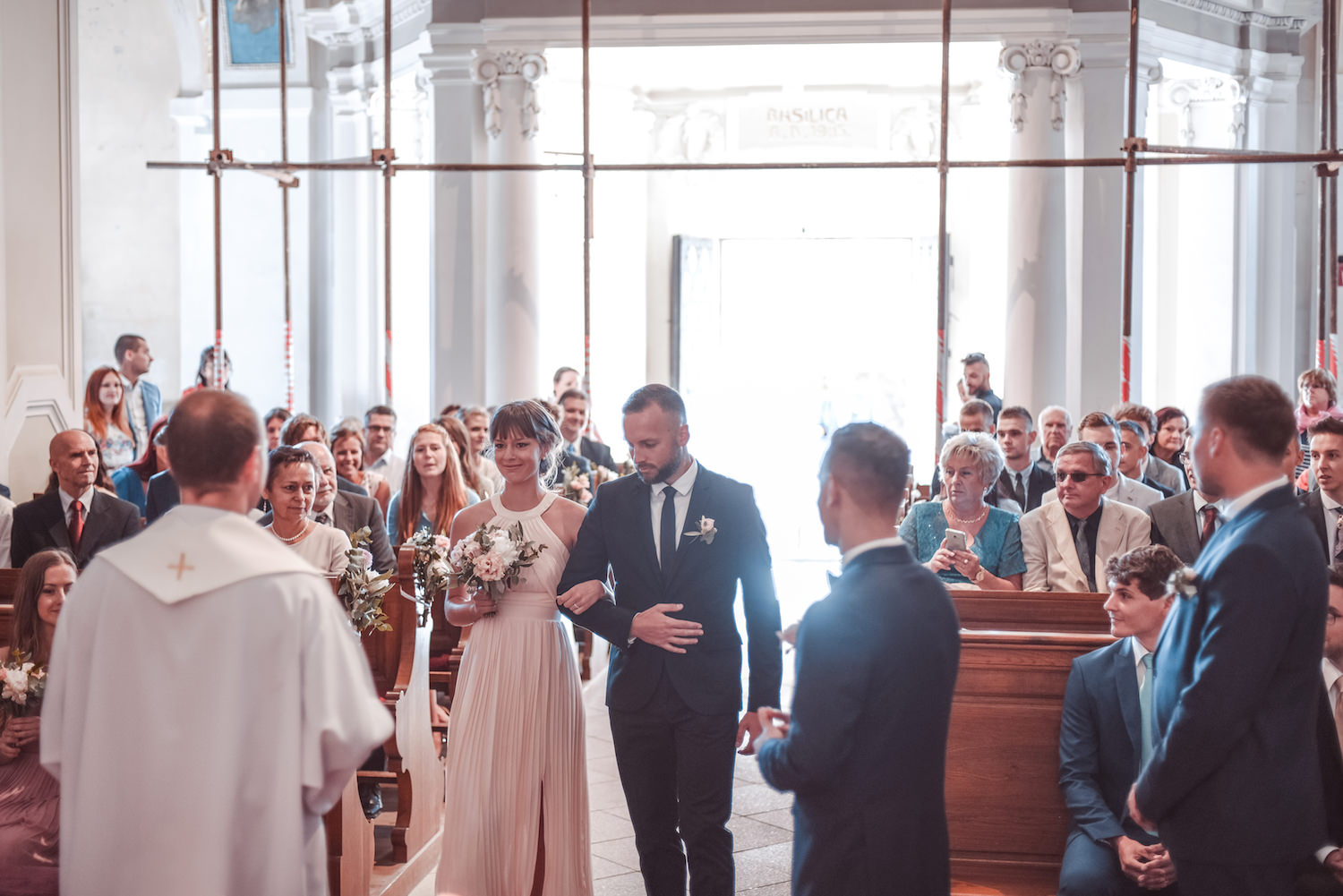 Moje nejkrásnější družičky (v doprovodu krásných družbů) <3 Všem to tak moc slušelo! Trochu mě mrzí, že jsem vlastně tuhle část obřadu vůbec neviděla, když jsem šla jako poslední, takže jsem ráda, že to takhle vidím alespoň na fotkách a poprosila jsem našeho skvělého kameramana z Lovefilms.cz, aby mi poslal záznam z celého obřadu, tak si to snad užiju alespoň takhle zpětně z jiného pohledu 🙂 Přesně si vybavuju tu chvíli, jak jsem stála za rohem kostela a slyšela, jak začíná hrát ta nejkrásnější písnička na světě (mix Perfect od Eda Sheerana s Pachelbel canonem), srdce jsem měla až v krku a měla jsem co dělat, abych udržela slzy jen z toho, jak dojemně to znělo. Harfa a housle spolu prostě zní tak dokonale a holky, které nám na svatbě hrály, byly prostě nejšikovnější na světě!
---
My beautiful bridesmaids (and handsome groomsmen) <3 They all looked so pretty! It's a shame that I wasn't able to see this part of the ceremony as I walked inside as the last one, but I'm happy to see it through these photos at least and I asked our videomaker from lovefilms.cz if he could send me the whole video from the ceremony, so that I can enjoy it from a different point of view 🙂 I remember the moment when I was standing right behind the corner of the church and I heard the most beautiful song started (a mix of Ed Sheeran's Perfect and Pachelbel canon), my heart was beating like crazy and I was just trying not to cry, it was so beautiful. Harp and violin are literally the most amazing instruments and it sounds so good together. And the girls that played at the ceremony did an awesome job!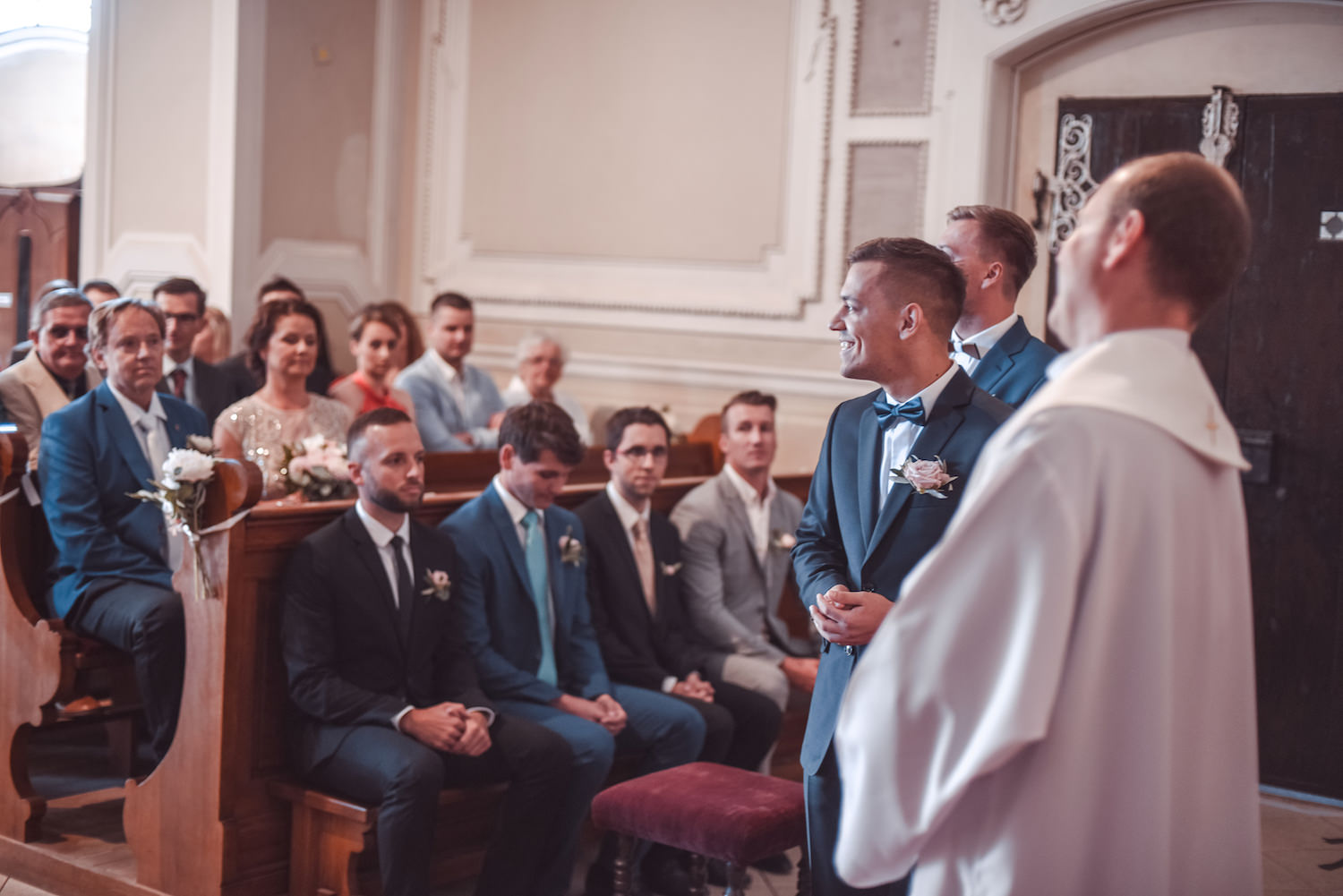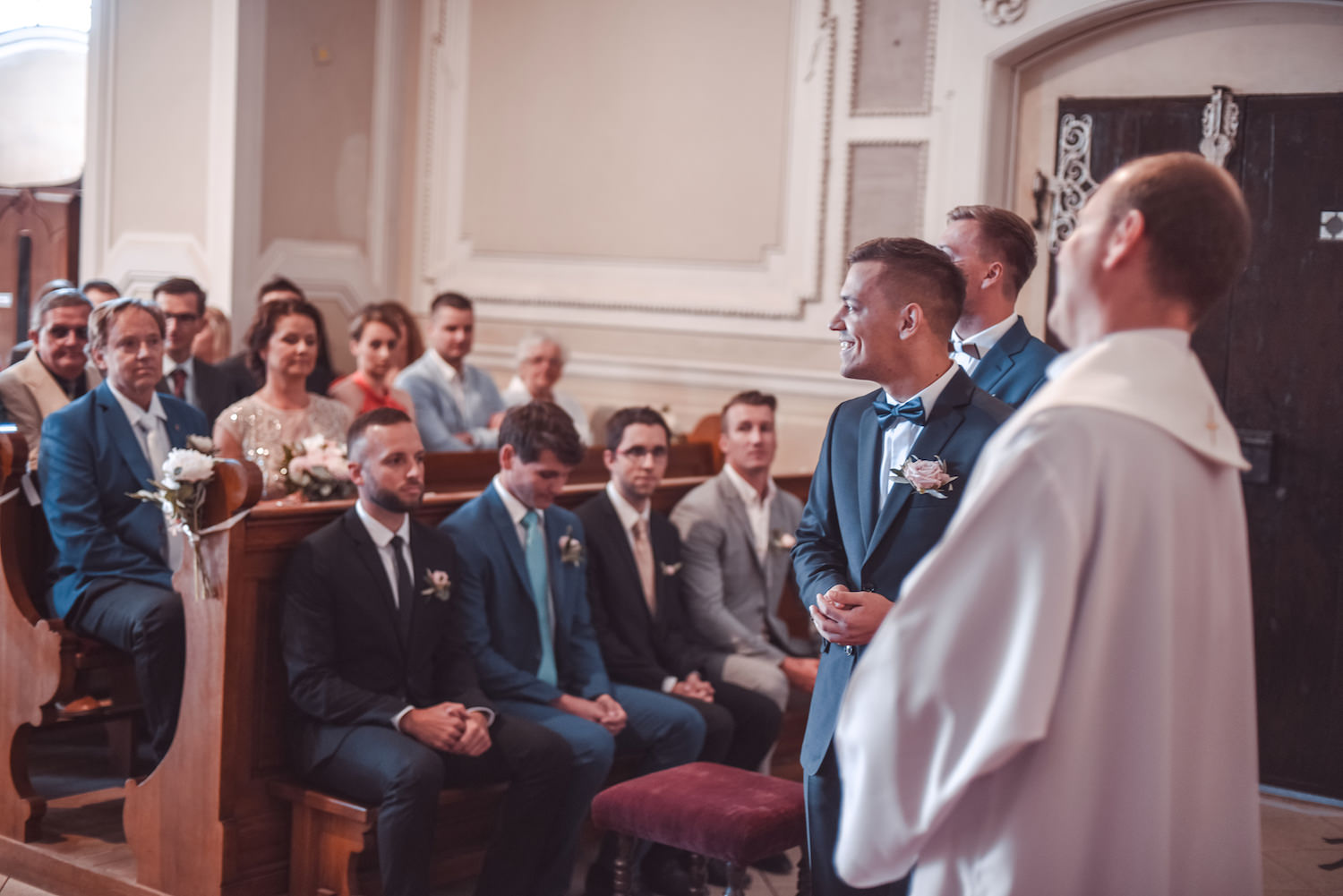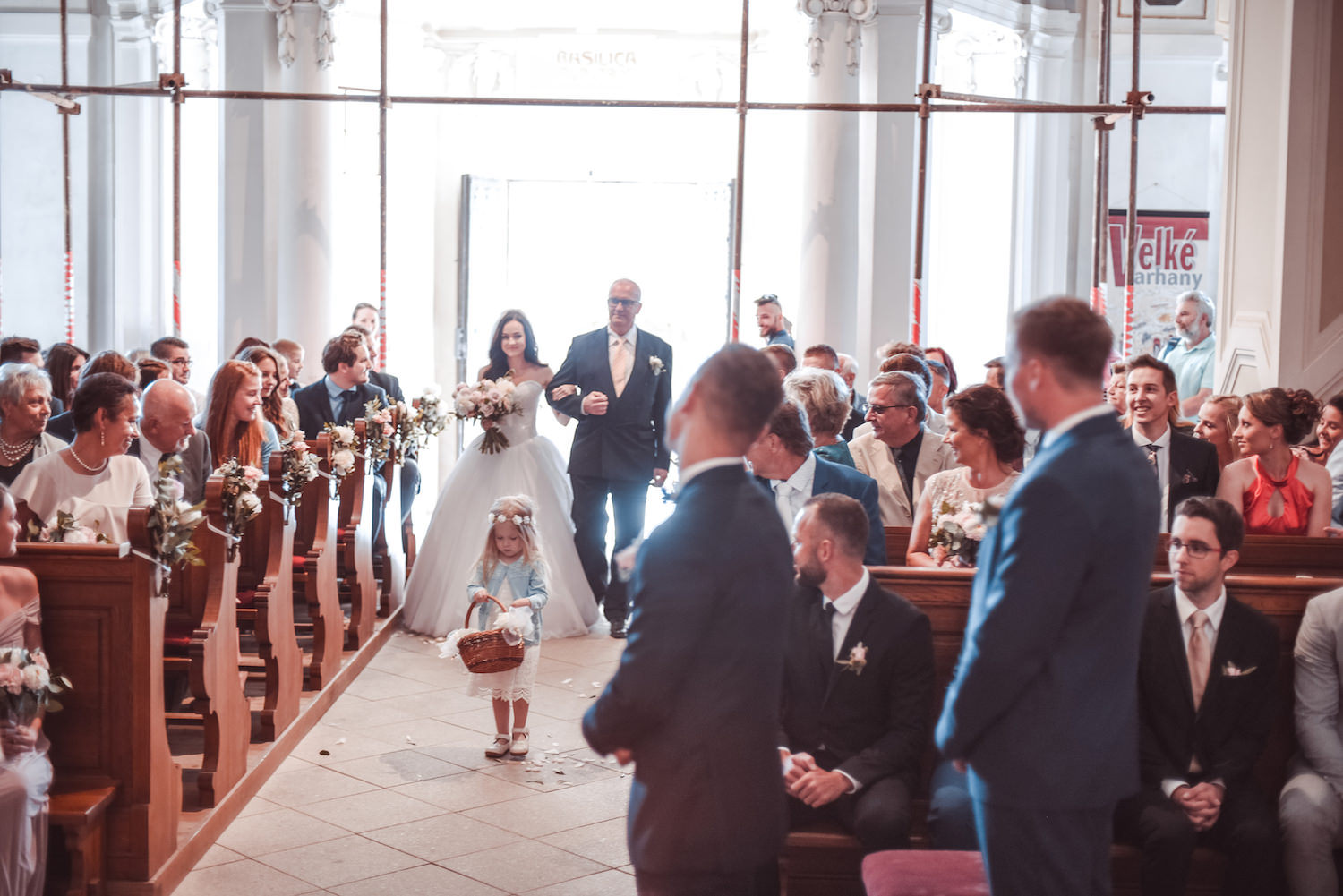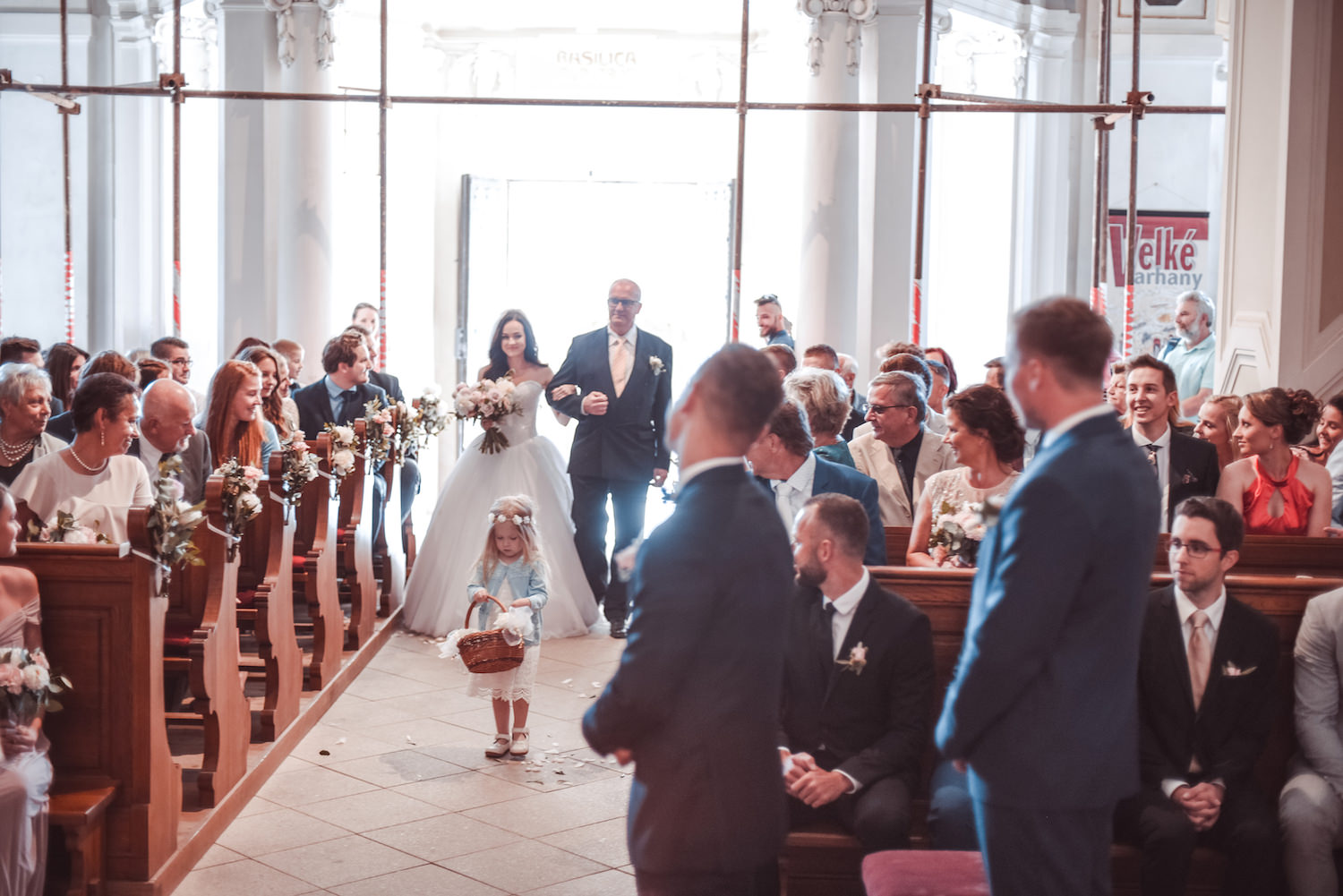 Se vstupem do kostela to ze mě trochu spadlo a soustředila jsem se hlavně na to, abych v klidu prošla až na konec uličky. Největší překvapení obřadu byla moje neteřinka Adélka, která šla přede mnou a rozhazovala okvětní lístky. Upřímně jsem ani nedoufala, že tou uličkou vážně projde, protože u dětí prostě nikdy nevíte, ale byla tak roztomilá a šikovná, všichni jsme z ní byli hotoví.
---
When I stepped inside the chaple, the stress fell of my shoulders and I was just focused on getting to the end of the aisle. The biggest surprise of the ceremony was my little niece Adélka, she was my flower girl. I honestly thought she won't do it, with kids you just never know, but she actually did it and she was super cute!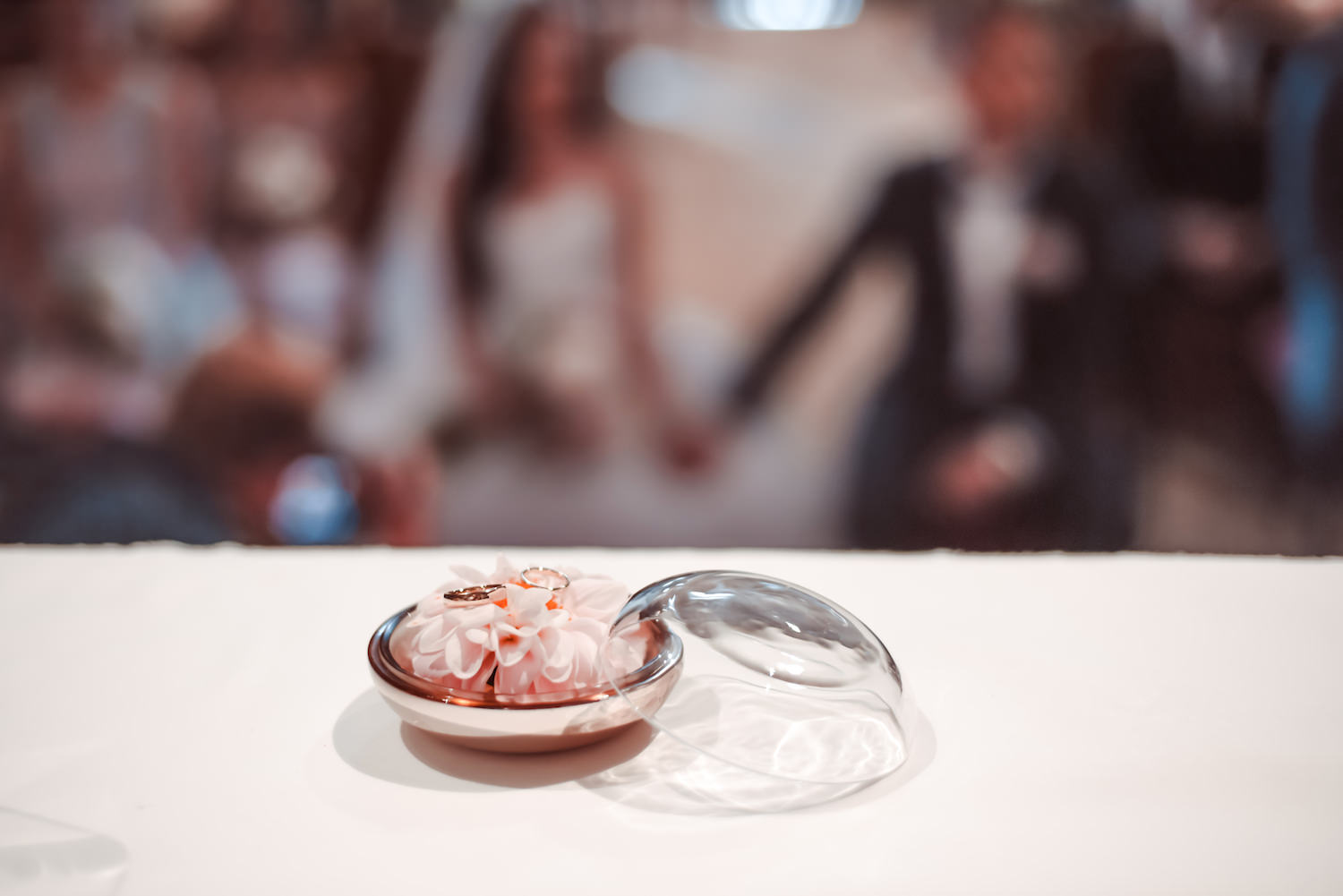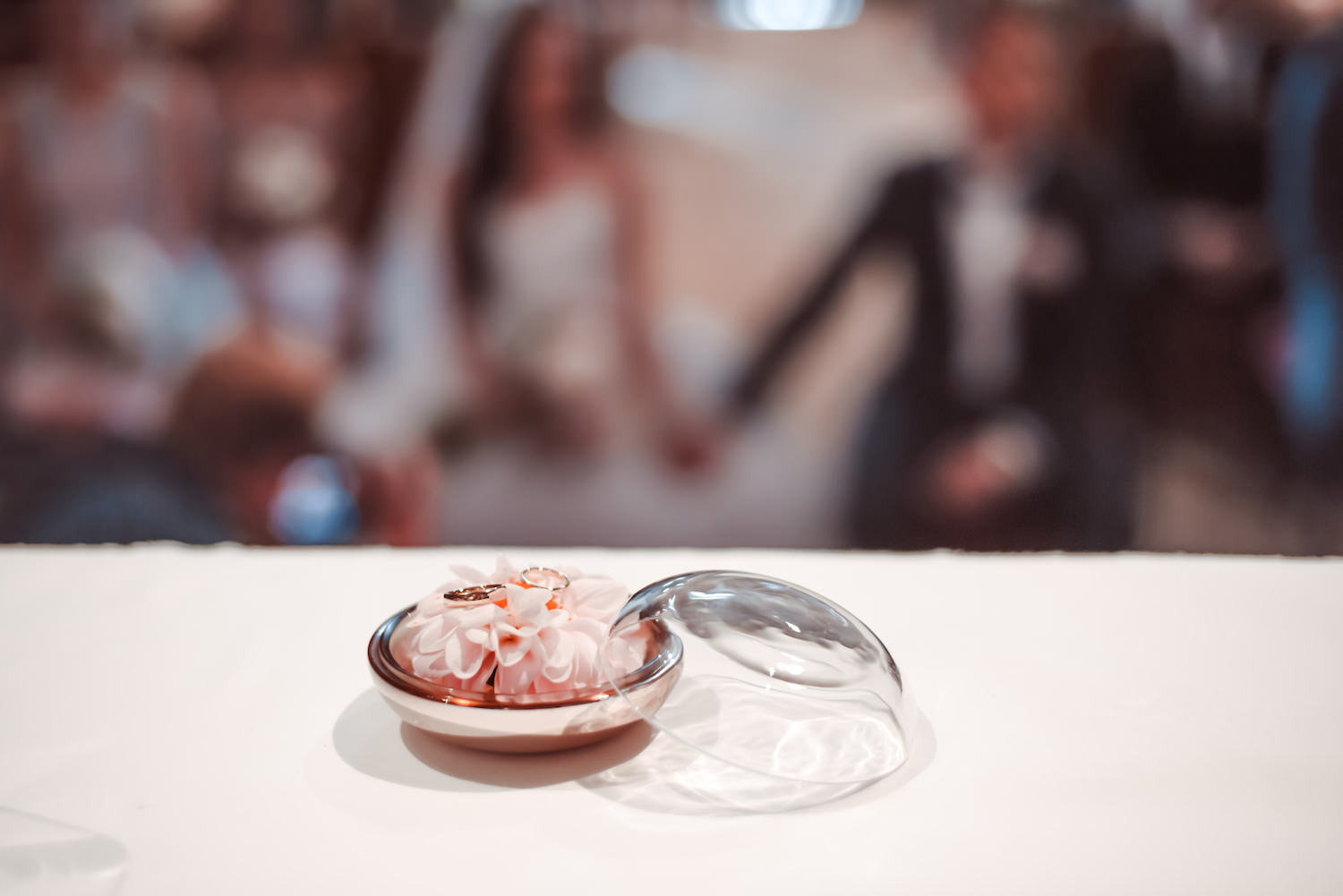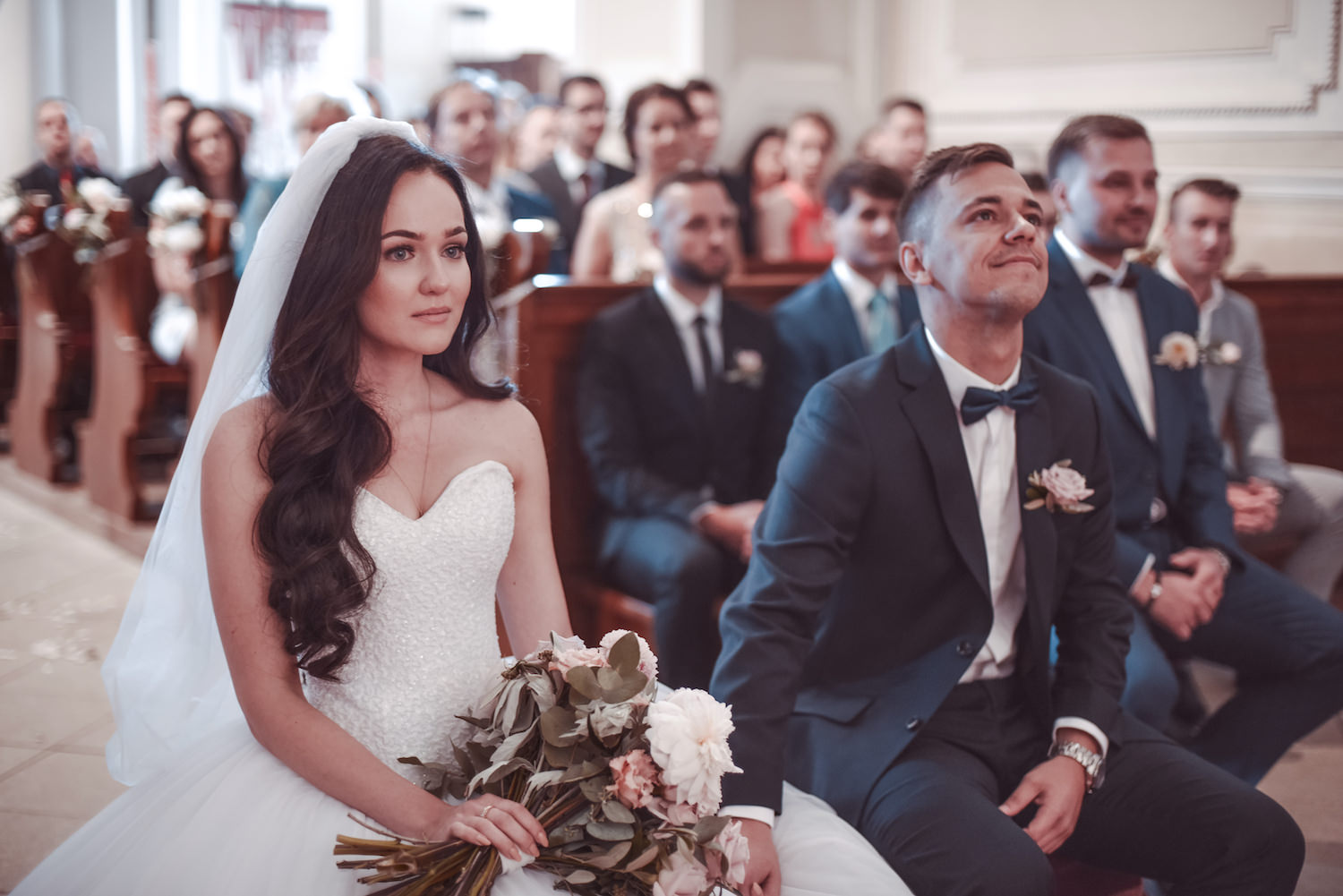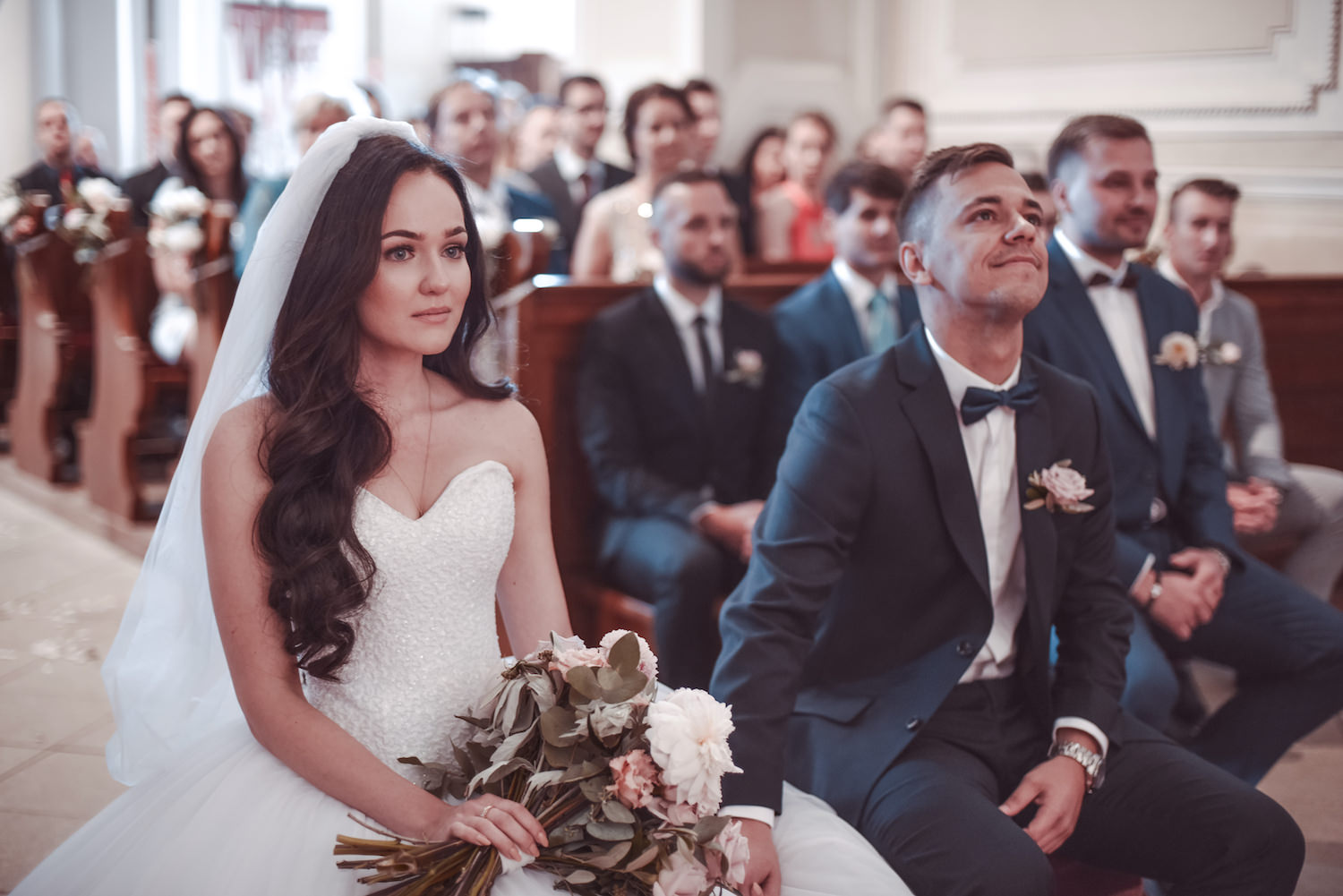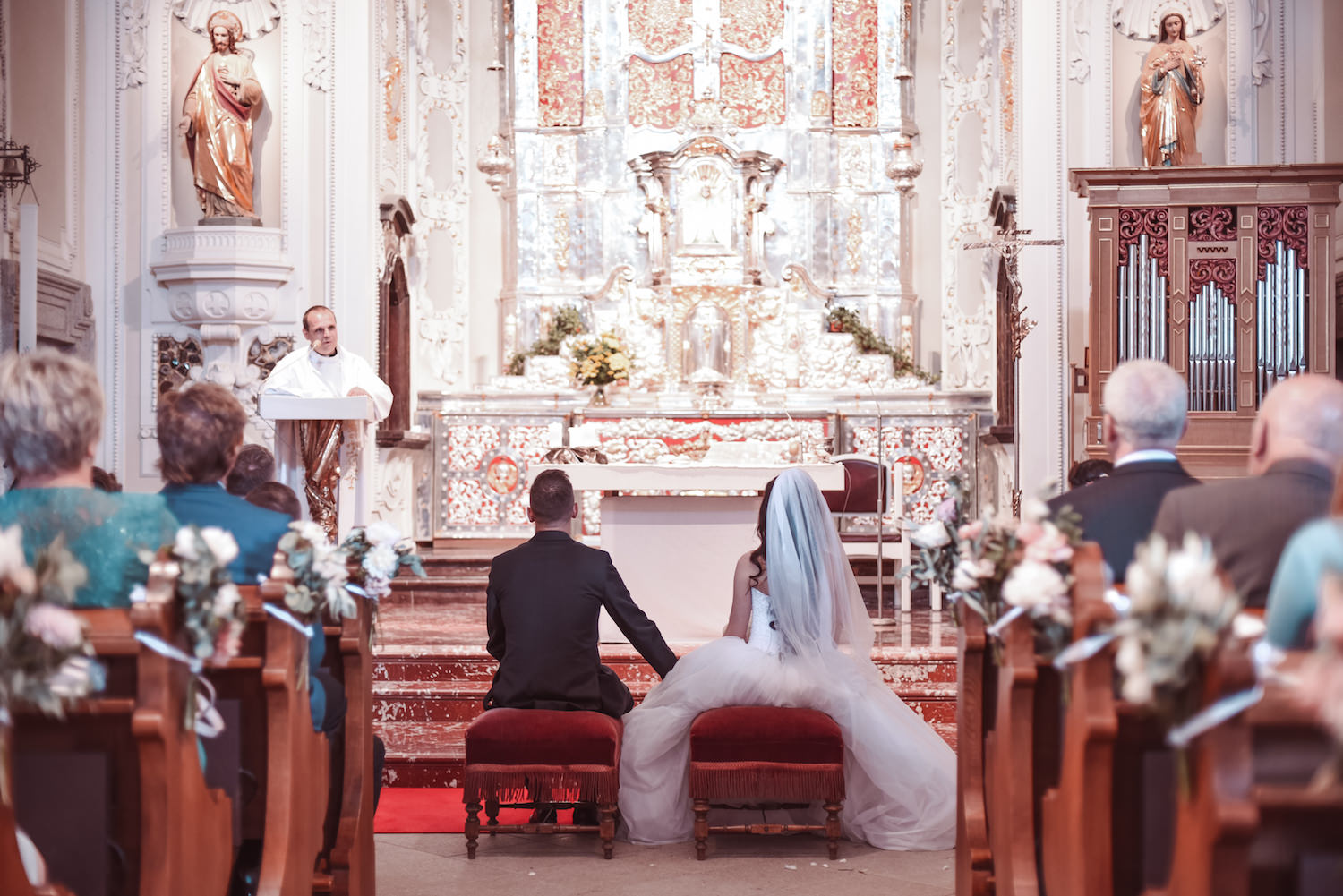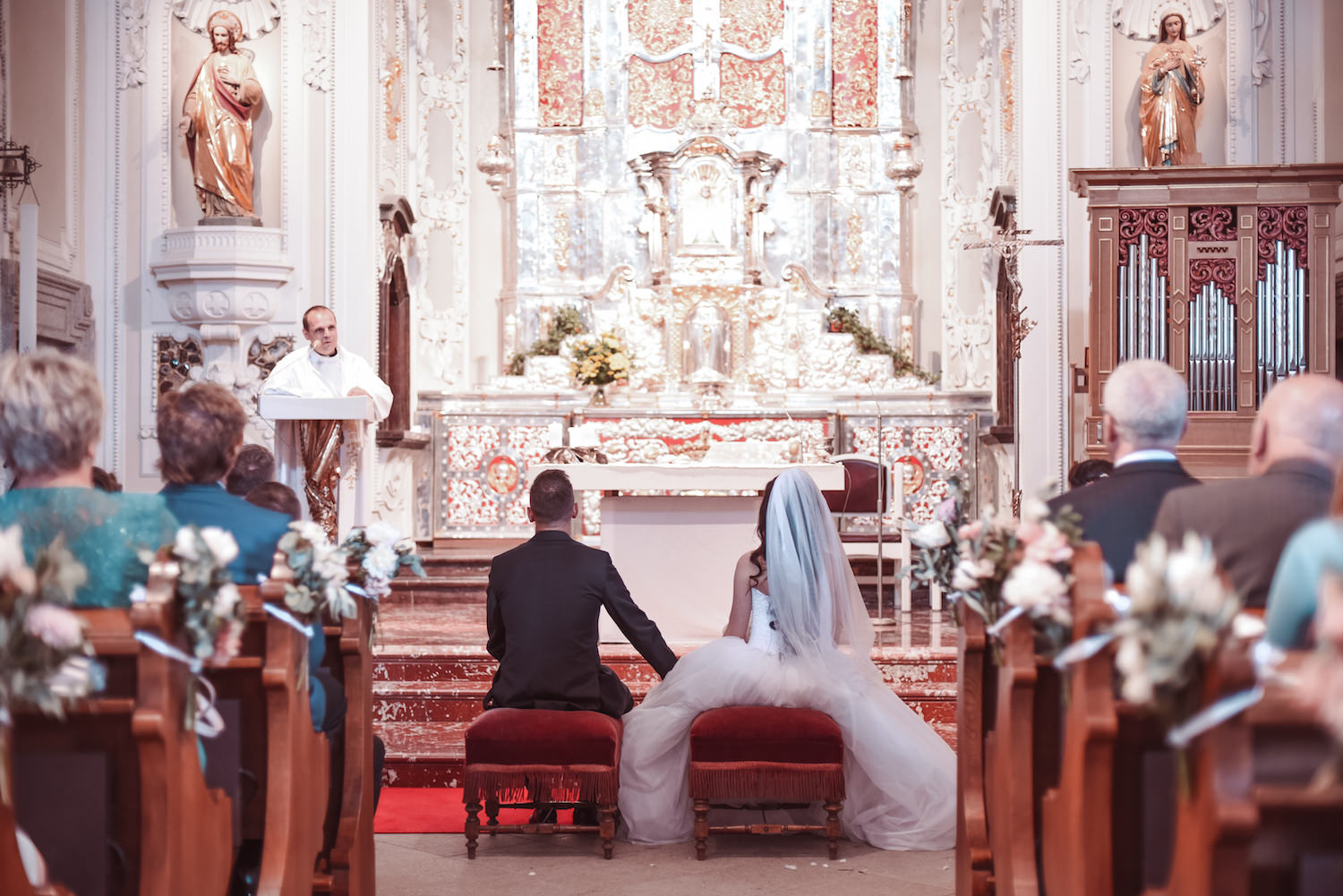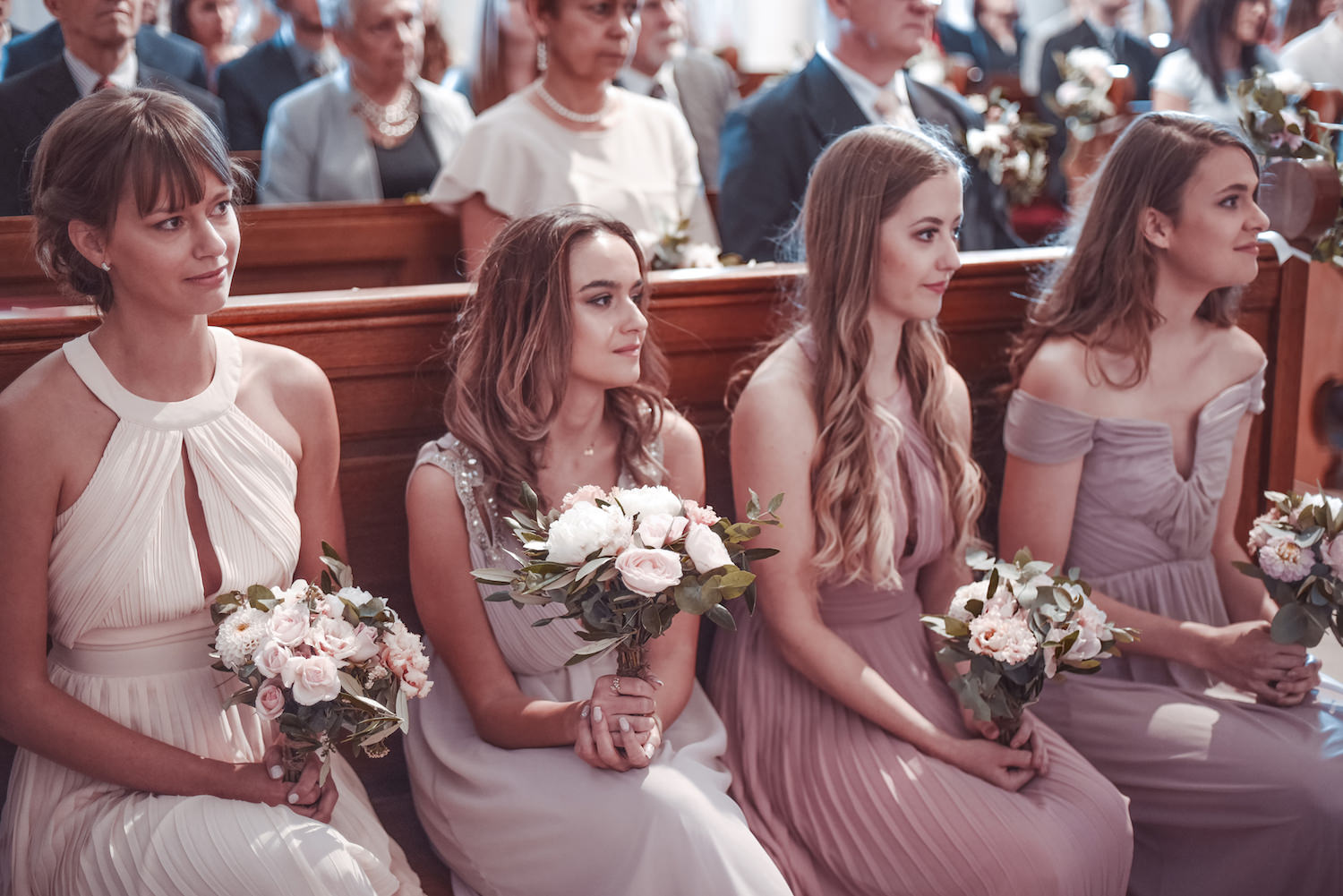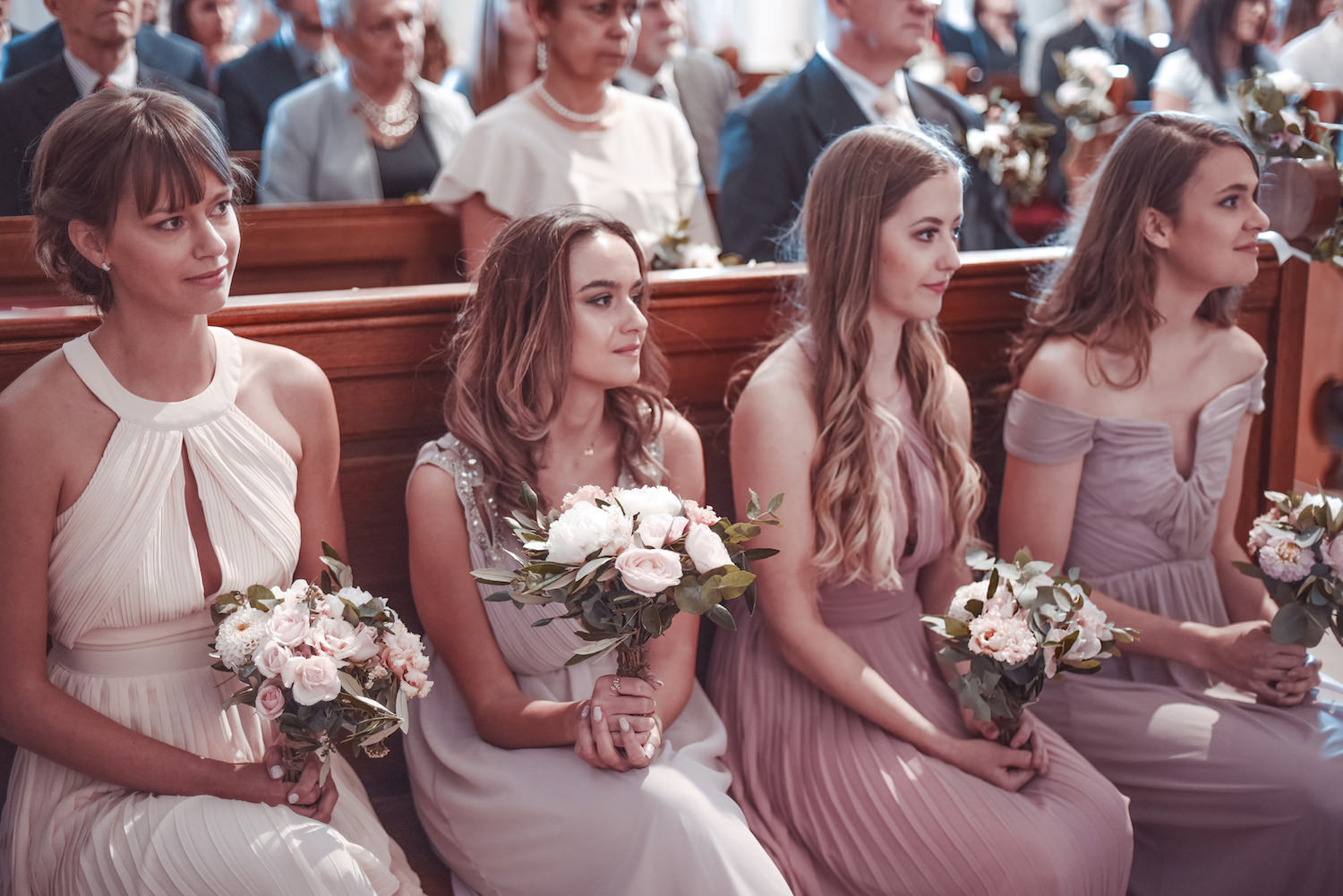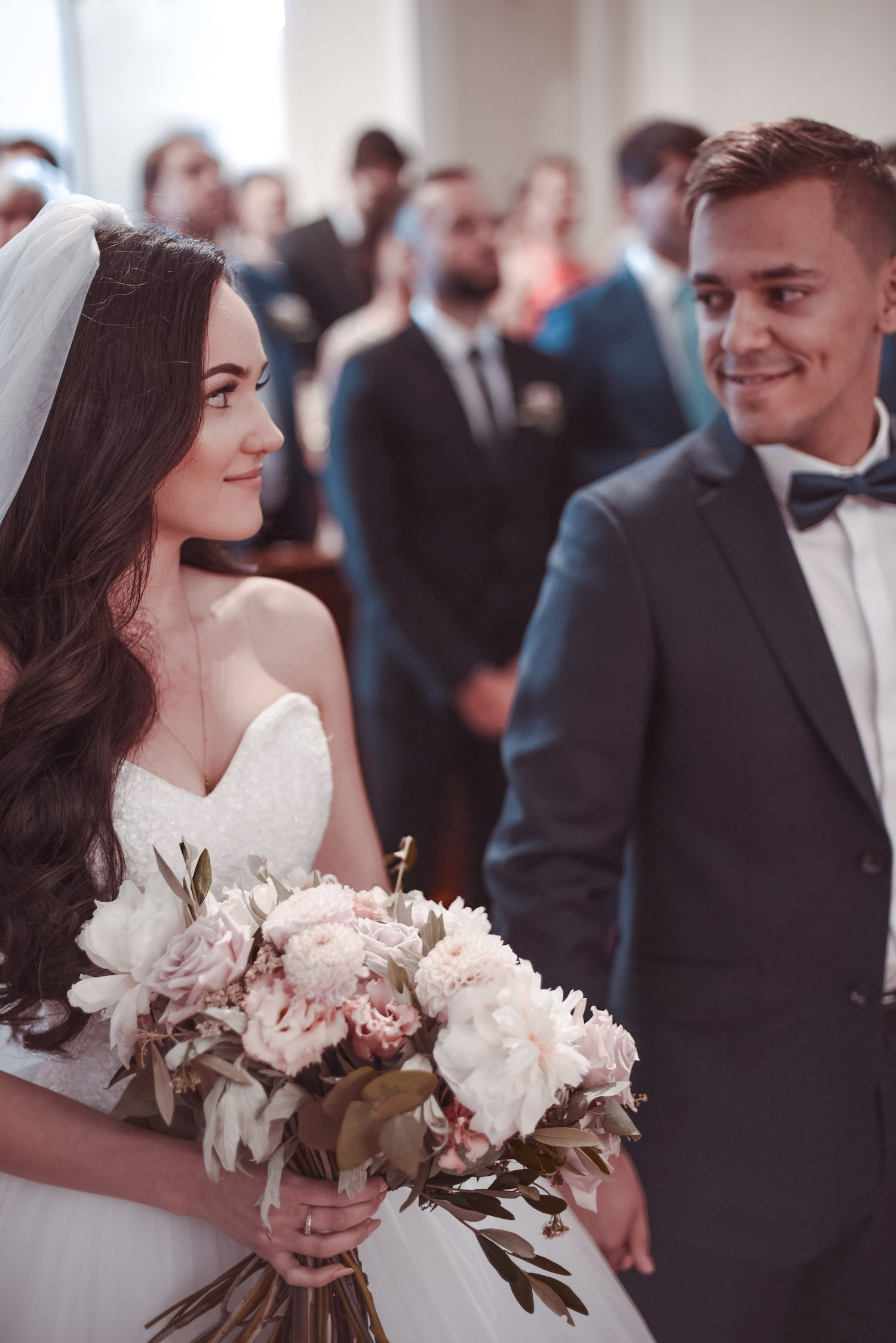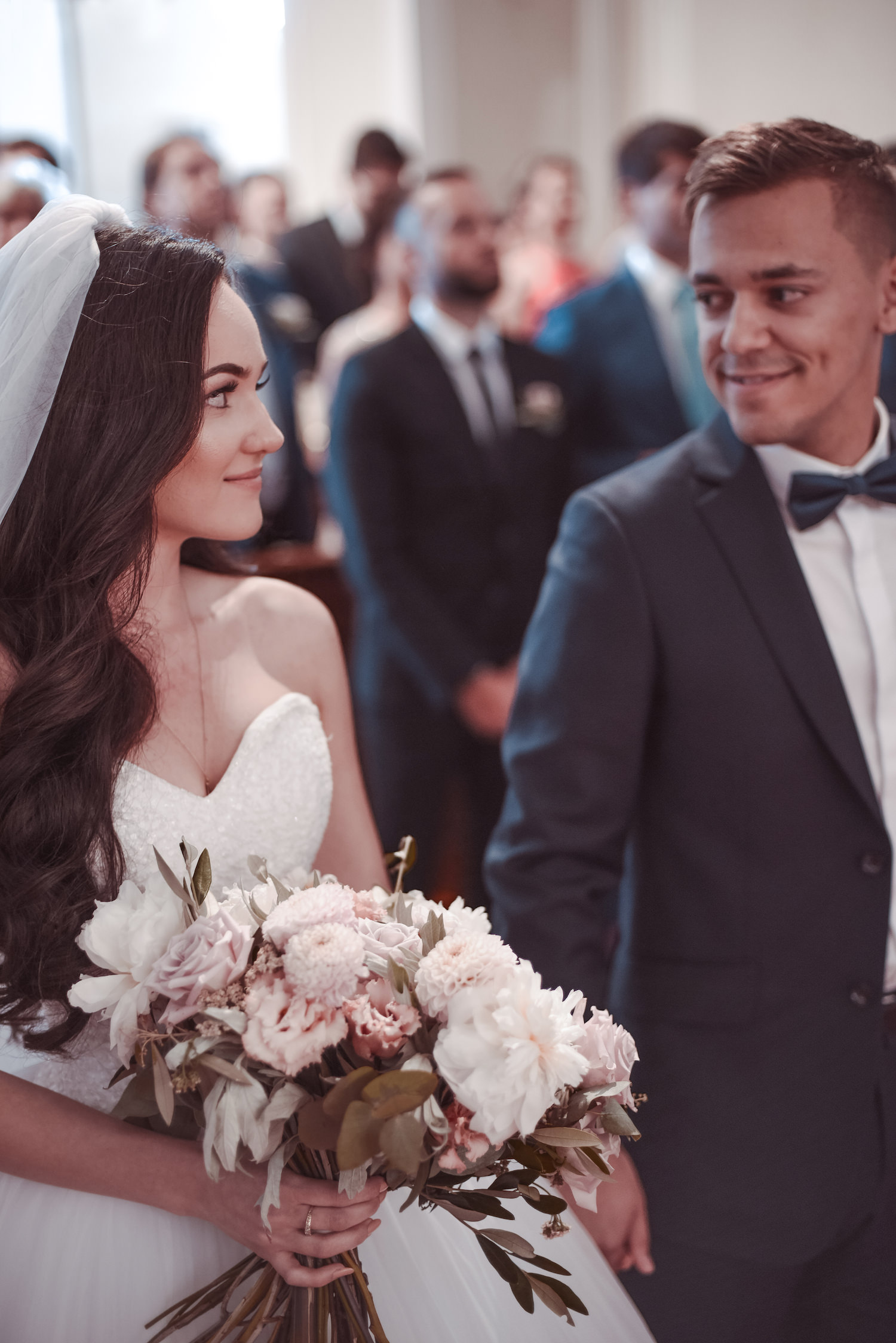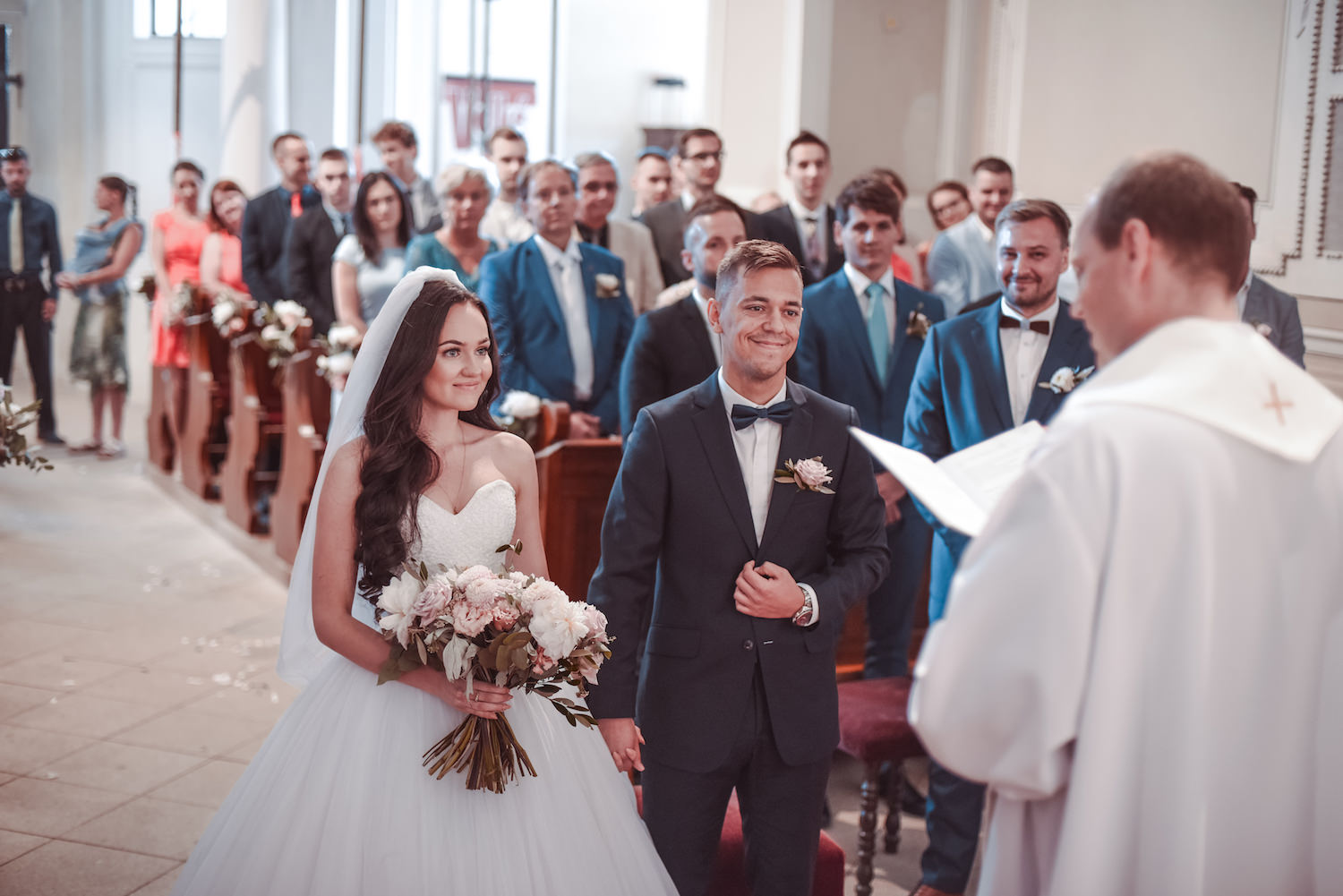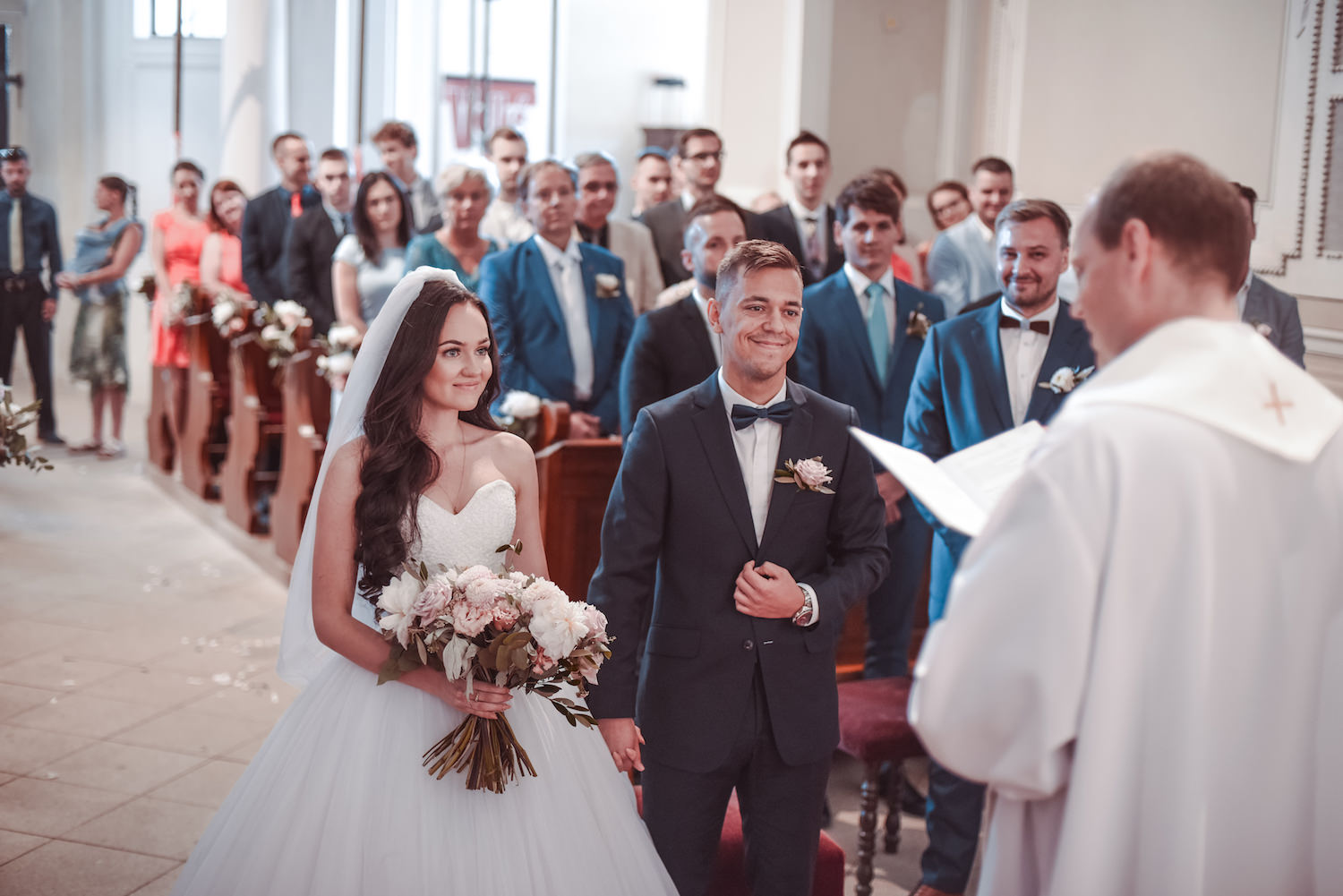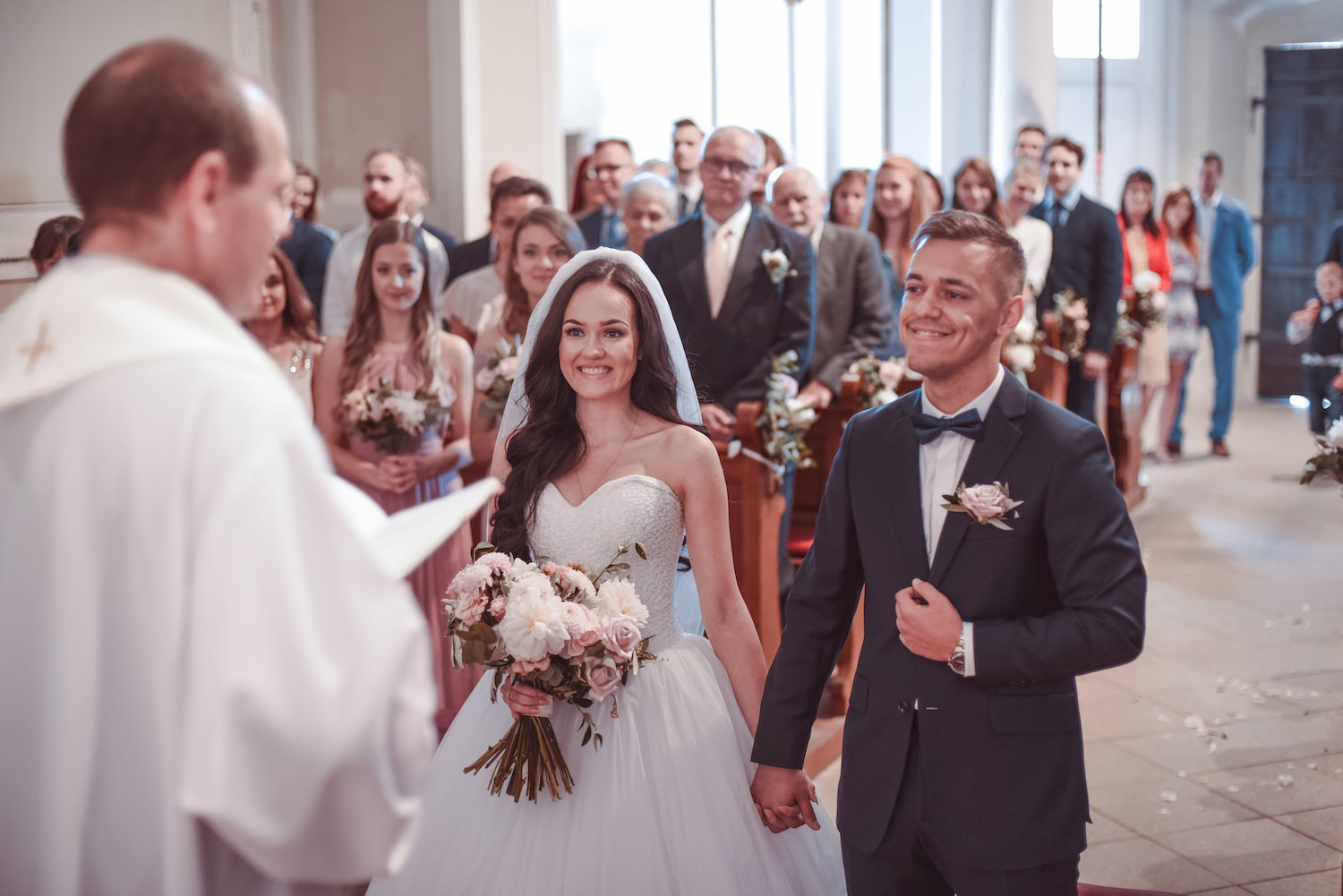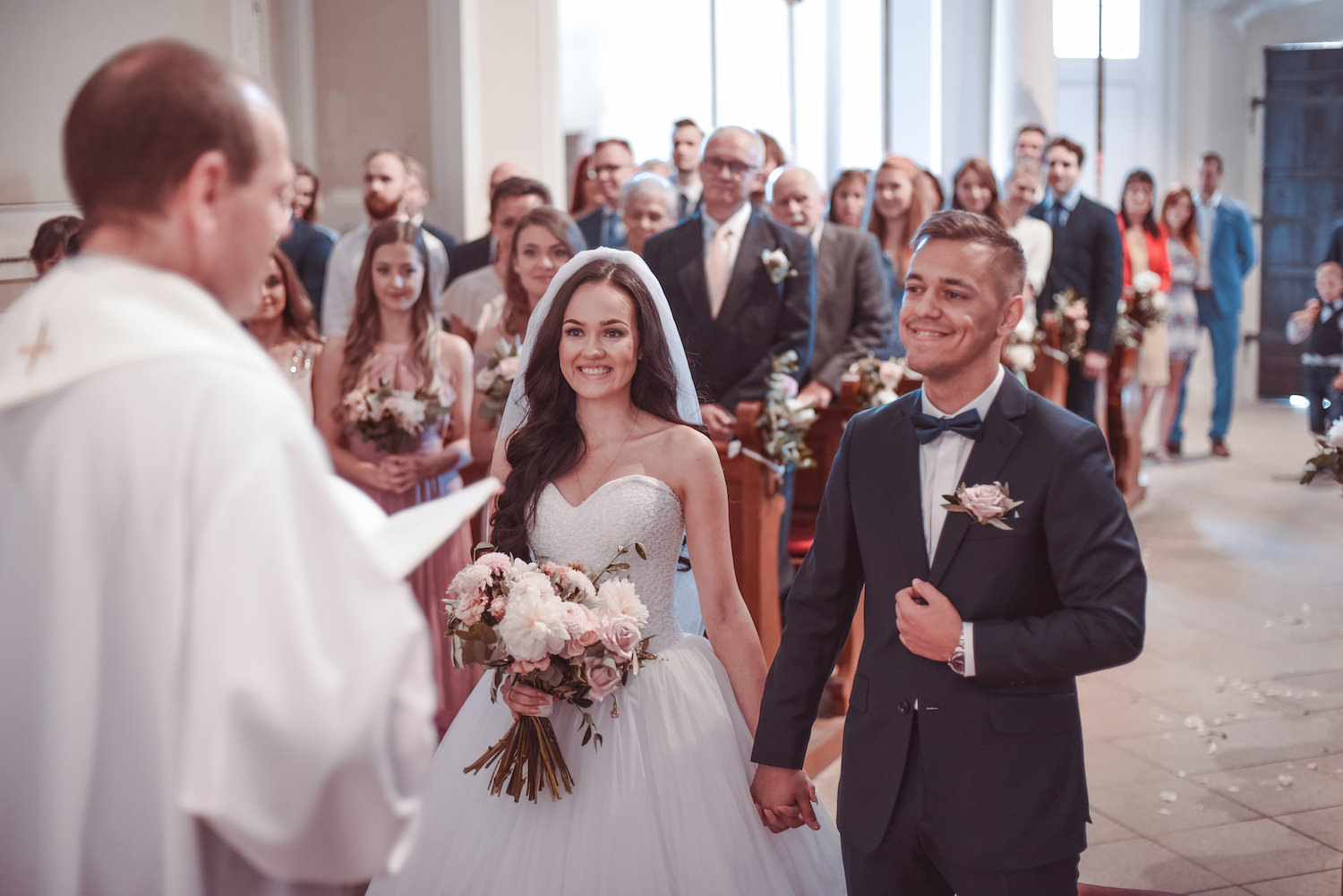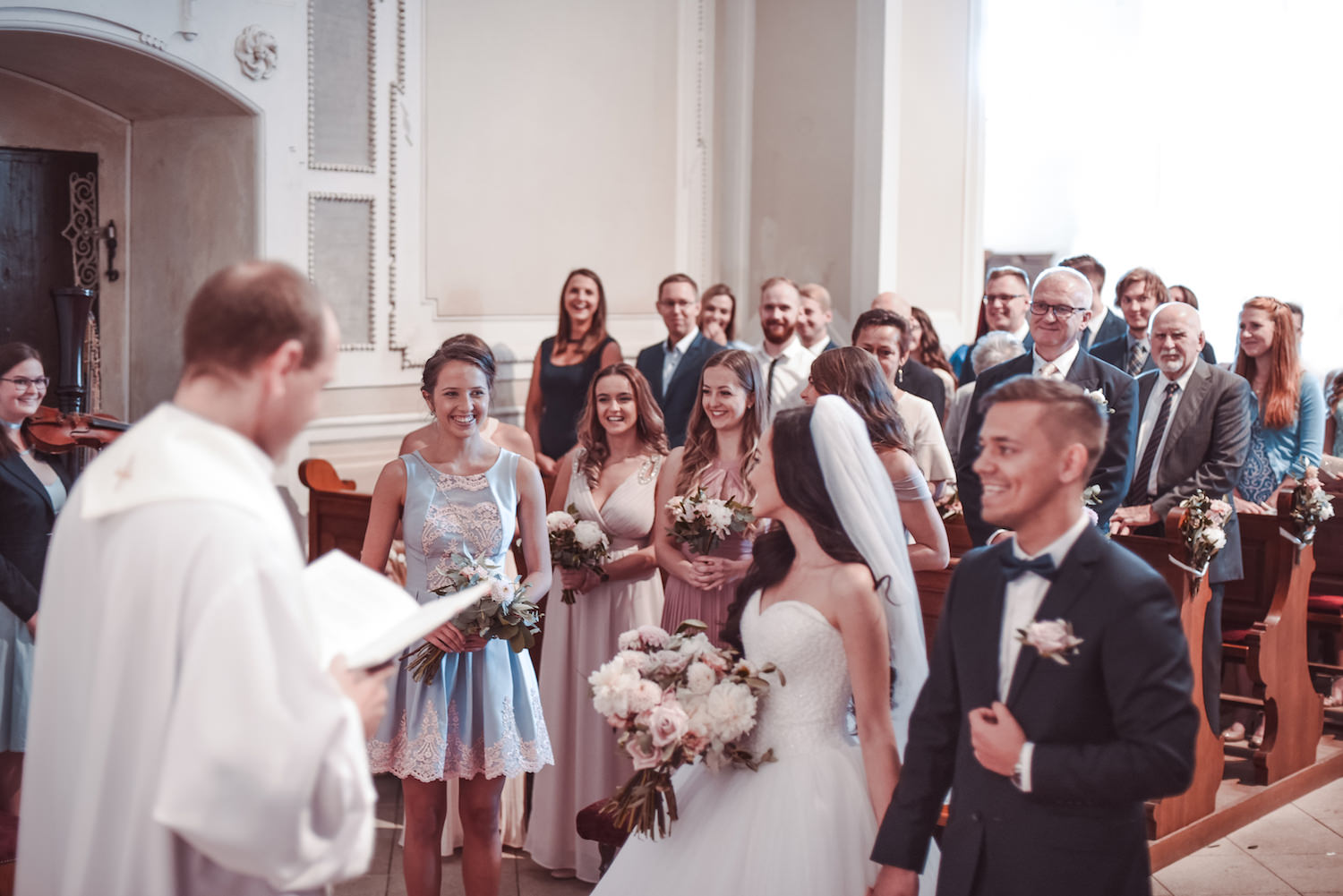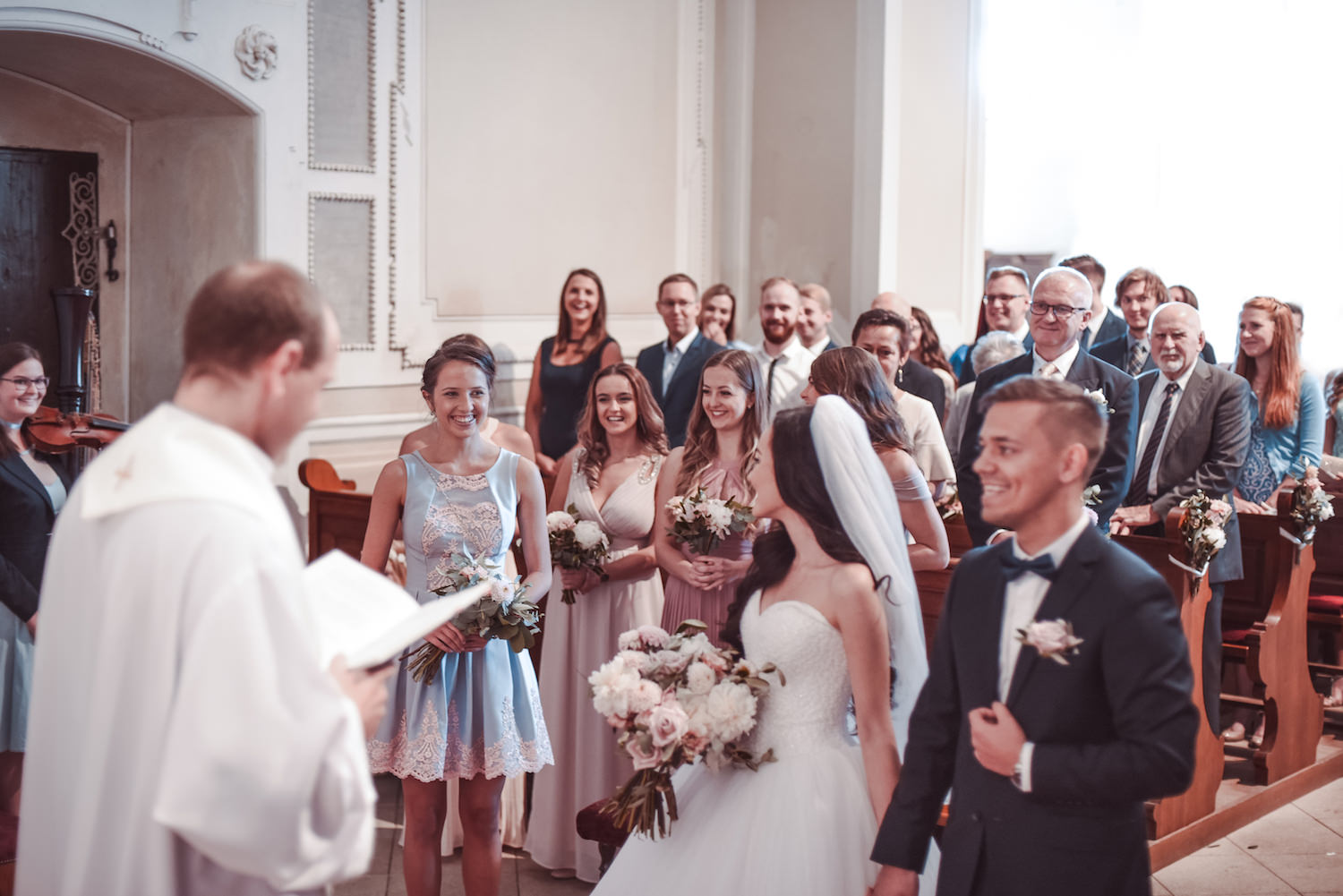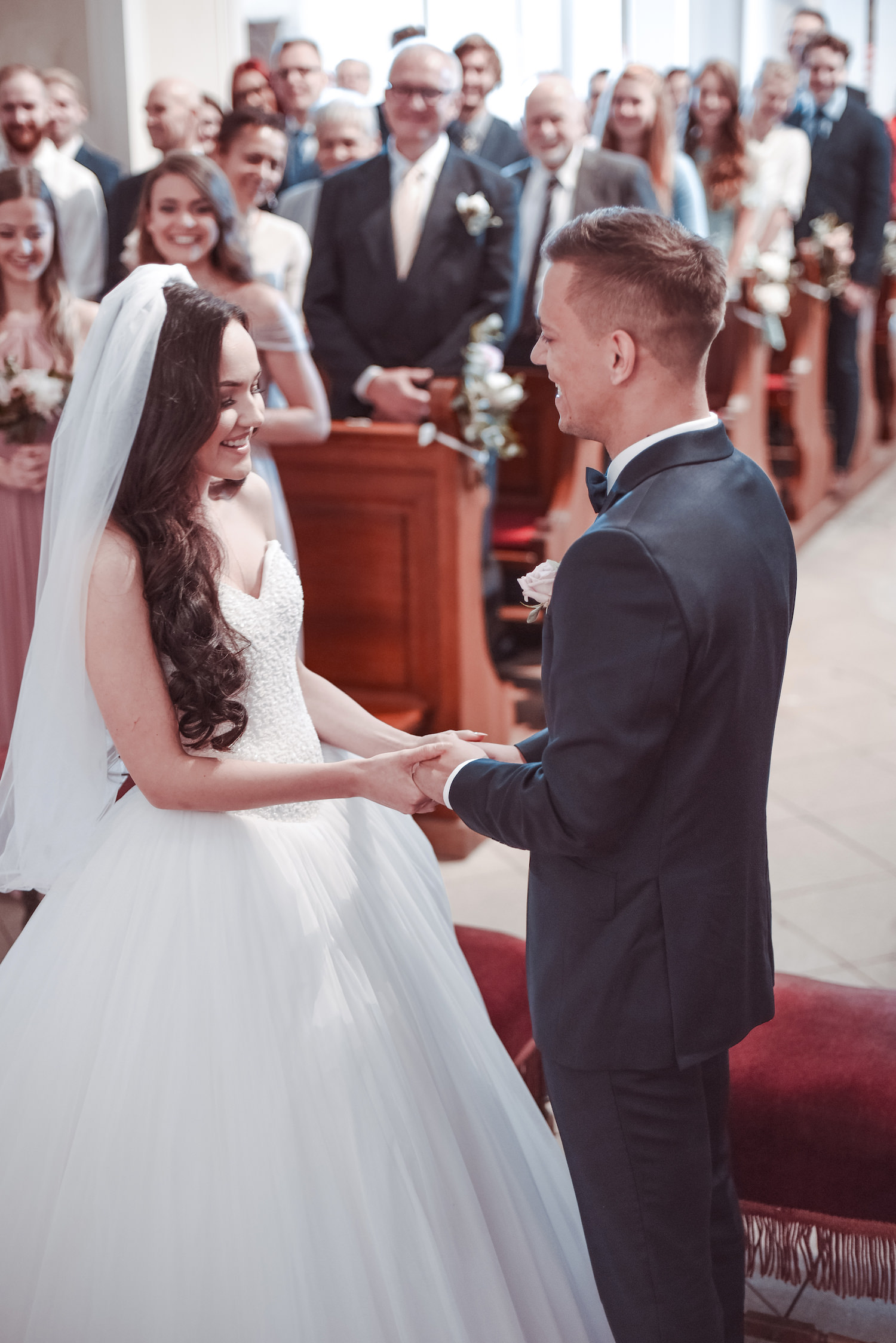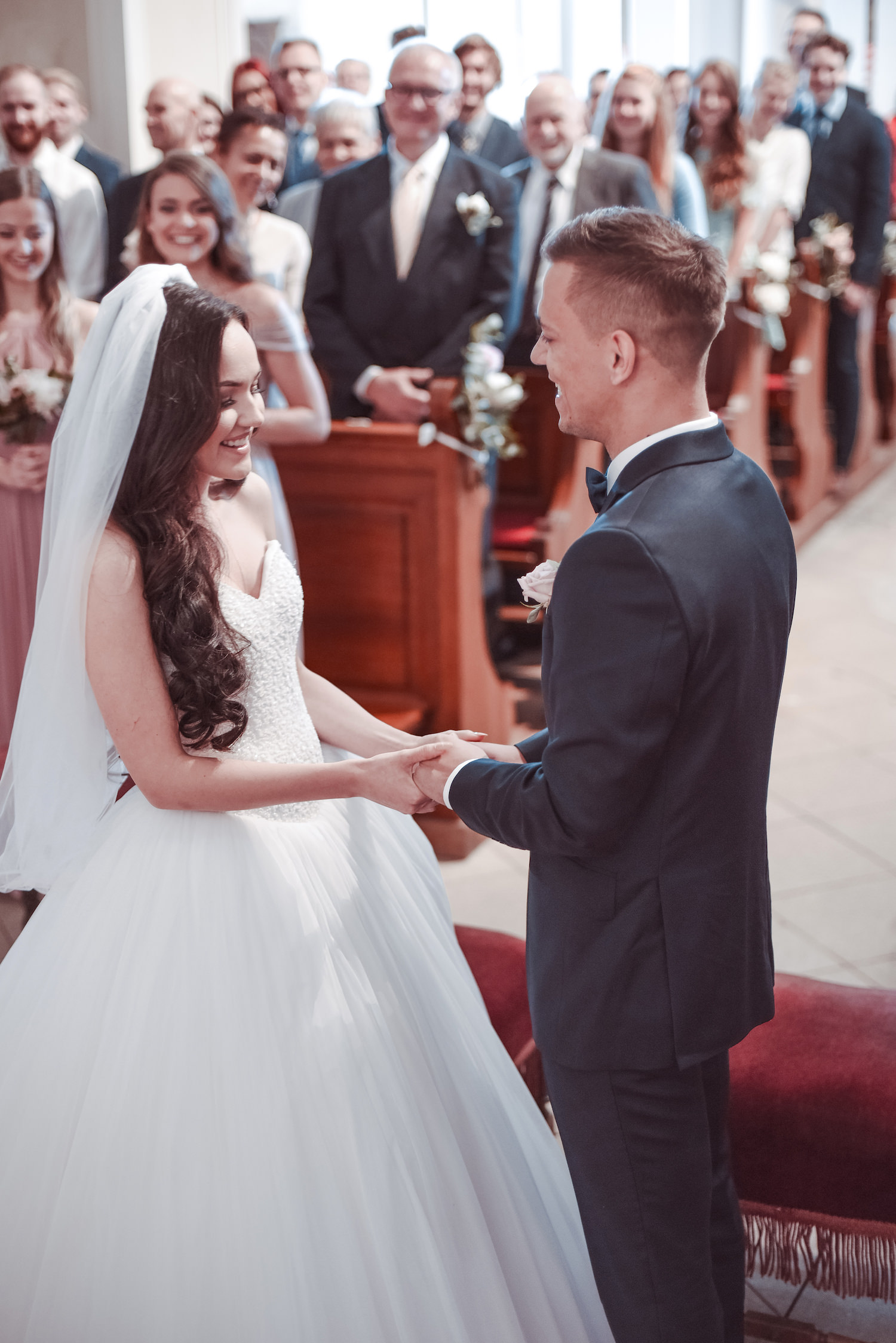 Celý obřad byl tak neuvěřitelně krásný. Chvílemi tak dojemný, že nešlo zadržet slzy, chvílemi vtipný, že nešlo zadržet smích. Bylo to tak krásně přirozené, lidské, všichni z toho byli nadšení. Nejhorší pro nás byla chvíle, kdy jsme se drželi za ruce, dívali se na sebe a měli si říct svatební slib. Když jsem viděla, jak Vilda se slzami v očích dělá co může, aby to vůbec celé nějak řekl, rozhodilo mě to ještě víc a musela jsem to trochu rozdýchat, než jsem začala mluvit já, protože jinak bych po prvním slově asi začala nekontrolovaně vzlykat, haha. Nakonec se nám to ale oběma povedlo a tím bylo to nejhorší za námi. Pak už zbývaly jen prstýnky a novomanželský polibek <3
---
The whole ceremony was just beautiful. Sometimes it was so touching that it was impossible not to cry, sometimes it was so funny that it was impossible not to laugh. It was so natural, so soft, everybody loved it. The worst moment though was when we were holding hands and we were supposed to say the vows. When I saw Vilda struggling with tears in his eyes, it just got me so I had to take a moment for myself and breath it through before I started speaking, otherwise I would probably start crying like a crazy woman after the first word, haha. But we both made it and then we just put the rings on and kissed <3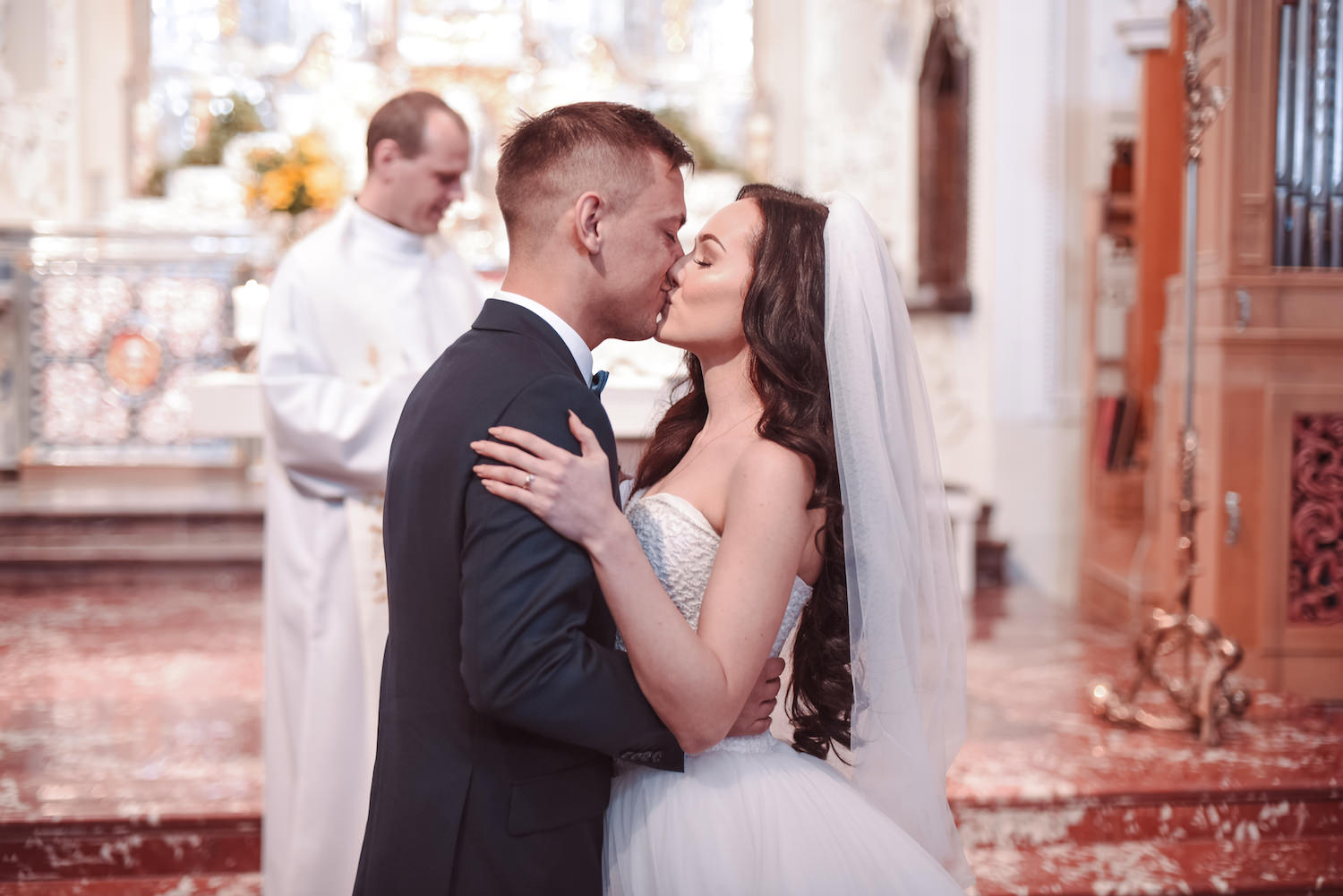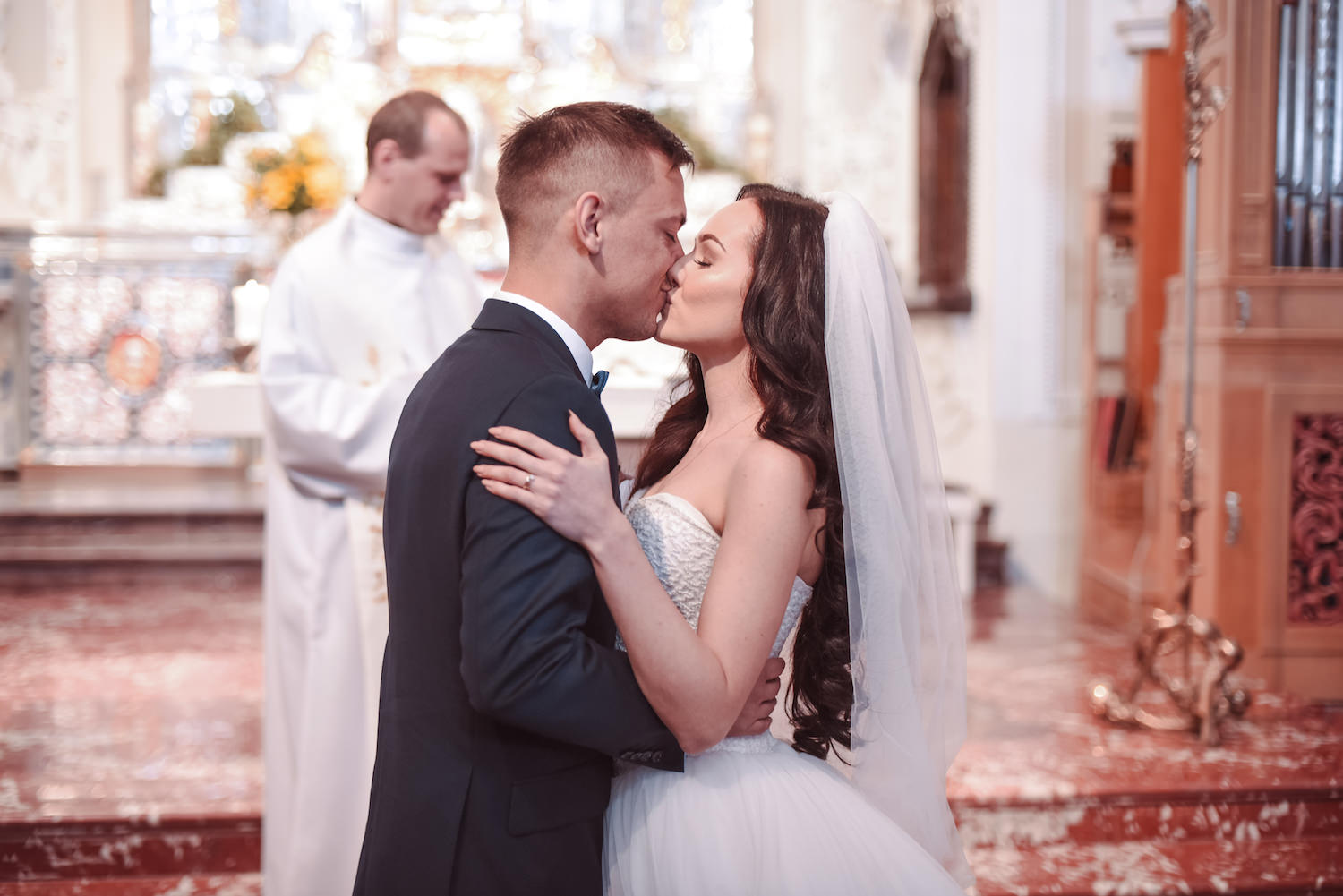 <3 <3 <3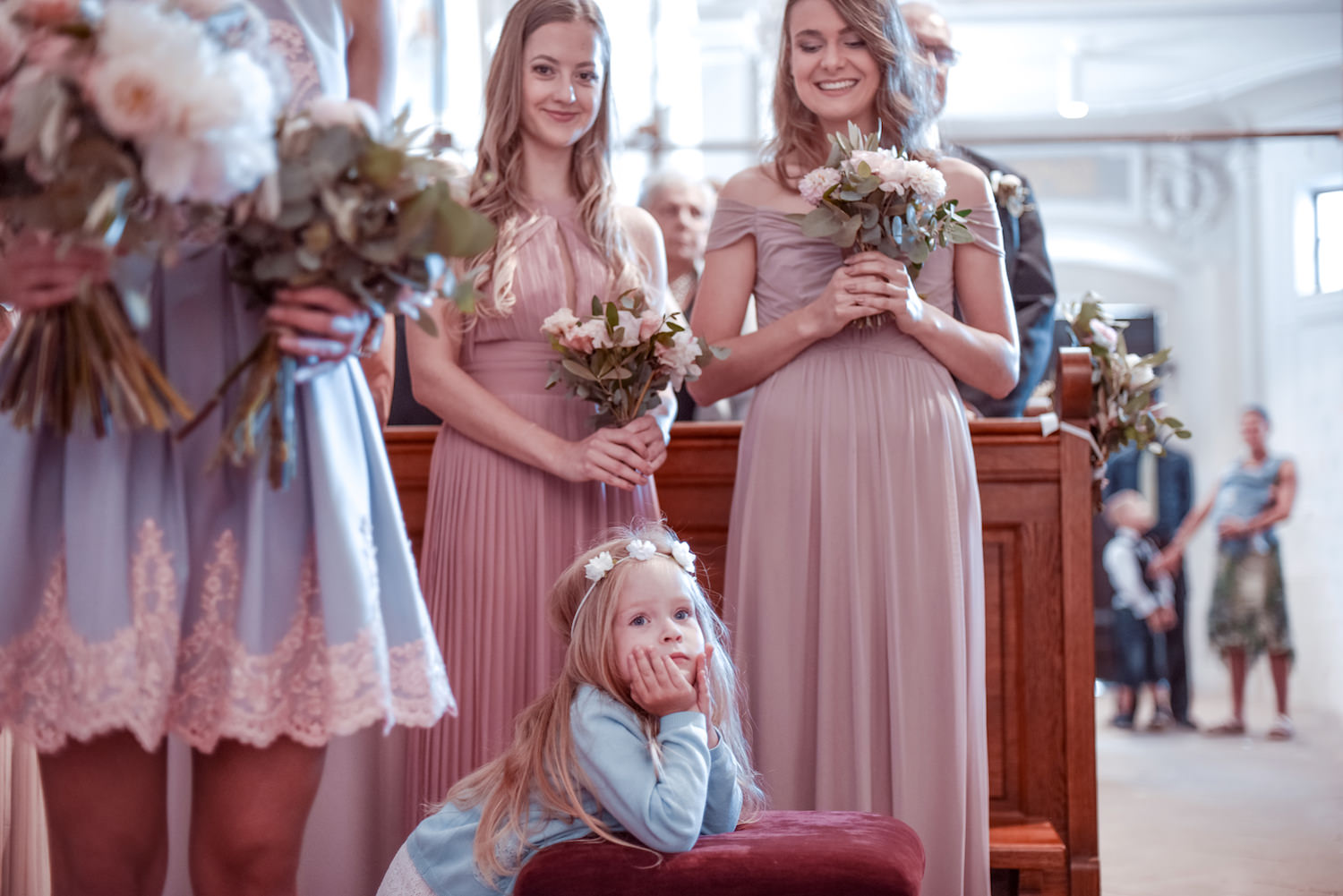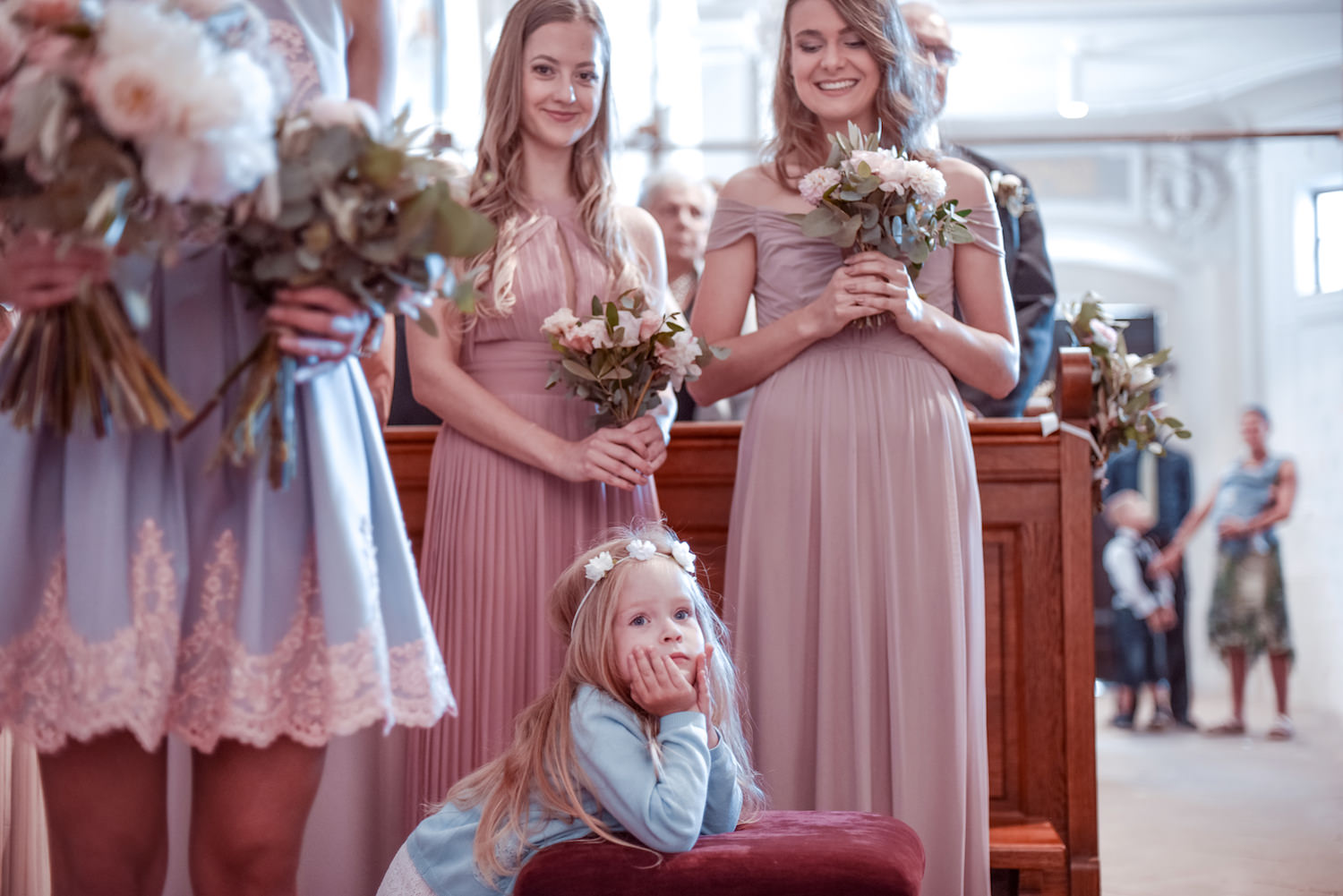 Divím se, že Adélka vzdržela sedět vedle družiček půl hodiny relativně v klidu. Tohle je jedna z mých nejoblíběnějších fotek z celé svatby!
---
I still don't understand that Adélka was sitting calmly next to my bridesmaids for half an hour. This is one of my favorite photos from the whole wedding!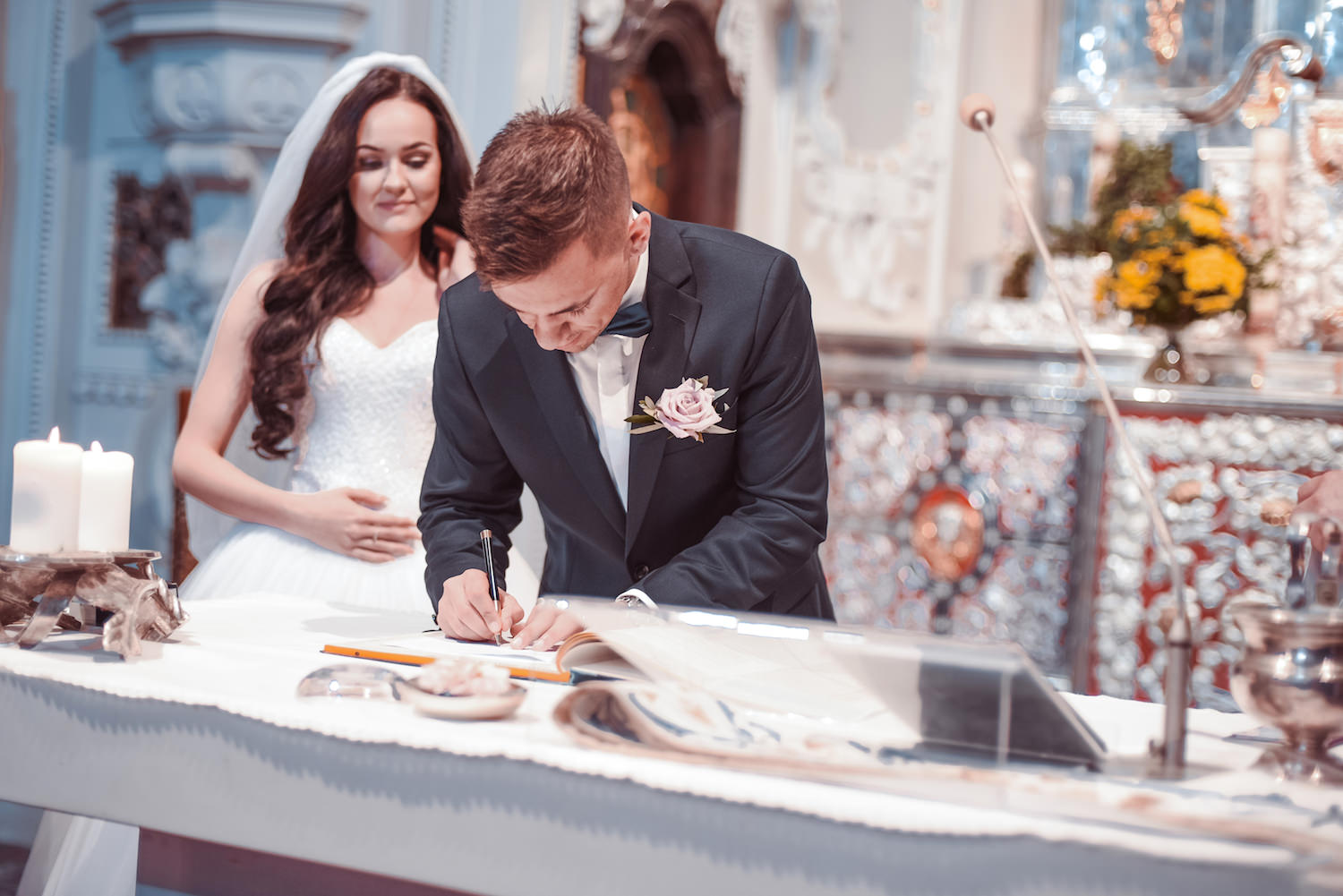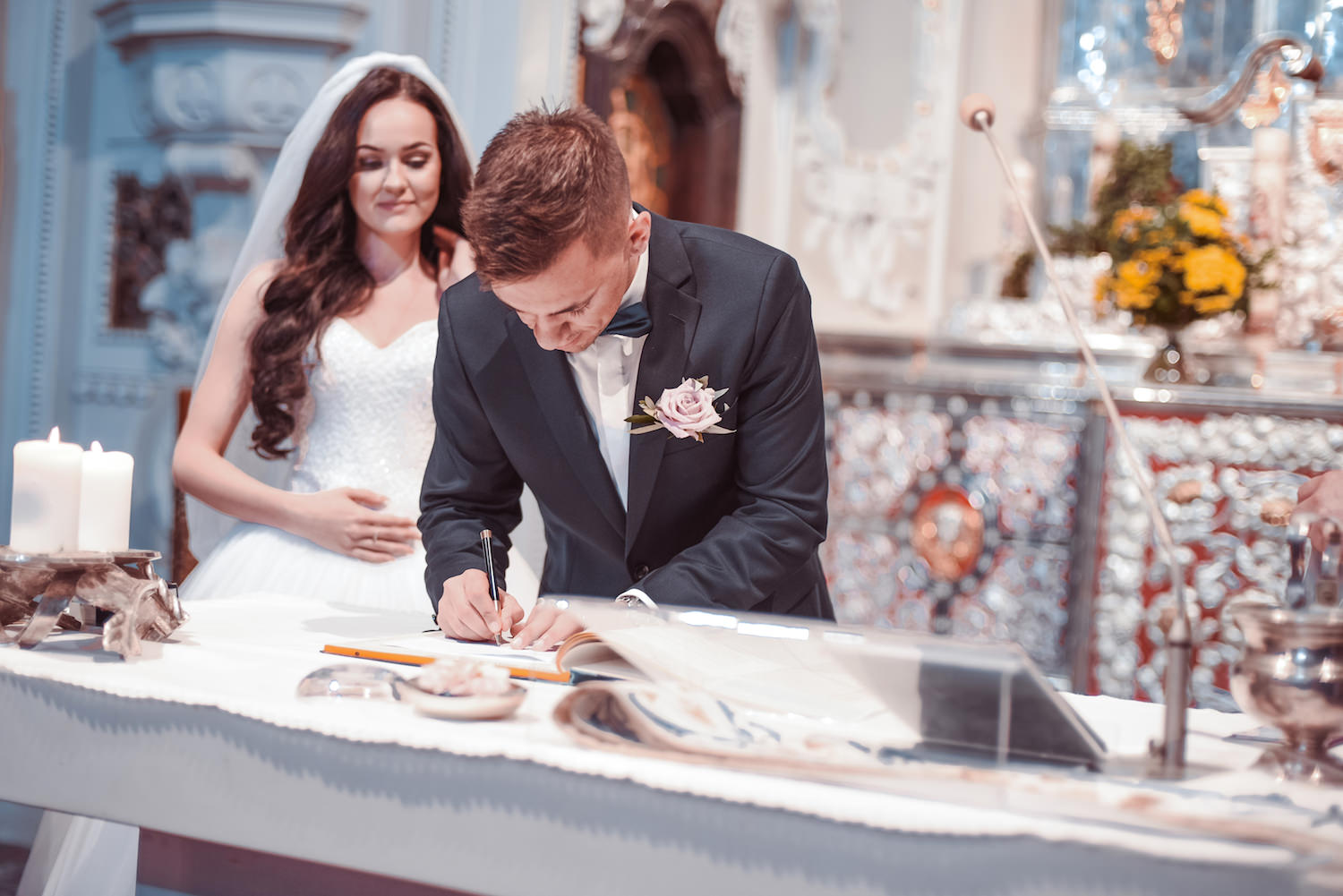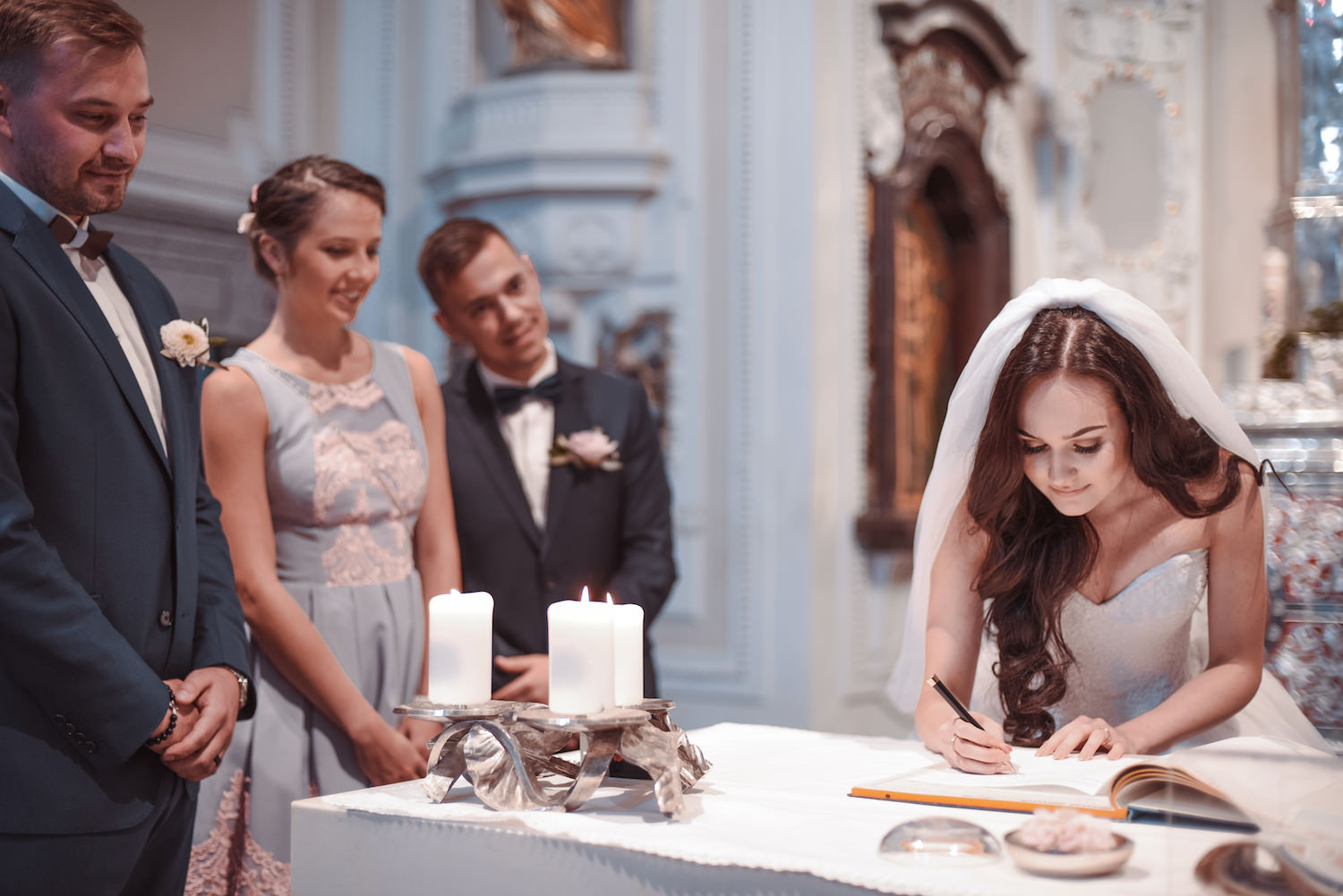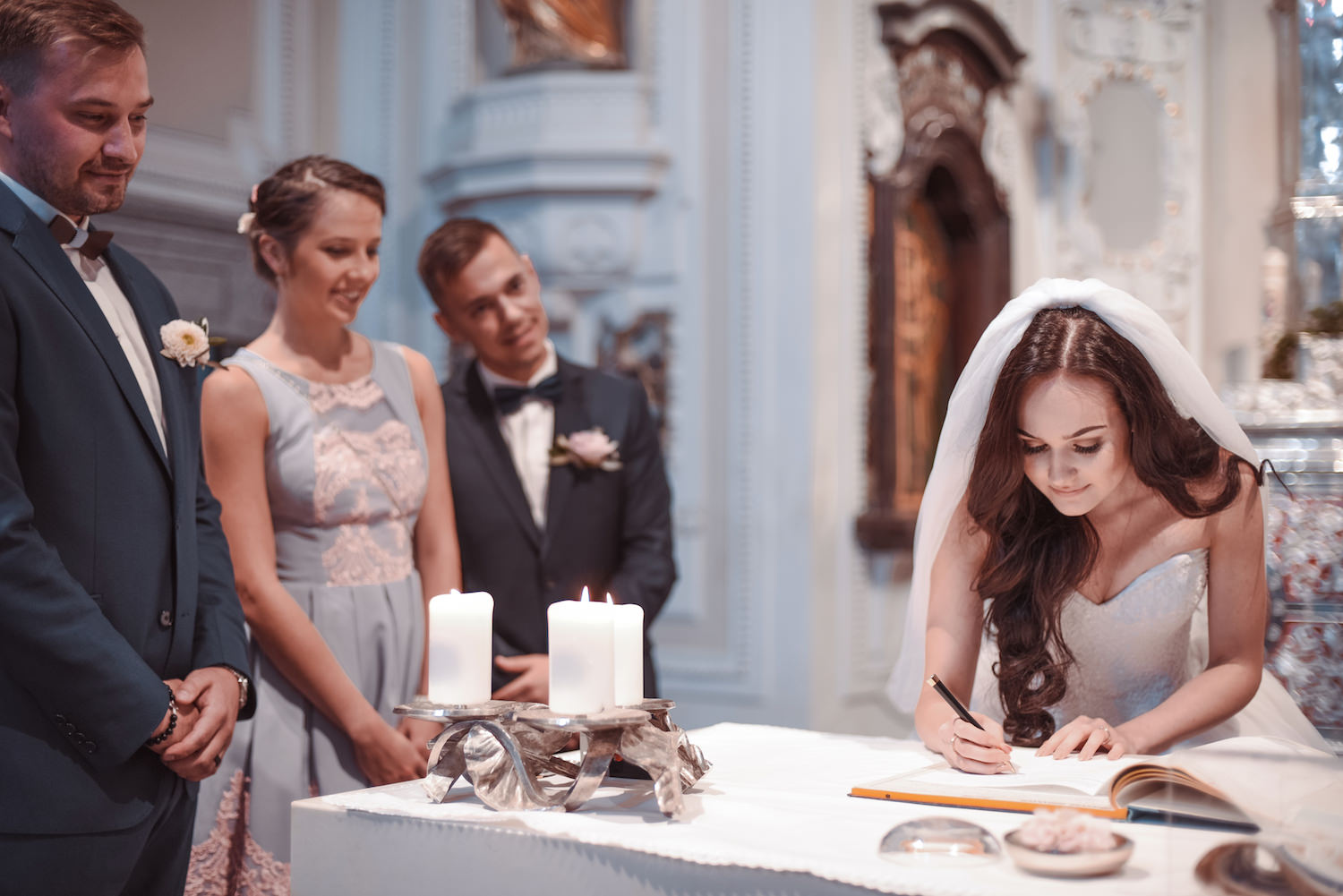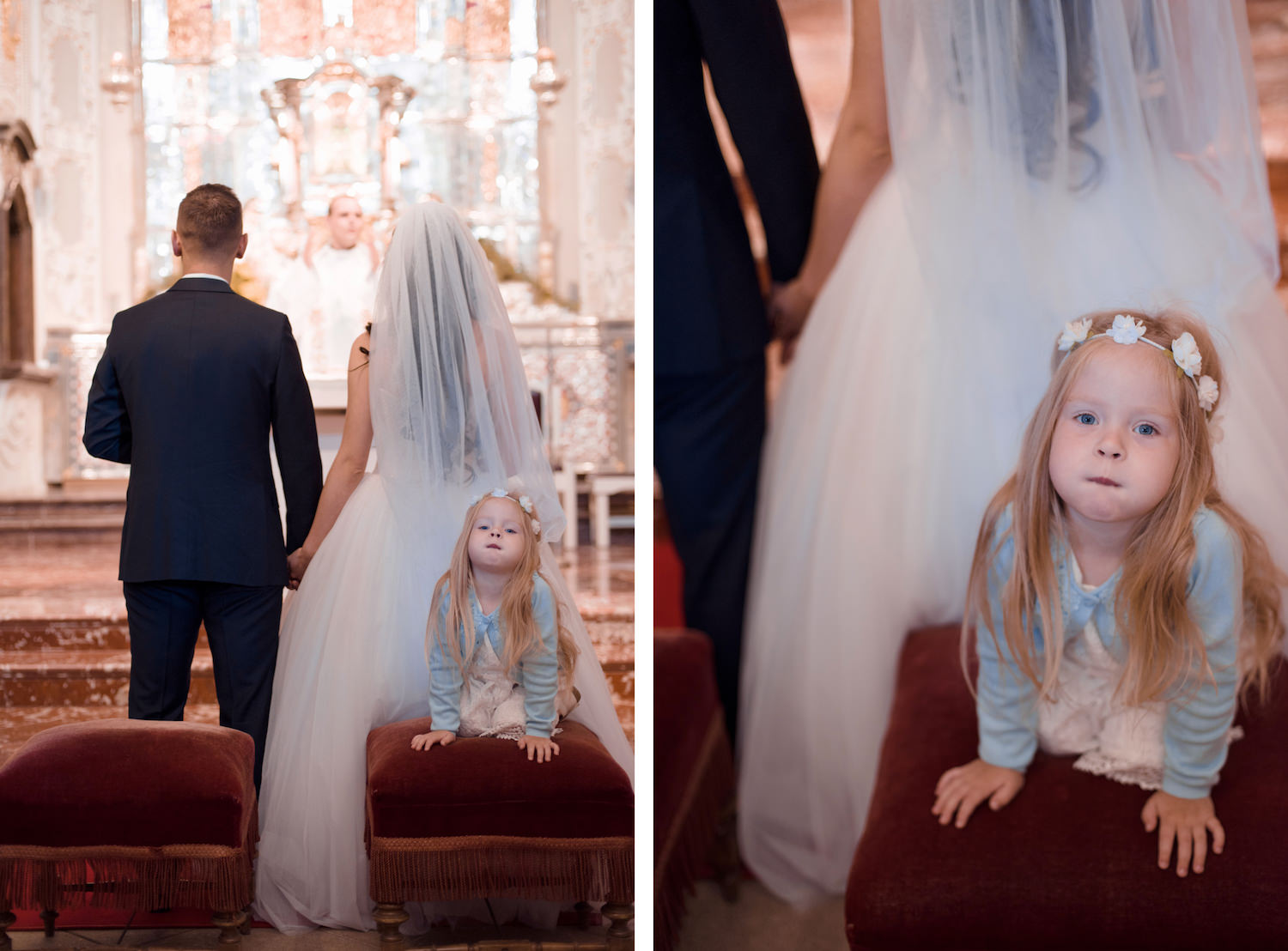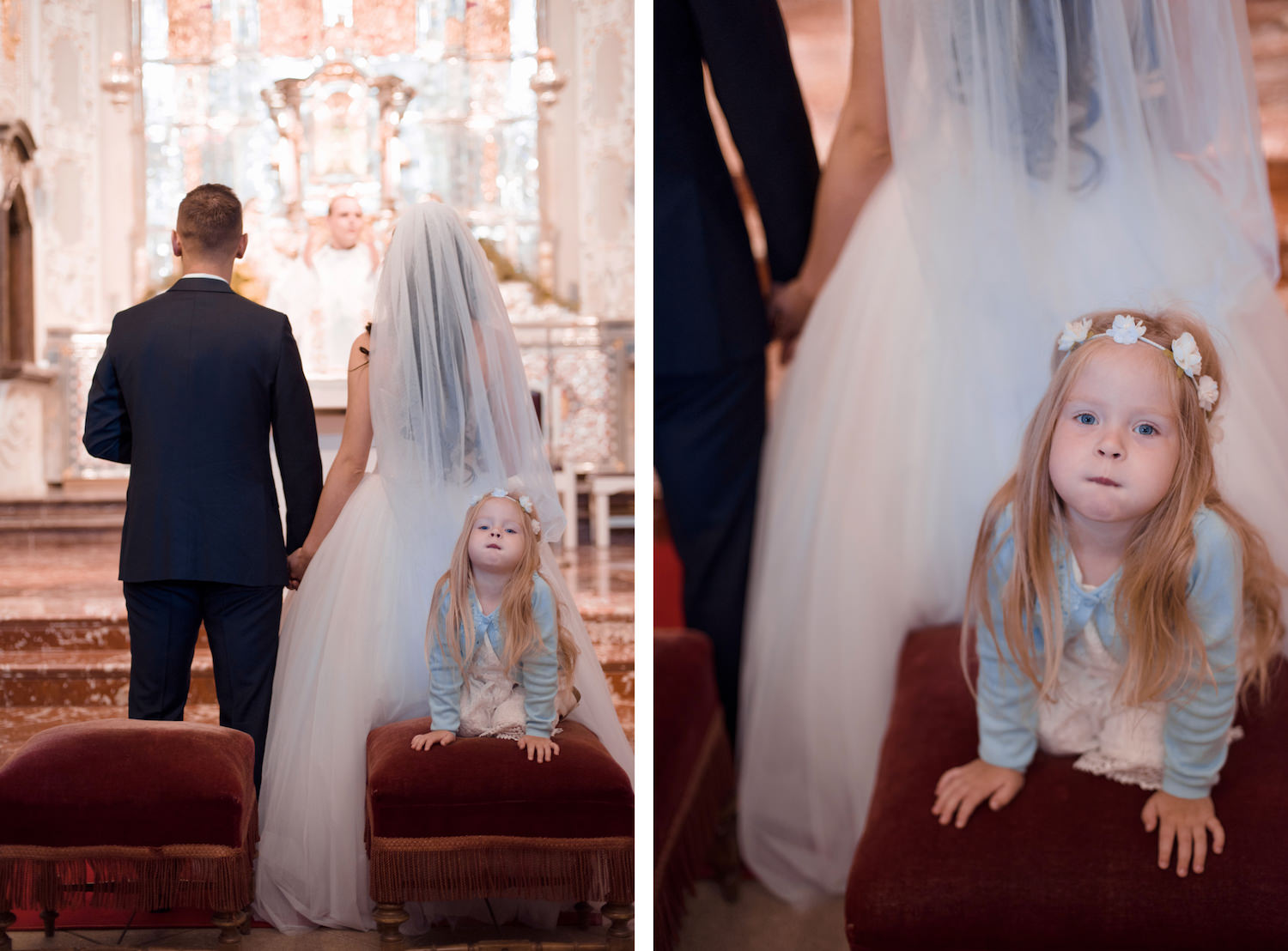 No, ale na konci obřadu to už na ní bylo dlouhé a začala si hrát na psa 😀 Všichni měli o zábavu postaráno. No nemilujte ji.
---
But then she had enough and she started pretending she's a dog 😀 Haha I love her so much.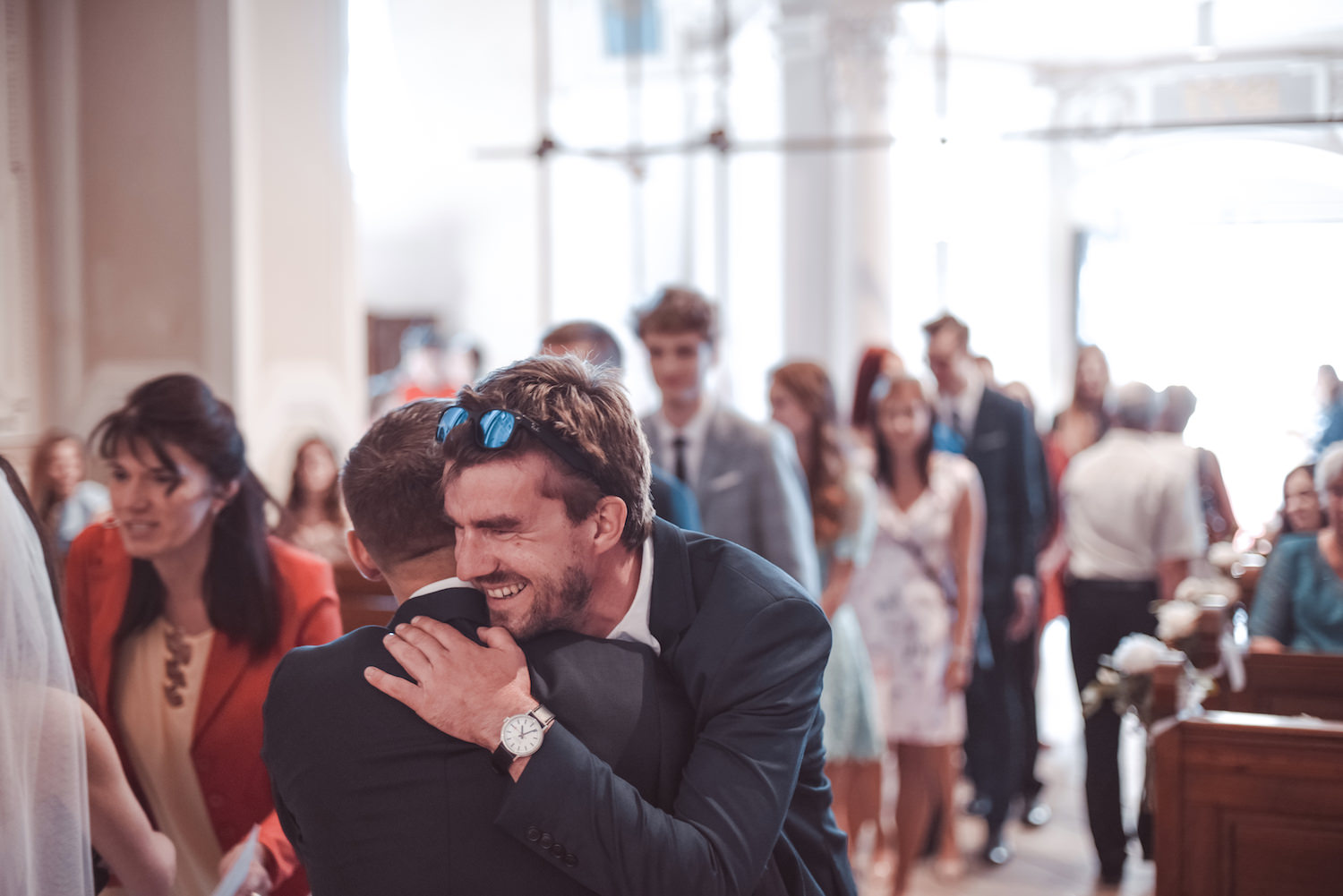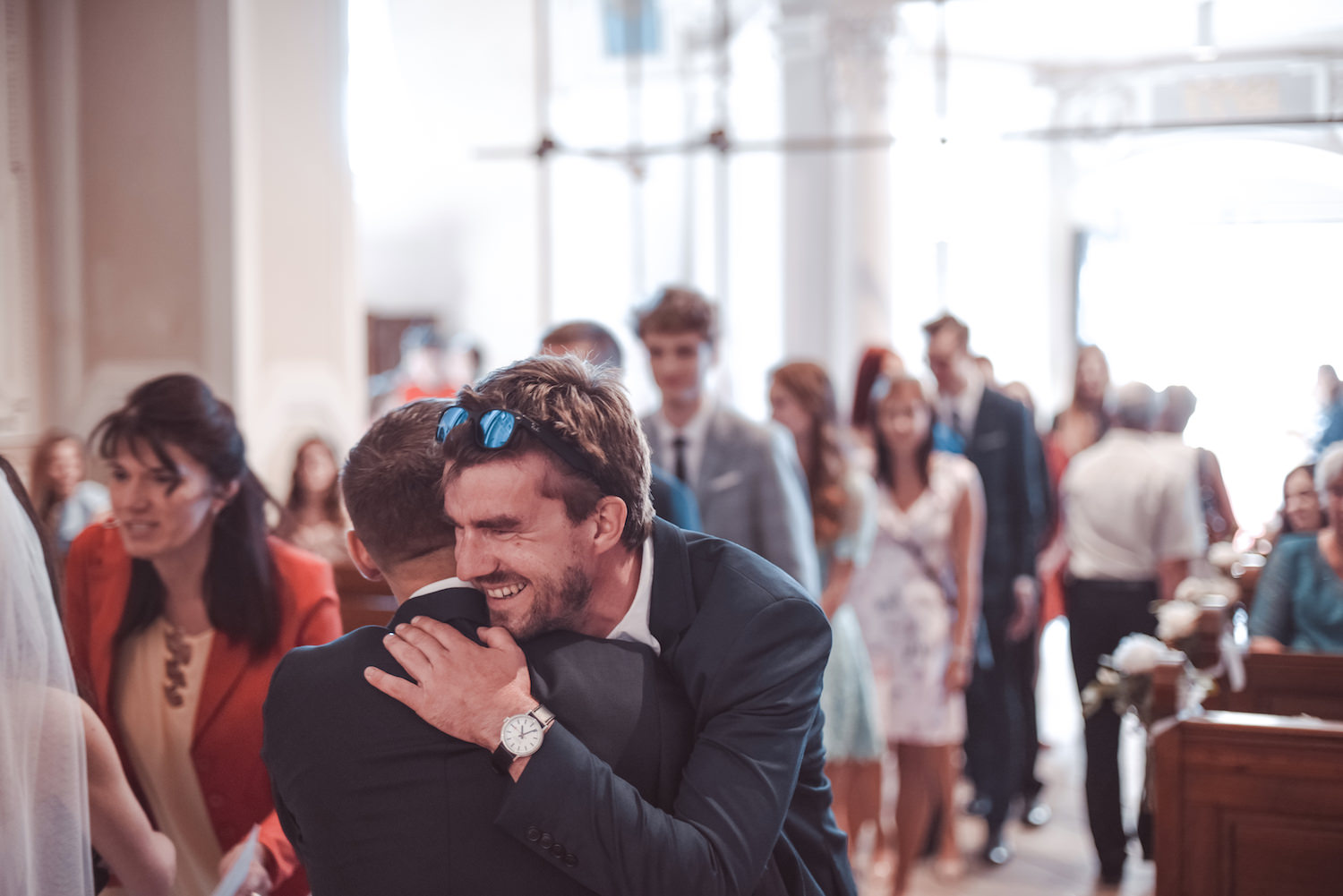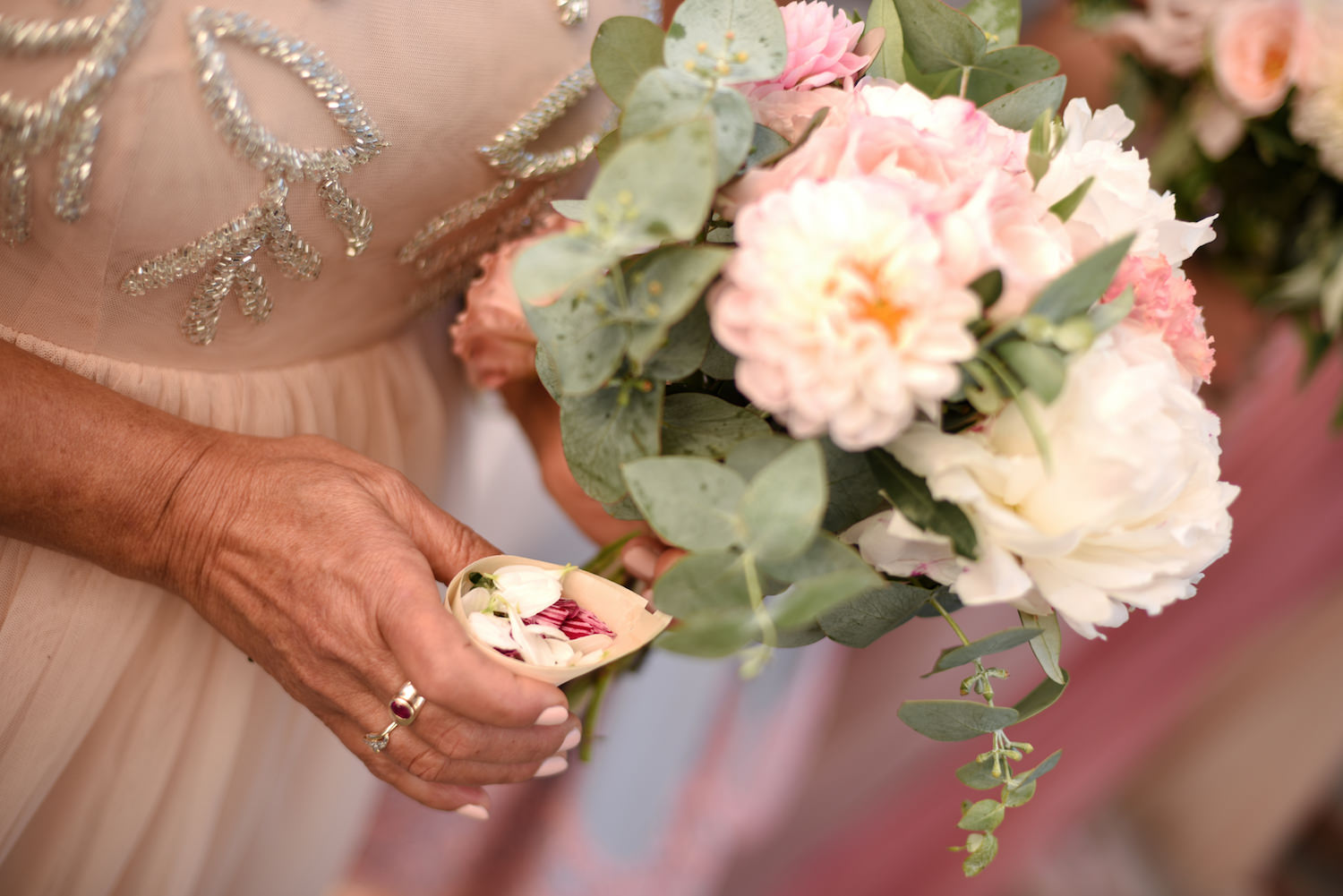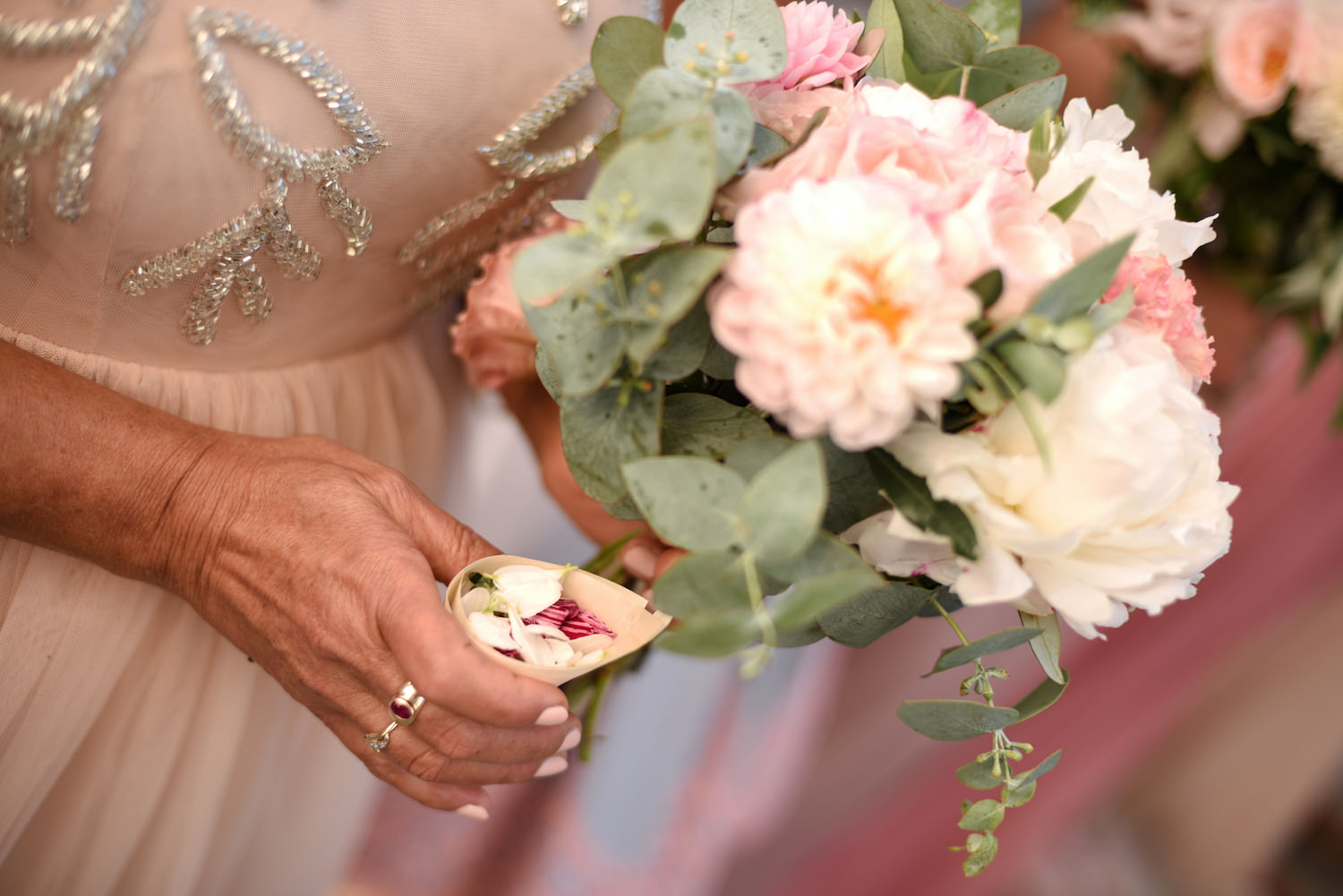 Po gratulacích všichni dostali kornoutky s okvětními lístky a před vstupem do kostela vytvořili špalír, kterým jsme prošli – už oficiálně jako manželé <3
---
After the congratulations our guests got wedding cones and waited for us in front of the church and they threw petals on us while we were walking – officially as husband and wife <3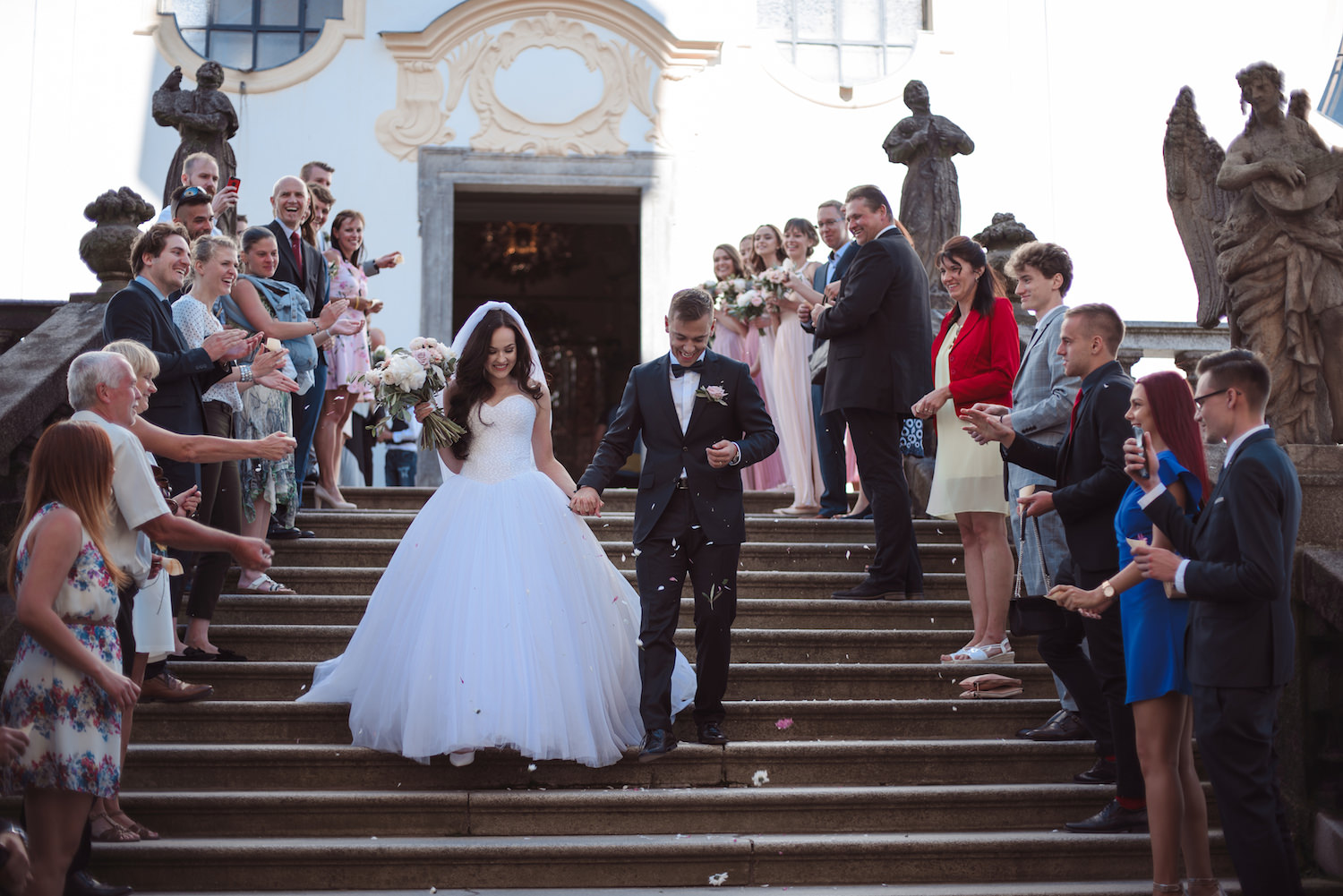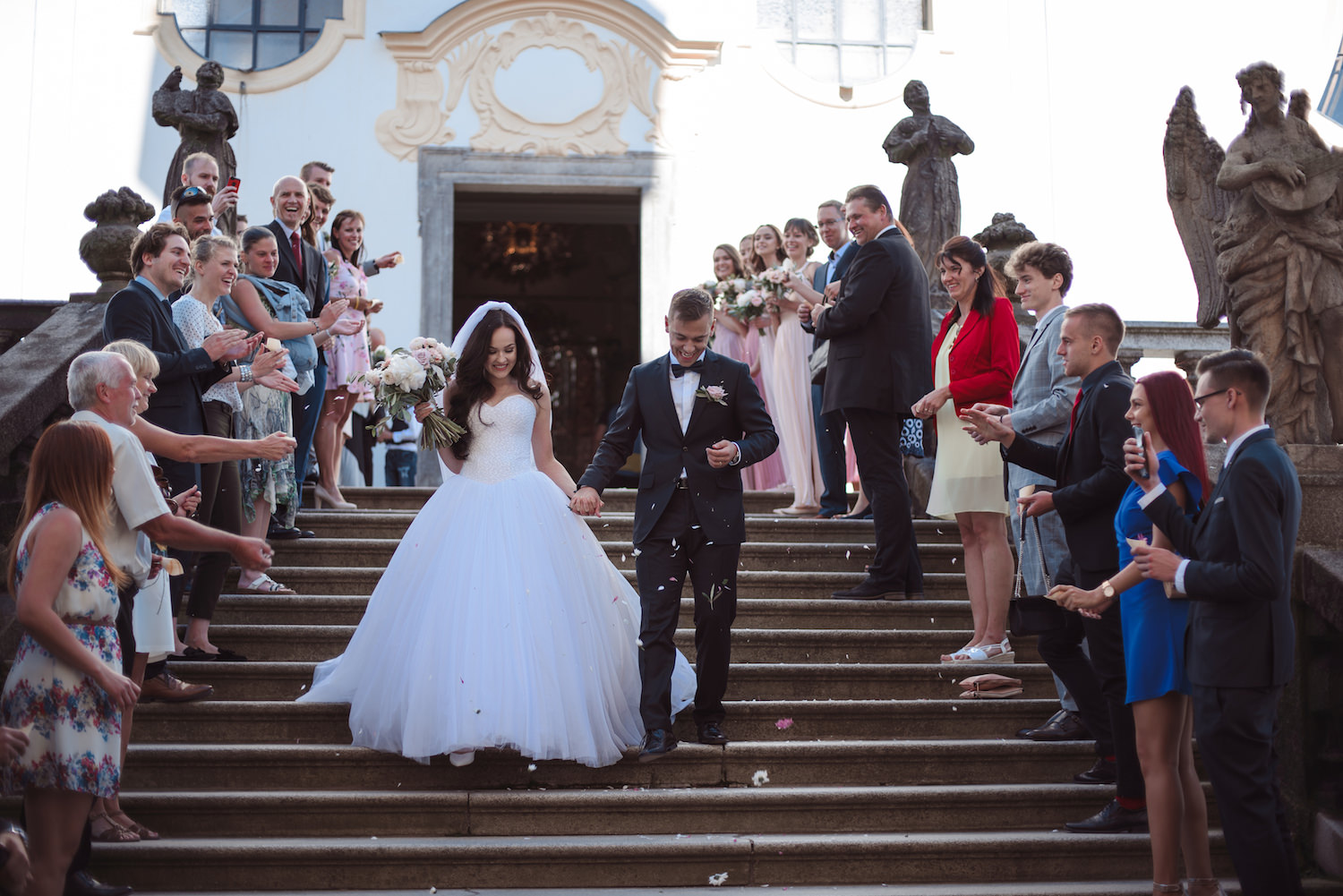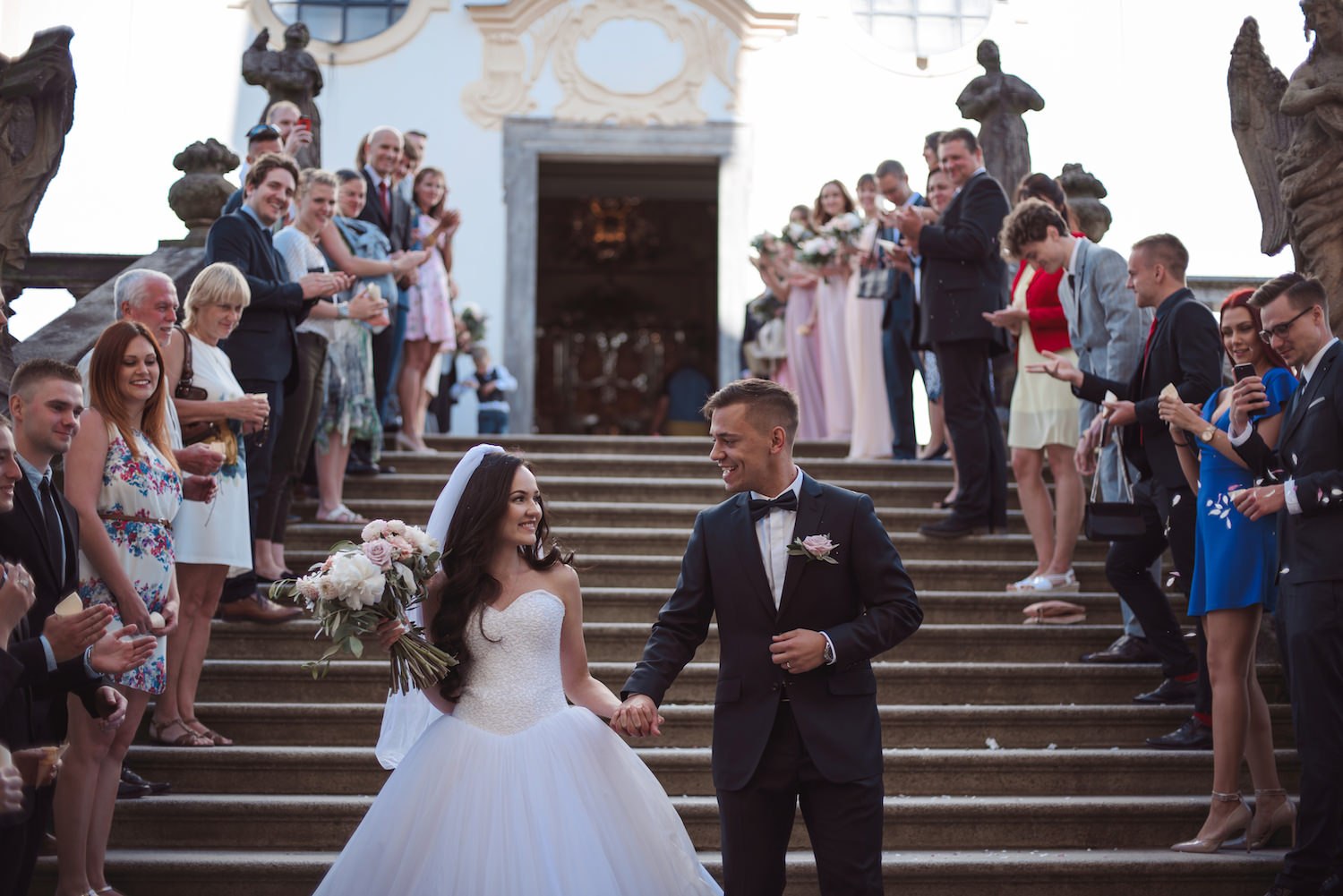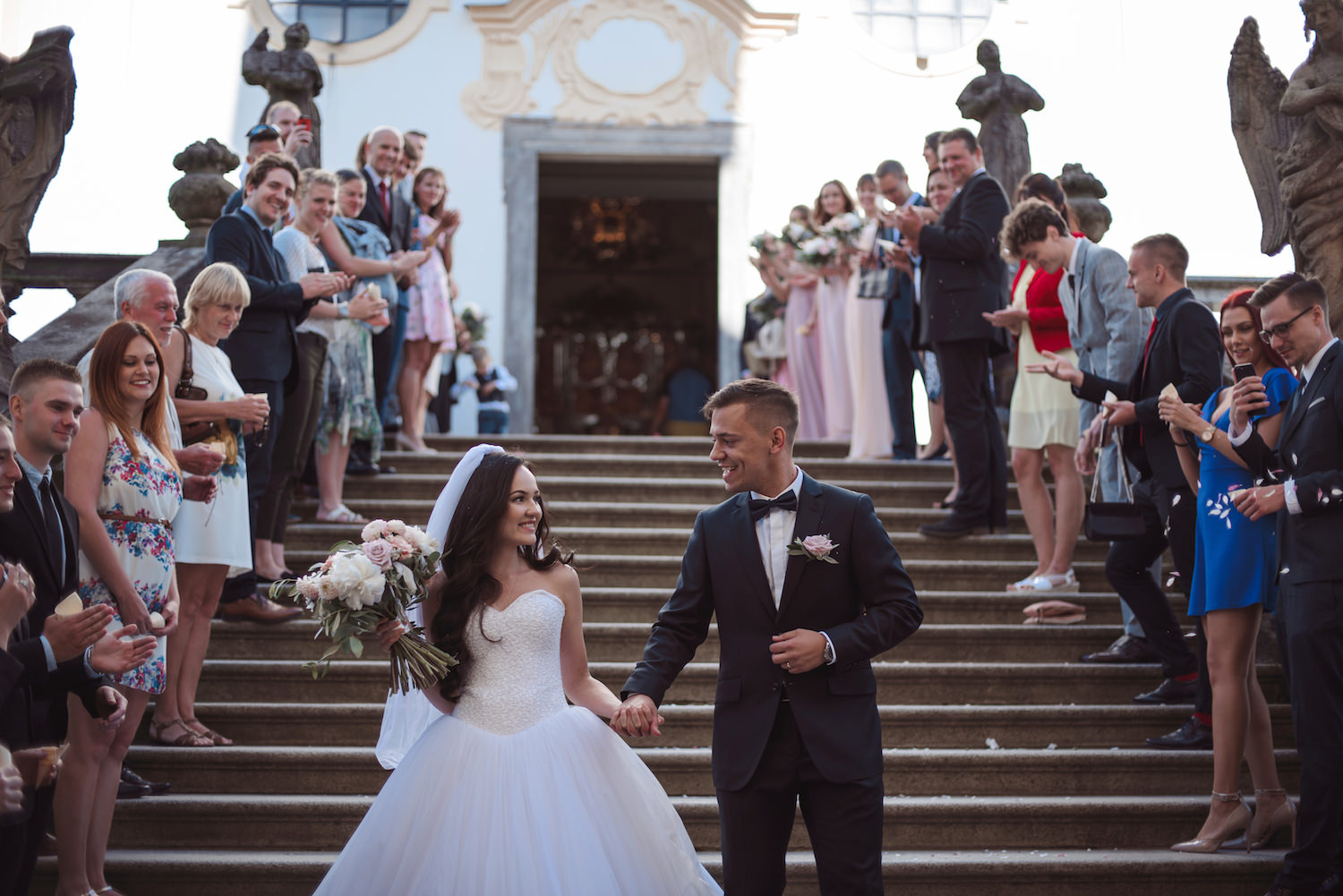 Tyhle fotky taky miluju. Všechny ty úsměvy, čistá radost, láska..
---
Love these photos so much. The smiles, pure happiness, love..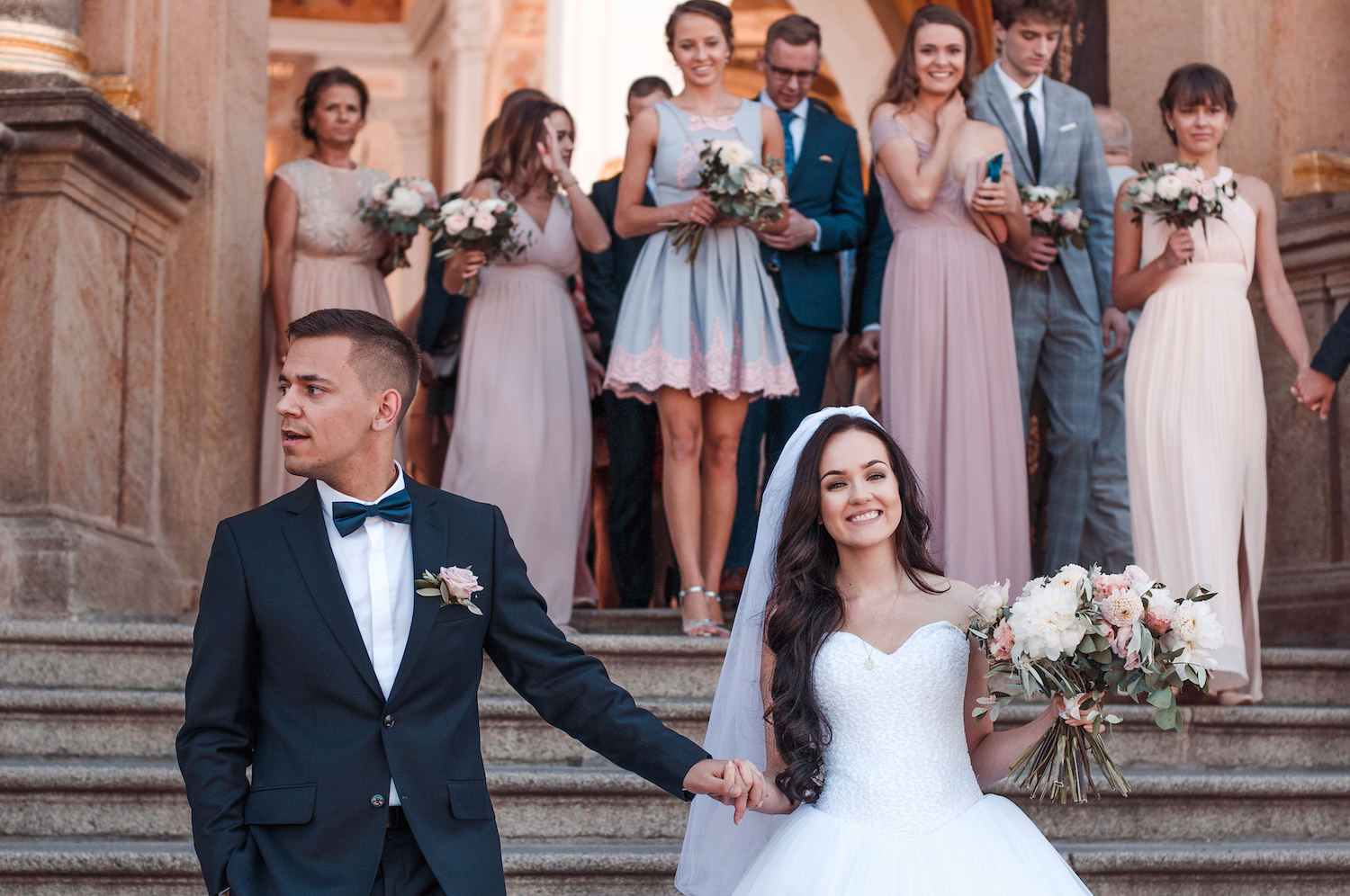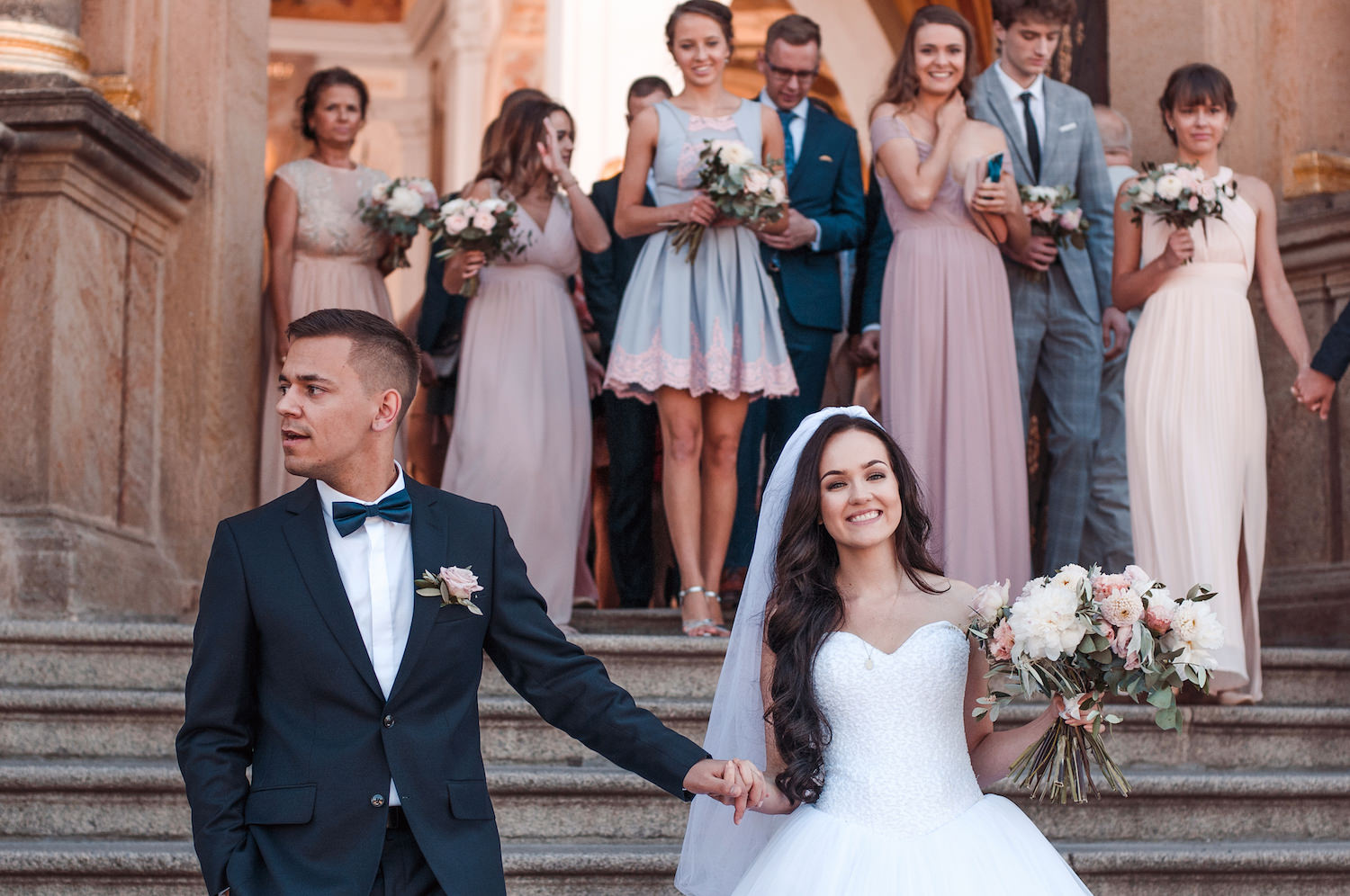 fotky: Aneta Coufalová Swenson
A o tom, co se dělo dál, vám napíšu zase příště. xx
---
And what happened after that? I'll tell you in my next wedding post. xx