Okay, I've said the story so many times that I feel like it's time to share it with you guys as well. But first of all, I have to say that I'm really bad at telling stories so this is probably gonna be just all over the place, but let's try it!
As you know, we've been together for 7 years this year. We've been talking about taking the next step for a while, probably like a year or so, so I had a feeling inside that it's gonna happen this year. We went to Rome in January so I was like hmm, maybe he's gonna propose there. Nope. Then we went to Innsbruck. Verona (aka the city of love). We went to the Neuschwanstein castle the day before our 7th anniversary. We were at the top of the mountain on our anniversary. We went to the coziest and the most romantic cabin in Italy. We were in Venice. And nothing happened so I thought that he has to have some other plans and I tried not to think about it (which isn't the easiest thing when you're in a long-term relationship, am I right, girls?:D). Then we started living together and spent a lot of the time with decorating our new home and time went by. Now we were in October and we didn't have any plans, any trips ahead of us, so I had no idea what he might be thinking. Now when it happend, he told me that he knew that I was expecting it all the time so his one and only goal was to keep it as a secret till the very last moment. And I don't know how he did it because I'm such a Sherlock, but I literally had no idea until he proposed. So let's move on to the story itself..
Two weeks ago, he told me that his mum went to some kind of an exposition at a tiny chateau in the village where they live and she said it was beautiful so that we should check it out. I was like yeah, okay, why not (it wasn't suspicious at all because events like this are pretty usual there and his mum always goes there). So on Sunday, 8th of October, we went to the city we're both from, had lunch with his parents, then he drove me to my parent's house and went back because he had to study. He picked me up at 5PM and we were supposed to go to see the exposition and then go back home. When he came and I jumped in the car, he had bought smoothies and I was like "you're the best man in the world, I was about to ask you if we could stop by the juice bar and grab some to go". And he was like "yeah yeah, I also wanted to buy the peanut butter/chocolate cake – the BEST raw dessert on Earth, we love it so much – but it was sold out." And I was just like nevermind, it's okaay. Anyways, we parked the car and went to the chateau, it's kind of in the middle of a park and when we were dating back then, we spent a lot of time in that park. There's a wood gazebo on a little pond, it looks a bit fairy-taly and there's a bench in the middle. So when we were walking by, he said "let's sit for a while and finish our smoothies" and I was just like okaay (it was literally such a random day). So we sat there and then he told me "I actually lied to you" and from his backpack he pulled out a paper box in which they sell the raw desserts. So I was super excited that I'm gonna eat this peanut butter and chocolate heaven. But then, I don't know how, he's in front of me, he's on his knee with this box in his hand and there's no cake inside. There's another box. With a ring.
I was SO SHOCKED and it was so quick, but then he said "will you marry me, love?" and I was even too shocked to say yes so I just nodded with hands on my mouth and then we just hugged and kissed for a while. Then he put the ring on my finger and that was it, we were engaged. I didn't realize it until a few days later, at first I was just so overwhelmed that it felt like I didn't feel anything and I was also a bit sad that it's over and I'm never gonna experience this again. But that's the beauty of "once in a lifetime" moments I guess. It was so perfect. Just the two of us, in a romantic place that's connected to our relationship, I wouldn't want it in any other way. Now I feel like our love is even deeper, even though I didn't think it was even possible. I can't imagine the love that I'm gonna feel after we promise the love until death to each other and become husband and wife. I'm truly the luckiest girl on this planet <3
---
Tak – teď, když už jsem ten příběh odvyprávěla snad stokrát, je na čase, abych se o něj podělila i s vámi. Nejdřív vás ale musím upozornit, že ve vyprávění jsem fakt hrozná a jenom doufám, že to bude alespoň nějak dávat smysl hehe.
Jak víte, s přítelem jsme spolu už přes 7 let. Už nějakou dobu, asi tak rok a půl, jsme se bavili o tom, že se možná pomalu blíží čas udělat ve vztahu další krok, takže jsem tak nějak cítila, že se to stane během letošního roku. Hned v lednu jsme jeli do Říma, tak mě samozřejmě napadlo, že by mě mohl požádat o ruku tam. Ale nic. Potom jsme byli v Innsbrucku. Ve Veroně (aka město lásky). Den před naším výročím jsme byli na pohádkovém Neuschwansteinu. Na naše výročí jsme byli na vrcholku hory. Byli jsme v té nejútulnější a nejromantičtější chatičce v horách v Itálii. Byli jsme v Benátkách. Já všude trochu napnutá, jestli k tomu dojde, ale nedošlo. Tak jsem si říkala, že má nejspíš nějaké úplně jiné plány a snažila jsem se na to nemyslet (i když holky v dlouholetém vztahu mi asi potvrdí, že to úplně nejde:D). Potom jsme se přestěhovali do Plzně, začali zařizovat náš nový domov a čas utíkal. Do konce roku už jsme neměli žádné plány, žádné výlety, takže jsem neměla tušení, co by mohl plánovat. Teď, když už se to stalo, mi řekl, že moc dobře věděl, že jsem to pokaždé někde čekala, takže jeho jediným cílem bylo, abych nic netušila až do poslední chvíle. A vážně nevím, jak se mu to povedlo, protože jsem totální Sherlock, ale fakt jsem neměla ponětí, že se to stane, až do momentu, kdy si kleknul. Tak teď už k samotnému příběhu..
Někdy před dvěma týdny se mi zmínil, že mu mamka říkala, že byla na nějaké hezké výstavě šperků u nich na zámečku a že bychom tam mohli zajít, až pojedeme na návštěvu domů. Řekla jsem mu, že klidně můžeme a dál jsem tomu nevěnovala pozornost (nebylo na tom nic podezřelého, podobné akce tam jsou celkem běžné a jeho maminka na ně často chodí). V neděli 8. října jsme tedy vyrazili směr Příbram, dali jsme si oběd u rodičů přítele a potom mě odvezl k našim, ale nezůstal tam se mnou, protože se potřeboval učit (což taky běžně dělá). Byli jsme domluvení, že mě kolem páté vyzvedne, pojedeme na výstavu a potom zpátky domů. Když přijel a nasedla jsem do auta, čekalo tam na mě zelené smoothie a já říkám "jéé, ty jsi nejlepší muž na světě, taky jsem ti chtěla navrhnout, že bychom si pro něj zajeli." A on na to: "Noo, chtěl jsem ti koupit i košíček (náš úplně nejoblíbenější dezert je raw arašídovo-čokoládový košíček od VeveRaw), ale už ho neměli." Po chvíli jsme dojeli k zámečku, zaparkovali a vyrazili na výstavu. Když jsme spolu začínali randit, často jsme tam chodili na procházky. Ten zámeček je uprostřed parku, kde je i malé jezírko a na něm dřevěný altánek. Když jsme kolem něj procházeli, řekl "poojď, sedneme si a dopijeme ty smoothiečka." Tak jsme si sedli a po chvilce otevřel batoh, který měl u sebe se slovy "a já jsem ti kecal!" a vytáhnul papírovou krabičku, ve které si vždycky vozíme ty raw dortíky. Tak jsem samozřejmě byla nadšená, že si dám svůj košíček, ale najednou během vteřiny byl přítel přede mnou, otevřenou krabičku měl v ruce a já jen viděla, že uvnitř není košíček, ale jiná krabička – s prstýnkem.
Všechno to bylo tak rychlé, že jsem si to ani nestihla uvědomit, přítel potom řekl "Vezmeš si mě, lásko?".. Já byla v takovém šoku, že jsem vlastně ani neřekla ano, jen jsem s vykulenýma očima a rukama na puse zakývala. Potom jsme se několik minut jen objímali, nasadil mi prstýnek a bylo to, zasnoubili jsme se. Trvalo mi pár dní, než jsem si opravdu uvědomila, že se to stalo, nejdřív jsem byla i trochu smutná, protože mi došlo, že už to nikdy znovu nezažiju, ale to je asi zároveň krása těch momentů "jednou za život". Bylo to prostě dokonalé. Jen my dva, na krásném místě, se kterým je náš vztah spojený.. Připadá mi, že se ta naše láska teď ještě prohloubila, i když jsem si myslela, že už to není možné. Neumím si ani představit, jak se budu cítit po tom, co si slíbíme lásku, dokud nás smrt nerozdělí. Jsem prostě nejšťastnější žena na světě <3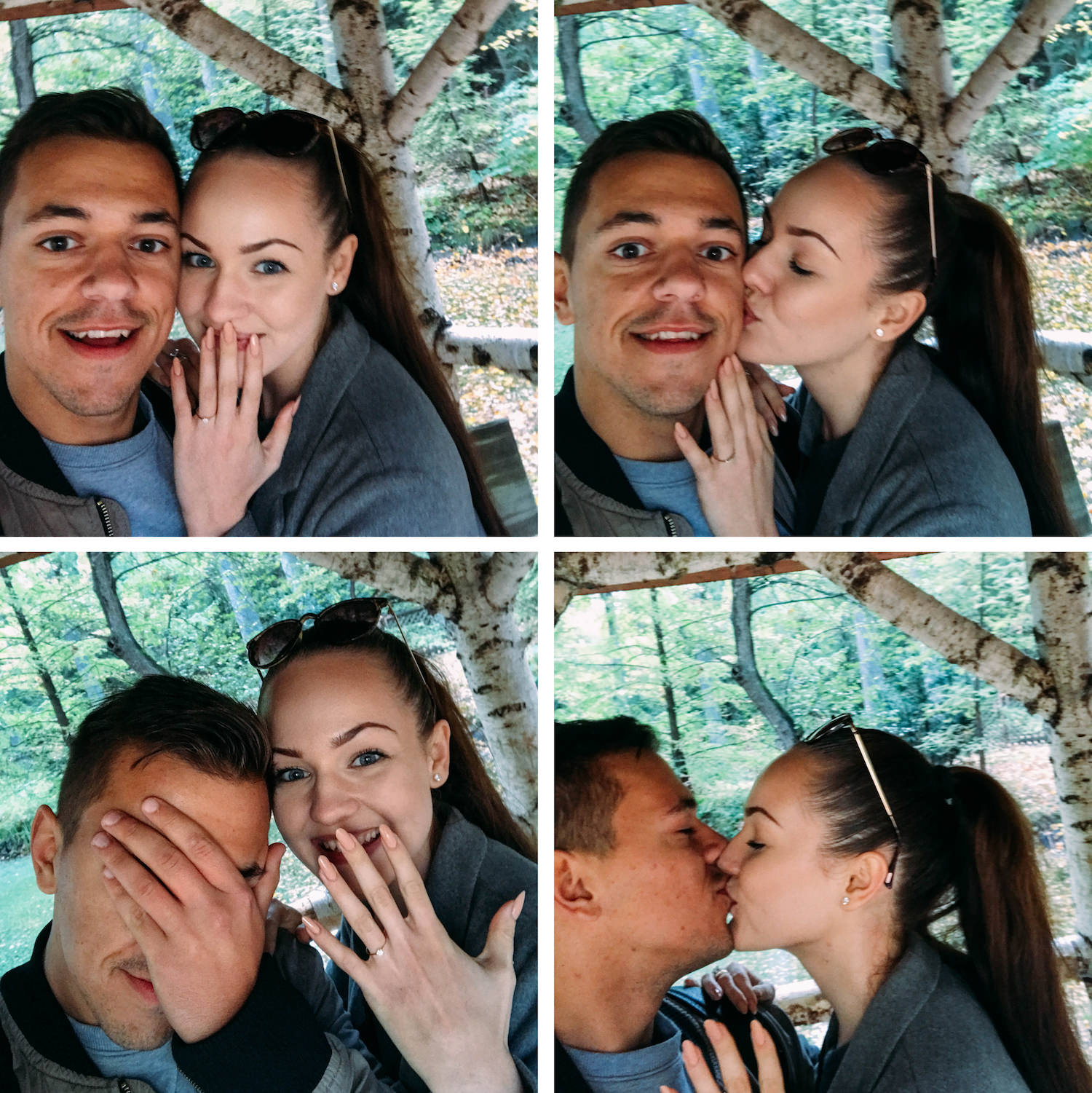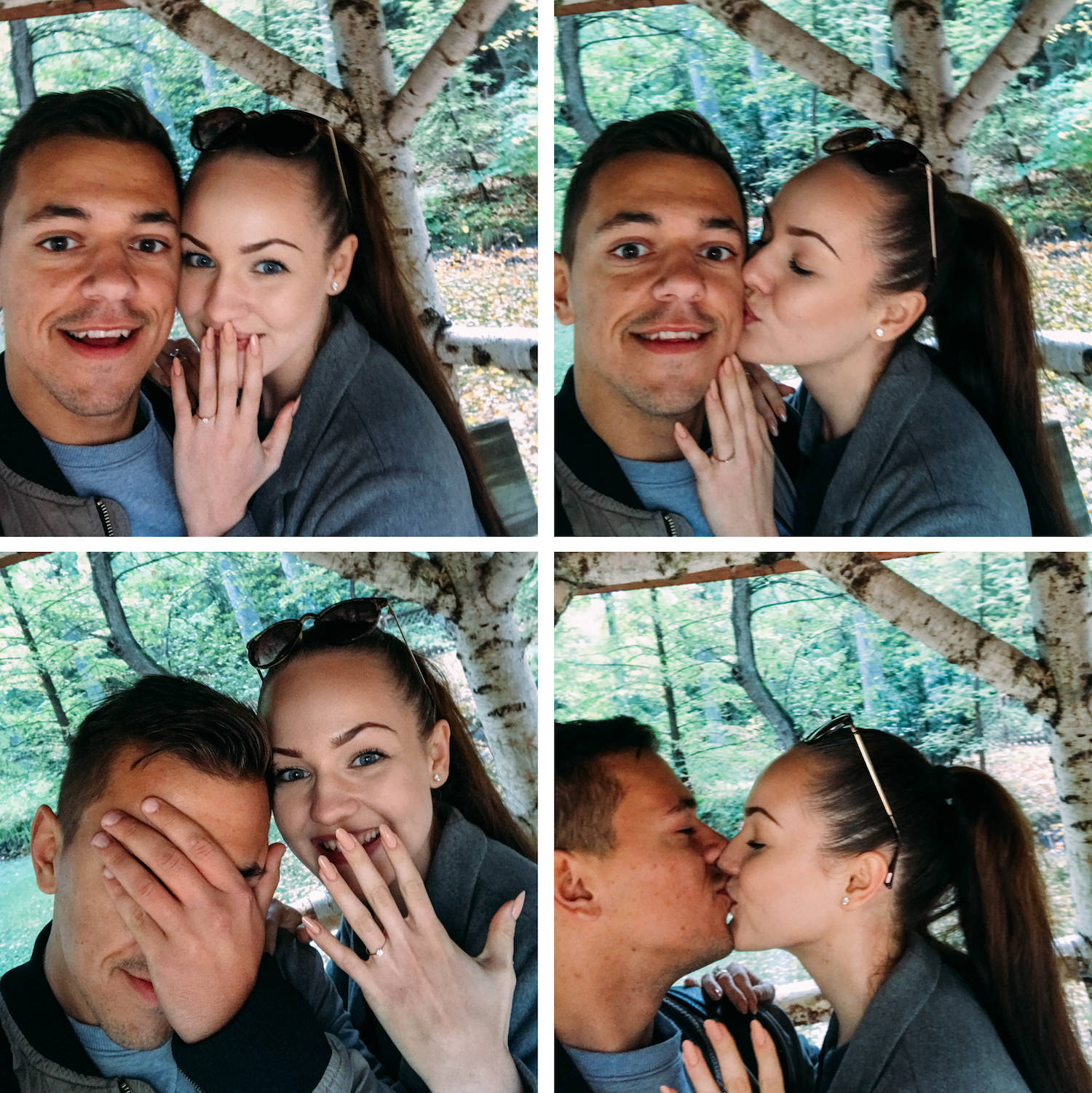 Right after the proposal we took some photos, they're not great (half of them are blurry) but at least we have some for our photo album <3
My boyfriend also took some photos right before he went to pick me up, this is the place!
And I found a photo from summer 2011 when we had no idea that this is gonna be our special place forever.. <3