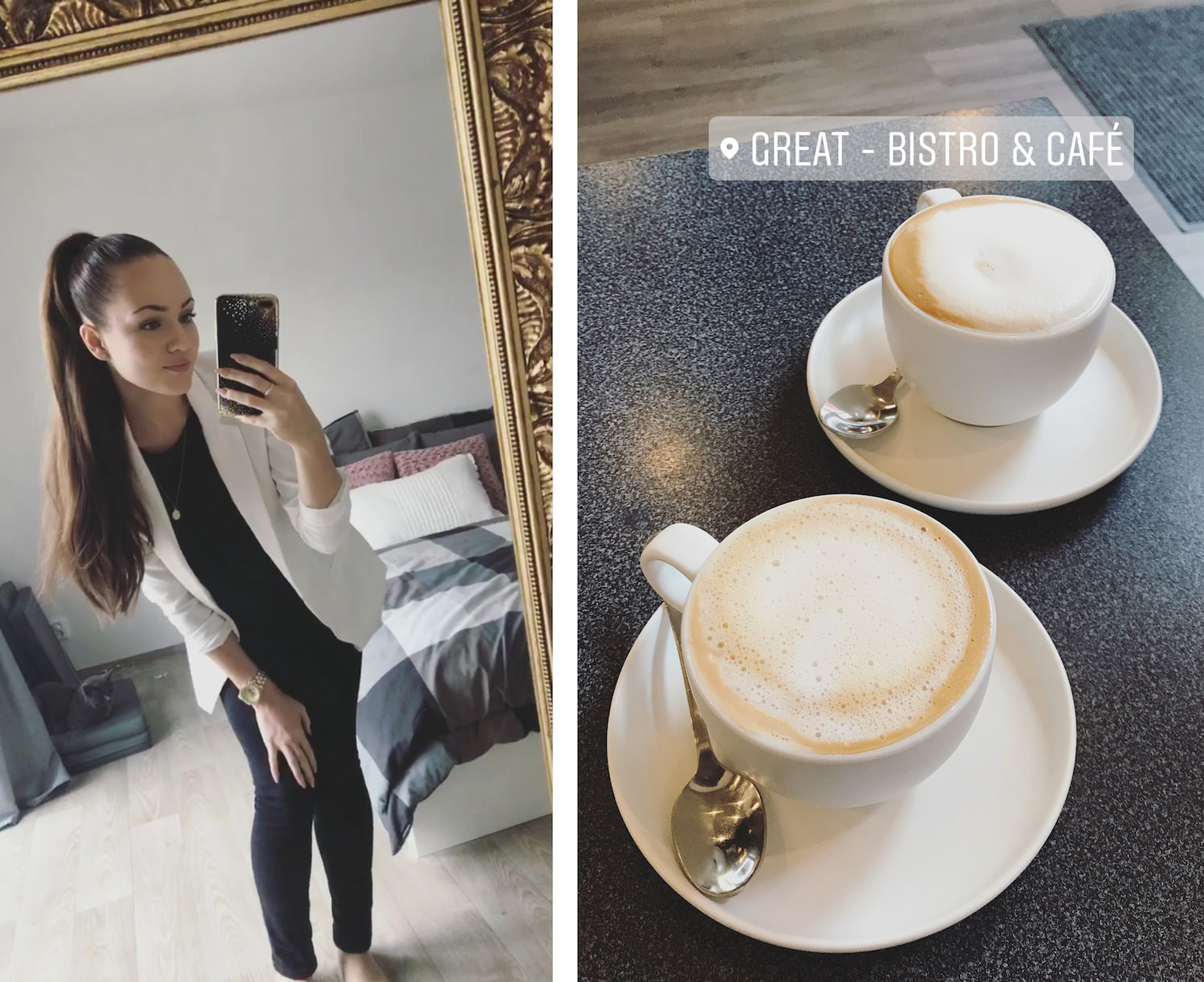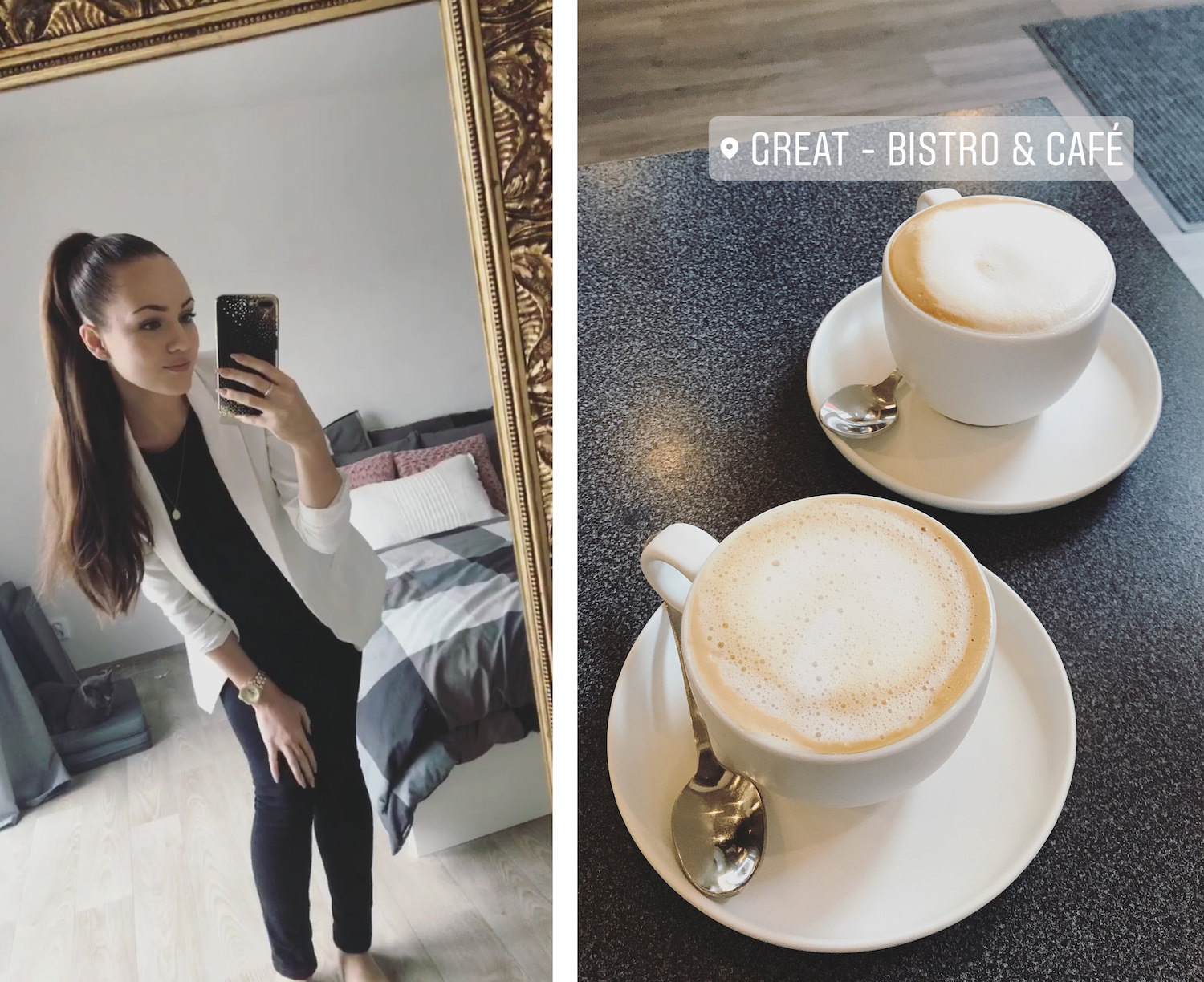 Snaps from my Instagram stories 🙂
Wednesday became my favorite day of the week. I always have a super busy start of the week so having a "day off" feels so good. By that I mean that I don't have to wake up early, go to Prague and have million errands to run. I woke up super late today, I usually hate it, but I really needed to get some sleep because I haven't slept much since Sunday. Then I just did some cleaning, worked on my computer, made lunch for me and my fiancé!! (so weird to say that, right?) and in the afternoon I met up with a friend for a coffee date.
I hope someone from the jewelry shop will call me tommorrow that my engagement ring is ready so I would go to Prague just to pick it up, unfortunately it was a bit too big for me (I literally have the tiniest fingers you could imagine) so they ordered a smaller one and hopefully it will fit me perfectly. I want to wear it so much, but I'm too afraid that I would lose it so I have to wait. At least I've been putting it on at home and just looking at it haha. I noticed a lot of you really like the ring and SO many people saved the photo on Instagram (which I didn't really understand, maybe for inspiration?) so I guess you would be happy if I made a blog post just about the ring with some close-up photos, right? 🙂
---
Středa se stala mým oblíbeným dnem týdne. První dva dny mám vždycky hodně hektické, takže tenhle "volný" den uprostřed týdne mi vážně vyhovuje. Tím volným dnem myslím to, že nemusím vstávat brzo, jet do Prahy a oběhat milion pochůzek. Dneska jsem vstávala hrozně pozdě, většinou to nesnáším, ale potřebovala jsem se dospat, protože od neděle jsem toho moc nenaspala. Potom jsem už jenom poklidila byt, pracovala, uvařila oběd pro mě a mého snoubence!!! (je to tak zvláštní!) a odpoledne jsem se sešla s kamarádkou na kafe.
Doufám, že mi zítra zavolají ze zlatnictví, že si můžu vyzvednout svůj zásnubní prstýnek, takže bych hned jela do Prahy jen abych ho měla. Je mi bohužel trochu velký (mám regulérně ty nejhubenější prsty, jaké si dovedete představit), takže mi objednali menší a snad mi bude sedět. Už ho chci hrozně moc nosit, ale bojím se, že bych ho ztratila, takže musím počkat. Zatím si ho občas dám na prst aspoň doma a jenom se kochám haha. Všimla jsem si, že spoustě z vás se prstýnek moc líbí a šílené množství lidí si uložilo fotku na Instagramu (což moc nechápu, nejspíš pro inspiraci?), takže hádám, že byste uvítaly článek jenom o prstýnku s nějakými detailnějšími fotkami? 🙂